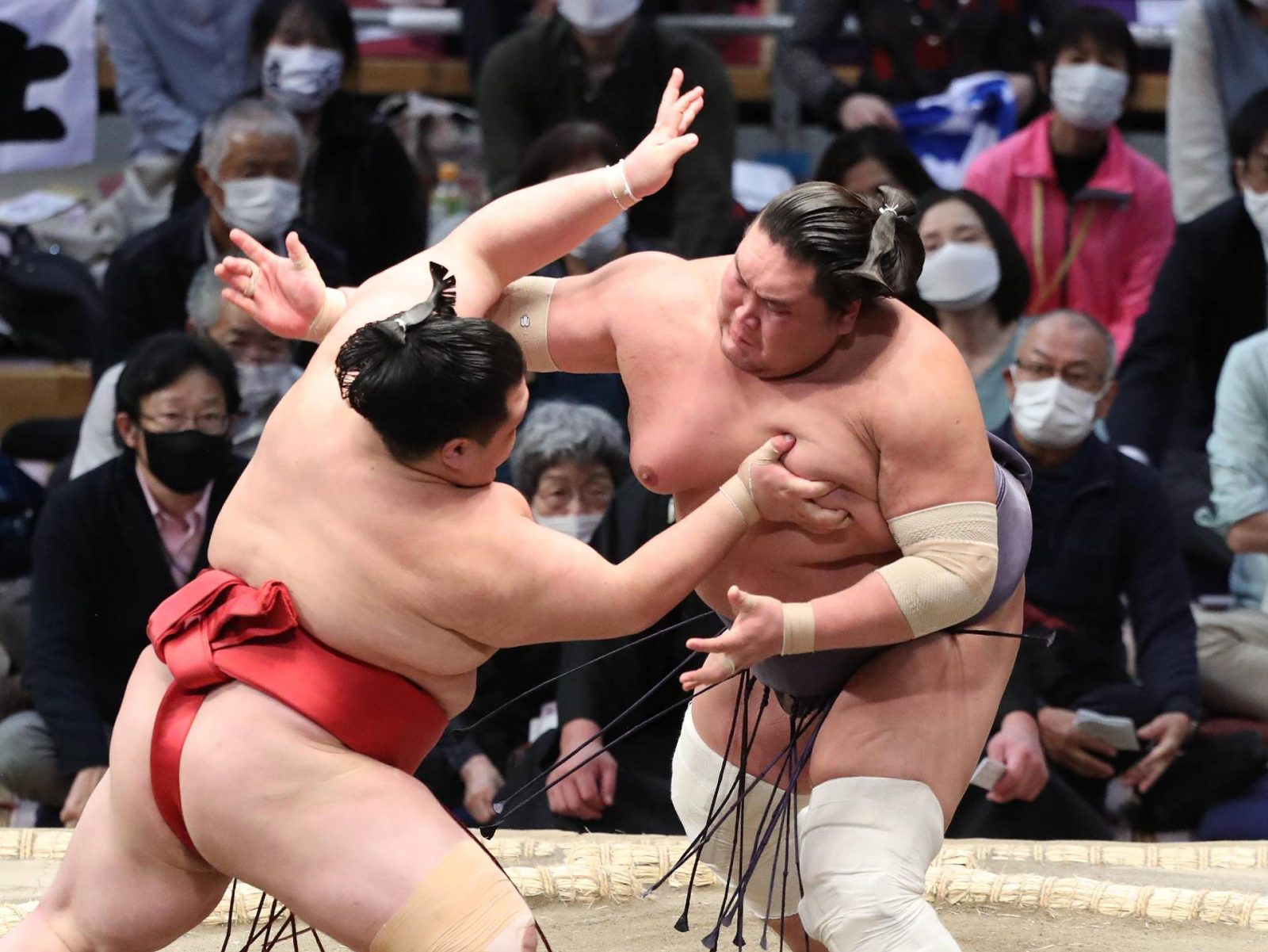 Yokozuna Terunofuji coasted to a trouble-free victory over Onosho on Wednesday, November 17 to remain undefeated and tied for the lead at the Kyushu Grand Sumo Tournament while both ozeki wrestlers also won in an early indication the 15-day meet holds plenty of drama to come.
After absorbing a spirited charge at the face-off, Terunofuji got a left-arm lock on Onosho in the day's final bout at Fukuoka Kokusai Center and drove the winless No. 2 maegashira out over the straw ridge to improve to a perfect 4-0.
Onosho held a 4-2 record over Terunofuji heading into Wednesday's bout but other than the solid face-off had little else with which to challenge the Mongolian grand champion who is seeking his sixth career Emperor's Cup and second straight as yokozuna.
Five other wrestlers, including resurgent ozeki Takakeisho, are tied for the lead with Terunofuji.
Takakeisho showed he will be a force to be reckoned with after a comprehensive win over up-and-comer Daieisho.
After exchanging a series of ferocious arm thrusts with his opponent, Takakeisho prevailed when he got his hand on the back of Daieisho and swatted the top maegashira down to his third loss.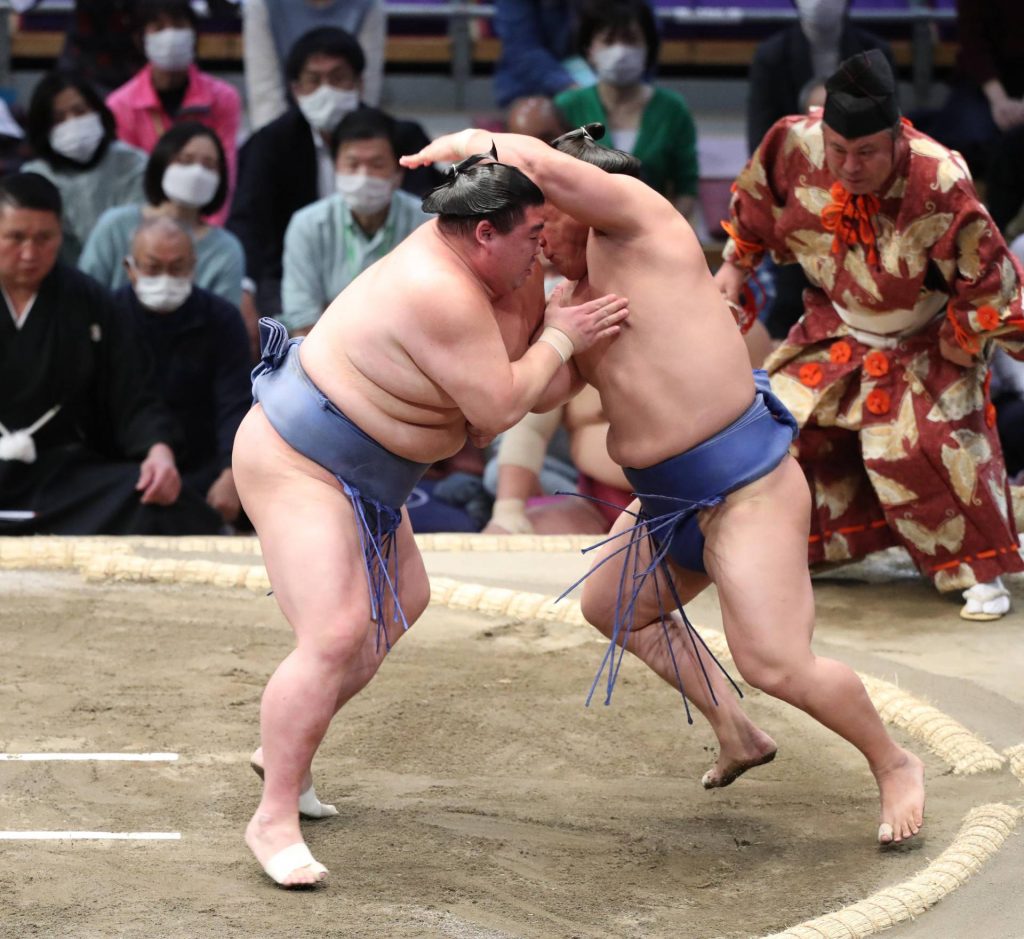 Ozeki Shodai came bursting out of the face-off and overwhelmed Wakatakakage for his third straight win after losing his opening day bout.
"I was able to apply pressure on my opponent from the outset which was crucial," Shodai said. "After losing on the opening day I have felt much more focused."
Wakatakakage, who lost to Terunofuji on the previous day, put up little resistance and dropped to 1-3.
The performance of both ozeki so far should please sumo officials. Neither one had performed that well in recent tournaments and are expected to challenge Terunofuji for the silverware.
In other major bouts, sekiwake Meisei took advantage of a superior face-off and swatted down third-ranked Myogiryu to give both wrestlers a 2-2 record.
In-form sekiwake Mitakeumi overpowered Mongolian behemoth Ichinojo to remain among the group of wrestlers undefeated at 4-0. Komusubi Ichinojo was handed his second loss against a pair of wins.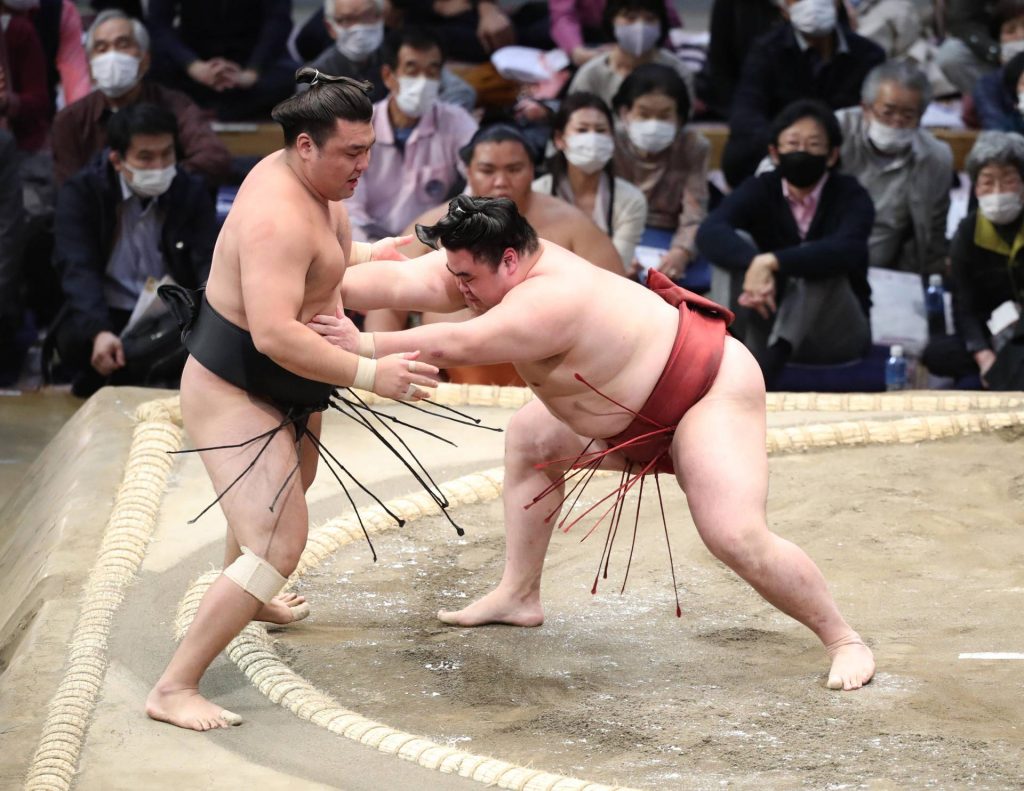 No. 2 maegashira Takanosho shoved out struggling Kiribayama to improve to 2-2. Komusubi Kiribayama came into the Kyushu meet with high hopes but has struggled mightily so far and has yet to post a win.
Fourth-ranked maegashira Endo got a left-hand grip on the belt of Hoshoryu and used an arm throw to send the struggling fifth-ranked maegashira down to his third loss against a lone win.
Endo hit the dirt surface hard with his head but appeared to be unhurt and improved to 2-2.
In a marathon bout that lasted 3 minutes and 33 seconds, fifth-ranked maegashira Takayasu finally prevailed when he deployed an overhand arm throw to dispatch winless No. 8 Shimanoumi.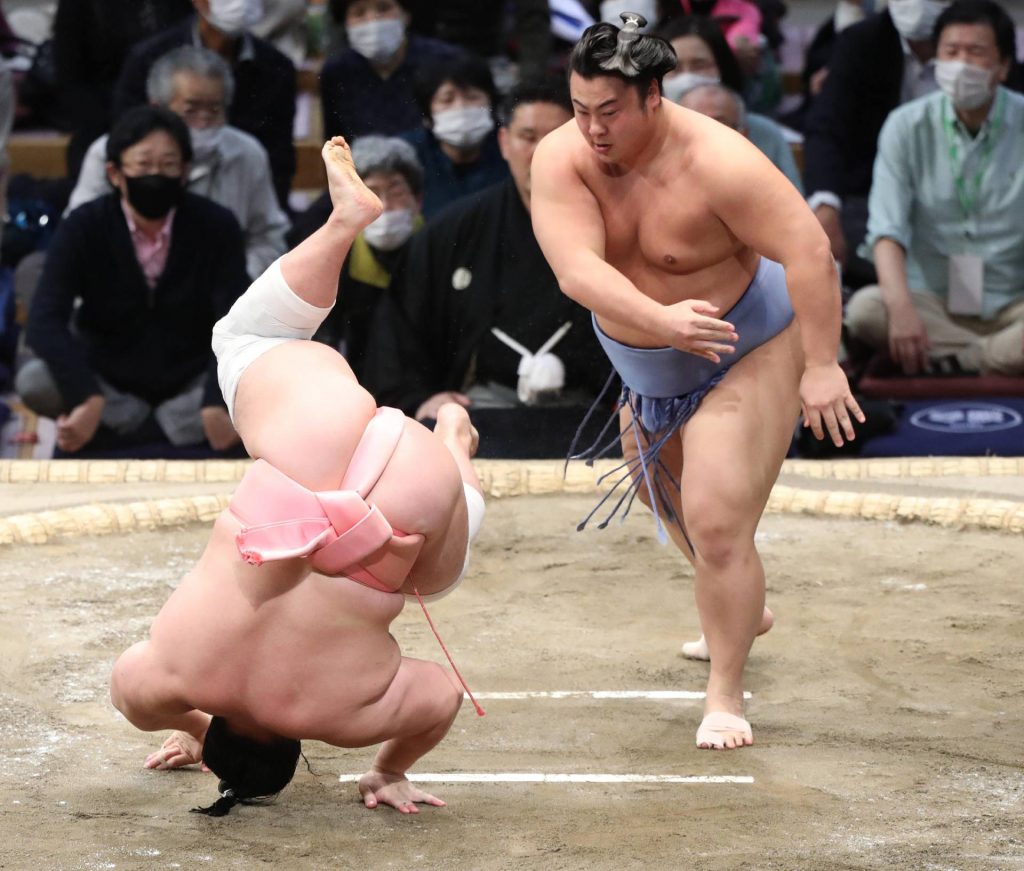 Sumo's Flying Monkey Tobizaru swatted down Ura to hand the seventh-ranked maegashira his first loss of the tournament.
No. 8 maegashira Tobizaru improved to 2-2 while Ura, who did a complete summersault after being slapped down, dropped to 3-1.
Further down the ranks, Hokutofuji stayed in the group of leaders when he shoved out 11th-ranked maegashira Terutsuyoshi, who stands at 2-2.
In earlier bouts, rank-and-filers Abi and Sadanoumi also posted clutch wins to remain perfect at 4-0.

Three Stars
First Star: Takakeisho. Starting off at 4-0 is just what the top brass of sumo wanted. The ozeki wrestler went 8-7 in the last tournament but his one-sided win over Daieisho is an early indication he will get a better result this time out.
Second Star: Shodai. Ditto for Shodai. With three straight wins through the first four days, the ozeki should be able to improve on his 8-7 record from the previous basho.
Third Star: Takayasu. After hanging tough for over three minutes, the No. 5 maegashira notched up a hard-fought win in another marathon bout. Takayasu also had long bouts over the first three days and is working overtime.


Author: Jim Armstrong
The author is a longtime journalist who has covered sports in Japan for more than 25 years. You can find his articles here, on JAPAN Forward.