Unstoppable Force Terunofuji Motors On at Kyushu Basho
Ozeki Takakeisho produces an impressive win to keep pace along with unheralded rank-and-filer Abi.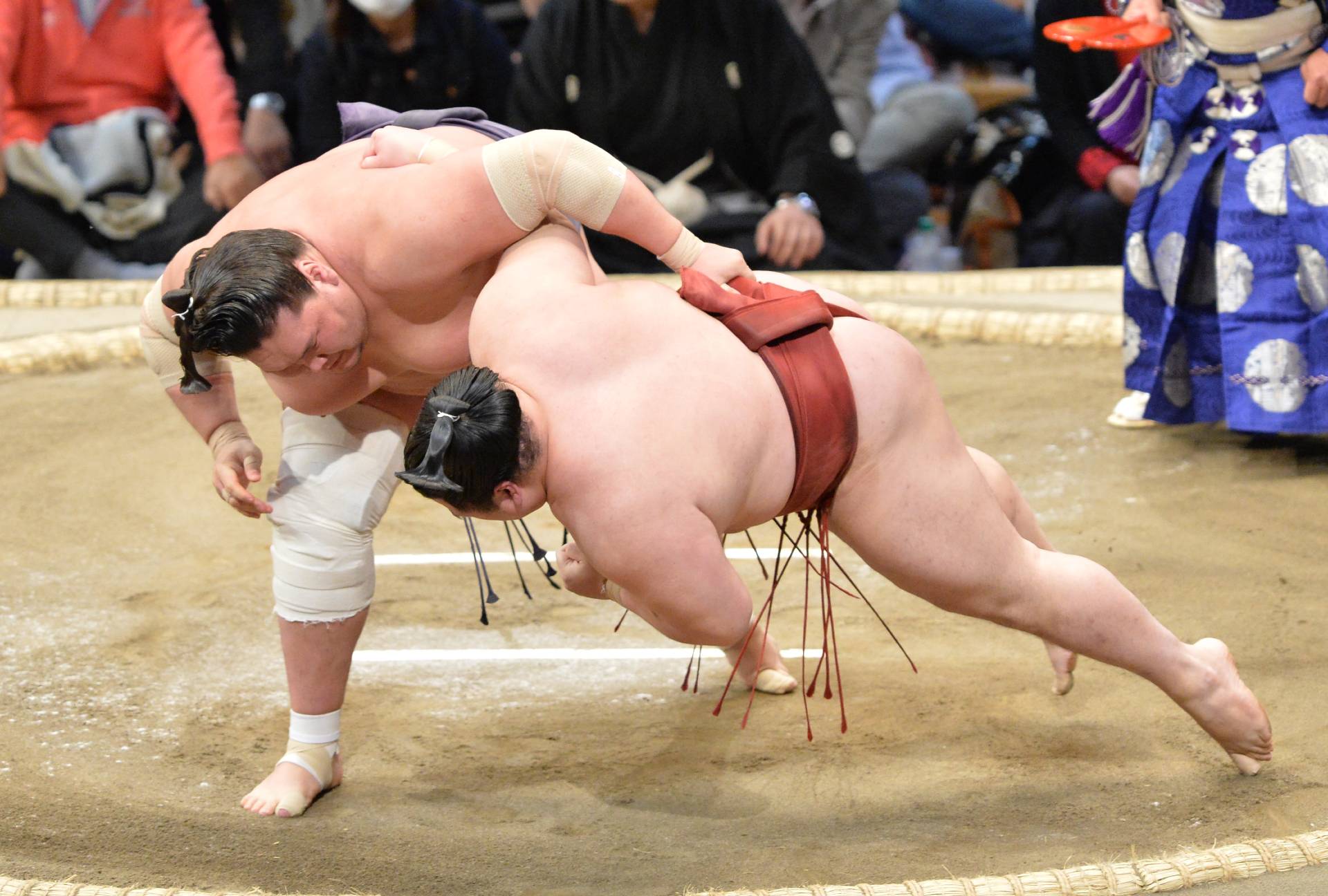 With a comprehensive win over Takanosho at the Kyushu Grand Sumo Tournament on Thursday, November 18, yokozuna Terunofuji remained undefeated and is starting to look like an unstoppable force at the 15-day meet.
Fighting in the day's final bout at Fukuoka Kokusai Center, Mongolian Terunofuji tolerated a brief tussle with Takanosho before getting a left-hand grip on the belt of his opponent and sending him sprawling to the dirt surface with emphatic arm throw.
While he has been seriously challenged only once or twice, Terunofuji has, for the most part, been in complete control as he was on Day 5 against the No. 2 maegashira who dropped to 2-3.
Given the dominant form he has displayed so far, one gets the sense it will take something spectacular to beat Terunofuji.
Three wrestlers currently share the lead at 5-0: Terunofuji, Takakeisho and lower-ranked wrestler Abi.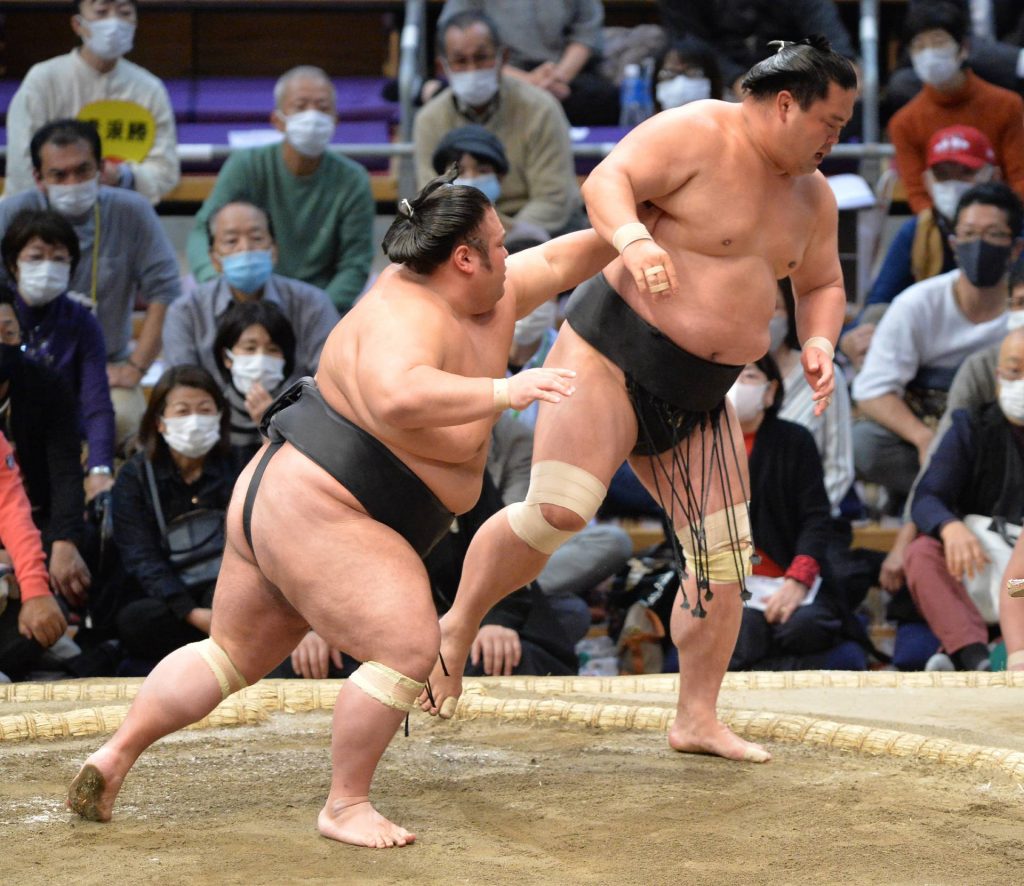 Perhaps it will be Takakeisho who can somehow find a way to slow down Terunofuji.
The ozeki kept his winning streak alive when he butted heads with Myogiryu shortly after the face-off and then used a series of powerful arm thrusts to send the third-ranked maegashira out over the edge
Takakeisho is 5-0 while Myogiryu stands at 2-3.
Meanwhile, Shodai wasn't as fortunate as his ozeki counterpart.
Veteran grappler Okinoumi, who is 36 years old, took advantage of a superior face-off and got a right-hand grip on the belt of Shodai to drive his opponent out and pick up his second win against three losses.
"I fought him as a challenger and could feel the support of the fans," Okinoumi said. "I try not to think about the age factor. As long as you keep working hard you can achieve your goals."
Daieisho had won three bouts in a row but could never recover from a poor face-off and was handed his second loss.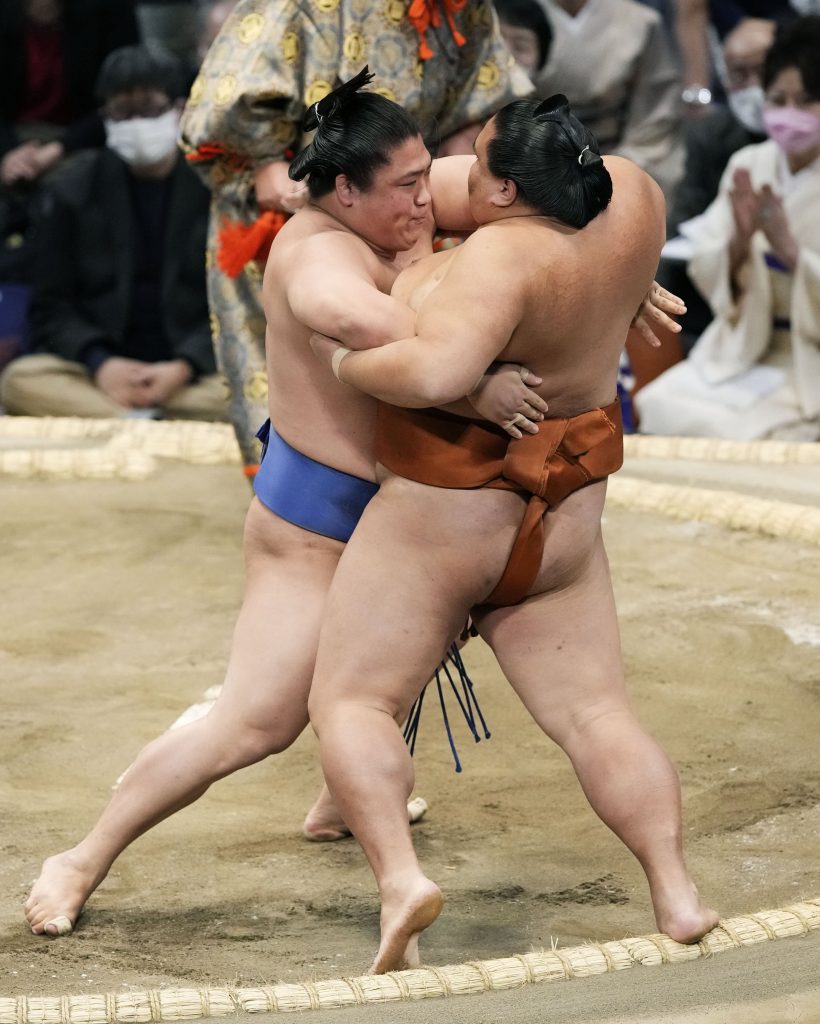 Elsewhere, Wakatakakage knocked Mitakeumi out of the lead with a hard-fought win.
Mitakeumi (4-1) got a grip on the belt and forced his opponent back to the edge, but the top maegashira turned the tables on his opponent and forced him out to pick up his second win against three losses.
Top maegashira Daieisho (2-3) used a series of powerful arm thrusts to send Mongolian giant komusubi Ichinojo backpedaling out to his third loss.
After losing to ozeki Takakeisho on Day 4, Daieisho was in no mood for fun and games and went straight after Ichinojo with his go-to arm thrusts.
Sekiwake Meisei took advantage of a mistake by Kiribayama to post his third win against a pair of losses.
Komusubi Kiribayama forced Meisei to the edge but then inexplicably lost his balance and was promptly swatted down by Meisei to drop to an unflattering 0-5.
Takarafuji displayed deft footwork on the edge that would have been worthy of a funambulist when he swatted down Onosho to improve to 3-2.
With both feet on the straw ridge, fourth-ranked maegashira Takarafuji calmly maintained his balance and sent the winless No. 2 maegashira toppling off the raised ring.
Fourth-ranked maegashira Endo picked up a win over Shimanoumi despite being pushed back and out over the straw ridge.
Replays showed that even though Endo was pushed out he was still in mid-air when Shimanoumi's hand touched down.
Endo picked up the fortuitous win to improve to 3-2 while hard-luck Shimanoumi, who put in a great effort, dropped to 0-5.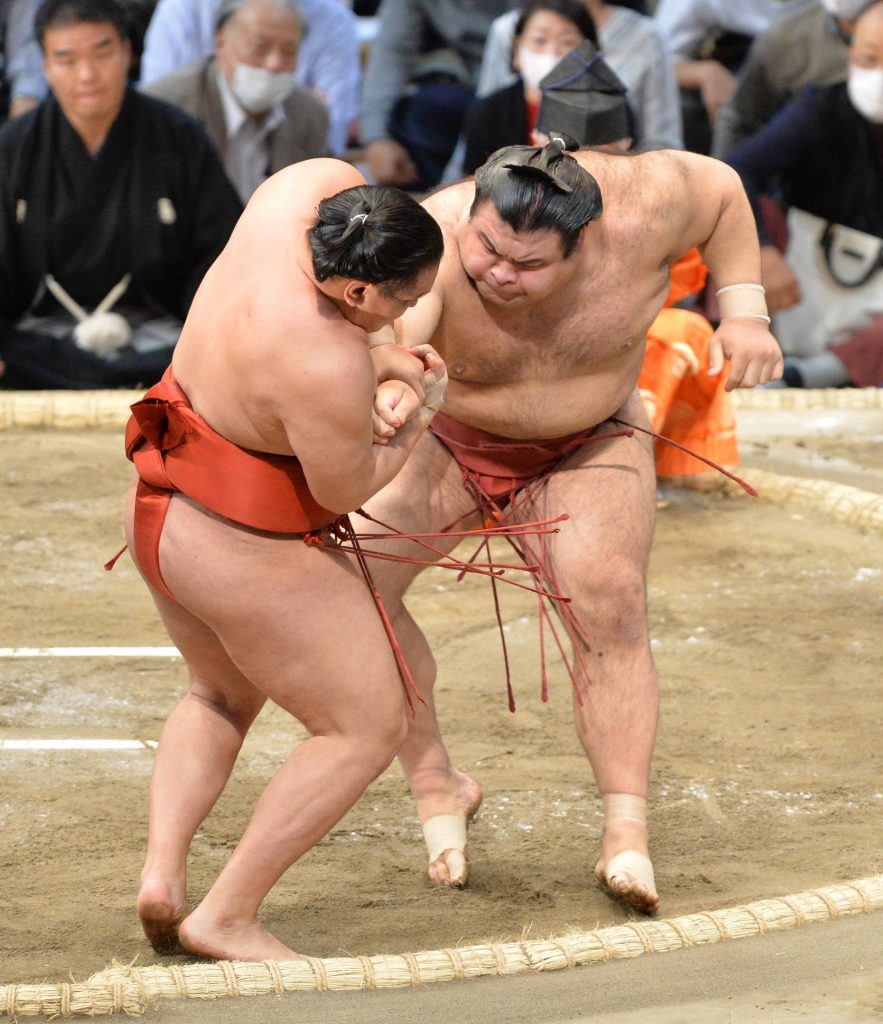 Fifth-ranked maegashira Takayasu forced Hoshoryu up against the edge of the ridge and used a textbook frontal force out to defeat his opponent.
Takayasu improved to 4-1 while fellow fifth-ranked Hoshoryu dropped to a disappointing 1-4.
Hoshoryu, the nephew of former yokozuna Asashoryu, came into the tournament with high hopes after a strong performance in the previous meet but it will take a drastic turnaround at this point to salvage a respectable result.
Seventh-ranked maegashira Ura used an arm bar throw to defeat Chiyoshoma (3-2) and remain one win off the pace at 4-1.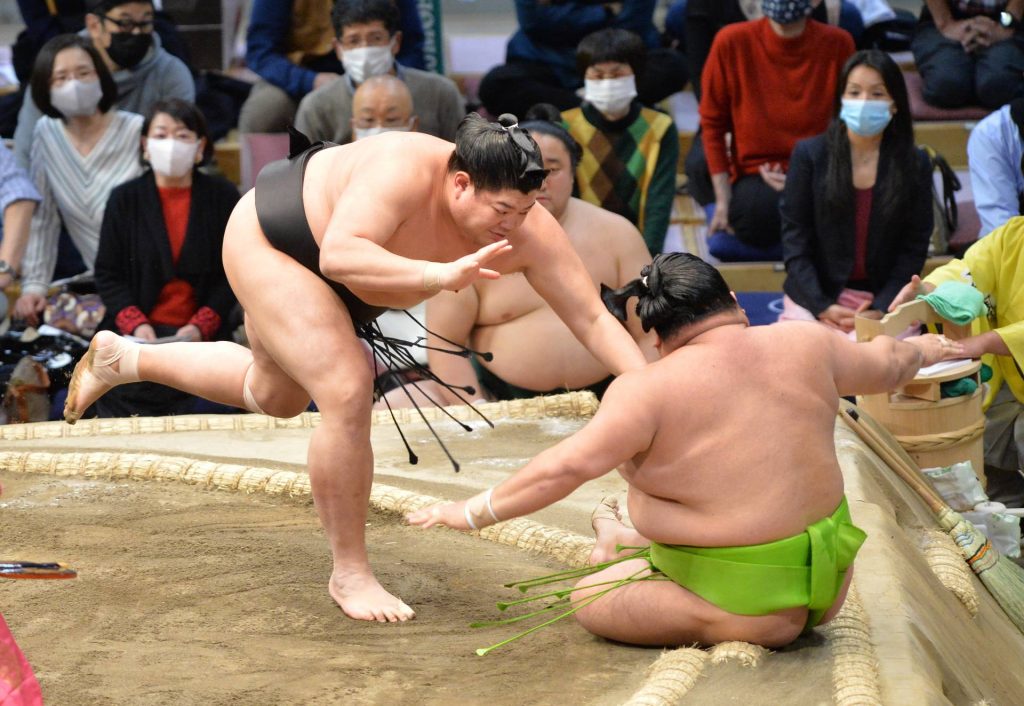 In an earlier bout, Abi toppled fellow rank-and-filer Akua (2-3) to maintain a share of the lead at 5-0.

Three Stars
First Star: Terunofuji. His arm throw at the edge of the ring was a thing of beauty. Few wrestlers could pull that off with such ease. Kudos to the grand champion.
Second Star: Takarafuji. His footwork on the edge of the ring was more than worthy of second-star status. 
Third Star: Takakeisho. By maintaining a perfect record with his powerful arm thrusts, the ozeki wrestlers sent a message that the tournament is not over yet.


Author: Jim Armstrong
The author is a longtime journalist who has covered sports in Japan for more than 25 years. You can find his articles here, on JAPAN Forward.