Showing the poise of a new yokozuna, Terunofuji brushed aside fellow Mongolian Hoshoryu on Monday, September 13 to remain undefeated on Day 2 at the Autumn Grand Sumo Tournament.
In the day's final bout at Ryogoku Kokugikan, Terunofuji quickly got a left-hand grip on the belt of top maegashira Hoshoryu immediately after the face-off.
Hoshoryu has proven to be a difficult opponent recently. He went 10-5 in the previous tournament in July and was awarded the Technique Prize.
But Terunofuji made it clear from the outset that he wasn't about to be upstaged by the up-and-coming grappler.
After forcing his opponent to the edge, Terunofuji calmly twisted the Tatsunami stable wrestler down for the "yoritaoshi" win.
Terunofuji, who acquired his Japanese citizenship in early August, was promoted to the sport's highest rank after going 14-1 in the Nagoya basho in July.
The 29-year-old Terunofuji is bidding for his fifth career championship. He lost to fellow Mongolian Hakuho on the final day of the Nagoya tournament.
With the sport's only other grand champion, Hakuho, sidelined due to COVID-19 cases at his stable, Terunofuji is the odds-on favorite to lift the Emperor's Cup in the 15-day meet.
It would be another feather in the cap of the Mongolian-born grappler who had surgeries on both knees and fell to sumo's second-lowest division of jonidan in March of 2019.
Hoshoryu, a nephew of former Yokozuna Asashoryu, fell to 1-1.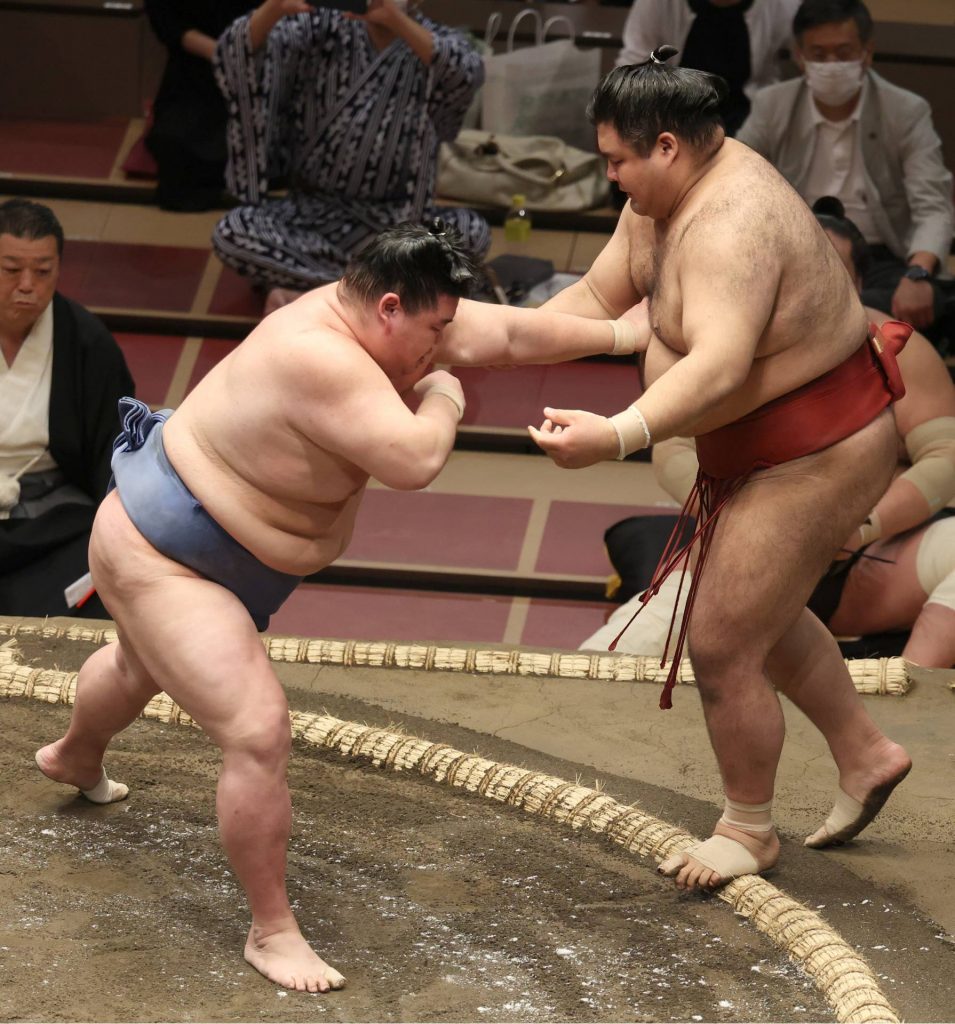 In other major bouts, ozeki Shodai bounced back from an opening-day loss with a hard-fought win over Takayasu.
After a prolonged standoff at the center of the ring, Shodai forced the winless komusubi out to his second loss.
But the struggles continued for ozeki Takakeisho.
Kiribayama came bursting out of the face-off and forced Takakeisho back to edge where he found himself teetering on the straw ridge. With one final shove, Kiribayama sent his opponent toppling off the raised ring and to his second defeat.
No. 2 maegashira Kiribayama remained undefeated.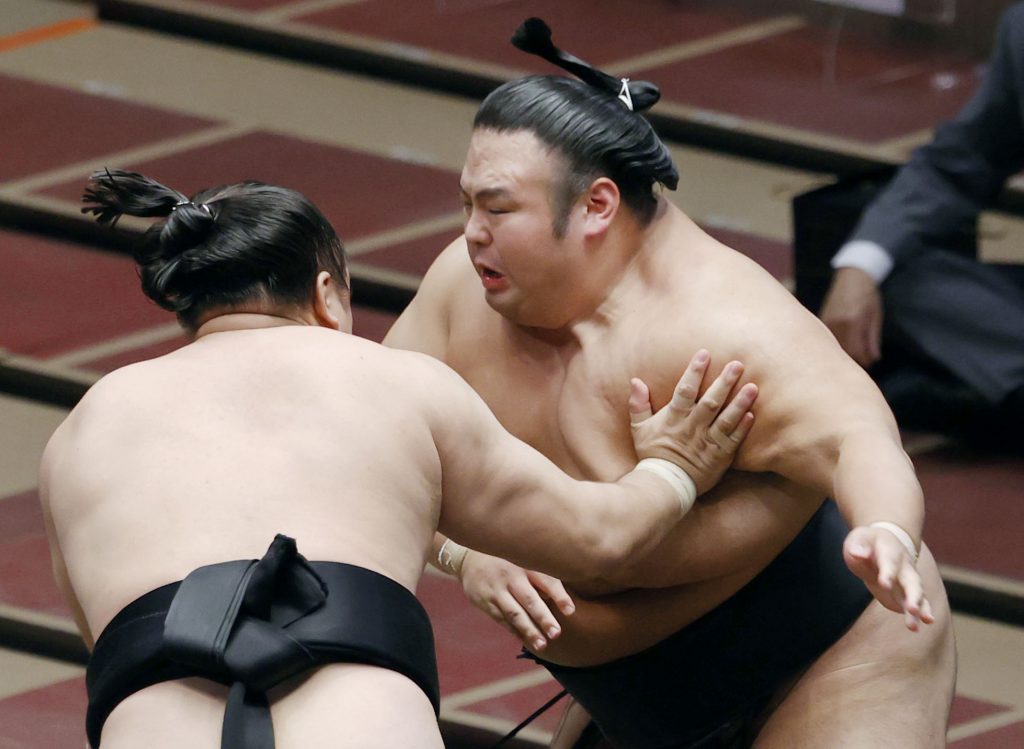 Takakeisho was hampered by injury and won only one bout in July so he needs to earn a winning record in this meet to preserve his ozeki status for the next tournament in November.
As the Japanese capital is still under a State of Emergency due to COVID-19, the Japan Sumo Association has capped the number of spectators at 5,000, roughly half the capacity of the arena.
Elsewhere, top maegashira Takanosho picked up his first win of the tournament.
After butting heads at the face-off, Takanosho exchanged a series of shoves to the upper body and head with Meisei before toppling the winless sekiwake to improve to 1-1.
Third-ranked maegashira Wakatakakage got an arm lock on behemoth Ichinojo at the edge and needed every ounce of his strength to hoist the Mongolian komusubi out to improve to 2-0. Ichinojo fell to 0-2.
Hokutofuji, a No. 2 maegashira, sidestepped Mitakeumi at the edge and swatted the sekiwake out to improve to 2-0. Mitakeumi fell to 1-1.
Kotonowaka, who comes from a long line of sumo wrestlers, used several powerful arm thrusts to send fourth-ranked maegashira Daieisho (1-1) over the edge for his first win.
Kotonowaka is a No. 3 maegashira. His grandfather was a yokozuna and his father a sekiwake.
Further down the ranks, fan favorite Tobizaru, an eighth-ranked maegashira, fought off a series of arm thrusts and toppled No. 10 Chiyotairyu (1-1) with an arm throw to improve to 2-0.
No. 7 maegashira Terutsuyoshi, who kicked off his bout by throwing a massive handful of salt in the air, used some fancy footwork at the edge to swat down winless sixth-ranked Ura and improve to 1-1.

Three Stars
First Star: Shodai. The ozeki wrestler showed poise in ousting komusubi Takayasu to pick up his first win.
Second Star: Wakatakakage. Given the size difference between the diminutive No. 3 maegashira and the 206-kg (454-pound) Ichinojo, this was an impressive win.
Third Star: Terutsuyoshi. Backing up an audacious salt toss to open his bout with a win was an impressive display of confidence.


Author: Jim Armstrong
The author is a longtime journalist who has covered sports in Japan for more than 25 years. You can find his articles here, on JAPAN Forward.