New yokozuna Terunofuji continued his impressive debut at sumo's highest rank on Tuesday, September 14 with a comprehensive win over Takanosho that allowed him to stay undefeated at the Autumn Grand Sumo Tournament.
Top maegashira Takanosho desperately tried to get a grip of Terunofuji's belt in the day's final bout at Ryogoku Kokugikan.
But showing composure worthy of a grand champion, Terunofuji defended well before getting both arms around Takanosho and forcing his opponent out to improve to 3-0. Takanosho dropped to 1-2.
With fellow grand champion Hakuho sitting out the tournament due to a coronavirus outbreak at his stable, Terunofuji is the clear favorite to win the 15-day meet.
Promoted to grand champion after going 14-1 in the July tournament, Terunofuji hasn't been seriously challenged yet and will face Hokutofuji on Day 4.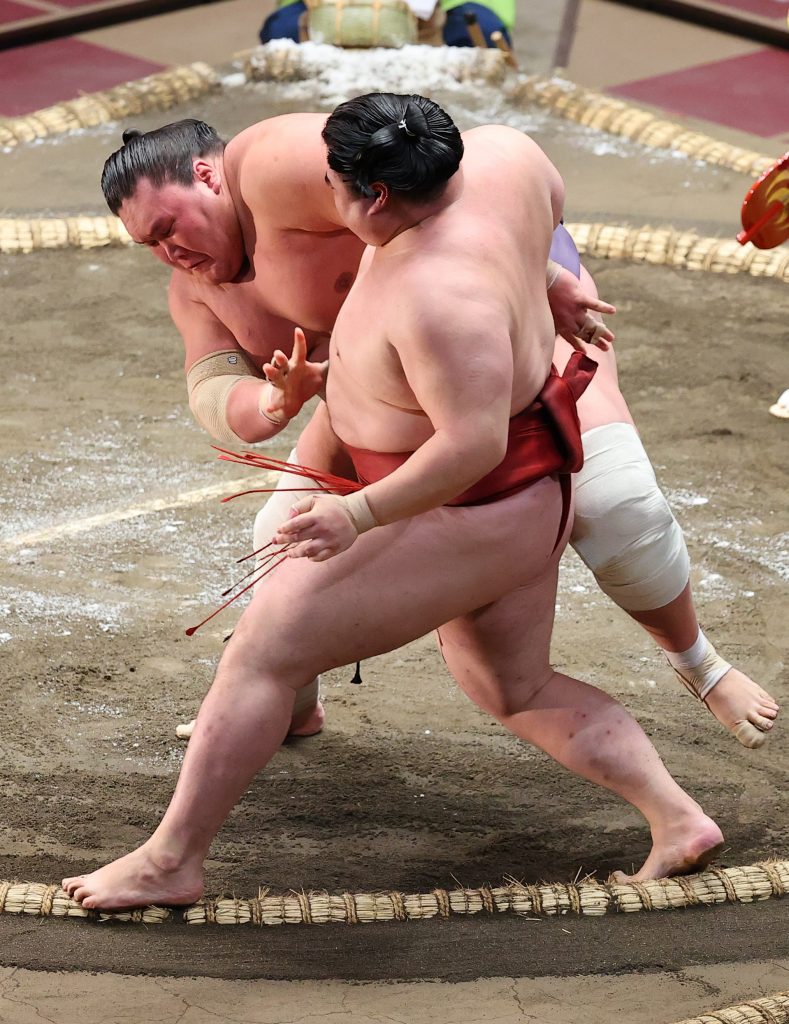 Elsewhere, the woes continued for winless ozeki Takakeisho.
Desperately looking to get in the win column after two straight losses, things started off well for Takakeisho when he forced behemoth Mongolian Ichinojo back to the edge of the ring after the face-off.
But komusubi Ichinojo turned the tables on Takakeisho at the last minute, getting a left-hand grip of his opponent's belt and using a textbook arm throw to send the struggling ozeki toppling off the raised ring for his first win.
Takakeisho is fighting as a demotion-threatened "kadoban" ozeki, meaning he needs to post a winning record in this tournament to maintain his status for the next meet in November.
He lost to Hokutofuji on the opening day and was defeated by Kiribayama on Day 2.
Takakeisho was forced to withdraw from the July tourney with a neck injury.
He won his first Emperor's Cup in 2018 at the Kyushu meet and followed that up with another championship in November of 2020 after he was promoted to sumo's second-highest rank.
He'll be looking to break his slump on Day 4 when he faces Mongolian Hoshoryu.
In the day's penultimate bout, Shodai restored some ozeki pride when he got his left arm under the right arm of Hokutofuji and drove the No. 2 maegashira out to give both wrestlers a record of 2-1.
Shodai will face Takanosho on Wednesday, September 15.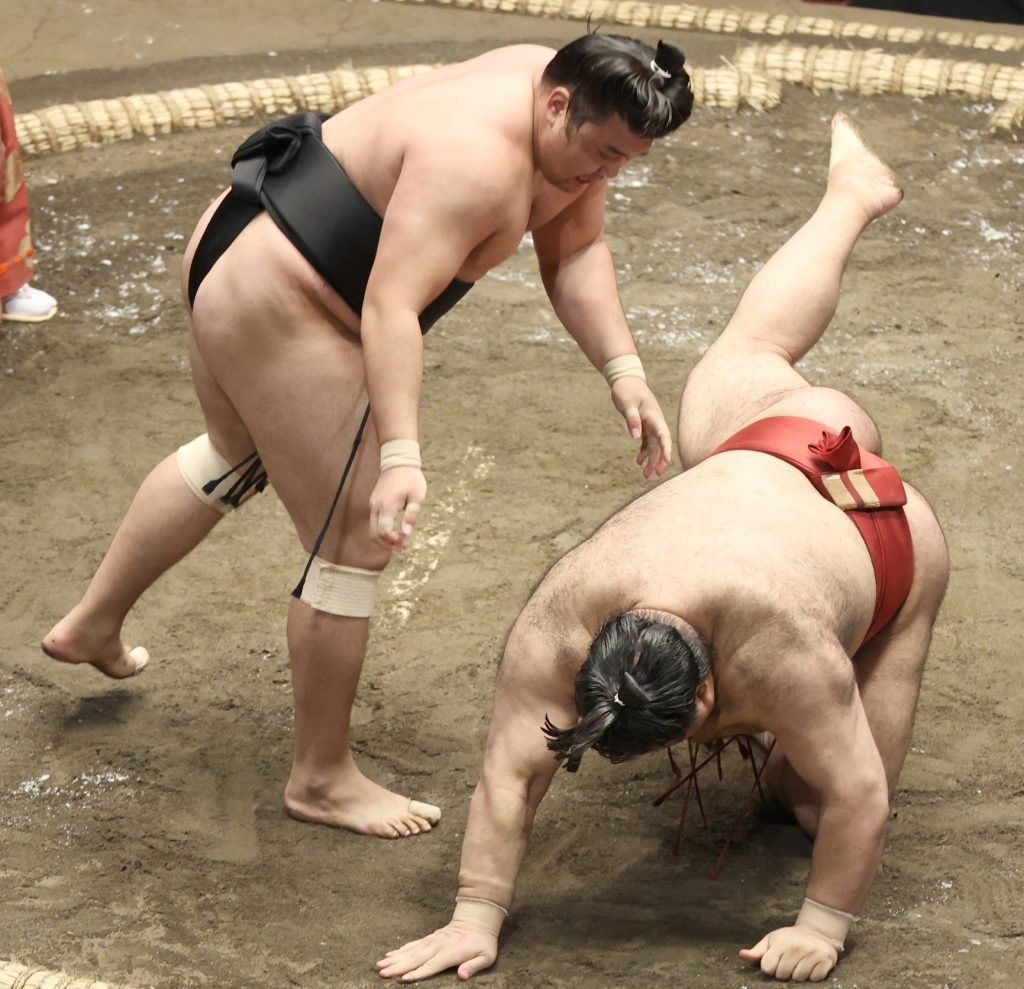 Elsewhere, in a marathon bout that lasted over three minutes, Kiribayama finally prevailed when he got an underhand grip on the belt of Takayasu and hauled his opponent down to improve to 3-0.
It's been an impressive tournament so far for No. 2 maegashira Kiribayama, who has posted wins over ozeki Takakeisho and sekiwake Meisei.
Meanwhile, it's been a nightmare for komusubi Takayasu, who came into the tournament as a potential dark horse but has already suffered three straight defeats.
The tournament's other sekiwake, Mitakeumi, got both arms around Hoshoryu and muscled the top maegashira out to improve to 2-1.
Hoshoryu, a nephew of former yokozuna Asashoryu, dropped to 1-2.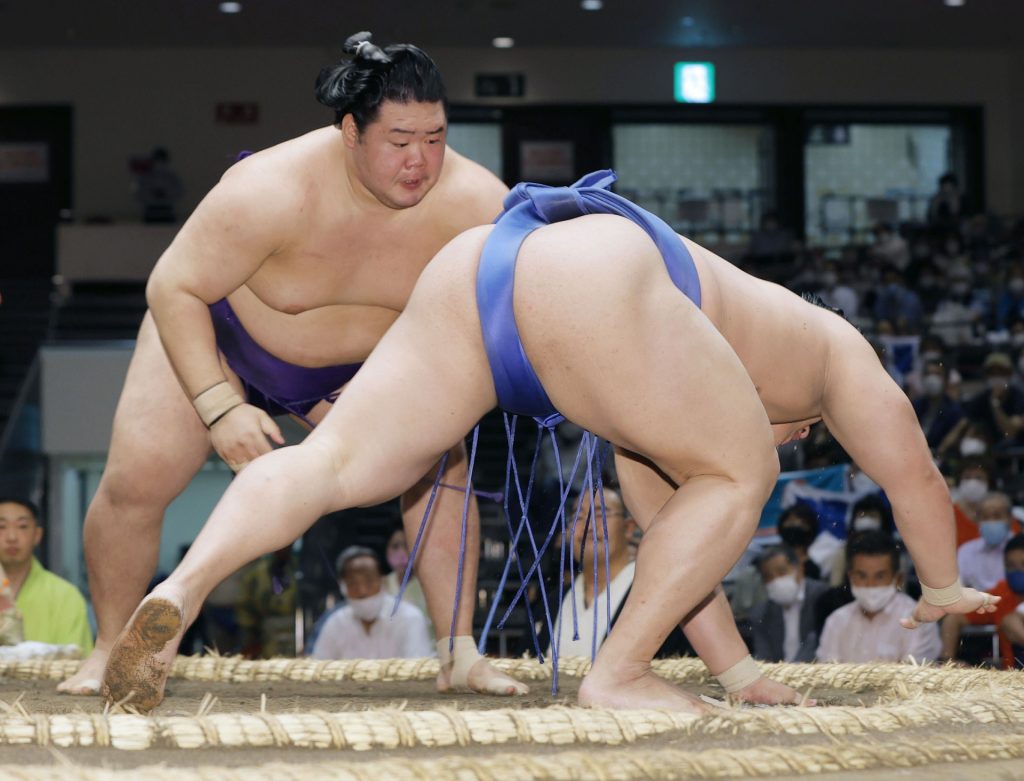 Meisei finally got in the win column when he sidestepped Wakatakakage at the face-off and swatted the third-ranked maegashira down to improve to 1-2. Wakatakakage fell to 2-1.
Further down the ranks, No. 3 maegashira Kotonowaka made it two wins in a row after an opening-day loss when he threw down winless fifth-ranked maegashira Chiyoshoma.
Kotonowaka posted 12 wins in the previous tournament and was awarded the Fighting Spirit Prize.
Popular No. 8 maegashira Tobizaru maintained a perfect record when he deployed a powerful arm throw to send seventh-ranked Terutsuyoshi tumbling to the dirt surface and his second loss.
Other wrestlers at 3-0 include rank-and-filers Chiyomaru, Chiyonokuni, Myogiryu and Onosho.
The Japan Sumo Association is limiting attendance at Ryogoku Kokugikan to 5,000 spectators as part of COVID-19 countermeasures.

Three Stars
First Star: Ichinojo. The Mongolian giant showed quick hands at the edge to defeat ozeki Takakeisho and pick up his first win.
Second Star: Kiribayama. The No. 2 maegashira is a giant killer with wins so far over an ozeki, a komusubi and a sekiwake.
Third Star: Kotonowaka. Second straight win for the No. 3 maegashira bodes well for the rest of the tournament.


Author: Jim Armstrong
The author is a longtime journalist who has covered sports in Japan for more than 25 years. You can find his articles here, on JAPAN Forward.