Lone grand champion Terunofuji showed why he's the boss on Wednesday, May 11 when he completed a one-sided win over up-and-coming grappler Kotonowaka on Day 4 at the Summer Grand Sumo Tournament.
In the day's final bout at Ryogoku Kokugikan, Terunofuji was all business from the outset, getting a right-hand inside grip and driving the No. 2 maegashira out to give both wrestlers a 3-1 record.
The 24-year-old Kotonowaka came into Wednesday's bout having beaten all three ozeki wrestlers and was on a roll but the determined yokozuna put a halt to Kotomowaka's win streak.
After losing on the opening day to Daieisho, Terunofuji has won three straight bouts with Wednesday's being the most one-sided. He is eager to put injury concerns behind him as he aims for his third Emperor's Cup at sumo's highest rank.
The win by Terunofuji means there is a three-way tie for the lead among rank-and-filers Tobizaru, Aoiyama and Ichiyamamoto, who are all 4-0.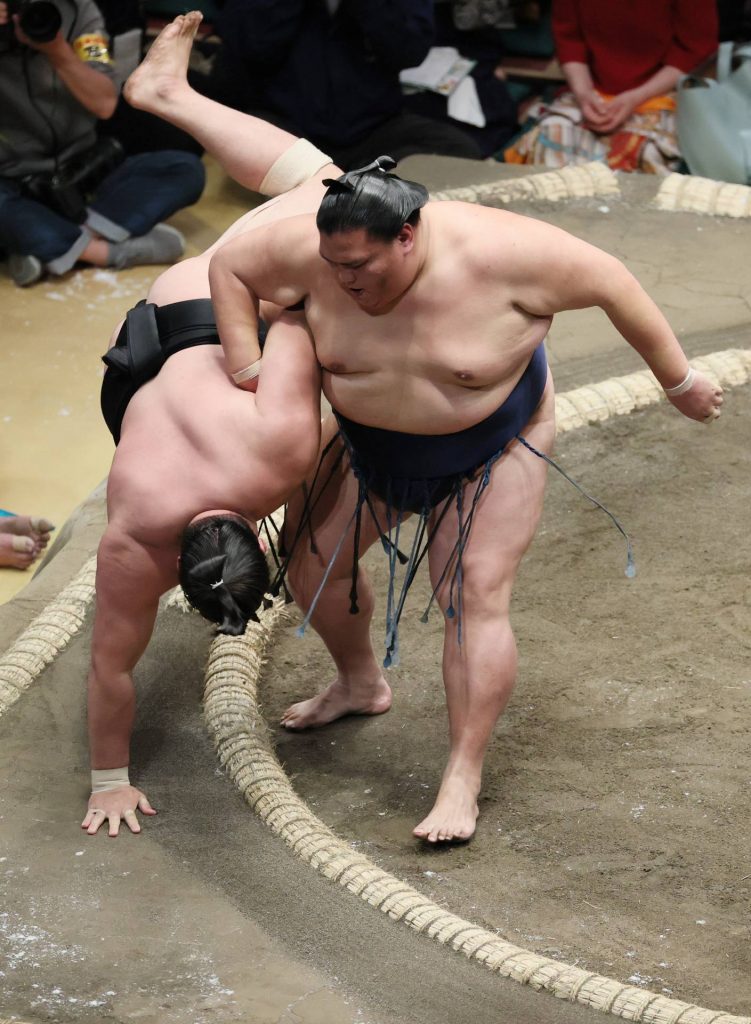 In other major bouts, ozeki Mitakeumi bounced back from the previous day's loss to Kotonowaka with a hard-fought win over Mongolian Kiribayama (1-3).
No. 2 maegashira Kiribayama was able to force Mitakeumi to the edge but the ozeki deployed a perfectly timed arm lock throw to send his opponent toppling off the raised ring while improving to 2-2.
Mitakeumi's win also meant all three ozeki wrestlers won for the first time on the same day.
Ozeki Shodai turned the tables on Takayasu to pick up his first win of the 15-day tournament and give both wrestlers a record of 1-3.
Takayasu sent Shodai back to the edge after the face-off but the ozeki got a right-hand inside grip to turn the top maegashira around and shove him out for a much-needed win.

Ozeki Takakeisho used a left-hand swatting attack before finishing komusubi Hoshoryu off with a thrust-out to improve to 2-2.
Having lost the previous day, Takakeisho was in no mood for another setback and used the left-hand slap to stun the Mongolian wrestler.
Komusubi Daieisho used a slap-down technique to defeat March tournament winner Wakatakakage and improve to 3-1.
Sekiwake Wakatakakage came into the basho with high hopes but is off to a modest 2-2 start. He will face komusubi Hoshoryu on Day 5.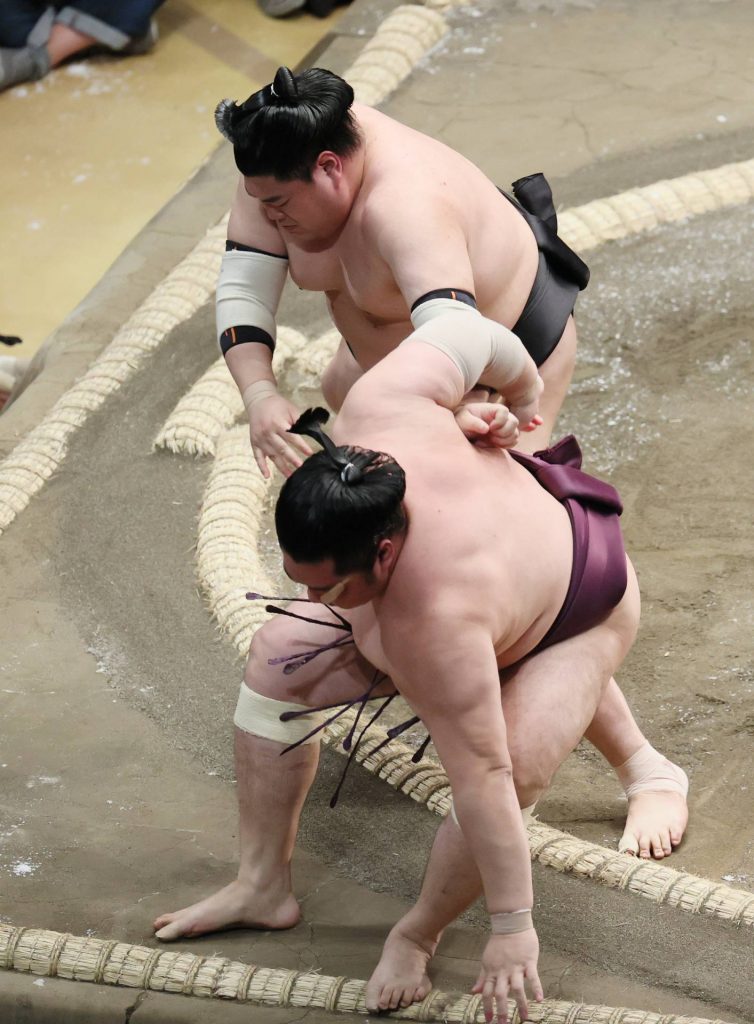 Sekiwake Abi got both arms around Endo (1-3) and shoved the fourth-ranked maegashira out to pick up his third straight win and improve to 3-1.
Fifth-ranked maegashira Tobizaru stayed in the group of undefeated wrestlers at 4-0 when he came in low and used a barrage of arm thrusts to the midsection to defeat No. 7 Kotoeko, who dropped to 2-2.
Sumo's ironman Tamawashi, a No. 3 maegashira, appeared in his 1,425th consecutive bout but couldn't get the win and was thrown down by Takanosho to fall to 3-1. Fourth-ranked Takanosho pulled to 2-2.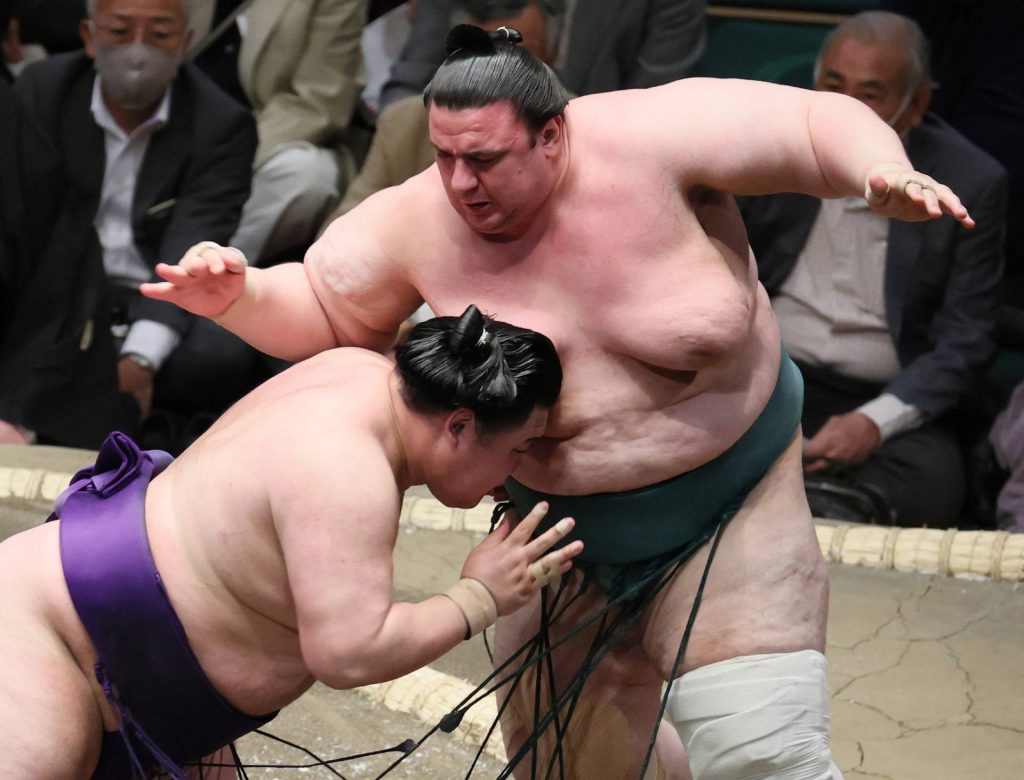 No. 11 maegashira Aoiyama of Bulgaria displayed impressive footwork on the straw ridge when he swatted down 13th-ranked Meisei (1-3) to improve to 4-0.
Ichiyamamoto stayed undefeated at 4-0 with a series of powerful arm thrusts that sent fellow rank-and-filer Myogiryu (2-2) backpedaling out of the ring.
No. 10 maegashira Nishikigi picked up his career 500th victory and improved to 2-2 when he deployed a textbook arm lock throw at the edge to upend Chiyoshoma, a No. 11 maegashira who also stands at 2-2.
In a showdown of lower-ranked wrestlers, Chiyotairyu used a rare (tokkurinage) two-handed twist-down to defeat Midorifuji and improve to 1-3. Midorifuji dropped to 2-2.

Author: Jim Armstrong
The author is a longtime journalist who has covered sports in Japan for more than 25 years. You can find his articles here.