Grand champion Terunofuji beat Hokutofuji on Thursday, May 12 to post his fourth straight win and remain one win back of two rank-and-filers at the Summer Grand Sumo Tournament.
Fighting in the day's final bout at Ryogoku Kokugikan, Terunofuji got an arm lock on Hokutofuji (1-4) before the No. 3 maegashira lost his balance and fell to the dirt surface.
Terunofuji improved to 4-1, one back of lower-ranked wrestlers Aoiyama and Ichiyamamoto. Daieisho, Tobizaru, Wakamotoharu and Tamawashi are also one win back at 4-1.
With four straight wins, Terunofuji has quashed rumors that he is still battling injury. He pulled out of the March tournament on Day 6 but appears to be in fine form now.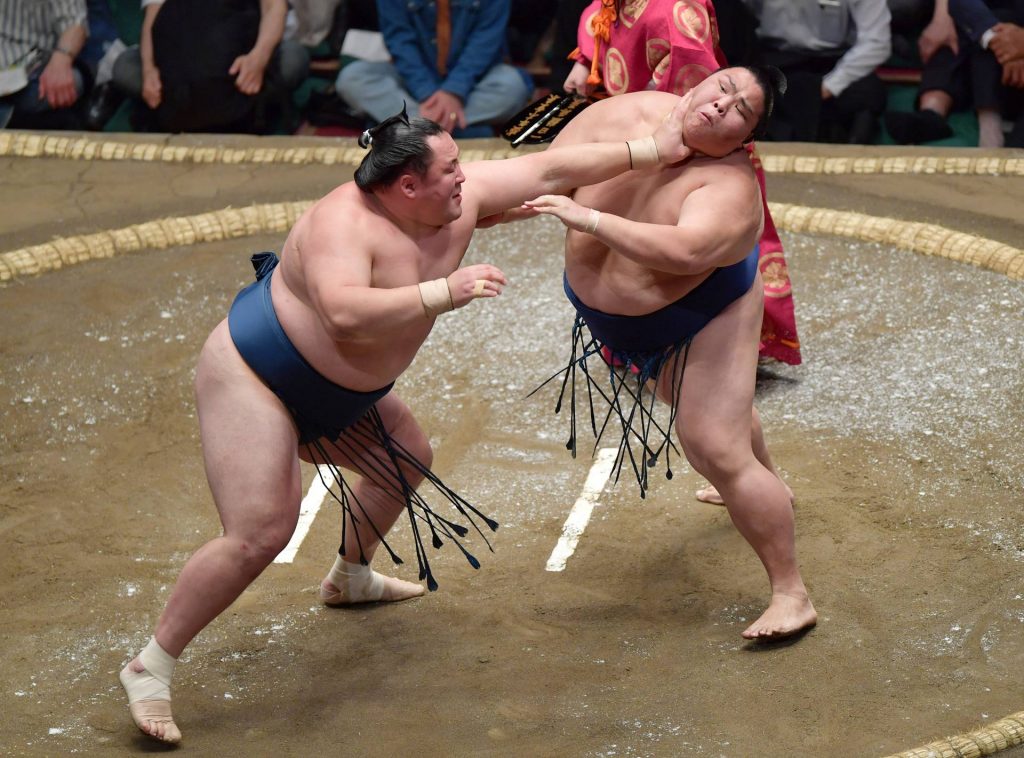 Third-ranked maegashira Tamawashi defeated Mitakeumi when he got his hand under the arm of the ozeki and thrust him out over the edge.
It was a painful loss for New Year champion Mitakeumi. Not only did he drop to 2-3 but he hobbled off the ring favoring his right shoulder.
"I felt good," said Tamawashi. "It was my kind of sumo, I didn't want to waste any time and took advantage of my chance when I saw it."
The 37-year-old Tamawashi was appearing in his 1,426th consecutive bout, the longest streak among active wrestlers.
"I don't think too much about the streak," Tamawashi said. "I just do my best to prepare every day."
Takakeisho restored some ozeki pride when he used a powerful series of thrusts to send fifth-ranked maegashira Onosho flying off the raised ring.
Takakeisho improved to 3-2 while Onosho fell to 2-3.
Ozeki Shodai's winning ways came to an abrupt end when he was overpowered by fourth-ranked maegashira Endo (2-3) to drop to 1-4. Shodai won his first bout on Day 4 but the success was short-lived.

Rank-and-filer Ichiyamamoto stood Oho (2-3) up at the face-off and then hauled down the No. 14 maegashira to improve to a perfect 5-0.
A native of Hokkaido, No. 15 Ichiyamamoto was the juryo division champion in November of 2012 when he posted a 13-2 record.
In a showdown of No. 11 maegashira, Bulgarian behemoth Aoiyama maintained a share of the lead with an arm-lock throw of Mongolian Chiyoshoma, who dropped to 2-3.

Tobizaru Suffers First Loss
Sumo's Flying Monkey Tobizaru, a No. 5 maegashira, fell out of the lead and dropped to 4-1 when he was shoved out by eighth-ranked Shimanoumi (2-3).
Upset specialist Daieisho used a powerful arm thrust to the neck to dispatch sekiwake Abi in a matter of seconds. Komusubi Daieisho, who beat Terunofuji on Day 1, improved to 4-1 while Abi saw his record fall to 3-2.
Mongolian komusubi Hoshoryu dodged to his side at the face-off and shoved Wakatakakage out from behind to earn his third win against two losses.
Sekiwake Wakatakakage won the March tournament but has struggled so far in the 15-day Summer meet and fell to 2-3.
No. 2 maegashira Kotonowaka, who beat three ozeki to start the tournament before losing to Terunofuji on Wednesday, turned in a lackluster performance when he was shoved out by fourth-ranked Takanosho. Both men stand at 3-2.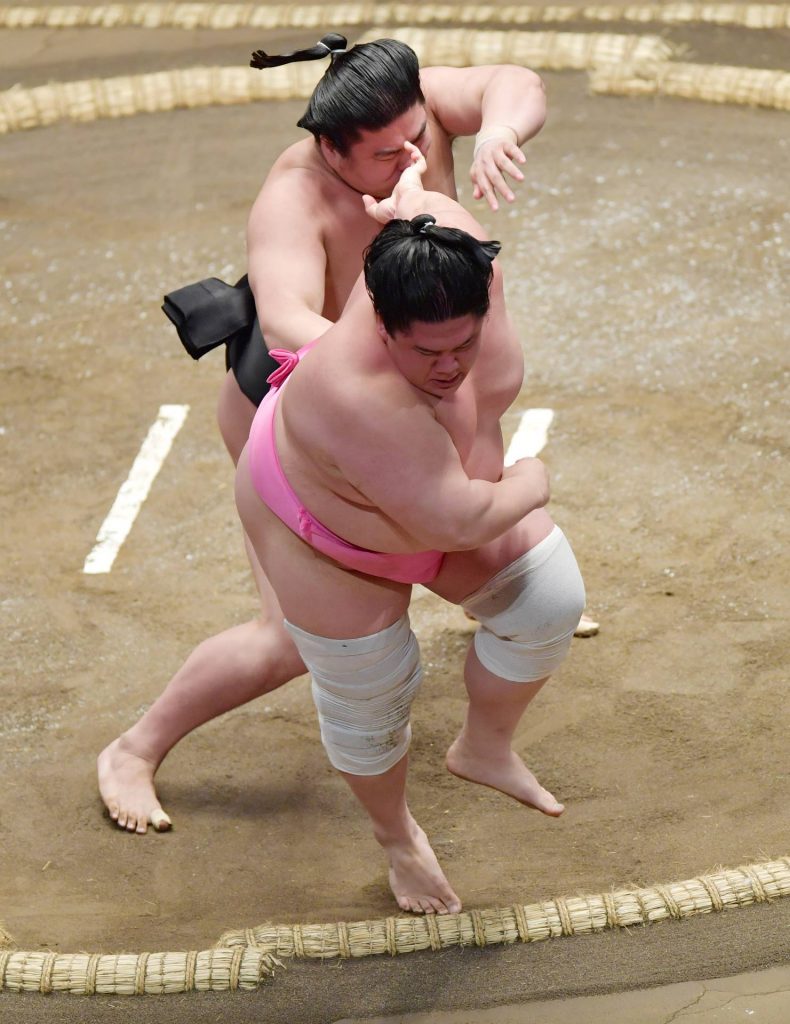 Wakamotoharu Wins Rematch
After their first match ended in a draw, Ura and Wakamotoharu needed a rematch.
In the do-over, No. 6 maegashira Ura came in low after the face-off but was spun around and shoved off the dohyo before he ended up in the third row of seats.
Sixth-ranked maegashira Wakamotoharu, the older brother of Wakatakakage, improved to 4-1 while Ura fell to 3-2.
Mongolian Kiribayama prevailed with a thrust-down victory over top maegashira Takayasu, who dropped to an unflattering 1-4. No. 2 maegashira Kiribayama picked up his second win against three losses.


Author: Jim Armstrong
The author is a longtime journalist who has covered sports in Japan for more than 25 years. You can find his articles here.