Unheralded Aoiyama defeated fellow rank-and-filer Ichiyamamoto on Friday, May 13 to move into sole possession of the lead, while yokozuna Terunofuji was stunned by Tamawashi on Day 6 of the Summer Grand Sumo Tournament.
In the day's final bout at Ryogoku Kokugikan, 37-year-old veteran Tamawashi simply overpowered Terunofuji with a shove to the neck before forcing the grand champion out to improve to 5-1.
Tamawashi has now beaten Terunofuji in three straight tournaments.
"I wanted to just get it over quickly and I was able to get it done, he slapped me at the face-off but I was ready for it," said Tamawashi, who credited his family for providing him with support.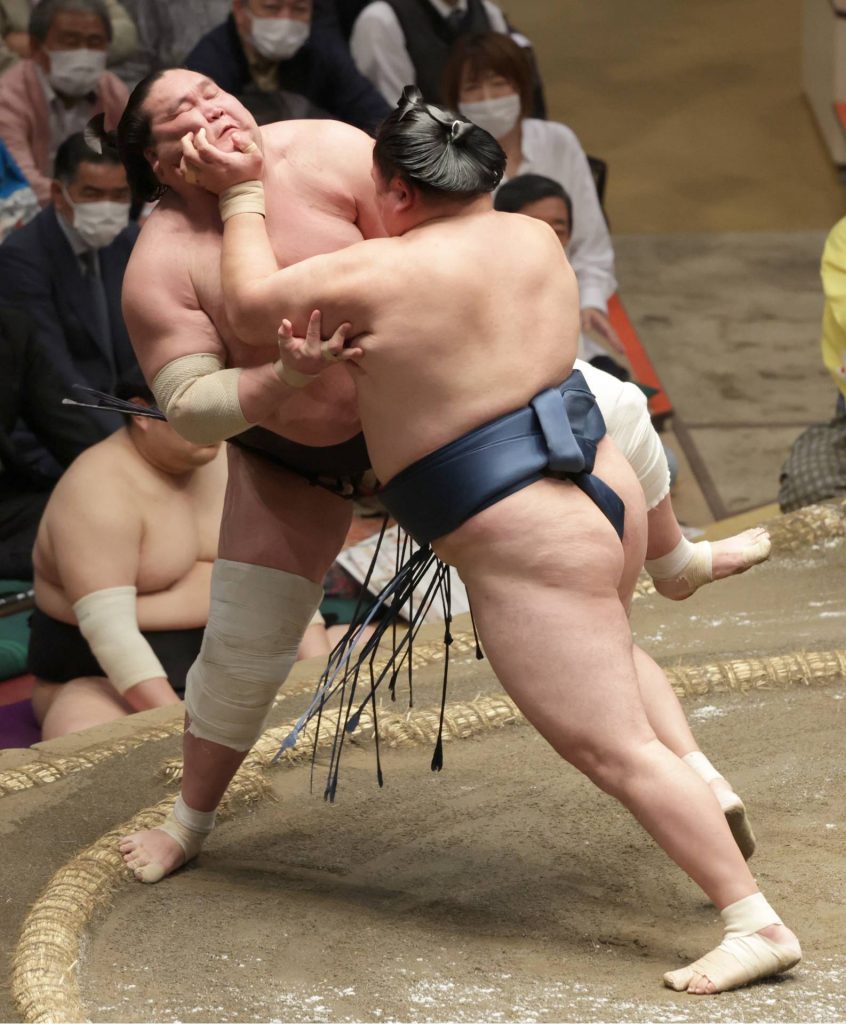 Terunofuji was on the back foot from the outset and his wonky knees prevented him from mounting a comeback. He dropped to 4-2 and will face Endo on Saturday.
In an earlier bout, Aoiyama used a barrage of arm thrusts to send Ichiyamamoto (5-1) back to the edge then swatted the No. 15 maegashira down to improve to a perfect 6-0.
A native of Bulgaria, No. 11 maegashira Aoiyama made his professional debut in 2009, reaching the top division two years later.
He has won four Fighting Spirit awards and one Technique award. His highest rank was sekiwake, which he achieved in 2014.
More recently, he was a runner-up in the 2021 March tournament with an 11-4 record.
One of the heaviest competitors in sumo at 182 kilograms, Aoiyama will take on in-form Sadanoumi on Day 7.
A native of Hokkaido, Ichiyamamoto was the juryo division champion in November of 2021 when he posted a 13-2 record. He has looked solid in this tournament but was no match for Aoiyama on Friday.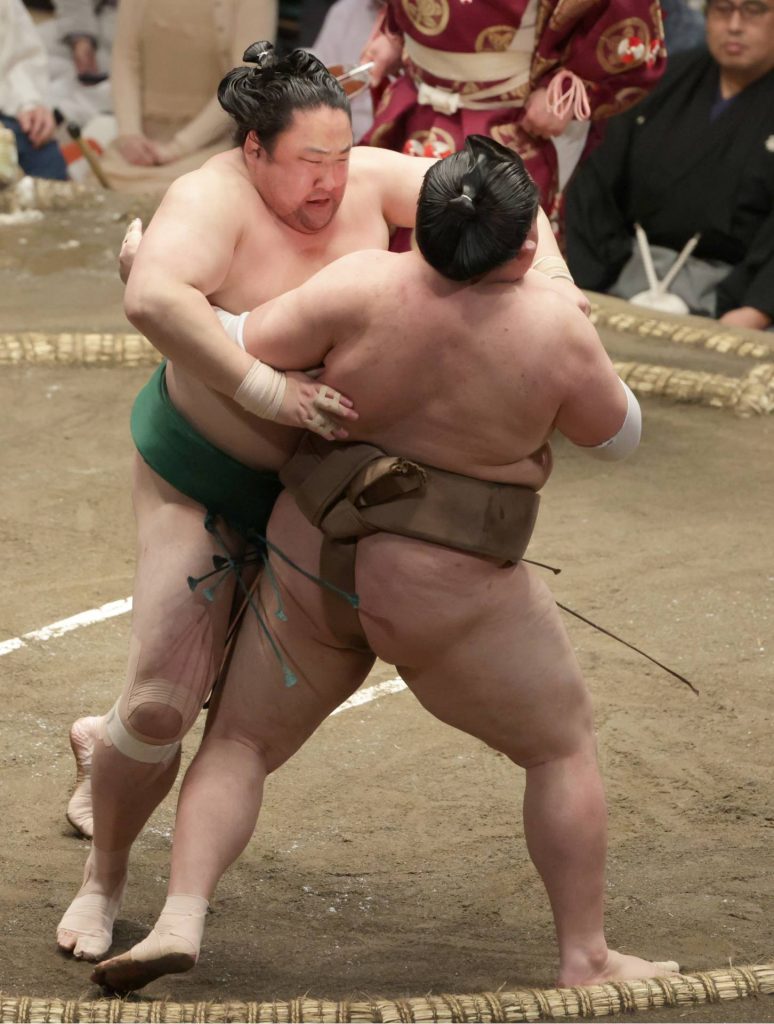 In other major bouts, veteran Sadanoumi, a No. 12 maegashira, remained one win off the pace at 5-1 when he deployed a thrusting attack to send winless No. 17 maegashira Kotokuzan backpedaling out of the ring.
No. 5 maegashira Tobizaru remained one win off the pace at 5-1 after his Day 6 opponent Onosho was forced to withdraw.
Maegashira No. 5 Onosho (2-4) pulled out of the tournament on Friday after it was announced he fractured two ribs when he fell off the dohyo in Thursday's match against Takakeisho.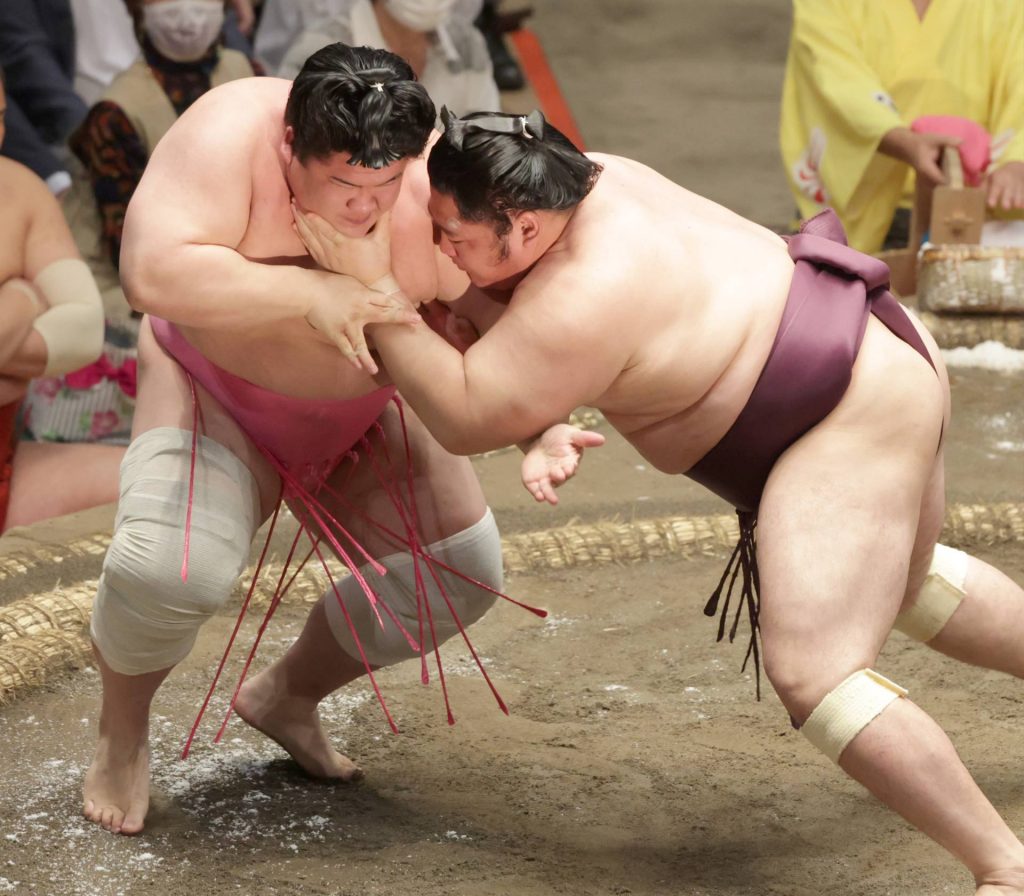 Popular Grapplers Have Identical Records
In a bout of two crowd favorites, fourth-ranked maegashira Endo used a frontal push-out to dispatch No. 6 Ura and give both wrestlers a record of 3-3.
No. 2 maegashira Mongolian Kiribayama spun Kotonowaka around at the edge and shoved him out from behind to give both wrestlers a 3-3 mark.
After beating all three ozeki to open the tournament, No. 2 maegashira Kotonowaka has hit a rough patch with three straight losses.
In an all komusubi showdown, Mongolian Hoshoryu got both arms around Daieisho and overpowered his opponent to improve to 4-2 with a frontal force-out. Daieisho dropped to 4-2.
Sekiwake Wakatakakage, winner of the March basho, put a halt to a two-bout losing streak when he got a right-hand grip on the belt of Takayasu and shoved the struggling top maegashira out to move to 3-3. Takayasu dropped to an unflattering 1-5.
The struggles continued for ozeki Shodai, who was overpowered by Takanosho to drop to 1-5. He also got off to a 1-5 start at the March tournament but ended up with a winning record so all is not lost yet for the Tokitsukaze stable wrestler.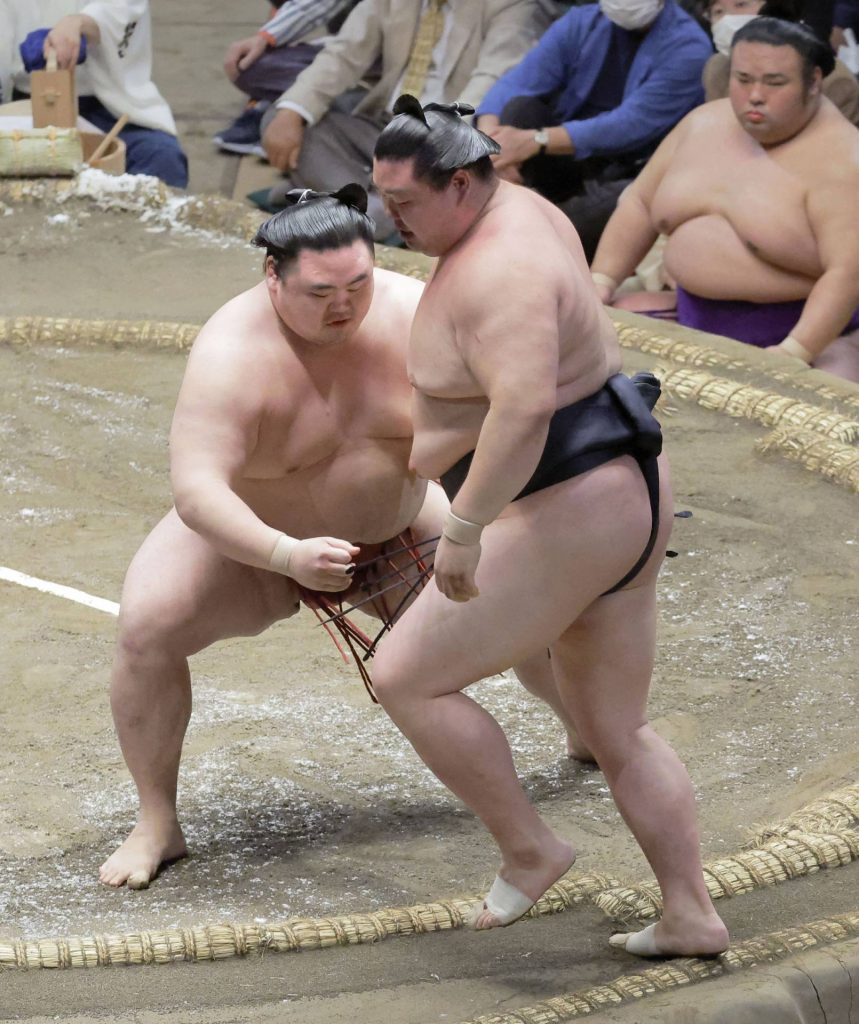 No. 4 maegashira Takanosho used a powerful thrust to the neck to send Shodai back to the edge then shoved his opponent out to improve to 4-2.
"I'm in good form, I was in no rush to get the victory and just ensured that I was able to do my brand of sumo," said Takanosho, who has also beaten heavyweights Kotonowaka and Tamawashi in this tournament.
Ozeki Mitakeumi used a pulling overarm throw to upend Hokutofuji in the blink of an eye to improve to 3-3. No. 3 maegashira Hokutofuji is at 1-5.
Sekiwake Abi shifted to the right immediately after the face-off and then swatted down ozeki Takakeisho to move to 4-2. Takakeisho fell to 3-3 on another rough day for the ozeki wrestlers.


Author: Jim Armstrong
The author is a longtime journalist who has covered sports in Japan for more than 25 years. You can find his articles here.