Grand champion Terunofuji fought off a spirited attack by Endo on Saturday, May 14 to stay one win off the pace at the Summer Grand Sumo Tournament.
No. 4 maegashira Endo came bursting out of the face-off in the day's final bout at Ryogoku Kokugikan and appeared to have stunned the lone yokozuna.
Almost out of desperation, Terunofuji attempted two arm-lock throws but couldn't pull them off. He eventually prevailed when he was able to swat Endo down to improve to 5-2. Endo dropped to 3-4.
Heading into the midway point of the 15-day basho, Terunofuji is one win back of lower-ranked wrestlers Aoiyama and Sadanoumi, who share the lead at 6-1.
Daieisho, Tamawashi, Hoshoryu, Takanosho, Tobizaru and Ichiyamamoto are also at 5-2.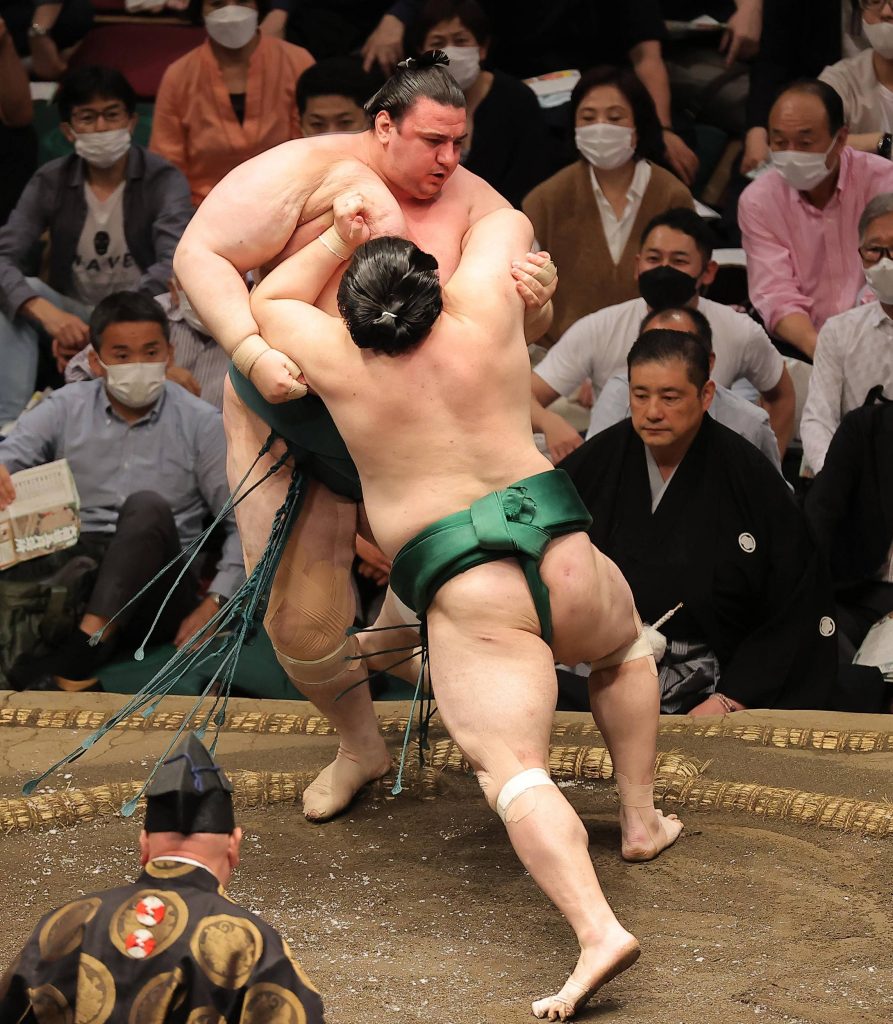 Sadanoumi knocked Aoiyama out of the lead when he took advantage of a pulling attempt by the Bulgarian No. 11 maegashira and shoved his opponent out for his sixth win against a lone loss.
Komusubi Daieisho claimed another top-ranked victim when he used a powerful arm thrust to the neck to send Mitakeumi back before shoving the ozeki out to his fourth loss against three wins.
Daieisho, who beat Terunofuji on Day 1, is looking better by the day and at 5-2 is one of the few wrestlers among the sanyaku ranks to look like a contender as the tournament nears the midway point.
"I watched Mitakeumi's moves and didn't want to make any mistakes so I just waited it out and was able to get the win," Daieisho said.
Ozeki Takakeisho used a fierce pushing attack to dispatch veteran third-ranked maegashira Tamawashi, who dropped out of the lead and fell to 5-2. Takakeisho improved to 4-3 with the frontal force-out win.
Ozeki Shodai's nightmare basho continued when he was overpowered by Hokutofuji to fall to 1-6. Hokutofuji used an arm thrust to the neck after the face-off to knock the ozeki off balance while improving to 2-5.
Former ozeki Takayasu used a series of powerful arm thrusts to send Kotonowaka backpedaling out of the ring.
Top maegashira Takayasu picked up his second win against five losses while No. 2 maegashira Kotonowaka (3-4) lost his fourth straight bout after opening the tournament with three straight wins over ozeki wrestlers.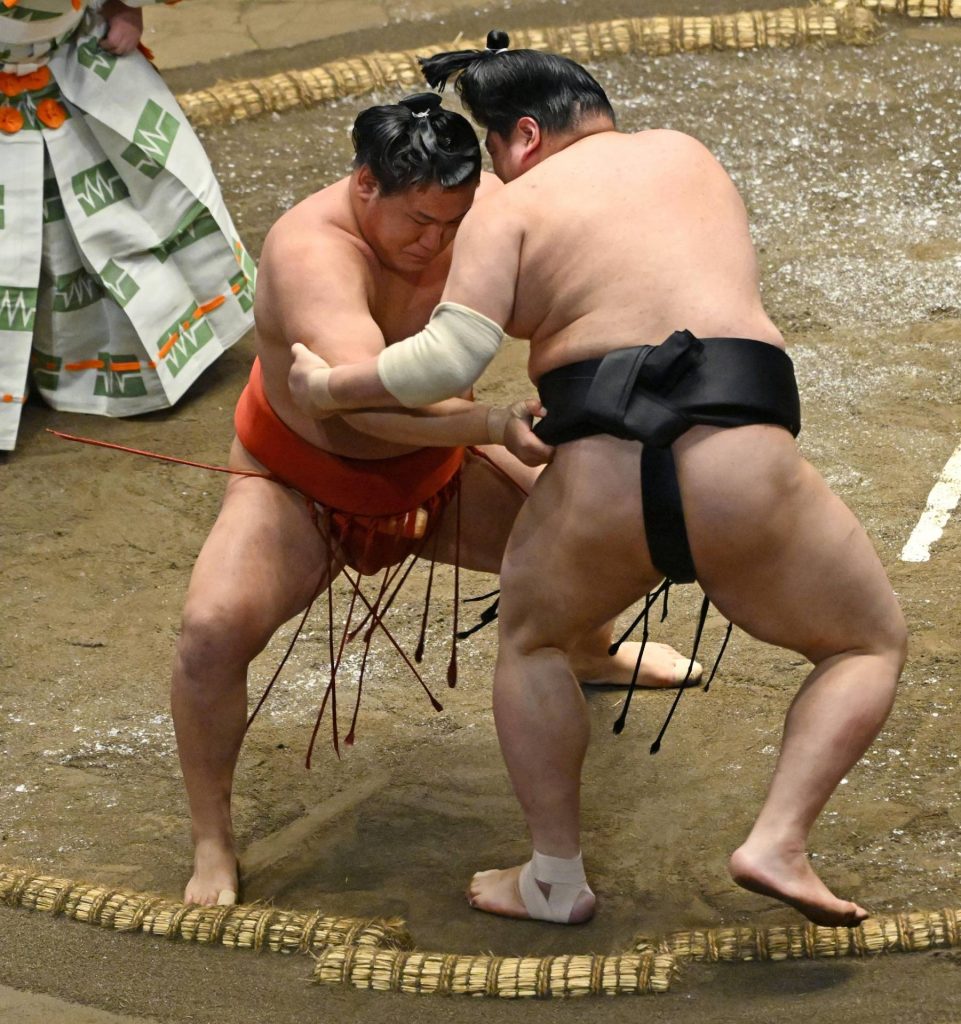 Hoshoryu Extends Win Streak
Komusubi Hoshoryu picked up his third straight win when he got a right-hand grip on the belt of Abi and shoved the sekiwake out for his fifth win against a pair of losses. Abi fell to 4-3.
"I wanted to avoid a strong initial charge by Abi so that was my game plan," Hoshoryu said. "I've gained some weight recently, so I feel good."
The struggles continued for March tournament winner Wakatakakage, who was swatted down by Kiribayama (4-3) to suffer his fourth loss against three wins.
With four losses, sekiwake Wakatakakage's hopes of another championship in this meet are all but dashed.
Takanosho was pushed back at the face off but recovered when he got a right-hand inside grip on Tobizaru and thrust the fifth-ranked maegashira out in a matter of seconds to give both wrestlers a record of 5-2.
No. 9 maegashira Kotoshoho used a superb beltless arm throw at the edge of the ring to topple sixth-ranked Wakamotoharu and give both wrestlers a 4-3 record.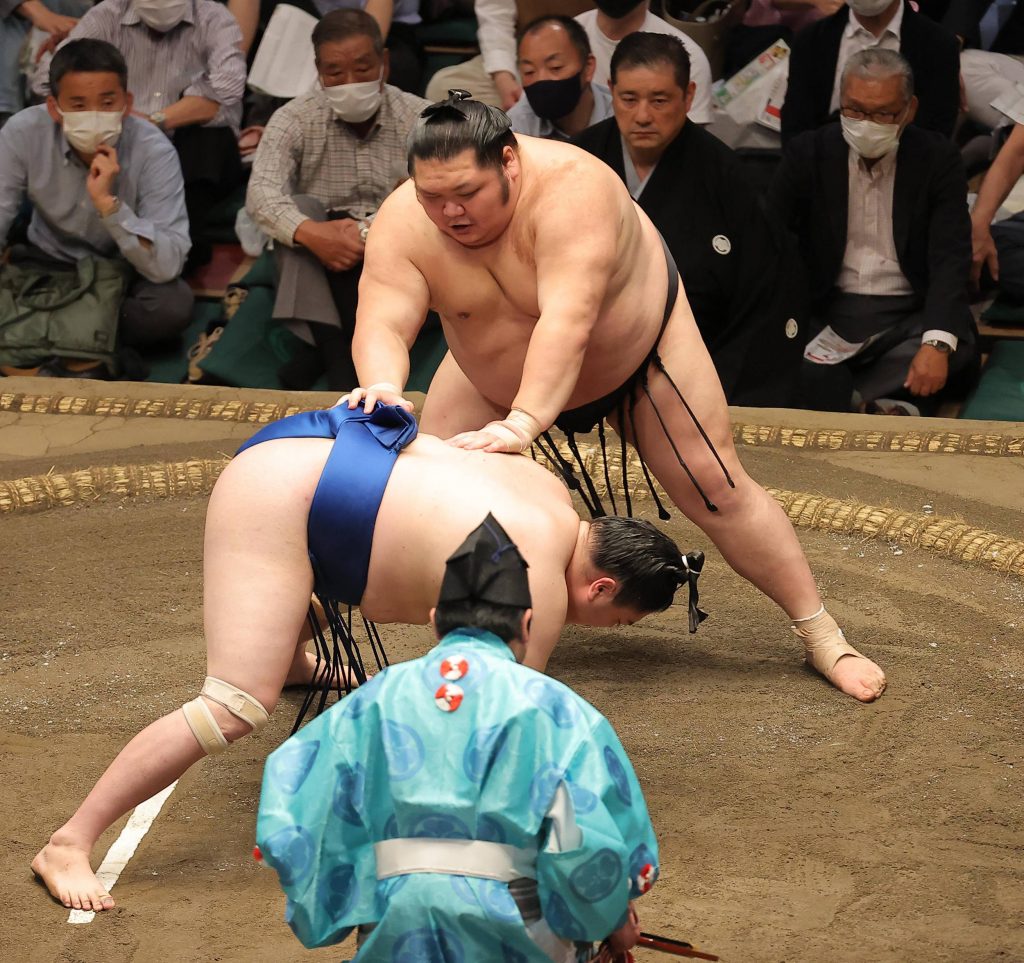 No. 13 maegashira Chiyotairyu (4-3) swatted down Ichiyamamoto to hand the No. 15 maegashira only his second loss of the tournament.
In a slap-fest between two wrestlers desperate for a win, Oho finally prevailed when he forced out fellow rank-and-filer Yutakayama to improve to 3-4.
Oho, the grandson of legendary grand champion Taiho, put a stop to three straight losses while handing Yutakayama (2-5) his fifth straight loss.


Author: Jim Armstrong
The author is a longtime journalist who has covered sports in Japan for more than 25 years. You can find his articles here.