Rank-and-filer Takanosho upset yokozuna Terunofuji on Sunday, May 15 to move into a five-way tie for lead at the midway point of the Summer Grand Sumo Tournament.
In the day's final bout at Ryogoku Kokugikan, Takanosho forced Terunofuji to the edge where the grand champion attempted a last-gasp arm throw but stepped out with his foot to seal the win for the No. 4 maegashira who improved to 6-2.
"I just wanted to go for it today and that's what I did," Takanosho said. "I tried to get inside. He's a heavy man so I just wanted to keep moving forward and do my brand of sumo."
Lower-ranked wrestlers Tamawashi, Ichiyamamoto, Sadanoumi and Aoiyama are also tied for the lead in what has become a wide-open tournament with no clear favorite heading into the second week.
Terunofuji dropped to 5-3 and is now among a large group of wrestlers one win back. He is by no means out of contention for the Emperor's Cup, but can't afford many more slip-ups if he hopes to win his third title at sumo's highest rank.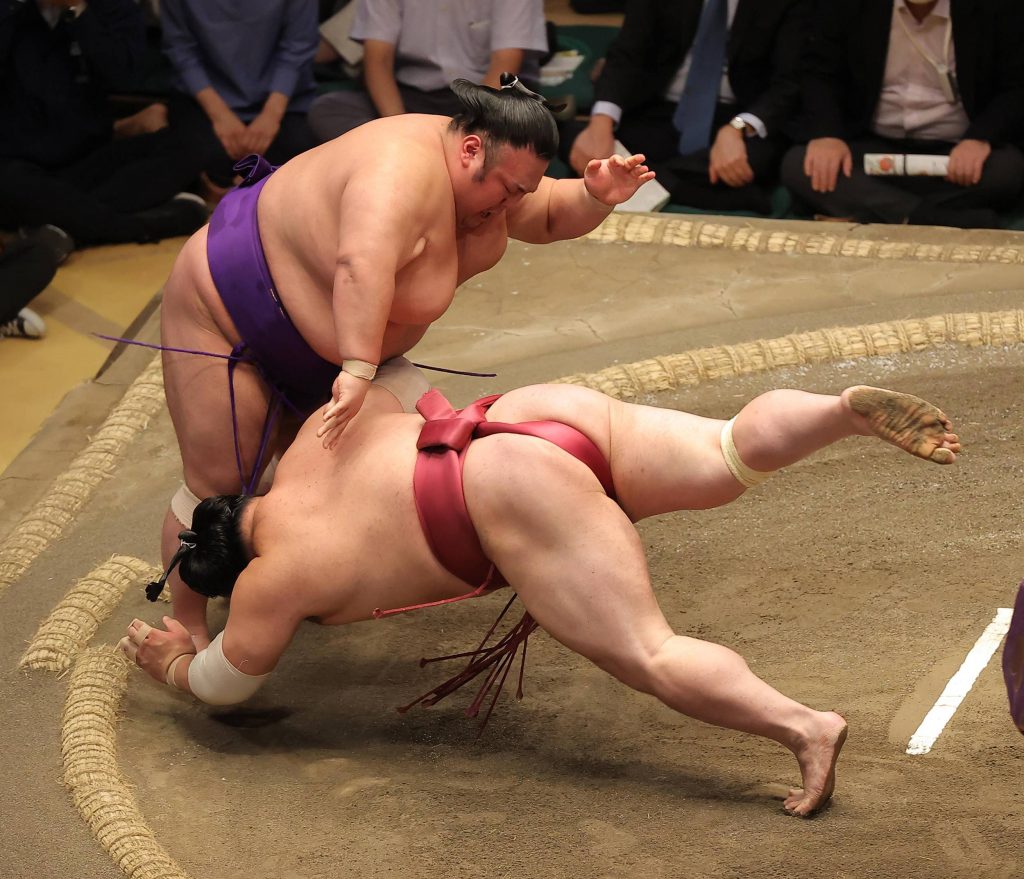 In other major bouts, ozeki Takakeisho used a slap-down technique to defeat giant slayer Daieisho, who went into the bout having already beaten Terunofuji and the ozeki duo of Shodai and Mitakeumi.
Komusubi Daieisho was pushed back at the initial face-off but was swatted down when he mounted a counterattack and dropped to 5-3. Takakeisho won his second straight bout and is also at 5-3.
Feeling a sense of desperation, ozeki Shodai (2-6) toppled Hoshoryu with a frontal crush-out to pick up just his second win of the tournament.
Both wrestlers fell out at the same time but the referee ruled in favor of Shodai and the ringside judges did not huddle to overturn the ruling. Komusubi Hoshoryu fell to 5-3.
Veteran No. 3 maegashira Tamawashi deployed a series of arm thrusts to the neck to send Tobizaru backpedaling off the raised ring to join the leader's pack at 6-2. Fifth-ranked maegashira Tobizaru dropped to 5-3.

Kotonowaka Ends Losing Streak
Kotonowaka finally put a halt to a four-bout losing streak with a hard-fought win over sekiwake Wakatakakage.
Kotonowaka (4-4) used an underarm throw at the edge to beat March tournament winner Wakatakakage, who lost his fifth bout and now has no chance of promotion to ozeki.
Ozeki Mitakeumi improved to 4-4 with a slap-down victory over fourth-ranked maegashira Endo, who simply came in too low at the face-off and hit the dirt surface in a matter of seconds to drop to 3-5.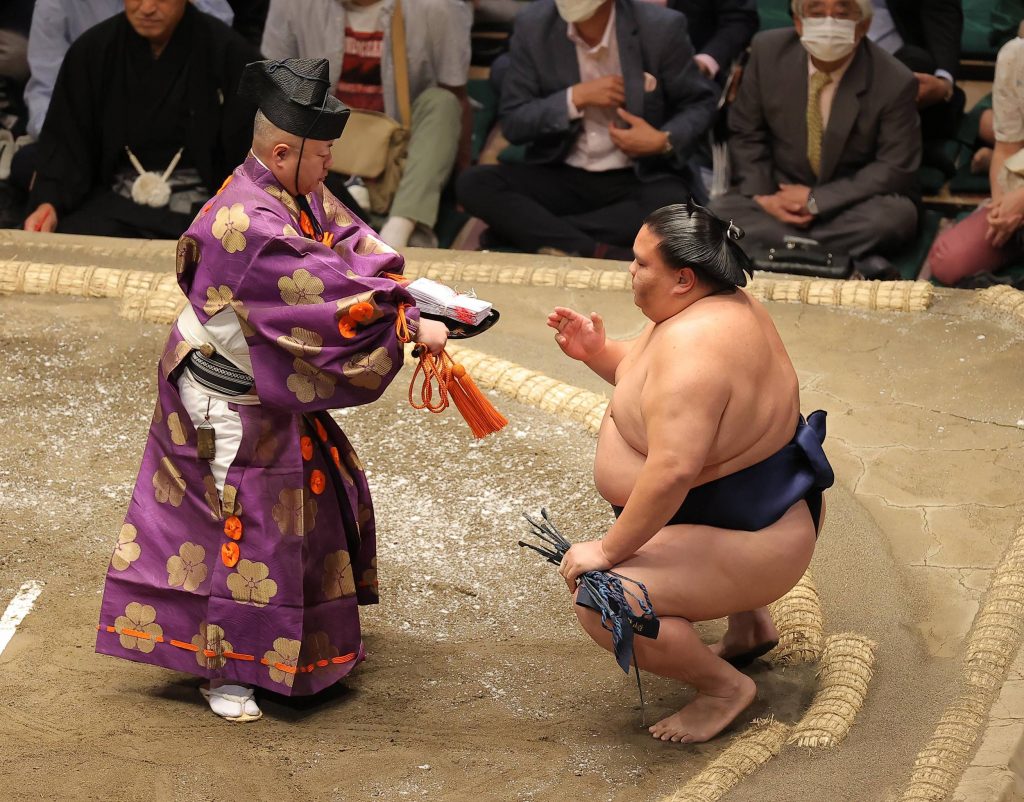 Mongolian Kiribayama improved to 5-3 when he came bursting out of the face-off and bulldozed Hokutofuji out with several powerful arm thrusts.
No. 2 maegashira Kiribayama earned his fifth win against three losses while No. 3 maegashira Hokutofuji fell to 2-6.
No. 15 maegashira Ichiyamamoto handed 35-year-old Sadanoumi his second loss of the tournament.
Sadanoumi attempted an arm-lock throw but Ichiyamamoto spun around at the edge and thrust the No. 12 maegashira out to give both wrestlers a record of 6-2.
No. 6 maegashira Wakamotoharu overpowered Bulgarian Aoiyama with a series of arm thrusts to improve to 5-3. No. 11 Aoiyama dropped to 6-2, but still has a share of the lead.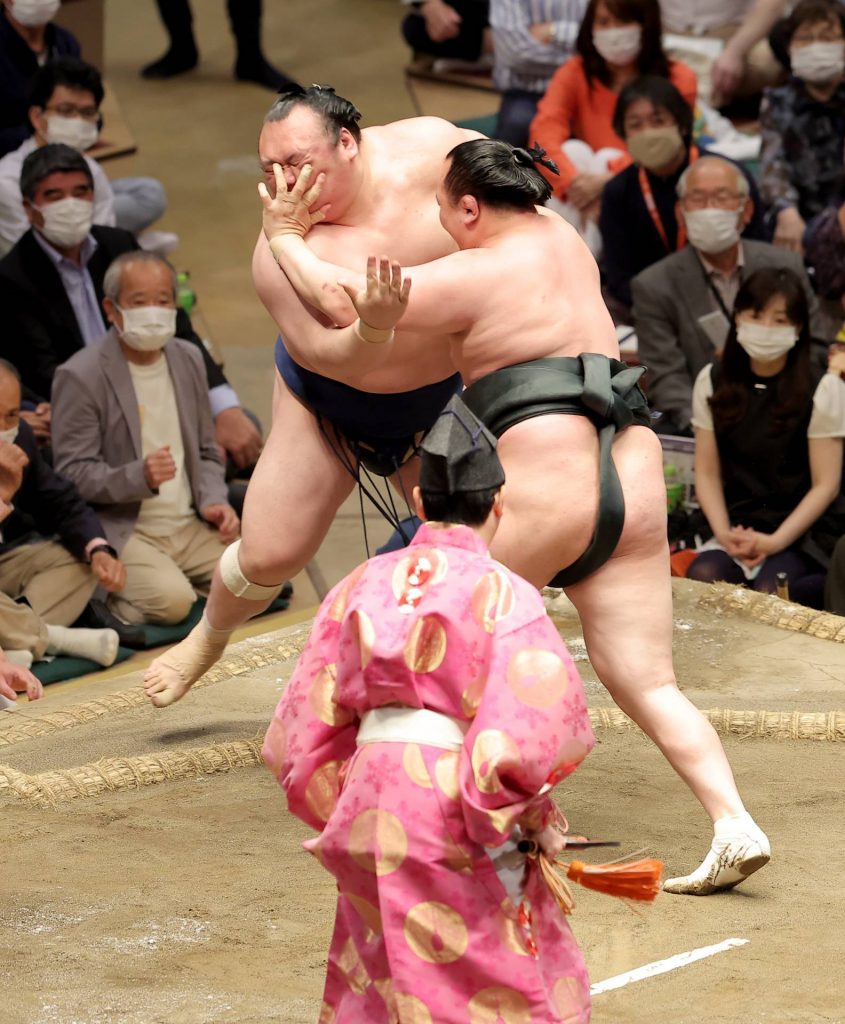 Despite a spirited effort, struggling No. 7 maegashira Takarafuji was handed his eighth straight loss, meaning he will finish the tournament with a losing record.
Takarafuji got a double-handed grip on the belt of Chiyoshoma (4-4), but lost his outside grip on an attempted arm throw and was shoved out by the 11th-ranked maegashira to drop to 0-8.
No. 6 maegashira Ura used a rare under-shoulder swing-down technique to take down the much larger Tochinoshin, a ninth-ranked maegashira.
Both men toppled off the raised ring at the same time in spectacular fashion, but Ura managed to keep his feet in bounds to secure the win and improve to 5-3. Tochinoshin dropped to 4-4.


Author: Jim Armstrong
The author is a longtime journalist who has covered sports in Japan for more than 25 years. You can find his articles here.