Takanosho Overpowers Ozeki Mitakeumi to Remain Tied for the Lead at Summer Basho
The No. 4 maegashira won his sixth straight bout and shares the lead with three other rank-and-filers.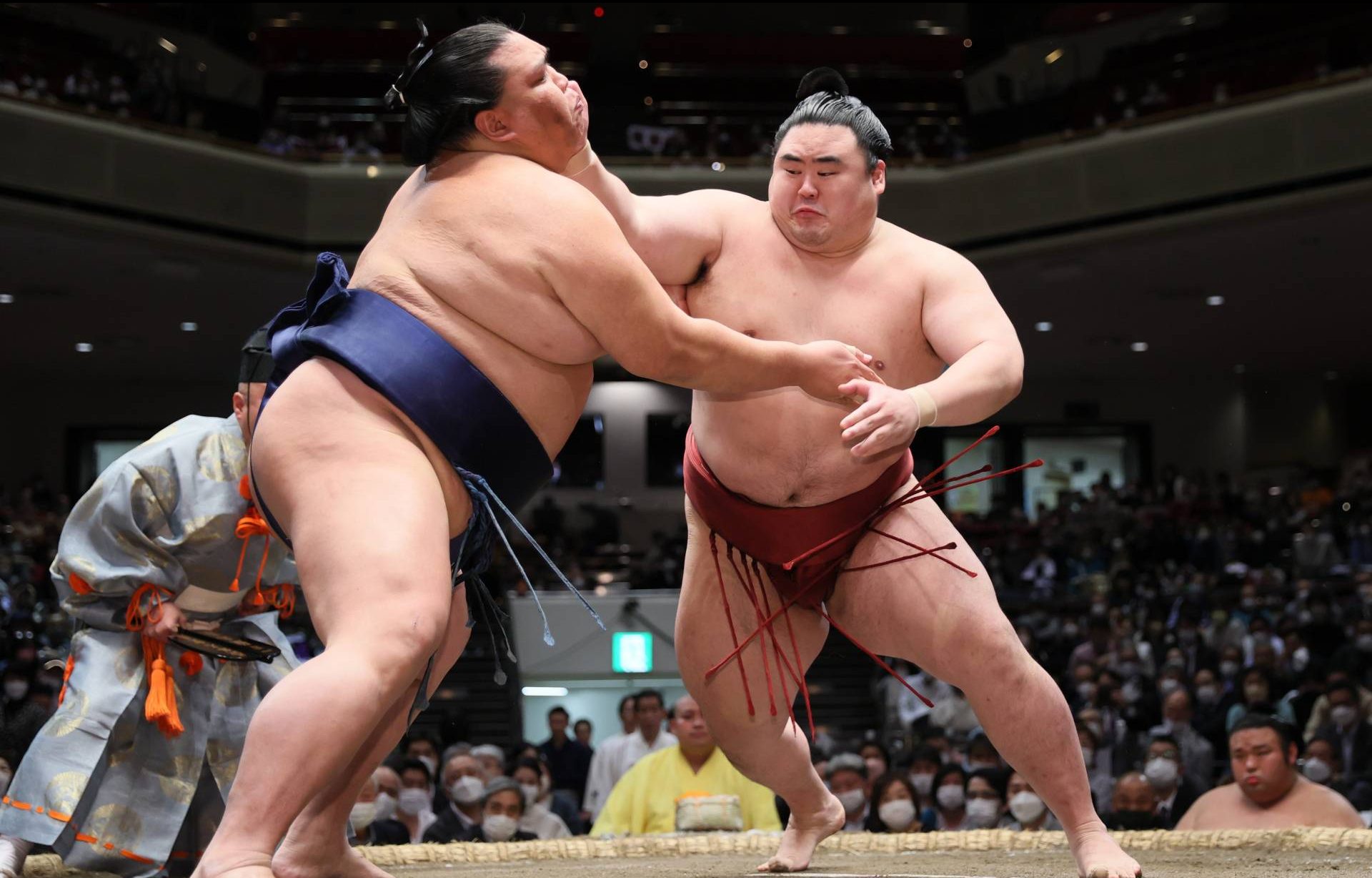 Red-hot No. 4 maegashira Takanosho overpowered ozeki Mitakeumi on Monday, May 16 to remain tied for the lead on Day 9 at the Summer Grand Sumo Tournament.
Takanosho, who beat yokozuna Terunofuji the previous day, came bursting out of the face-off and never gave Mitakeumi a chance before thrusting him out to improve to 7-2 with his sixth straight win.
New Year tournament winner Mitakeumi dropped to 4-5 and has little chance of winning the title in the 15-day basho at Tokyo's Ryogoku Kokugikan.
Takanosho is tied for the lead with fellow rank-and-filers Aoiyama, Ichiyamamoto and Sadanoumi.
"I'm in a good spot right now mentally," Takanosho said. "But I haven't even wrapped up a winning record yet so that is my next goal. I don't try to think of the technique too much, I just try to go for it."
It's highly unusual not to see an ozeki or grand champion in the lead at this stage of the tournament.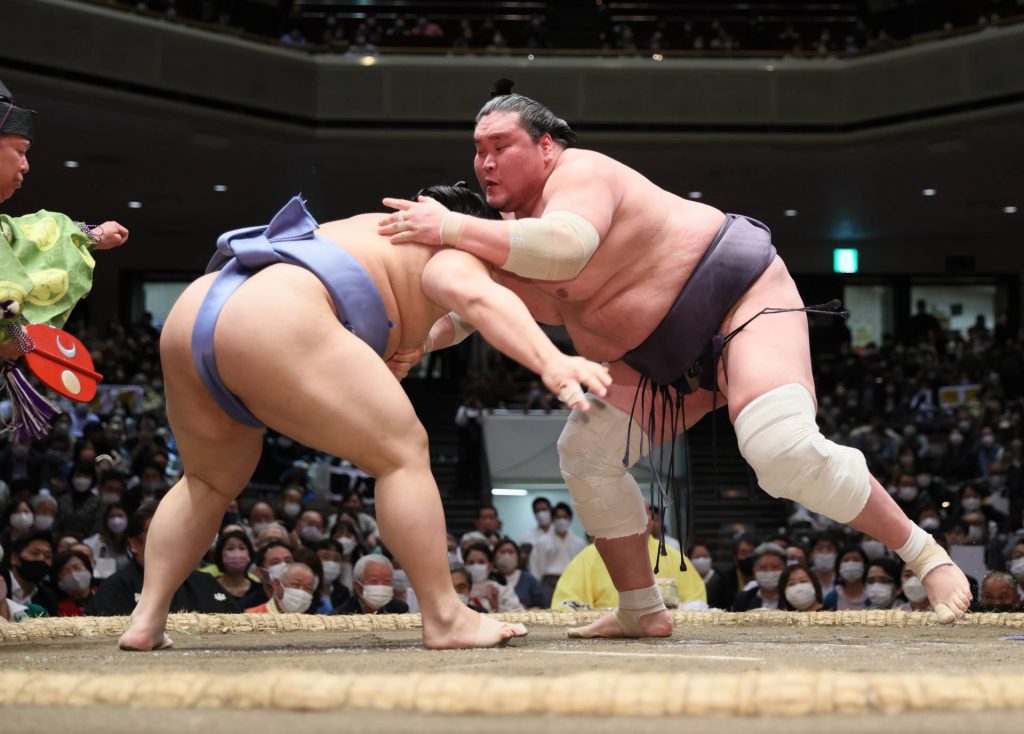 In the day's final bout, grand champion Terunofuji got an arm lock on Tobizaru and lifted sumo's flying monkey out over the straw ridge to move to 6-3.
Fifth-ranked maegashira Tobizaru was looking for his first win against Terunofuji and gave it all he had but dropped to 5-4.
In other major bouts, sekiwake Wakatakakage showed great perseverance when he slapped down ozeki Takakeisho (5-4) to put a halt to a two-match losing streak to improve to 4-5.
March tournament winner Wakatakakage was pushed back to the brink by the ozeki, but never lost his nerve and was rewarded with a hard-fought win.
"I've been going all out and just tried to maintain my focus despite my losing record," Wakatakakage said.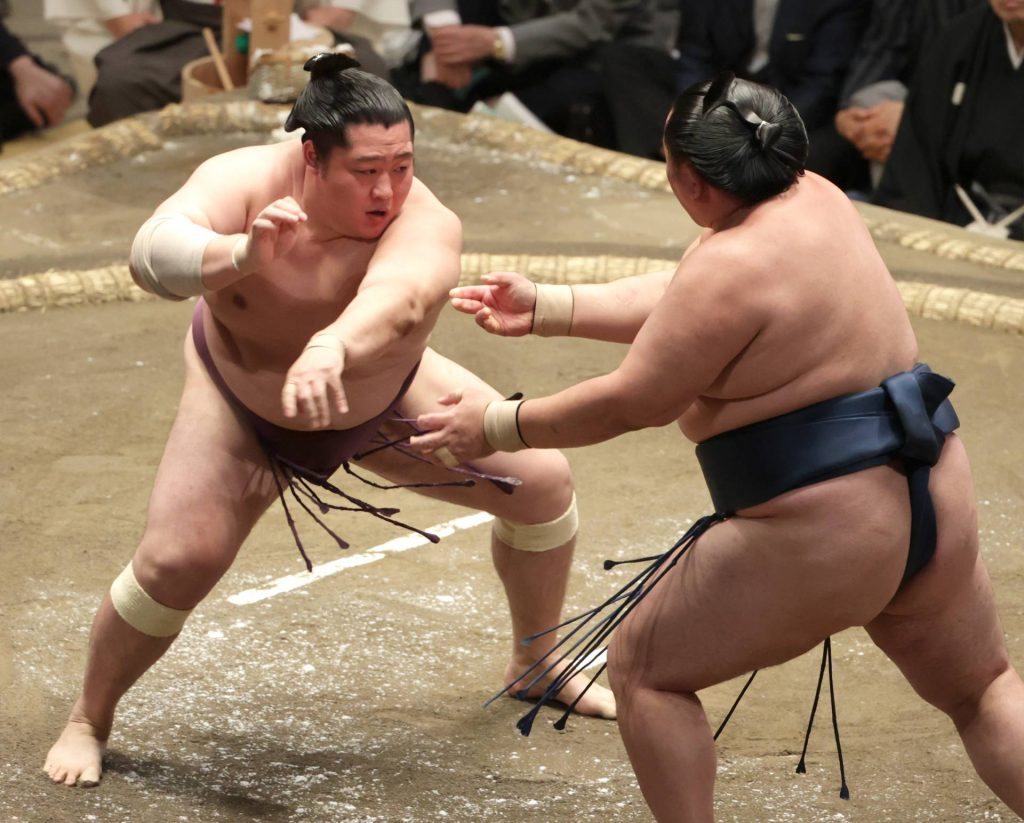 Fourth-ranked maegashira Endo fought off a thrusting attack by Tamawashi at the face-off and used several powerful arm thrusts of his own to knock the veteran Mongolian out of the lead.
No. 3 maegashira Tamawashi, who beat Terunofuji on Day 6, dropped to 6-3 while Endo improved to 4-5.
Bulgarian Aoiyama, a No. 11 maegashira, also remained tied for the lead at 7-2 with a superb arm-lock throw of seventh-ranked maegashira Kotoeko.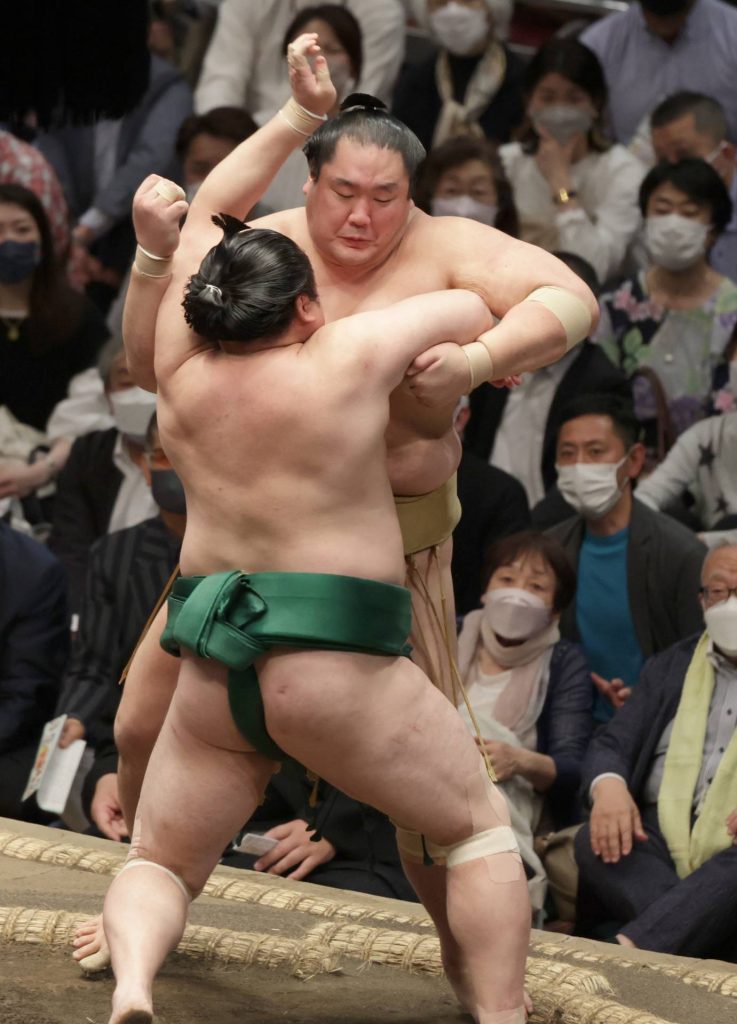 No. 12 maegashira Sadanoumi maintained his share of the lead when he shoved out No. 17 Kagayaki (3-6) to improve to 7-2.
Ichiyamamoto, a No. 15 maegashira, used a barrage of arm thrusts to the chest to defeat Chiyoshoma and keep pace at 7-2.
Eleventh-ranked maegashira Chiyoshoma fell to 4-5.
Takayasu Falls to 2-7
Mongolian Hoshoryu absorbed a bruising charge at the face-off then used an arm bar throw to send Takayasu sprawling off the raised ring.
Komusubi Hoshoryu, the nephew of former yokozuna Asashoryu, picked up his sixth win against three losses. Top maegashira Takayasu fell to 2-7.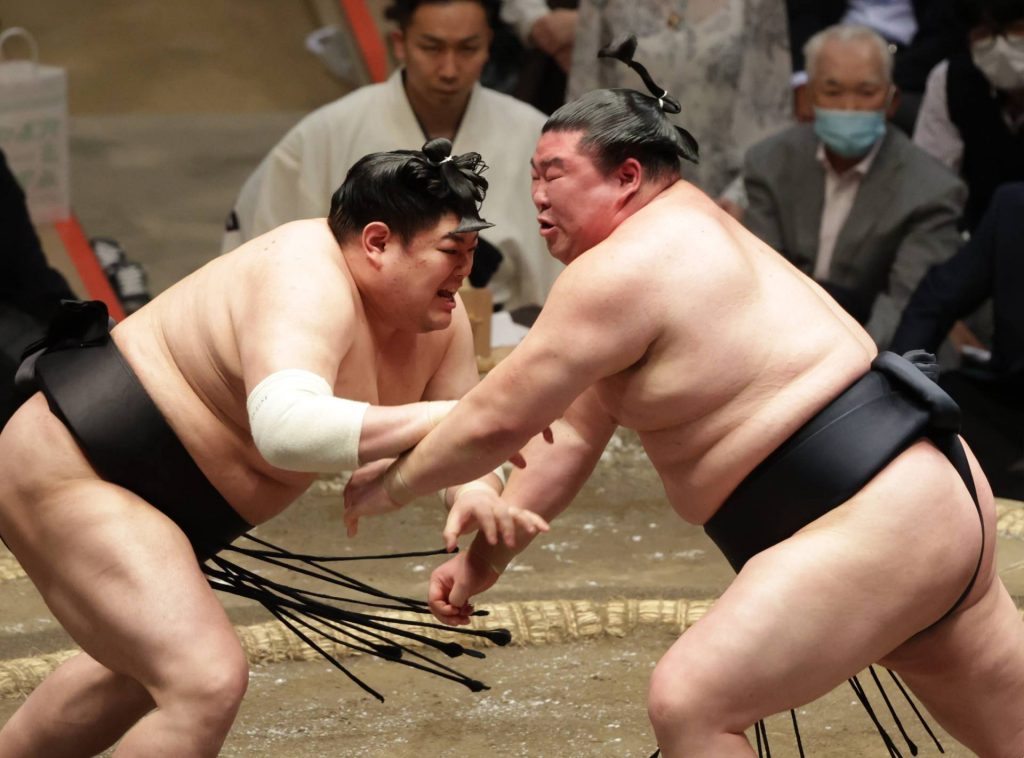 Ozeki Shodai won for the second straight day when he fought off a series of arm thrusts by Abi and used a push-out technique to dispatch the sekiwake grappler and improve to 3-6. Abi dropped to 5-4.
Shodai had six losses in the first week of the tournament. But he has started to look more like an ozeki in recent days and still has a chance at a winning record.
Mongolian No. 2 maegashira Kiribayama picked up his fifth straight win when he shoved out komusubi Daieisho to improve to 6-3. Daieisho fell to 5-4.
No. 3 maegashira Kotonowaka came out the winner despite being shoved back by veteran Hokutofuji.
Both wrestlers fell out of the ring at the same time but the referee ruled that Hokutofuji touched the surface outside the ring first. Kotonowaka picked up his fifth win against four losses while Hokutofuji, a No. 3 maegashira, dropped to 2-7.
Azumaryu Outlasts Kotoshoho
In a marathon bout, Mongolian No. 15 maegashira Azumaryu finally prevailed when he swatted down ninth-ranked Kotoshoho to give both wrestlers a record of 5-4.
Struggling seventh-ranked maegashira Takarafuji finally picked up his first win of the tournament and improved to 1-8 with a frontal force-out of No. 10 Nishikigi, who dropped to 4-5.


Author: Jim Armstrong
The author is a longtime journalist who has covered sports in Japan for more than 25 years. You can find his articles here.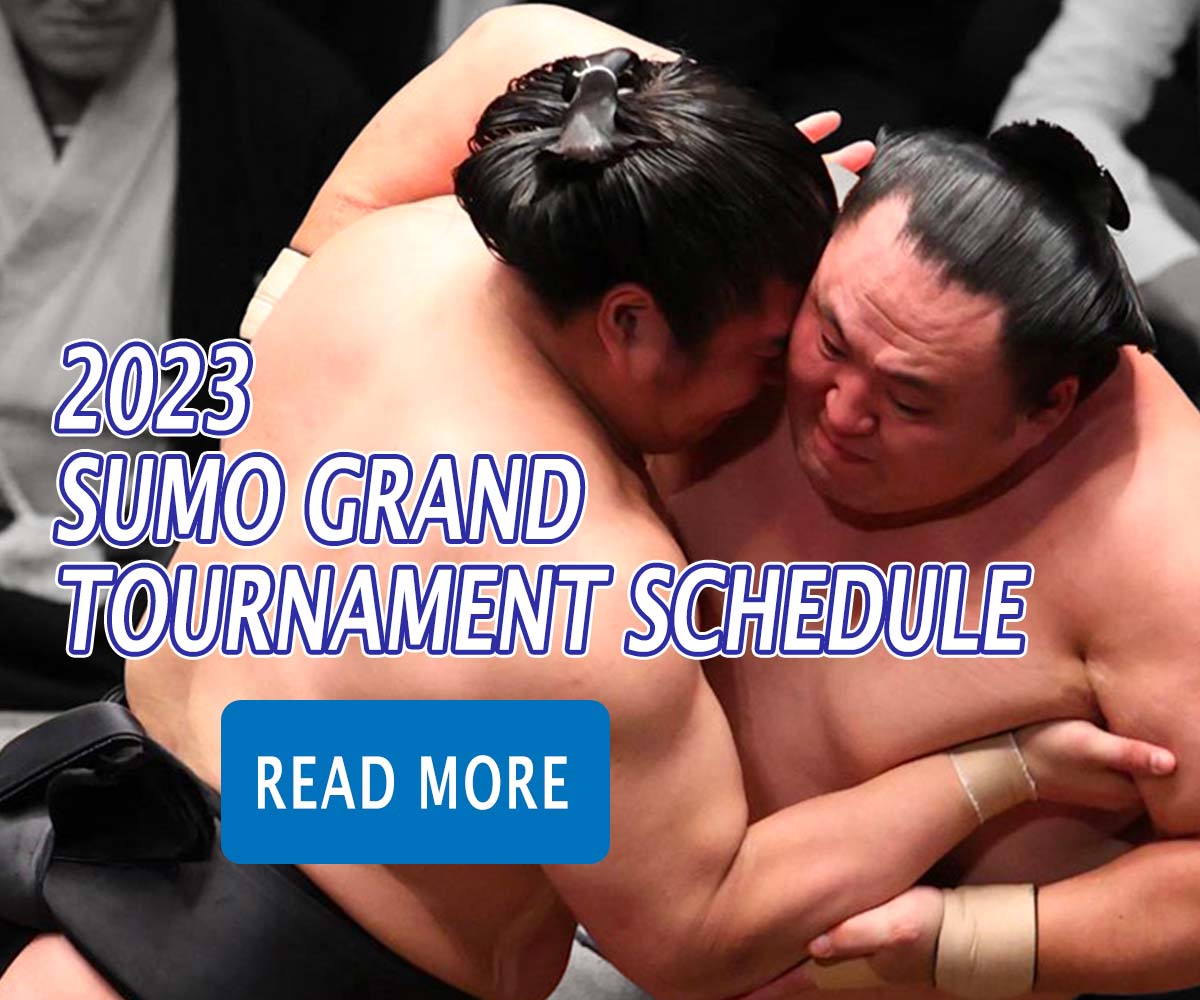 Subscribe to Our Newsletter