Terunofuji Brushes Aside Hoshoryu to Stay One Win Back at Summer Meet
The lone yokozuna is one victory behind surprise leaders Takanosho and Ichiyamamoto.
Grand champion Terunofuji overpowered Mongolian compatriot Hoshoryu on Tuesday, May 17 to stay one win back of the leaders on Day 10 at the Summer Grand Sumo Tournament.
In the day's final bout at Ryogoku Kokugikan, Terunofuji got his preferred right-hand in, left-hand out grip on the belt of Hoshoryu and forced the komusubi to the edge.
From there the lone yokozuna relied on his size advantage to topple his opponent and improve to 7-3 with the crush-out victory. Komusubi Hoshoryu dropped to 6-4.
Terunofuji is one of five wrestlers at 7-3 who are chasing rank-and-file leaders Takanosho and Ichiyamamoto.
Bidding for his third Emperor's Cup at sumo's highest rank, Terunofuji will face Abi on Day 11.
Former sekiwake Takanosho defeated Endo in an earlier bout.
Takanosho Extends Win Streak to Seven
Takanosho shoved Endo back to the edge where his opponent stepped to his side just before both men fell out of the ring at the same time.
The referee ruled correctly that Endo's foot had touched down before Takanosho's hand did, giving the fourth-ranked maegashira his seventh straight win and an 8-2 record.
"I'm in good form and just hoping that things will keep moving forward," Takanosho said. "I'm not really thinking about the championship and will just try to take it one day at a time."
Endo, who is also a fourth-ranked maegashira, came within inches of an upset win but dropped to 4-6.
No. 15 maegashira Ichiyamamoto was shoved back at the face-off but dodged to his left and thrust ninth-ranked Kotoshoho out to improve to 8-2. Kotoshoho fell to 5-5.
"I was very nervous," Ichiyamamoto said. "I came out with a two-handed thrust and felt I got off to a good start. Now that I have a winning record I'll just try to keep going. I'm not thinking about anything else."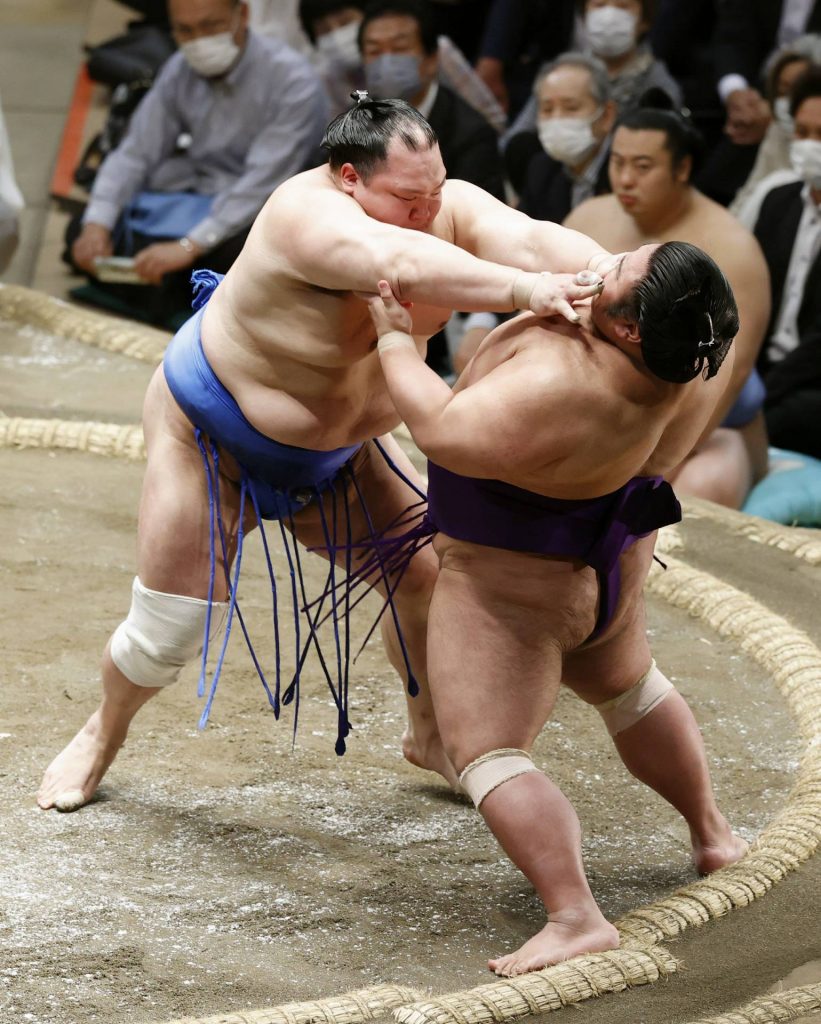 Hokutofuji Manhandles Takakeisho
In other major bouts, third-ranked maegashira Hokutofuji (3-7) took advantage of a strong face-off and used a series of powerful shoves to send ozeki Takakeisho backpedaling out to his fifth loss against five wins.
March tournament winner and sekiwake Wakatakakage made it two ozeki victims in a row when he used his low center of gravity after the face off before bulldozing Shodai out to improve to 5-5.
Shodai dropped to 3-7 and will now have to win all his remaining bouts to secure a winning record and avoid being demotion-threatened in the next tournament.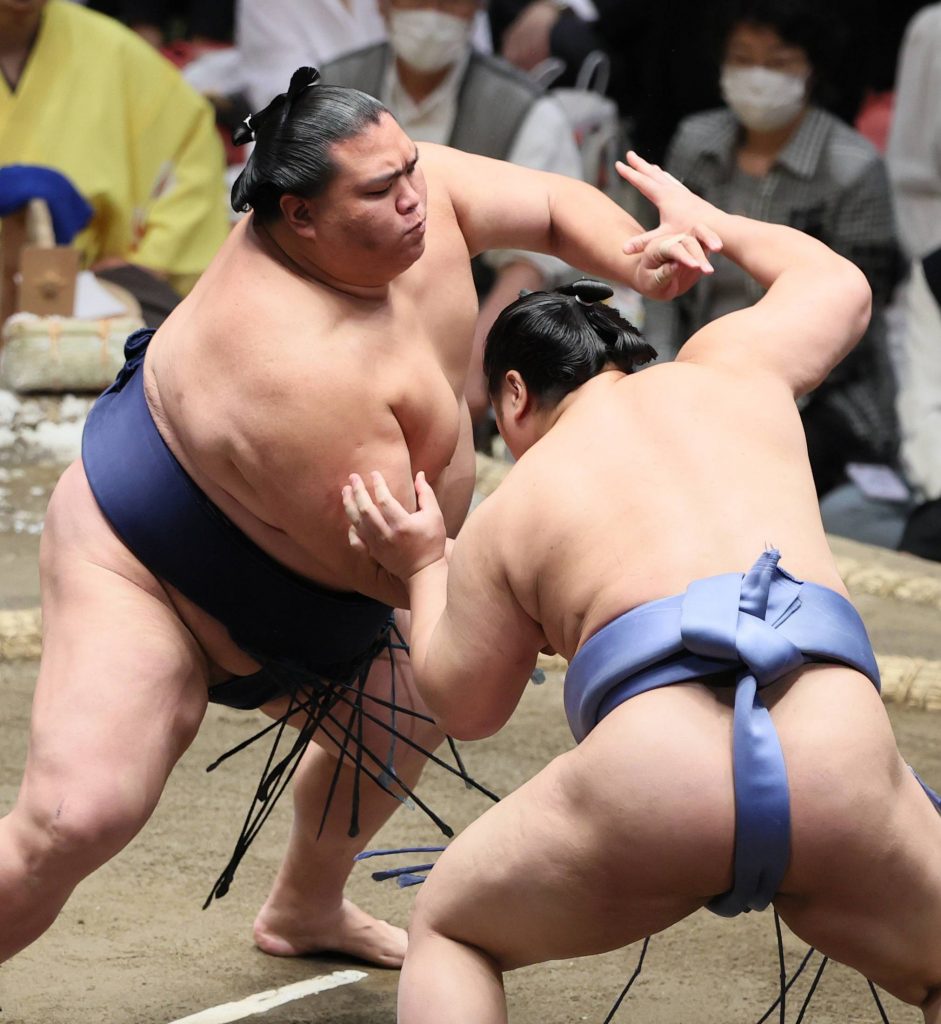 Mitakeumi restored some ozeki pride when he deployed a beltless arm throw at the edge to topple No. 5 maegashira Tobizaru to give both wrestlers a record of 5-5.
Bulgarian Aoiyama, an 11th-ranked maegashira, dropped out of the lead when he was hauled down by Midorifuji to drop to 7-3. No. 16 maegashira Midorifuji improved to 6-4.
No. 12 maegashira Sadanoumi also fell out of the lead and dropped to 7-3 when he was shoved out by muscular No. 9 maegashira Tochinoshin, who improved to 6-4.
Mongolian Kiribayama, a No. 2 maegashira, swatted down sekiwake Abi to win his sixth bout in a row and improve to 7-3. Abi has struggled to use his trademark arm thrusts in this tournament and is now at 5-5.
No. 14 maegashira Oho, the grandson of legendary yokozuna Taiho, improved to 5-5 when he overpowered struggling seventh-ranked maegashira Takarafuji, who has just one win against nine losses.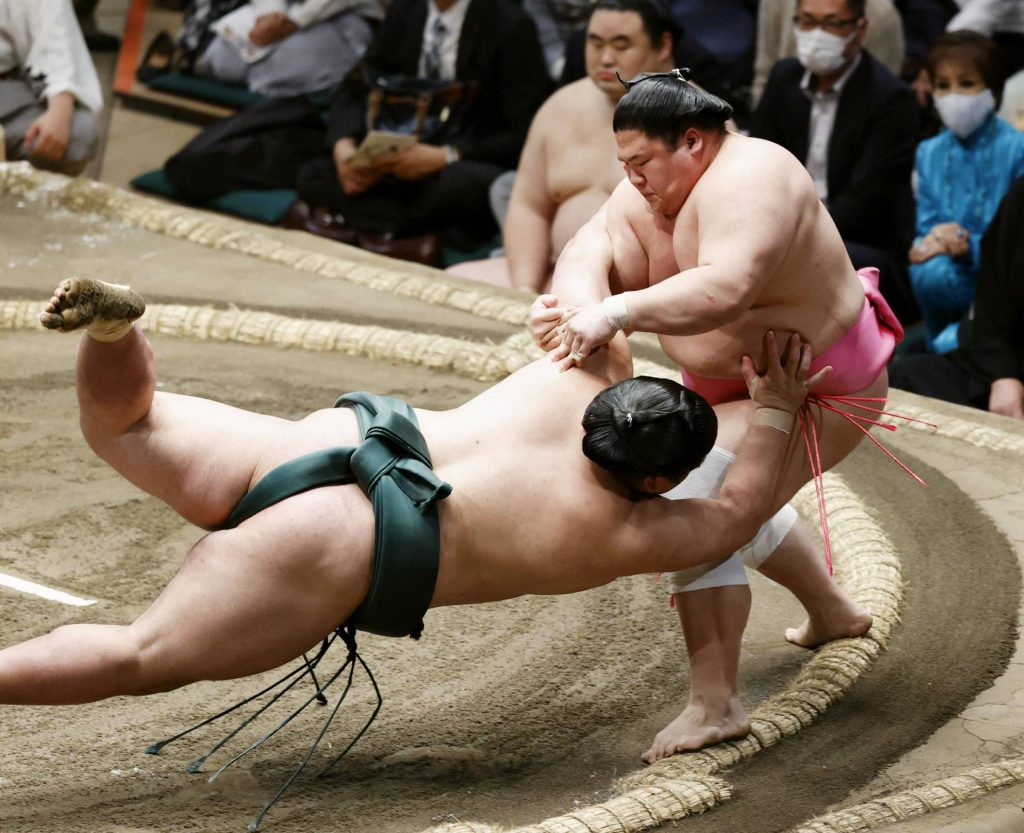 Sixth-ranked maegashira Ura used an under-shoulder swingdown to defeat No. 10 Nishikigi (4-6) and improve to 7-3.
No. 2 maegashira Kotonowaka thrust down third-ranked Tamawashi to give both wrestlers a record of 6-4.
Komusubi Daieisho used superb footwork on the edge of the ring to swat down top maegashira Takayasu (2-8) and improve to 6-4.


Author: Jim Armstrong
The author is a longtime journalist who has covered sports in Japan for more than 25 years. You can find his articles here.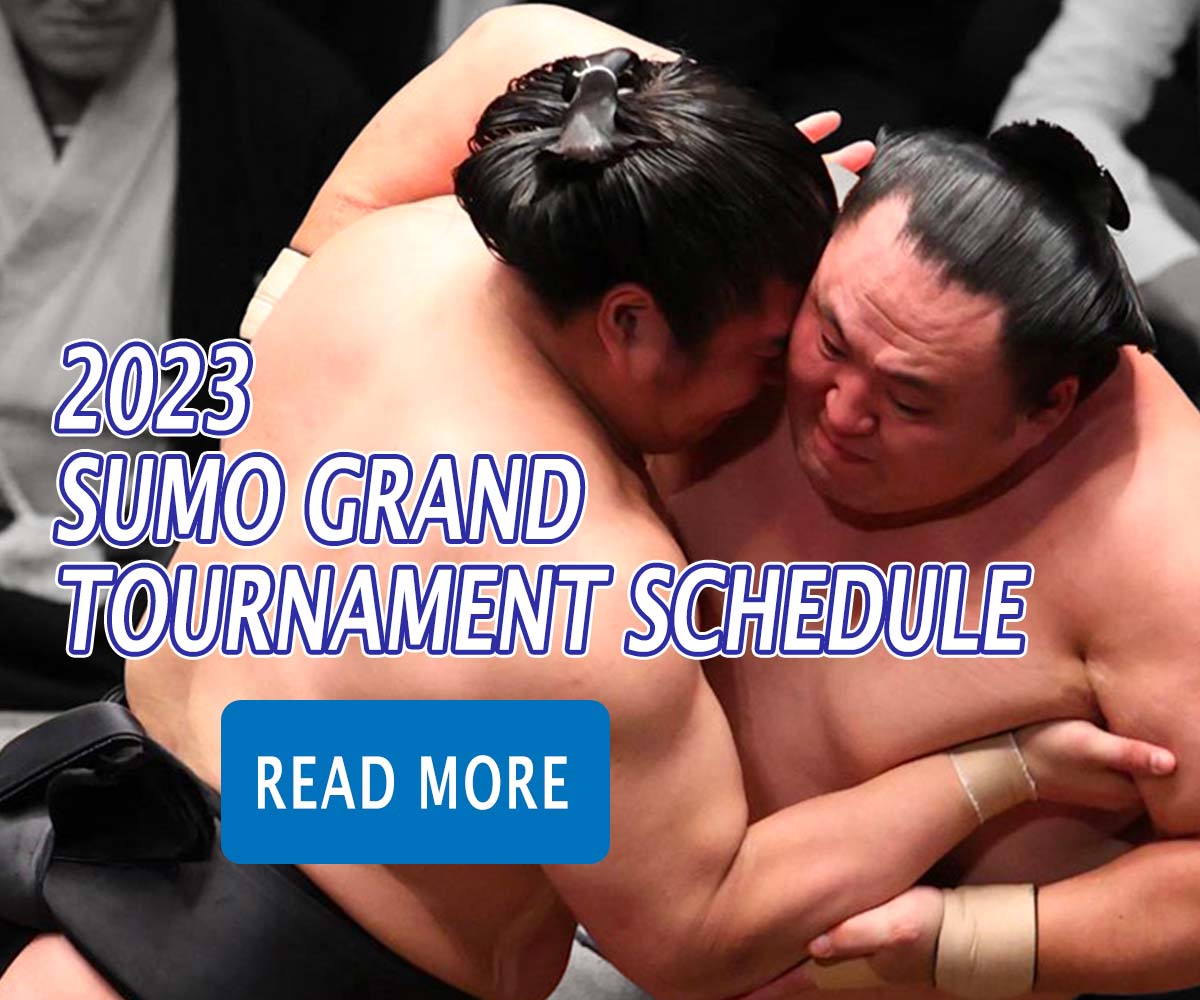 Subscribe to Our Newsletter