Terunofuji Takes Sole Possession of Summer Basho Lead, But it May Have Come at a Cost
The lone yokozuna came down hard on his knees in his Summer Basho bout against sekiwake Wakamotoharu. Terunofuji has battled knee injuries in recent years.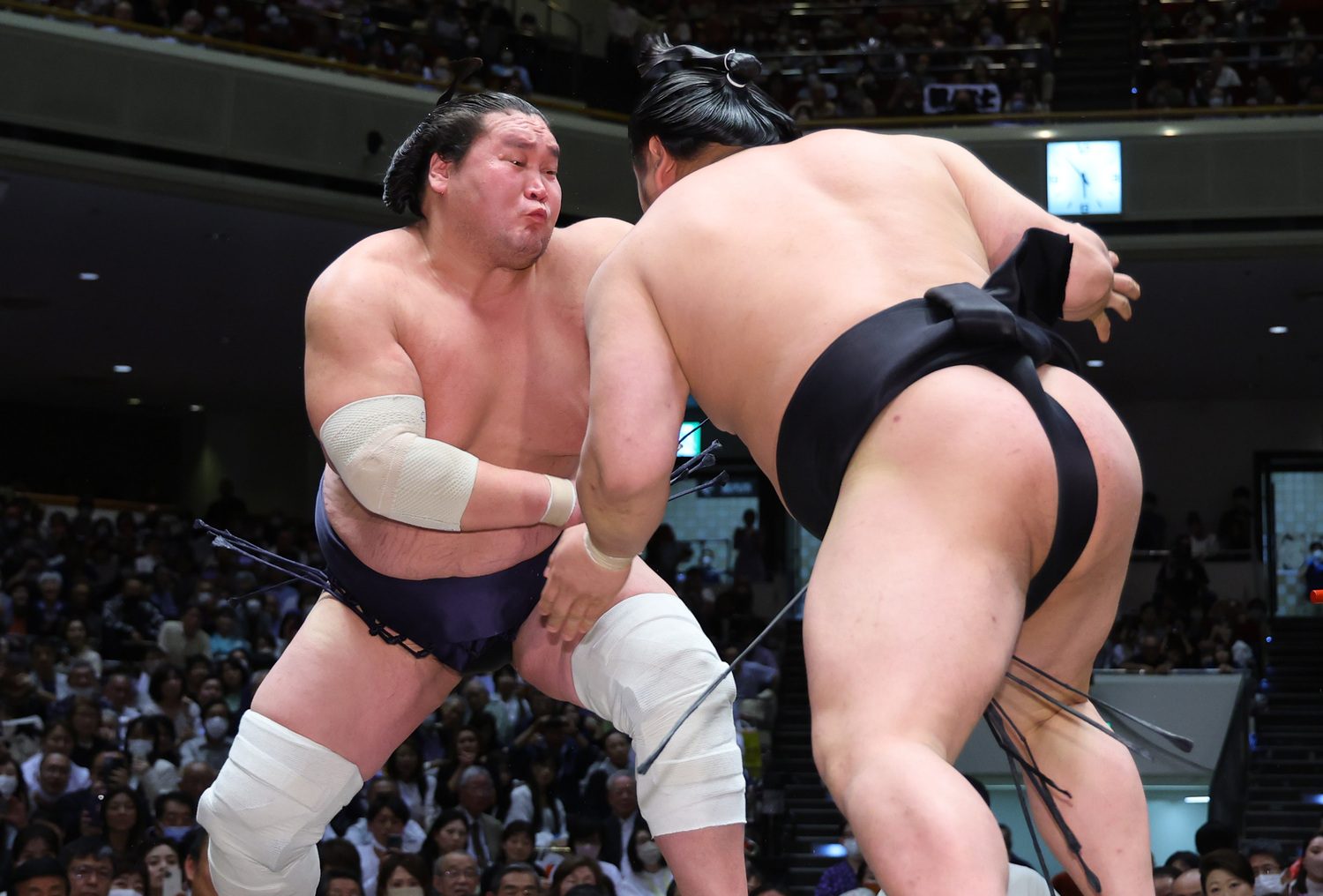 Yokozuna Terunofuji manhandled Wakamotoharu on Thursday, May 25 to retake sole possession of the lead at the Summer Basho, but it could have been a costly win.
In the day's final bout at Ryogoku Kokugikan, Terunofuji maneuvered sekiwake Wakamotoharu to the edge where the lone grand champion used a frontal crush-out to improve to 11-1, one win ahead of Kiribayama and Asanoyama with three days left in the 15-day tourney in Tokyo.
But the problem for Terunofuji is he fell off the raised ring after sending Wakamotoharu out to his fourth loss and landed hard on his surgically repaired knees.
He moved gingerly after the bout and was visibly in pain. 
Terunofuji takes on Asanoyama on Friday in a bout that could have a big influence on the title chase at the Summer Grand Sumo Tournament.
Yokozuna Terunofuji missed all or parts of the previous four tournaments as he recovered from surgery on his knees, which have held up so far.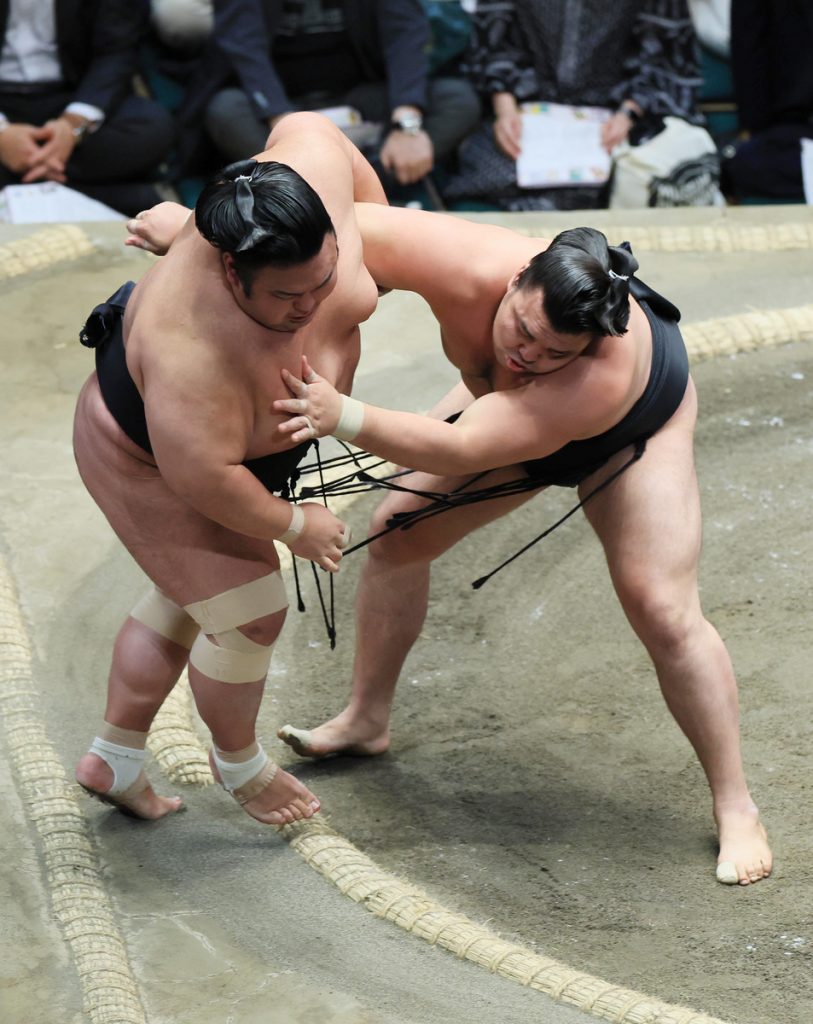 Kiribayama Notches 10th Victory
In other major bouts, sekiwake Kiribayama steamrolled over ozeki Takakeisho to pick up an all-important 10th win while staying in the thick of the championship race.
Kiribayama quickly got a right-hand grip on the mawashi of Takakeisho and shoved him out over the edge in a matter of seconds.
With his 10th win, Kiribayama, the March tournament winner, has picked up enough wins (33) over the past three tournaments to garner consideration for promotion to sumo's second-highest rank of ozeki.
Sekiwake Daieisho used his trademark arm thrusts to the neck to shove out Asanoyama while wrapping up a winning record and improving to 8-4.
No. 14 maegashira Asanoyama looked overwhelmed by the arm thrusts of his opponent and dropped to 10-2.
"I just tried to stick to the basics and was able to get the win," Daieisho said. "There are just a few bouts left and I want to focus on getting double-digit wins."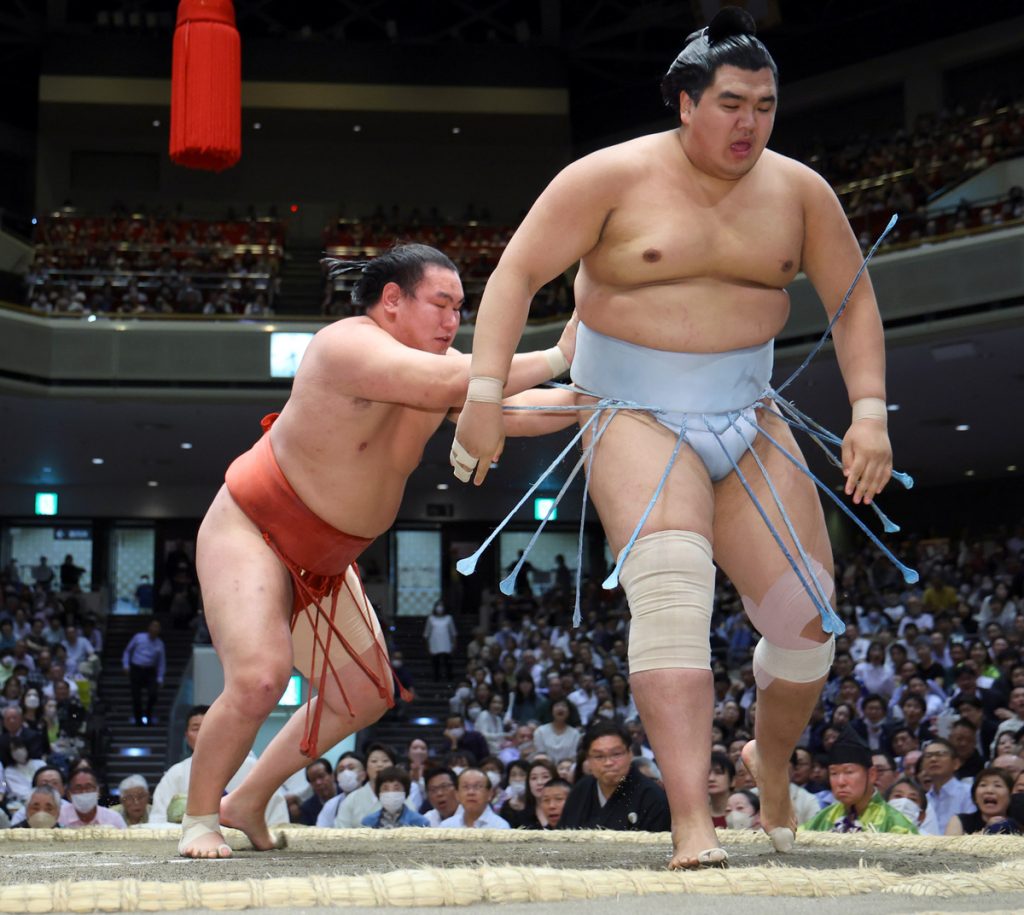 Hoshoryu Seals Winning Record
Sekiwake Hoshoryu also wrapped up a winning record when he knocked the much taller Hokuseiho off balance. Hoshoryu then shoved the No. 11 maegashira out from behind to give both men a record of 8-4.
Rank-and-filer Tsurugisho, a No. 15 maegashira, kept pace when he used a frontal force-out to overpower Hiradoumi and improve to 9-3. Ninth-ranked maegashira Hiradoumi dropped to 7-4.
Further down the ranks, No. 16 maegashira Oho wrapped up a winning record when he swatted down ninth-ranked maegashira Onosho (6-6) to move to 8-4.
"My body has been moving well," Oho said. "I've been working hard, so maybe that is the reason for my success."

He added, "I've just been enjoying the sumo and will try to finish as strong as possible."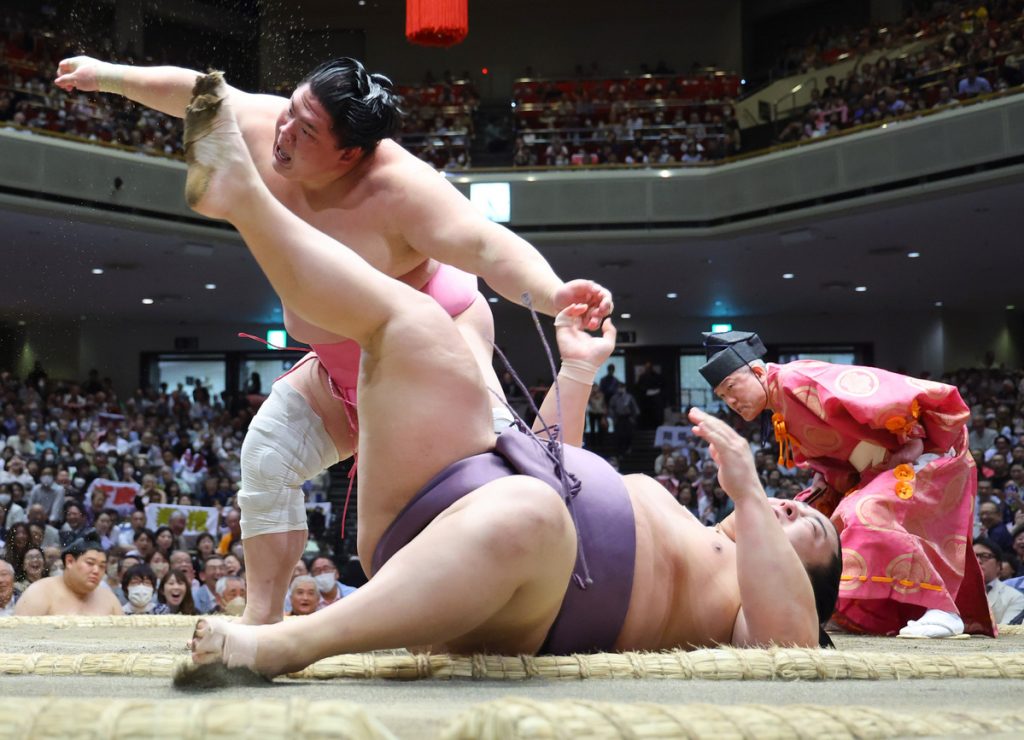 Ura Whips Tobizaru
In a highly entertaining bout that had the fans on the edge of their seats, No. 4 maegashira Ura used a rare zubuneri (head pivot throw) to topple Tobizaru, sumo's Flying Monkey.
Ura improved to 6-6 while No. 3 maegashira Tobizaru dropped to 5-7.
According to national broadcaster NHK, the last time the move was used was in March of 1998.
Former ozeki Shodai, currently fighting as a komusubi, used a frontal force-out to defeat Kinbozan to move to an even 6-6.
It's been a tough tournament for fifth-ranked maegashira Kinbozan, who dropped to 4-8 and will finish the basho with a losing record no matter what happens over the final three days.

Author: Jim Armstrong
The author is a longtime journalist who has covered sports in Japan for over 25 years. You can find his articles on SportsLook.