Comeback Kid Asanoyama Defeats Meisei to Stay in the Lead at Summer Basho
Former ozeki Asanoyama has looked impressive in his return to the elite makuuchi division during the Summer Basho as he contends for the title.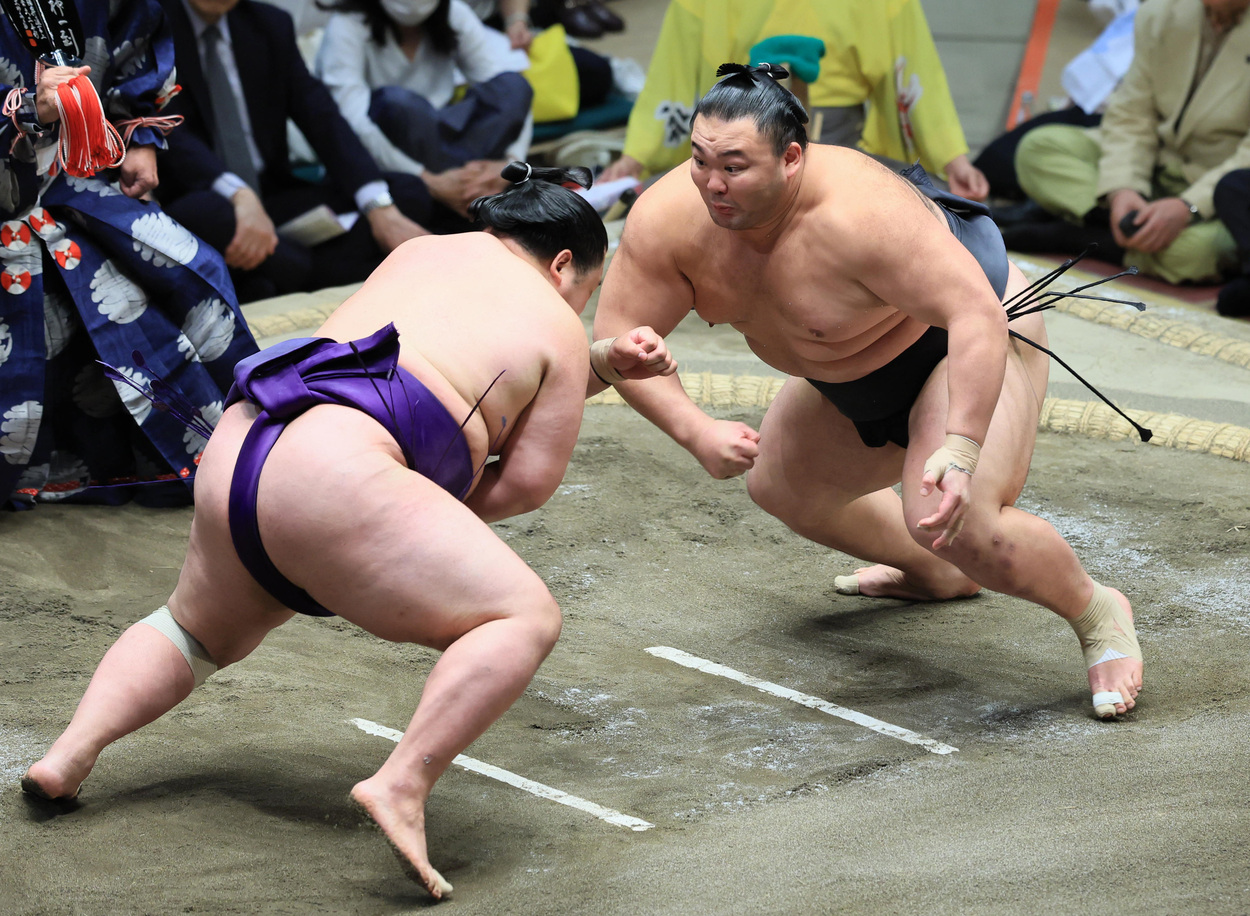 Fan favorite Asanoyama pulled off a remarkable last-gasp win over Meisei on Wednesday, May 24 to stay tied for the lead with grand champion Terunofuji with just four days left in the Summer Basho.
In the day's first highlight bout at Ryogoku Kokugikan, Meisei pushed Asanoyama back to the edge, but the former ozeki used a powerful thrust to send the sixth-ranked maegashira toppling off the raised ring.
With his 200th makuuchi division win, No. 14 maegashira Asanoyama improved to 10-1. Meisei dropped to 8-3.
It's been an impressive comeback for Asanoyama, who is competing in the elite makuuchi division following a one-year suspension for violating COVID-19 safety guidelines.
His only loss of the Summer Grand Sumo Tournament so far was to fellow rank-and-filer Hokuseiho on Day 8. Asanoyama is gunning for his second career Emperor's Cup. His first makuuchi division championship came in May of 2019.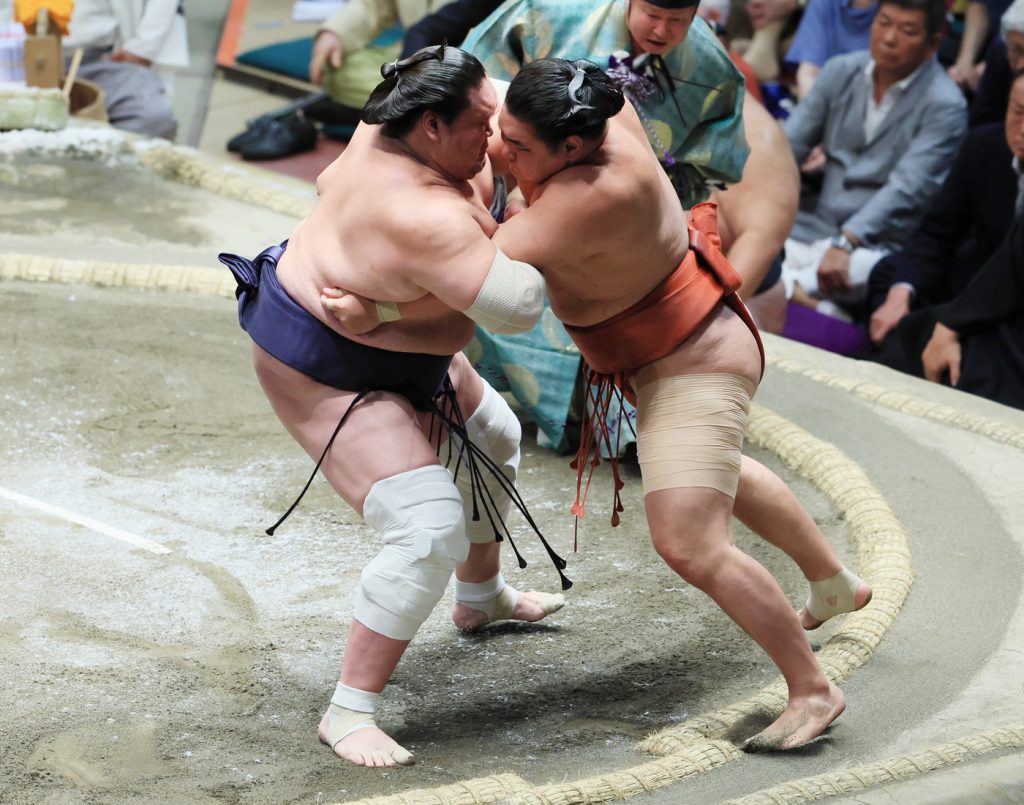 In the day's final bout, Terunofuji used his preferred arm barring force-out to defeat fellow Mongolian Hoshoryu and stay tied with Asanoyama at 10-1. Sekiwake Hoshoryu fell to 7-4.
Sekiwake Kiribayama grabbed Hiradoumi's belt with his right hand and held on before forcing the No. 9 maegashira out with a frontal force-out. As a result, Kiribayama stayed one win off the pace at 9-2. Hiradoumi fell to 7-4.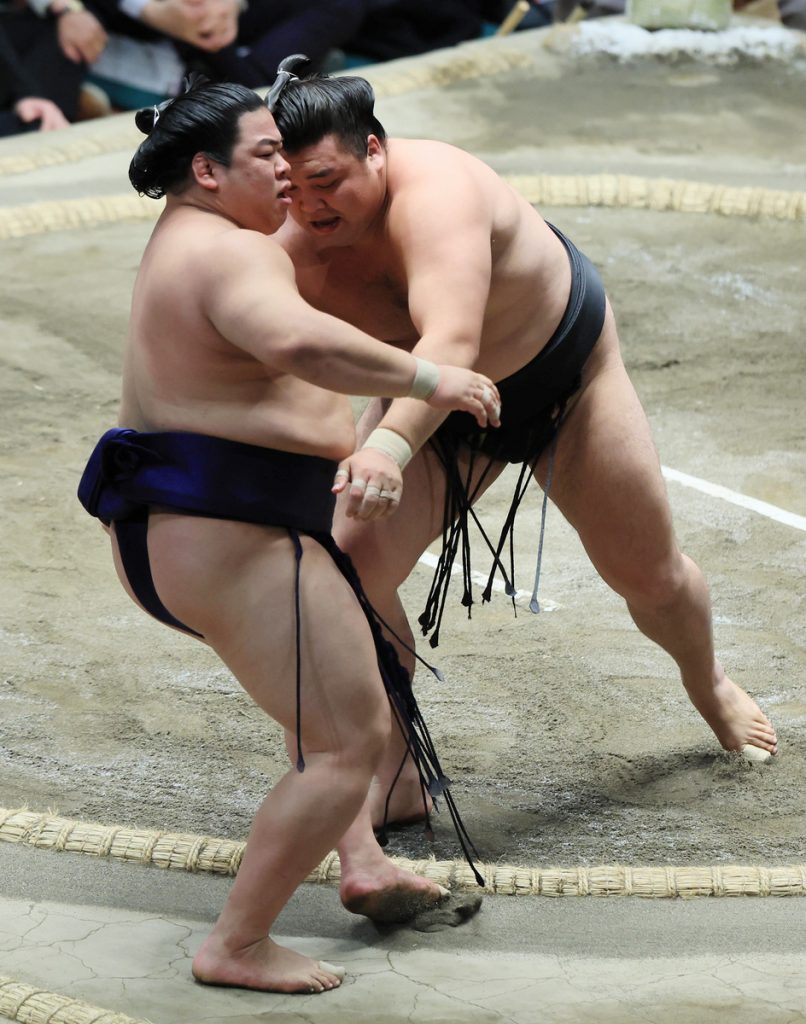 Kiribayama, who won the March tournament, needs just one more win to get the 10 that is considered the benchmark for garnering promotion to sumo's second-highest rank of ozeki.
Wakamotoharu Improves to 8-3
Sekiwake Wakamotoharu used a spectacular backward pivot throw at the edge to topple rising star Hokuseiho. In doing so, Wakamotoharu overcame a 40-kilogram disadvantage to give both wrestlers a record of 8-3.
A loss would have all but ended Wakamotoharu's title hopes. But he kept those alive with what was undoubtedly the most impressive win of the tournament so far.
Wakamotoharu, who also wrapped up a winning record, will face Terunofuji on Thursday.
"He got a grip on my belt and put me in a tough position, but I was able to pull off that desperation move at the edge," Wakamotoharu said. "I'll just try to do my best against the yokozuna."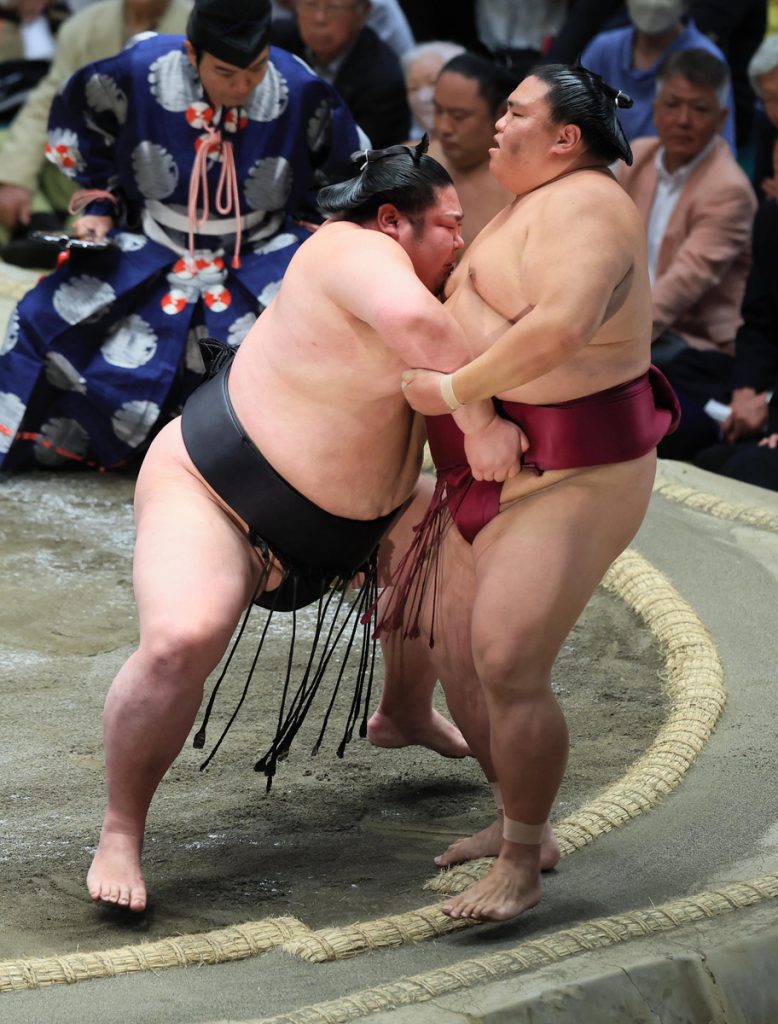 Tsurugisho Seals Winning Record
No. 14 maegashira Tsurugisho got a left-hand grip on the belt and used a frontal force-out to defeat sixth-ranked Mitakeumi (6-5) and wrap up a winning record at 8-3. It was the fifth win in a row for Tsurugisho.
"I'm happy I was able to get the winning record so early in the tournament," Tsurugisho said. "I was able to get the grip I wanted and that allowed me to fight my style of sumo."

He added, "I would like to win all my remaining matches."
Lone ozeki Takakeisho pulled down sekiwake Daieisho (7-4) after an exchange of arm thrusts to pick up his seventh win against four losses. He needs just one more win in the next four days to maintain his ozeki status for the next tournament.
No. 2 maegashira Takayasu made a return from injury on Day 11 and swatted down top maegashira Abi (5-6) to improve to a record of one win, one loss and nine absences. 
Takayasu suffered a hamstring injury in his right thigh prior to his first match on the opening day of the tournament and was forced to withdraw until Wednesday. He was saddled with a defeat on Day 1 after he pulled out.

Author: Jim Armstrong
The author is a longtime journalist who has covered sports in Japan for over 25 years. You can find his articles on SportsLook.