Terunofuji Dodges Bullet to Maintain Share of Lead at Summer Basho
Looking to avoid a second straight defeat at the Summer Basho, the lone yokozuna showed resilience in overcoming komusubi Kotonowaka.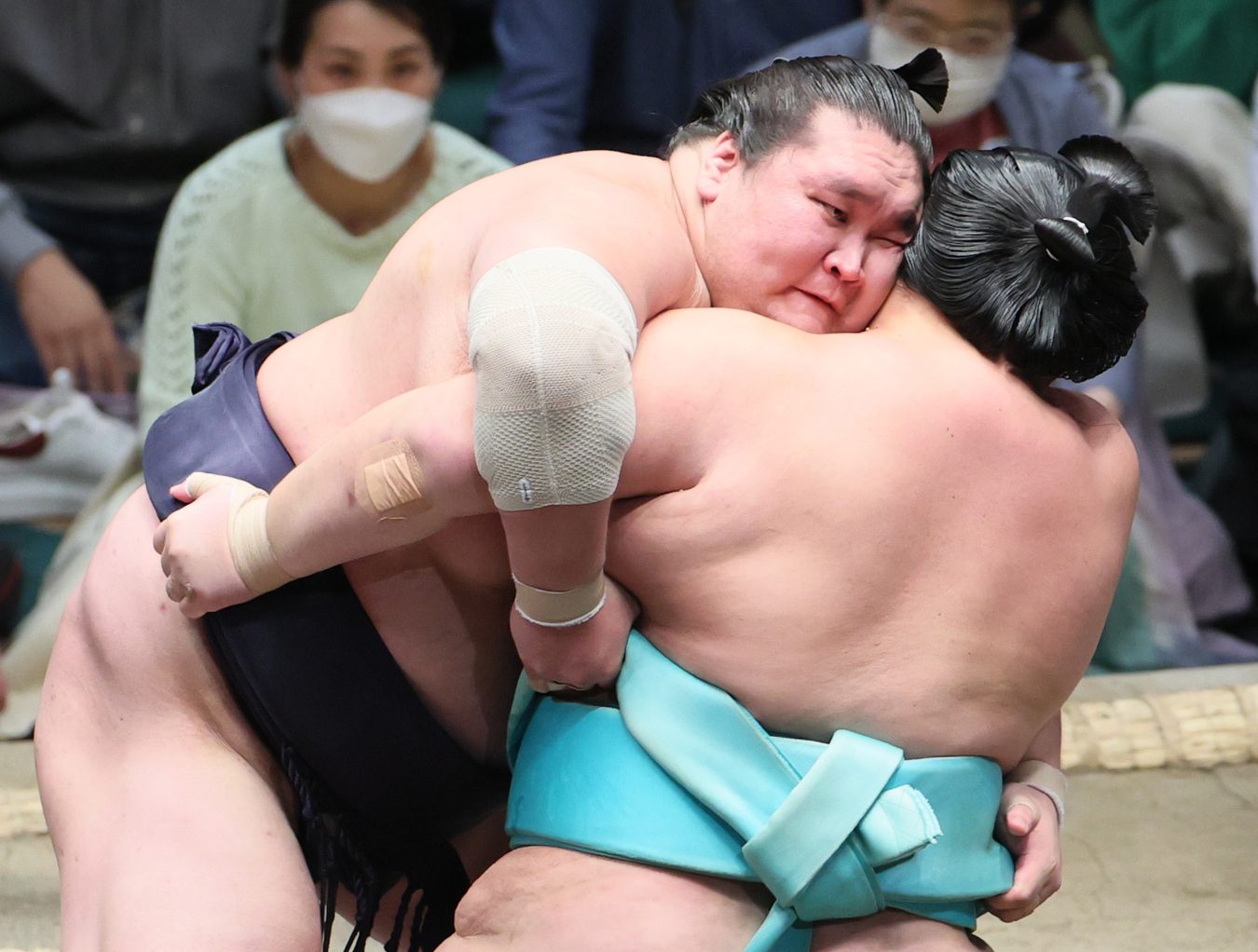 Lone yokozuna Terunofuji survived a scare to defeat komusubi Kotonowaka on Tuesday, May 23 and stay tied for the lead with Asanoyama on Day 10 of the Summer Basho.
Kotonowaka got a double-handed grip on the belt of Terunofuji and forced the grand champion back to the edge and within inches of his second straight loss in the day's final bout at Ryogoku Kokugikan.
But Terunofuji also got a double-handed grip on the belt of his opponent and eventually used a frontal force-out to improve to 9-1 in the 15-day Summer Grand Sumo Tournament.
Kotonowaka gave Terunofuji a run for the money but couldn't finish off the Mongolian giant and dropped to 4-6.
Summer Basho Title Contenders
With five days left, Kiribayama, Meisei and Hokuseiho are one win back followed by Hoshoryu, Daieisho, Wakamotoharu, Hiradoumi and Tsurugisho, who are all still in contention at 7-3.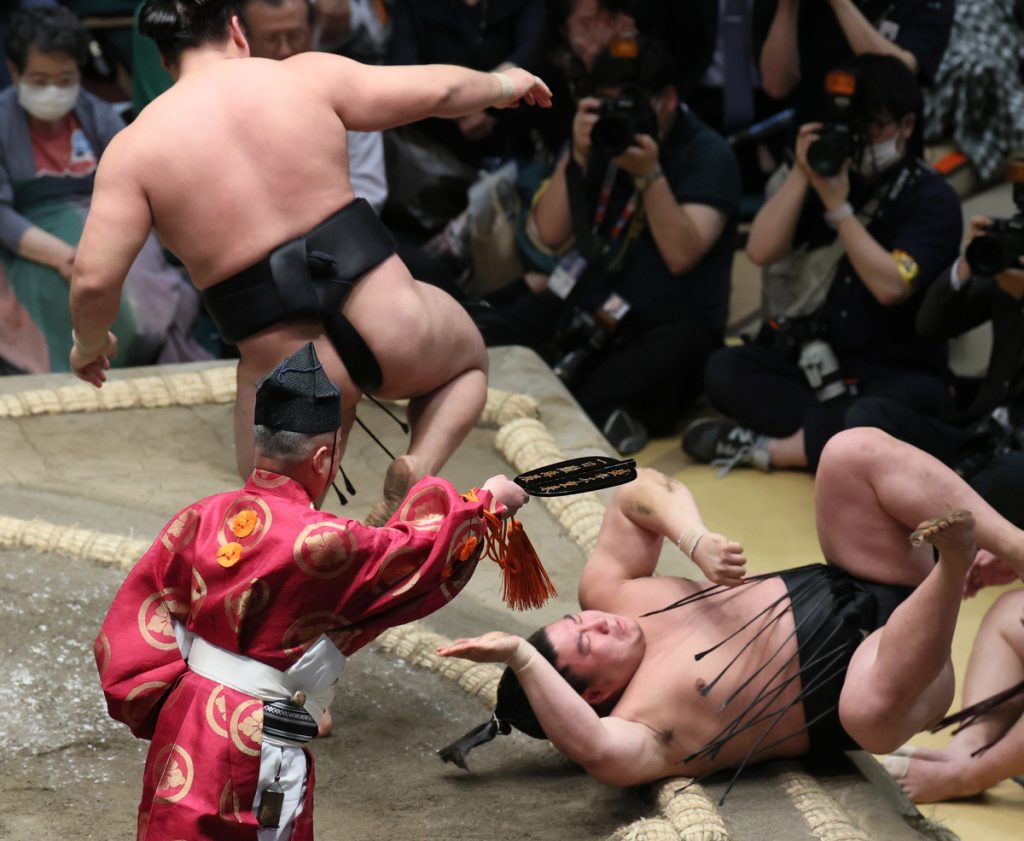 Kiribayama used a powerful arm lock throw to send fellow sekiwake Wakamotoharu toppling head over heels to improve to 8-2 and keep his title and ozeki promotion hopes alive.
All Kiribayama needs now is two more wins to get the ozeki promotion discussion started.
It was a painful loss for Wakamotoharu in more ways than one. Not only did he bash his head on the sandy surface, but at 7-3 his chances for entering the ozeki promotion conversation are rather diminished.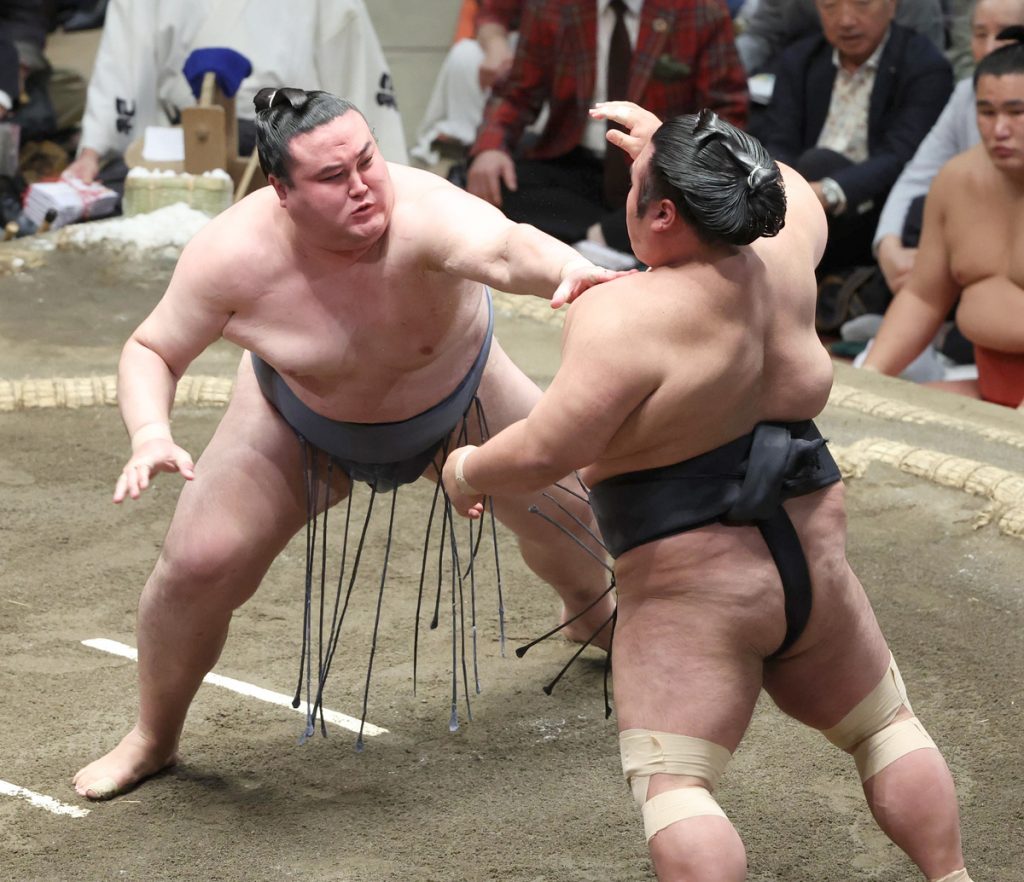 Kinbozan Pounces on Takakeisho
In the day's biggest upset, No. 5 maegashira Kinbozan knocked Takakeisho off balance after the face-off and shoved the stunned ozeki out to pick up just his fourth win against six losses.
"I just tried to change my strategy at the face-off and then went with the flow," said Kinbozan, the first wrestler from Kazakhstan in the elite makuuchi division.
Takakeisho, who needs eight wins to hold on to his ozeki status for the July tournament in Nagoya, fell to 6-4.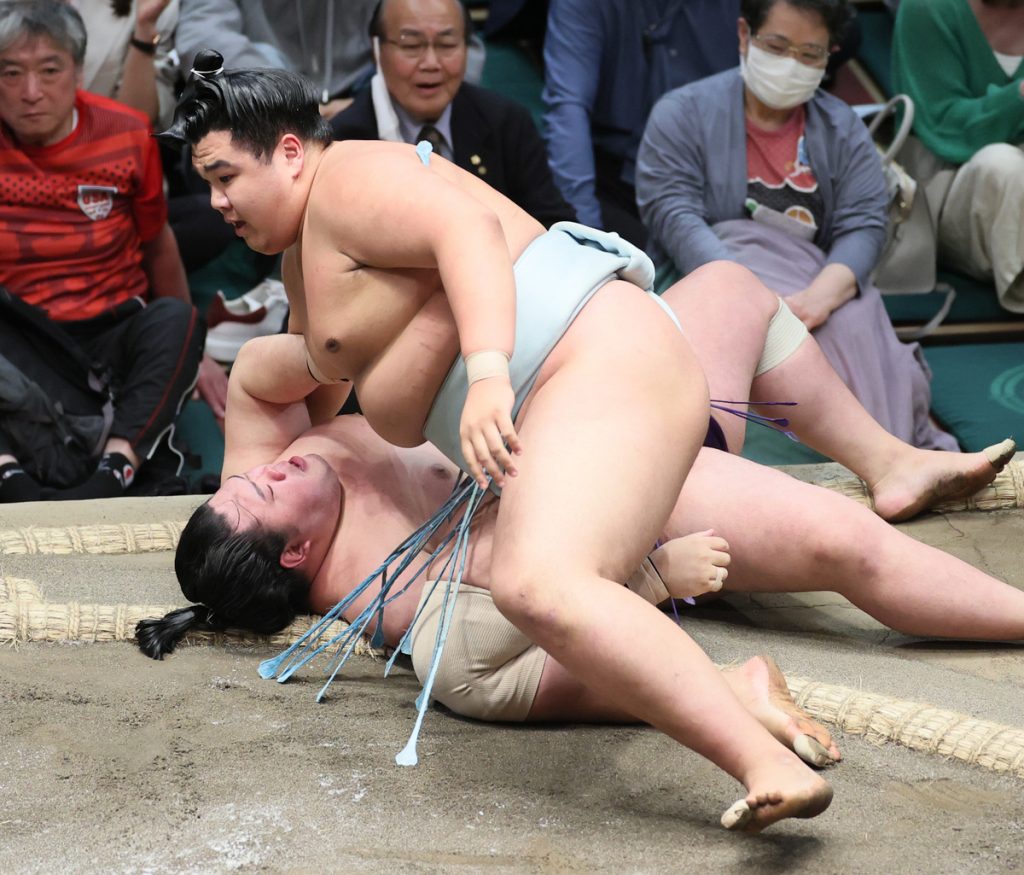 Hokuseiho Overpowers Meisei
Rising star Hokuseiho wrapped up a winning record when he deployed an outstanding overarm throw at the edge to send Meisei toppling to the dirt surface, giving both wrestlers a record of 8-2.
No. 6 maegashira Meisei, who upset Terunofuji on the previous day, had Hokuseiho propped up against the straw bales early in the bout. But the No. 11 maegashira somehow found a way to escape before unleashing his textbook throw.
"I tried to get a grip on the belt after the face-off but was unable to do so," Hokuseiho said. "He pushed me back but I was able to recover and the arm throw worked well."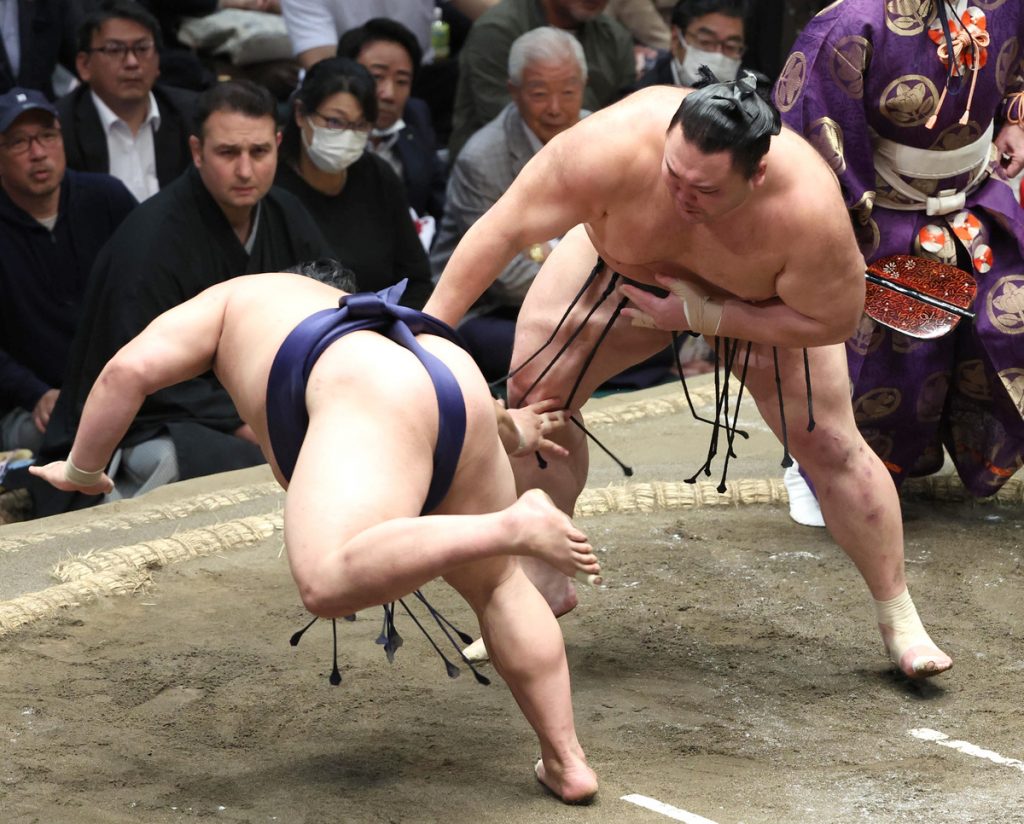 Asanoyama Outduels Hiradoumi
In the day's first highlight bout, Asanoyama got his right hand on the back of Hiradoumi's head immediately after the face-off and swatted down the No. 9 maegashira (7-3) to improve to 9-1.
No. 14 maegashira Asanoyama is making a comeback after a one-year suspension for violating COVID-19 safety measures.
Sekiwake Hoshoryu kept his slim title hopes alive when he used a thrust down technique to dispatch Nishikifuji to move to 7-3. No. 3 maegashira Nishikifuji dropped to 2-8.
No. 5 maegashira Kotoshoho (1-9) was forced to withdraw due to injury on Day 10. As a result, his opponent, sekiwake Daieisho, won by forfeit to move to 7-3.

Author: Jim Armstrong
The author is a longtime journalist who has covered sports in Japan for over 25 years. You can find his articles on SportsLook.