Meisei Stuns Terunofuji to Create a 3-Way Tie for the Summer Basho Lead
Sixth-ranked maegashira Meisei has been on a roll in the 15-day Summer Basho and came up with the biggest win of his career against the yokozuna.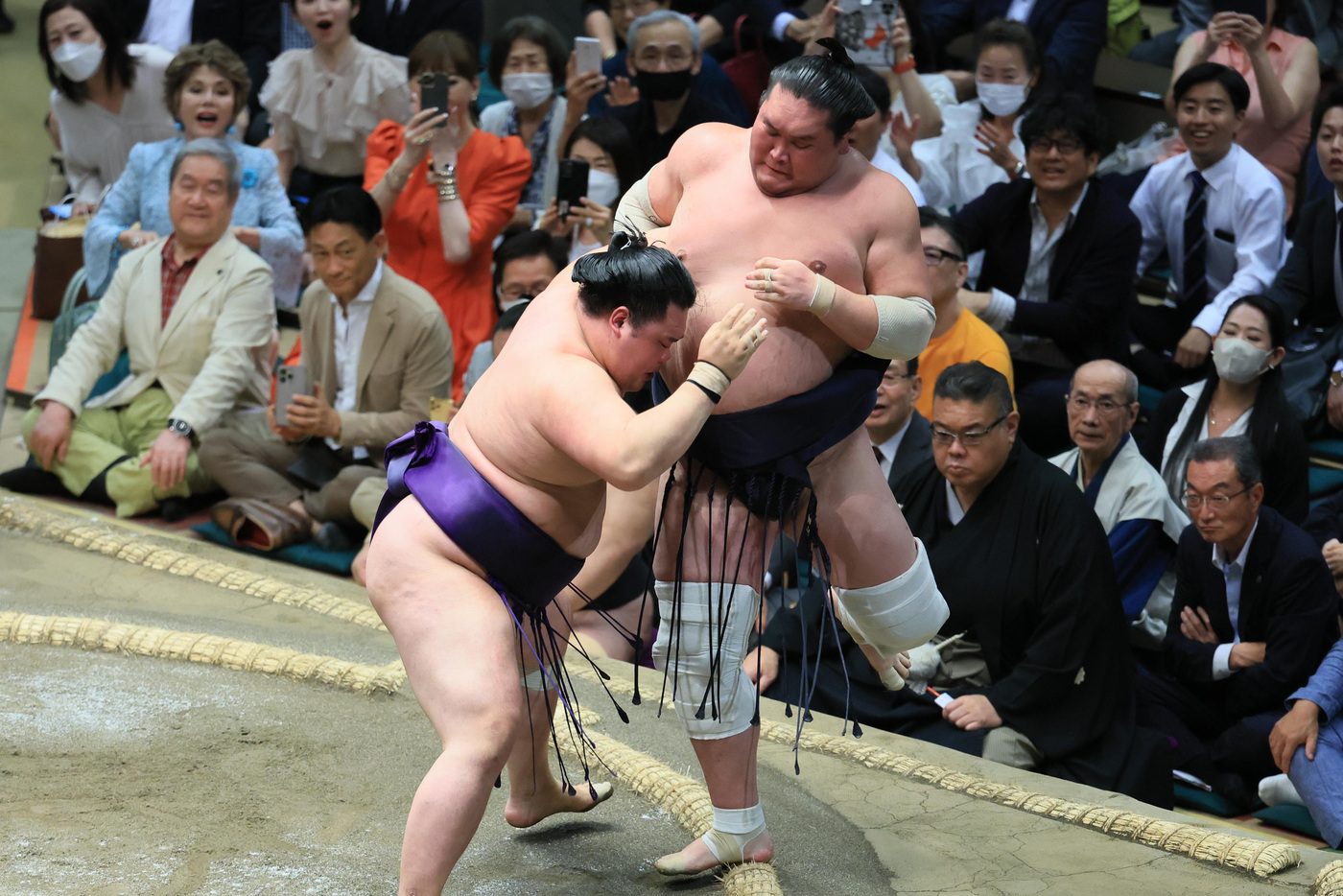 Rank-and-filer Meisei relied on speed and strength on Monday, May 22 to upset grand champion Terunofuji and create a three-way tie for the lead at the Summer Basho.
Sixth-ranked maegashira Mesei took advantage of a superior face-off in the day's final bout, maneuvering Terunofuji to the edge where he forced the lone yokozuna out to the delight of the sold-out crowd at Ryogoku Kokugikan. 
With the surprising victory, Meisei, Terunofuji and Asanoyama are all tied at 8-1 in the 15-day Summer Grand Sumo Tournament.
Not only did Meisei wrap up a winning record, but it was also the first career kinboshi win for the Tatsunami stable wrestler. A kinboshi is awarded when a rank-and-filer beats a yokozuna.
"I knew it was important to get off to a fast start against the yokozuna and I just tried to keep moving forward," Meisei said. "I'll just try to concentrate on what I can control and think about my match tomorrow. No reason to get ahead of myself."
Terunofuji, who is competing for the first time after missing all or parts of the previous four tournaments due to his injured knees, had looked solid up until Day 9 but was clearly stunned by the speed of Meisei.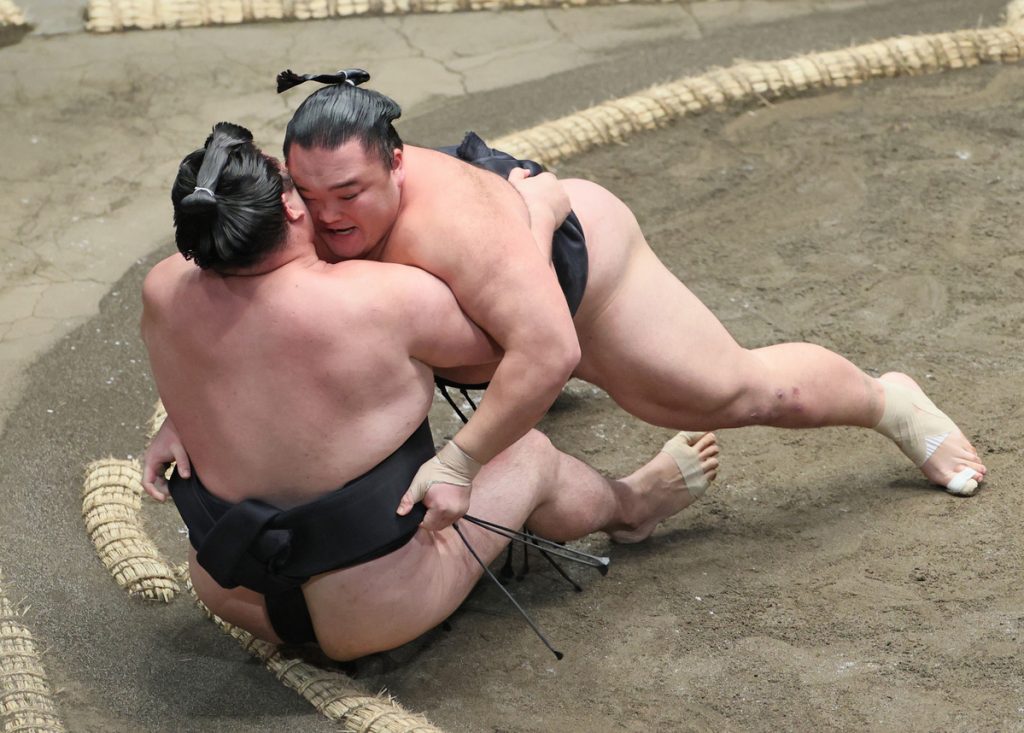 Asanoyama Triumphs over Ryuden
In other major bouts, former ozeki Asanoyama wrapped up a winning record with a hard-fought win over Ryuden.
Asanoyama displayed solid mawashi skills to pull off a frontal force-out of No. 10 maegashira Ryuden (3-6) while improving to an impressive 8-1.
The Toyama Prefecture native was given a one-year suspension in May of 2021 for violating COVID-19 safety measures. As an ozeki at the time, the Japan Sumo Association decided to make an example of him.
"I'm glad but this is just the first step," Asanoyama said.

He added, "I just tried to stay calm coming into this bout. He gave me a good fight but I was able to prevail."
Asanoyama's suspension also meant he was demoted to sumo's lower ranks.
"This is the first time to fight in the makuuchi division for a long time so I just want to use my nervous energy in a positive way," Asanoyama said.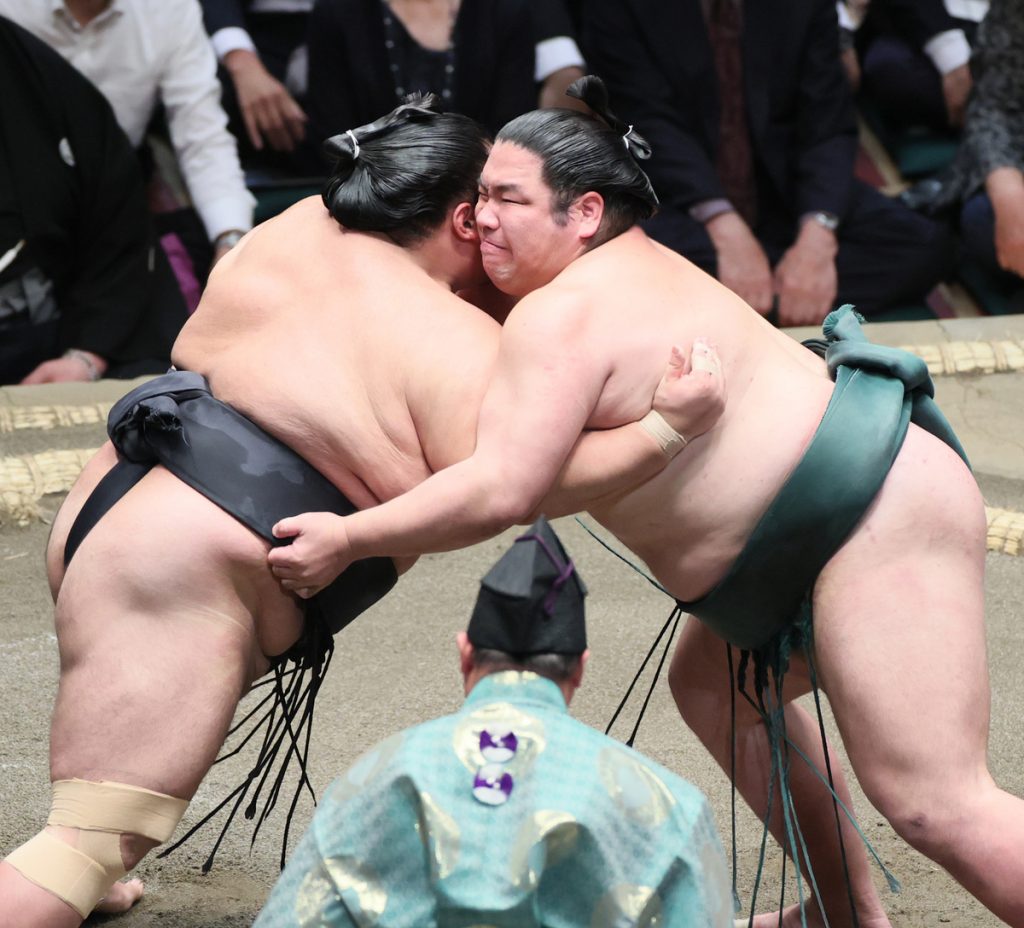 Nishikigi Dominates Against Takakeisho
In the day's first major upset, No. 4 maegashira Nishikigi stood up Takakeisho at the face-off and bulldozed the ozeki out to his third loss against six wins.
Takakeisho is still in a good position to get the eight wins he needs to maintain his ozeki status for the next tournament. Nishikigi improved to 3-6.
"It was a good face-off for me and I was able to follow up," Nishikigi. "If I am able to move forward, good things usually happen."
Mongolian Kiribayama stayed in the title chase with a solid thrust-down victory over Daieisho at the edge.
Both sekiwake wrestlers are hoping for promotion to ozeki when the tournament comes to a close. Kiribayama improved to 7-2 and can wrap up a winning record on Tuesday. Daieisho dropped to 6-3.
Hokuseiho Raises Record to 7-2
Rising star Hokuseiho, a No. 11 maegashira, slipped a right hand inside and shoved out ninth-ranked Onosho (5-4) to improve to 7-2.
No. 9 maegashira Hiradoumi also stayed in the thick of the title chase when he hauled down eighth-ranked Takanosho to pick up his seventh win against a pair of losses. Takanosho dropped to 3-6.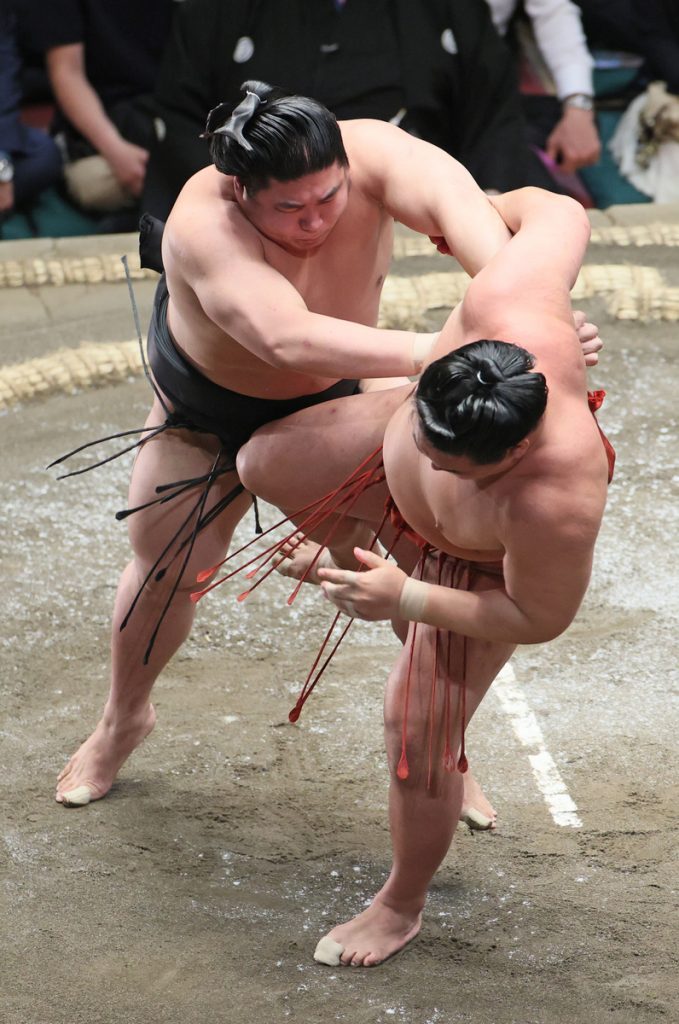 In an all-sekiwake showdown, Wakamotoharu used a rare twisting backward knee trip to defeat Mongolian Hoshoryu to stay in the title chase at 7-2.
It was a crucial loss for Hoshoryu, who dropped to 6-3 and will be in a tough position to re-enter the title chase.

Author: Jim Armstrong
The author is a longtime journalist who has covered sports in Japan for over 25 years. You can find his articles on SportsLook.