Terunofuji Brushes Aside Kotoshoho to Move into Sole Possession of Lead at Summer Basho
On a tumultuous day of upsets, lone yokozuna Terunofuji was the model of consistency and calm at Ryogoku Kokugikan, improving to 8-0.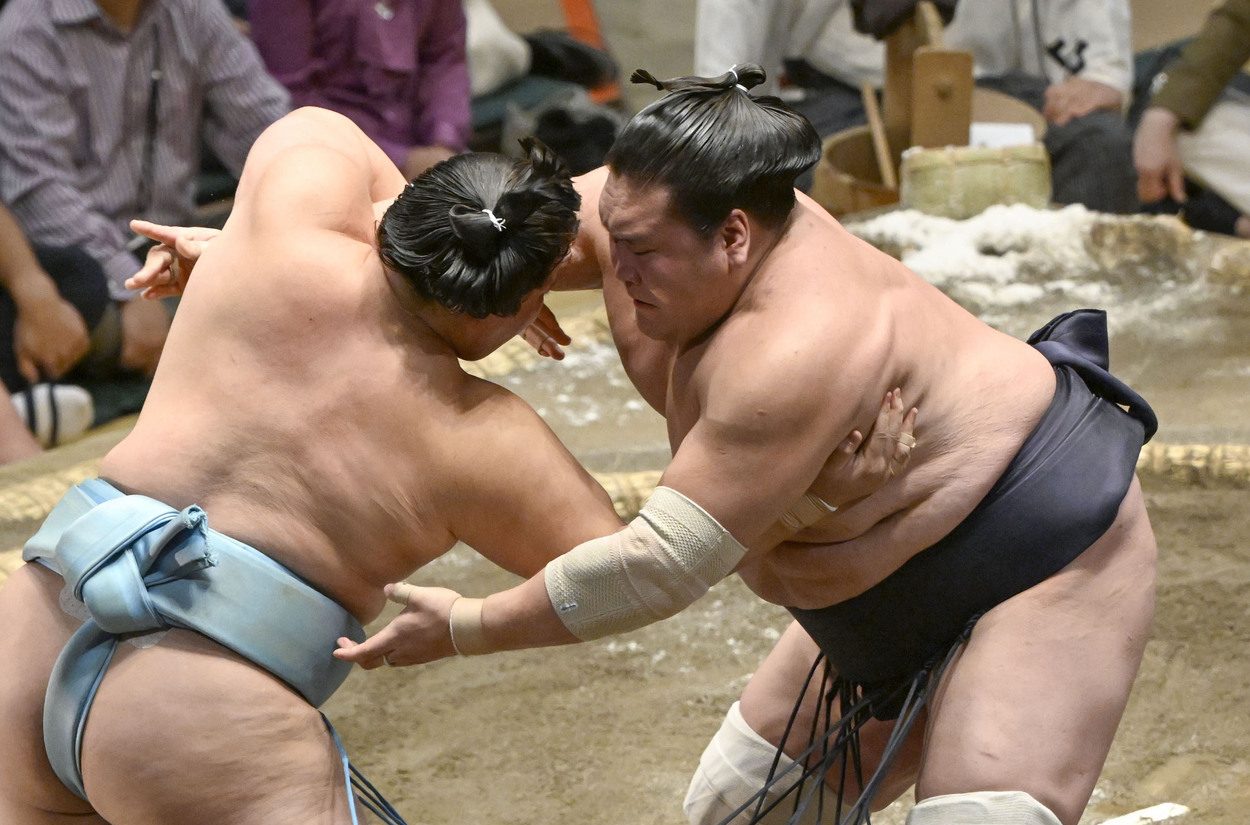 Lone yokozuna Terunofuji defeated Kotoshoho to move into sole possession of the lead at the Summer Grand Sumo Tournament on Sunday, May 21, a day that featured multiple upsets that altered the leaderboard.
In the day's final bout at Ryogoku Kokugikan, grand champion Terunofuji didn't flinch at the face-off and calmly shoved out the No. 5 maegashira to improve to a perfect 8-0 at the midway point of the 15-day Summer Basho.
Kotoshoho, who put up little resistance, dropped to 1-7.
Bidding for his eighth Emperor's Cup in his return to completion after missing all or parts of the previous four meets, Terunofuji is one win ahead of rank-and-filers Meisei and Asanoyama.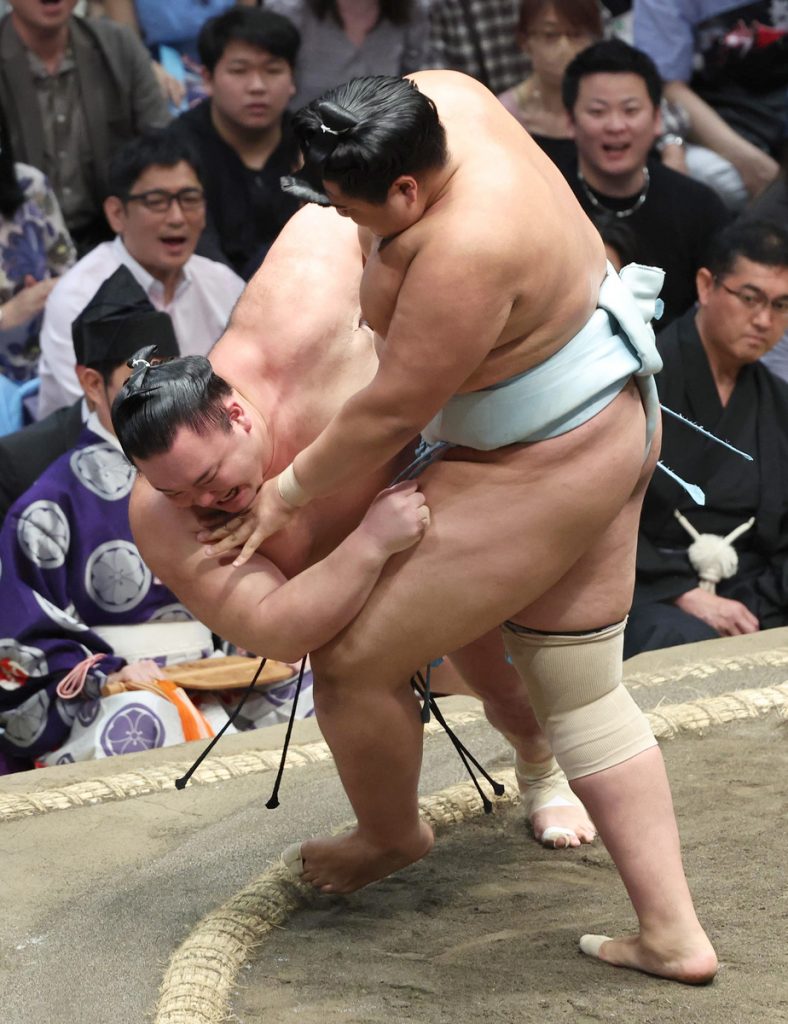 Hokuseiho Conquers Asanoyama
The upsets started early on Day 8 when Hokuseiho deployed a powerful underarm throw at the edge to defeat Asanoyama, handing the former ozeki his first loss of the tournament and knocking him out of the lead.
No. 11 maegashira Hokuseiho dodged to his side at the face-off and then got a right-handed inside grip on the belt of his opponent before sending the No. 14 maegashira sprawling to the dirt surface.
Hokuseiho is very much in contention at 6-2 while Asanoyama fell to 7-1.
It's just the second tournament in the top division for Hokuseiho, who is a protege of former yokozuna Hakuho, who is now stable master Miyagino and was in attendance to observe the upset win.
"Everything went as planned," Hokuseiho said. "I hoped to get a right-hand grip on the belt after the initial charge, dodging to the left really paid off for me in this bout."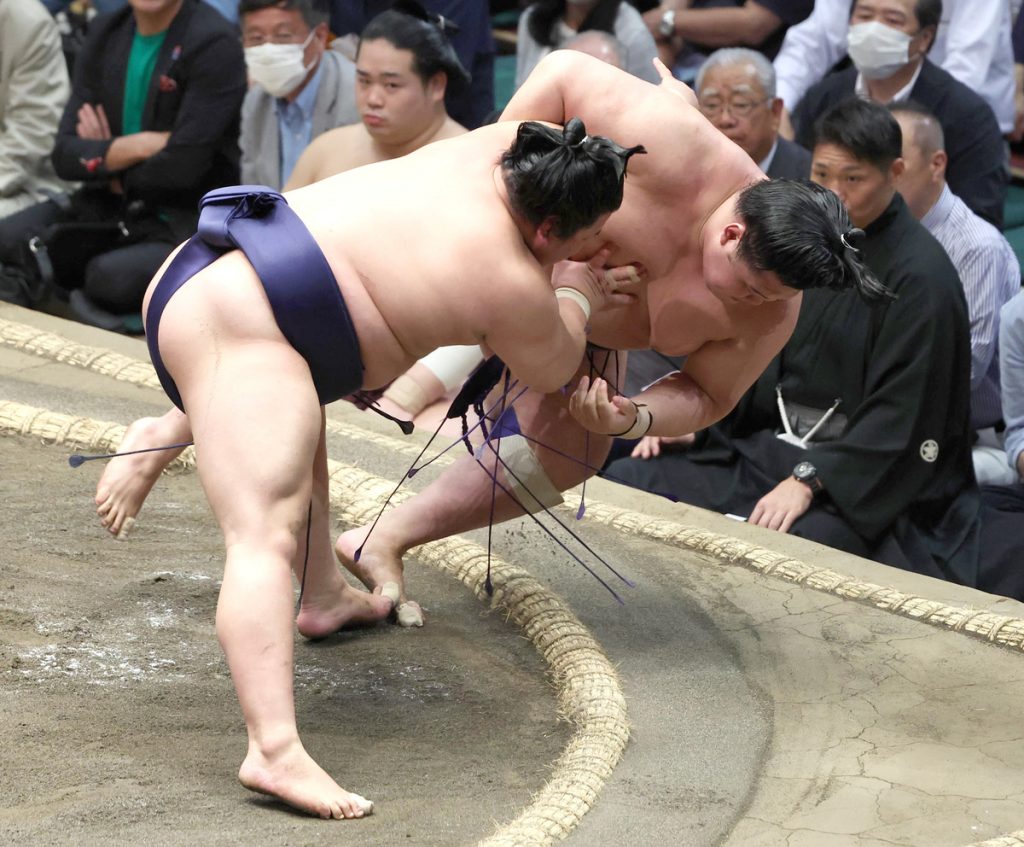 Hiradoumi Shocks Meisei
In another upset that shook up the leaderboard, No. 9 maegashira Hiradoumi maneuvered Meisei to the edge where he used a frontal crush-out to send the previously undefeated No. 6 maegashira to his first loss.
Hiradoumi improved to 6-2 while Meisei dropped to 7-1.
"I just tried to go with the flow," Hiradoumi said.
He added, "I wasn't able to get my preferred grip but just tried to be aggressive and am happy with the win."
Top maegashira Midorifuji also posted a major upset when he displayed superb footwork on the straw ridge, shifting to his side and swatting down promotion-chasing sekiwake Daieisho.
Midorifuji improved to 3-5 while Daieisho dropped to 6-2. Daieisho needs to win most of his remaining bouts to be considered for promotion to ozeki. A record of 12-3 could be enough, but anything less than that would make it difficult.
"I didn't do well in the face-off but was able to pull it out at the last minute," Midorifuji said.
Hoshoryu Outwrestles Kotonowaka
Mongolian sekiwake Hoshoryu used a spectacular hooking inner thigh throw to topple Kotonowaka while improving to 6-2. Komusubi Kotonowaka fell to 3-5.
Sekiwake Kiribayama got his ozeki-promotion bid back on track when he knocked No. 4 maegashira Ura (3-5) off balance and then used a frontal push-out technique to pick up his sixth win against a pair of losses.
No. 4 maegashira Nishikigi, who came into the day's bouts with only one win, used a textbook beltless arm throw at the edge to upset sekiwake Wakamotoharu and pick up his second win.
Wakamotoharu is another ozeki promotion hopeful but was caught off guard and fell to 6-2.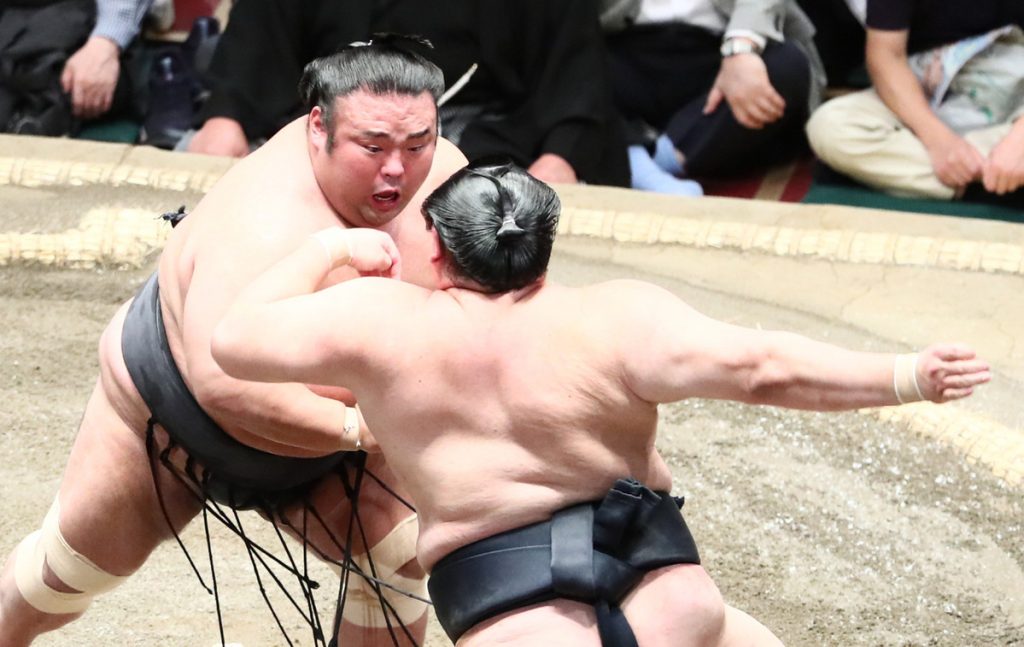 Lone ozeki Takakeisho used his bread-and-butter arm thrusts to the chest to send komusubi Shodai (3-5) backpedaling over the straw ridge. As a result, he stays right in the thick of the title chase with a 6-2 record.
Takakeisho needs just two more wins to wrap up a winning record and secure his ozeki status for the next tournament in July.
RELATED:
Author: Jim Armstrong
The author is a longtime journalist who has covered sports in Japan for over 25 years. You can find his articles on SportsLook.