Asanoyama Manhandles Ichiyamamoto to Stay Tied for Lead at Summer Basho
The former ozeki, who served a six-meet ban, has looked dominant in the first week of the Summer Basho in his return to the raised ring in the elite division.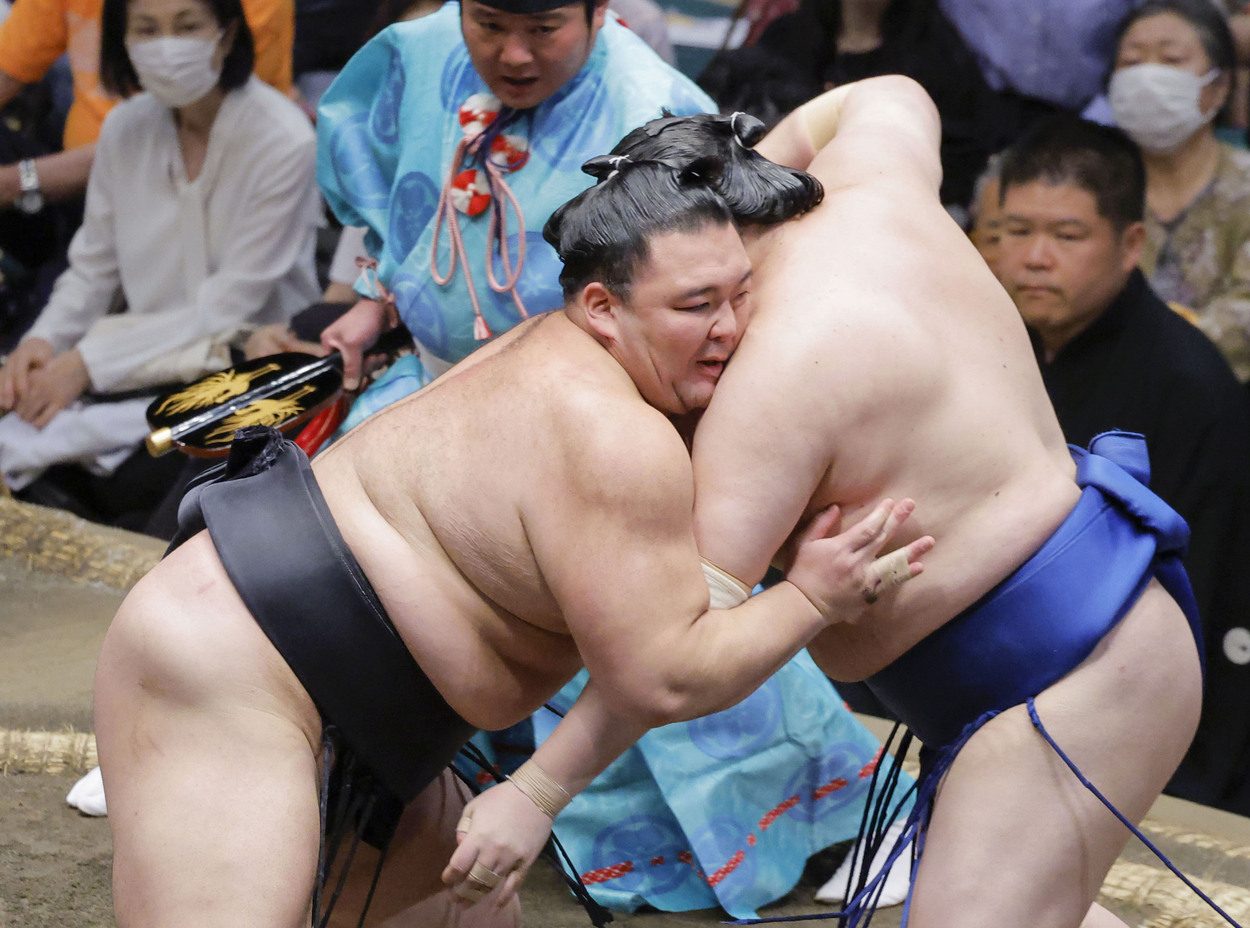 Asanoyama steamrolled over Ichiyamamoto on Saturday, May 20 to improve to a perfect 7-0 and stay tied for the lead with two others at the Summer Basho.
Former ozeki Asanoyama came bursting out of the face-off in his bout against Ichiyamamoto (2-5) and used a frontal push-out to dispatch the No. 15 maegashira in a matter of seconds at Tokyo's Ryogoku Kokugikan.
Heading into the midway point of the 15-day Summer Grand Sumo Tournament on Sunday,  Asanoyama, 29, has looked very impressive in his return to the elite division following a six-meet ban for violating COVID-19 safety guidelines.
After serving his suspension for dining out while under orders to stay at home, Asanoyama got back to work in the fourth-tier sandanme division in July 2022.
What's even more impressive is that the No. 14 maegashira hasn't been seriously challenged in any of his bouts so far, dominating his opponents in one-sided victories.
He will face stiffer competition in the second week of the basho, but certainly looks up to the challenge.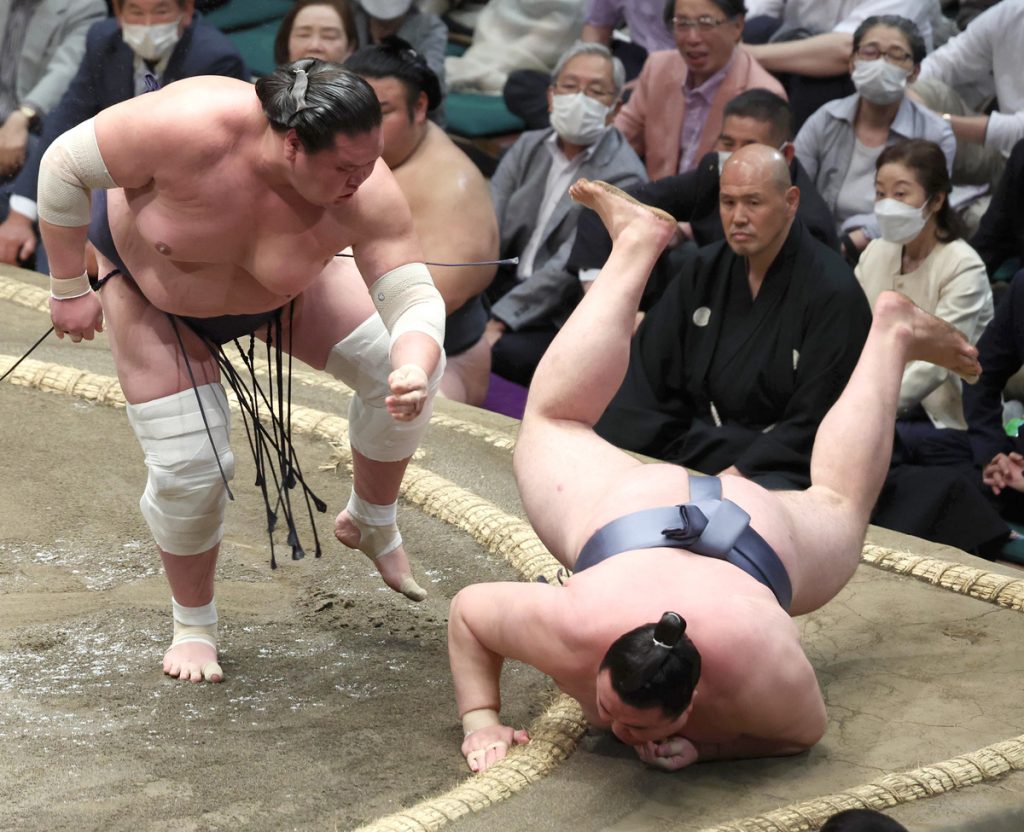 Terunofuji, Meisei Also Tied for Summer Basho Lead
One of the wrestlers he is likely to face is lone yokozuna Terunofuji, who deployed a powerful upper arm throw in the day's final bout at Ryogoku Kokugikan to defeat No. 5 maegashira Kinbozan to improve to 7-0.
Kinbozan, who went 11-4 in the March tournament in his makuuchi debut, dropped to 3-4.
Competing for the first time since September of 2022, Terunofuji has looked strong in the first seven bouts as he returns from surgery to both knees in pursuit of his eighth championship trophy.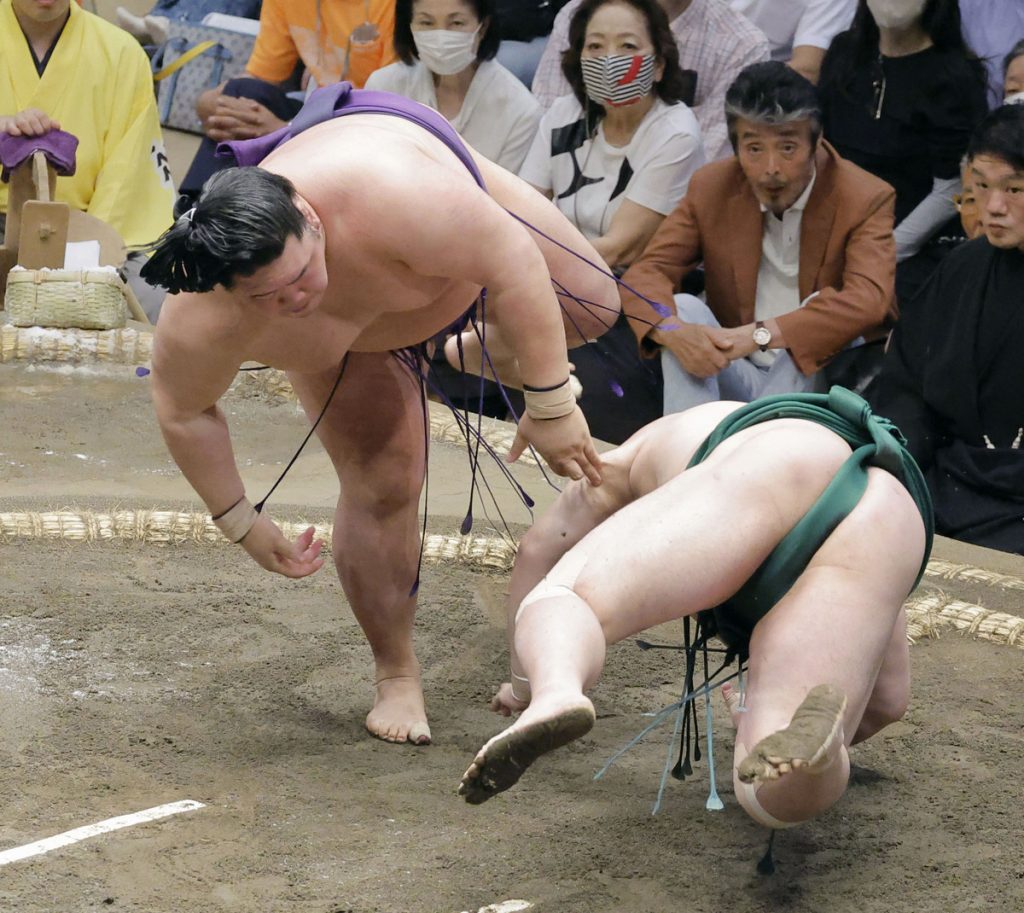 No. 6 maegashira Meisei (7-0) is the only other undefeated wrestler. He relied on superior footwork and agility when he shifted to his right and swatted down veteran Sadanoumi. Eighth-ranked maegashira Sadanoumi dropped to 3-4.
Sekiwake Wakamotoharu stunned No. 3 maegashira Nishikifuji (1-6) with a forearm to the head at the face-off, then a used powerful arm thrusts to the neck to defeat Nishikifuji and move to 6-1. 
Wakamotoharu, who lost to Abi on the previous day, is chasing promotion to ozeki and turned in a performance on Saturday that is worthy of a wrestler at sumo's second-highest rank.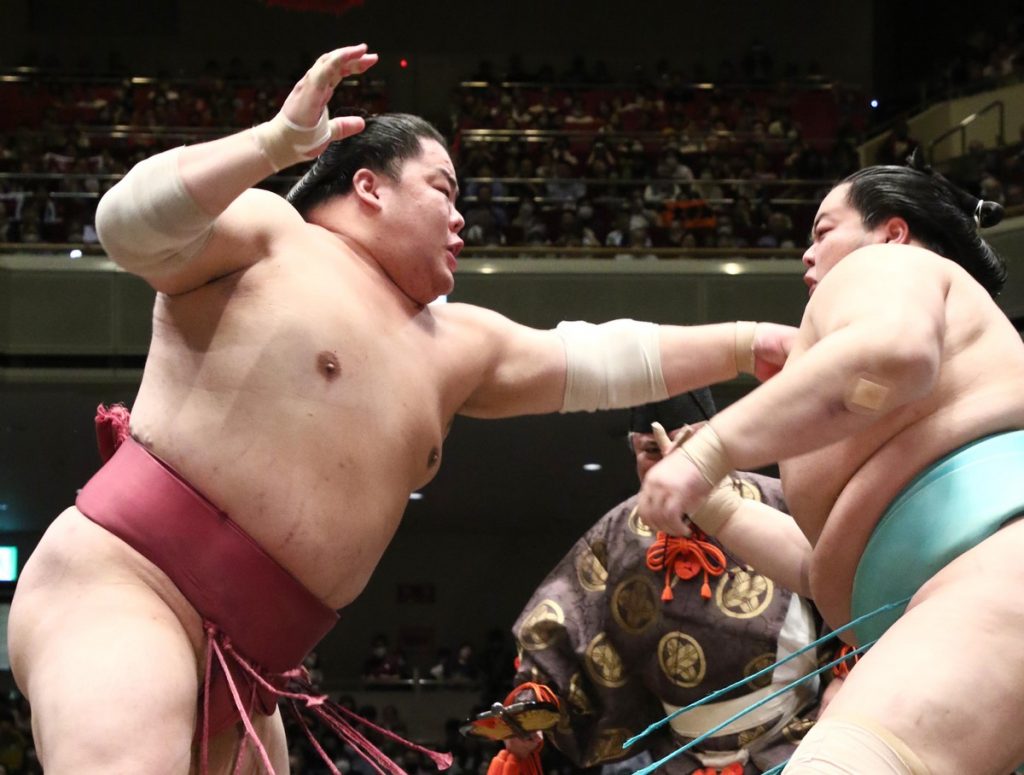 Yet another wrestler hoping for promotion to ozeki is Daieisho, who circled away from Kotonowaka and used his trademark thrusting attack to send the komusubi over the straw ridge.
Sekiwake Daieisho improved to 6-1. Kotonowaka fell to 3-4.
Shodai Earns Upset Win Over Kiribayama
In the day's only major upset, komusubi Shodai got a right-hand inside position and shoved out Kiribayama, who suffered his second defeat.
Shodai improved to 3-4 while Kiribayama, who hopes to earn promotion to ozeki and needs at least 10 wins to do so, dropped to 5-2.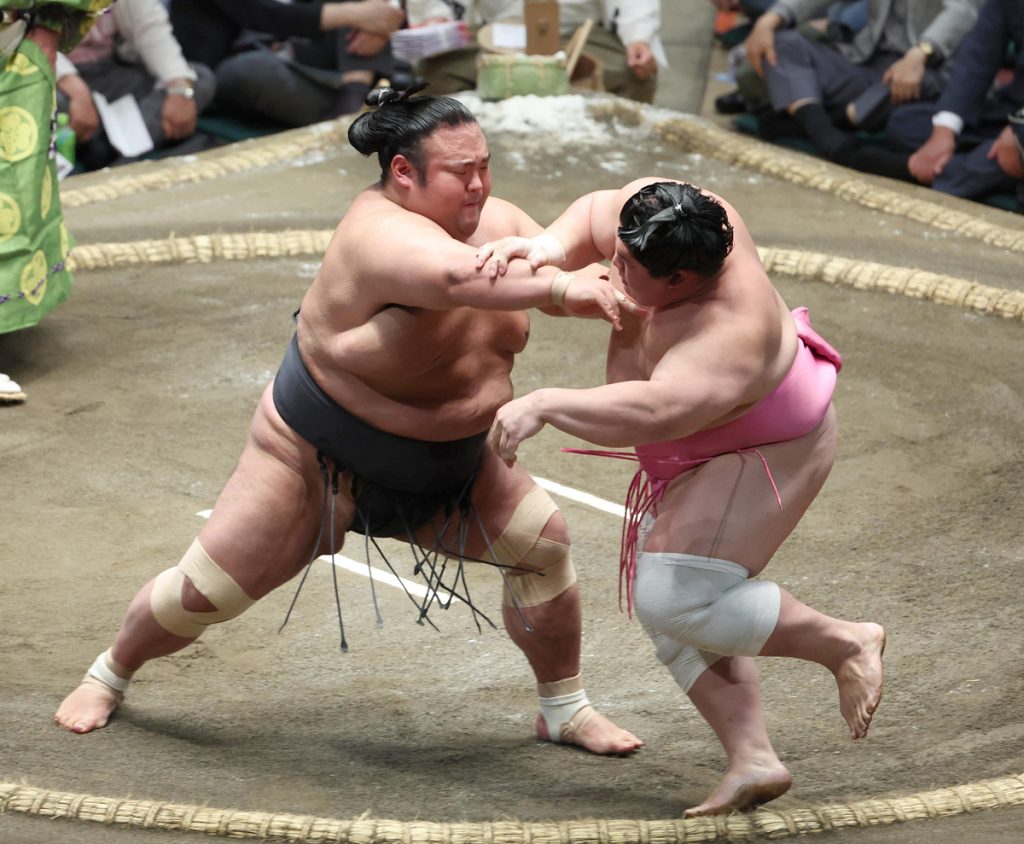 Lone ozeki Takakeisho demolished Ura (3-4) with his trademark arm thrusts to the upper body of No. 4 maegashira to pick up his fifth win against two losses.
Takakeisho needs just three more wins to secure a winning record and maintain his ozeki status for the next tournament.
Mongolian sekiwake Hoshoryu improved to 5-2 when his opponent, winless No. 2 maegashira Endo, was forced to pull out on Day 7 with pain in both knees. Endo, who is unlikely to return to the meet according to his stable master, dropped to 0-7.
RELATED:
Author: Jim Armstrong
The author is a longtime journalist who has covered sports in Japan for over 25 years. You can find his articles on SportsLook.