Terunofuji Dominates Nishikigi to Stay Undefeated at Summer Basho
Lone yokozuna Terunofuji turned in one of his best efforts yet at the Summer Basho as he looks to overcome injured knees in the 15-day tourney.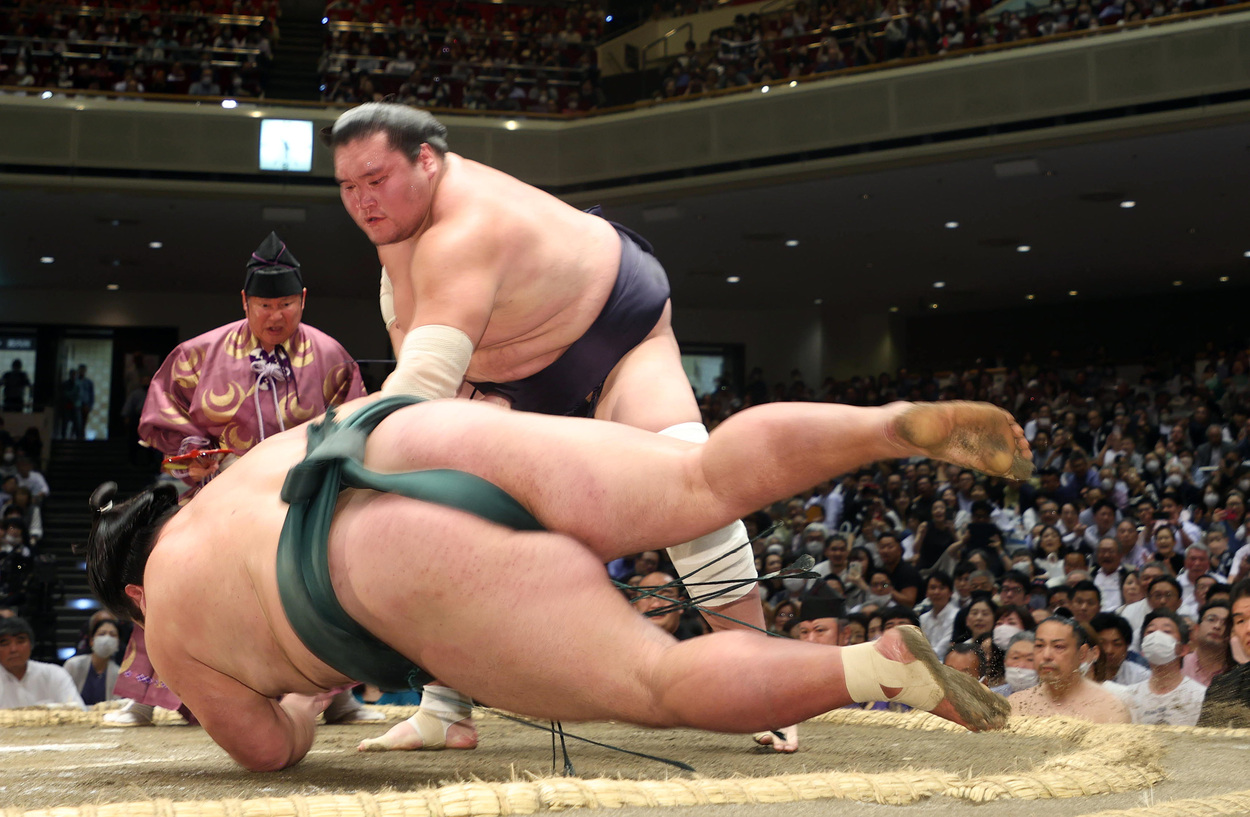 Lone grand champion Terunofuji took another major step forward in his comeback from injury when he defeated Nishikigi on Friday, May 19 to remain undefeated and tied for the lead at the Summer Basho.
In perhaps his most dominant display so far, Terunofuji overwhelmed No. 4 maegashira Nishikigi (1-5) at the face-off, maneuvered him to the edge, then used a left-hand armlock throw for the win at Tokyo's Ryogoku Kokugikan.
Competing for the first time since September of 2022, yokozuna Terunofuji improved to 6-0 and is now tied with rank-and-filers Meisei and Asanoyama for the lead. Terunofuji missed all or parts of the previous four tournaments recovering from surgery to both knees.
One win off the pace at the 15-day Summer Grand Sumo Tournament is ozeki hopeful Kiribayama, who got a hold of Tobizaru's belt after the face-off and used an overarm throw at the edge to move to 5-1.
Sekiwake Kiribayama is halfway to recording the minimum 10 wins he needs to gain consideration for promotion to the second-highest rank of ozeki. No. 3 maegashira Tobizaru dropped to 2-4.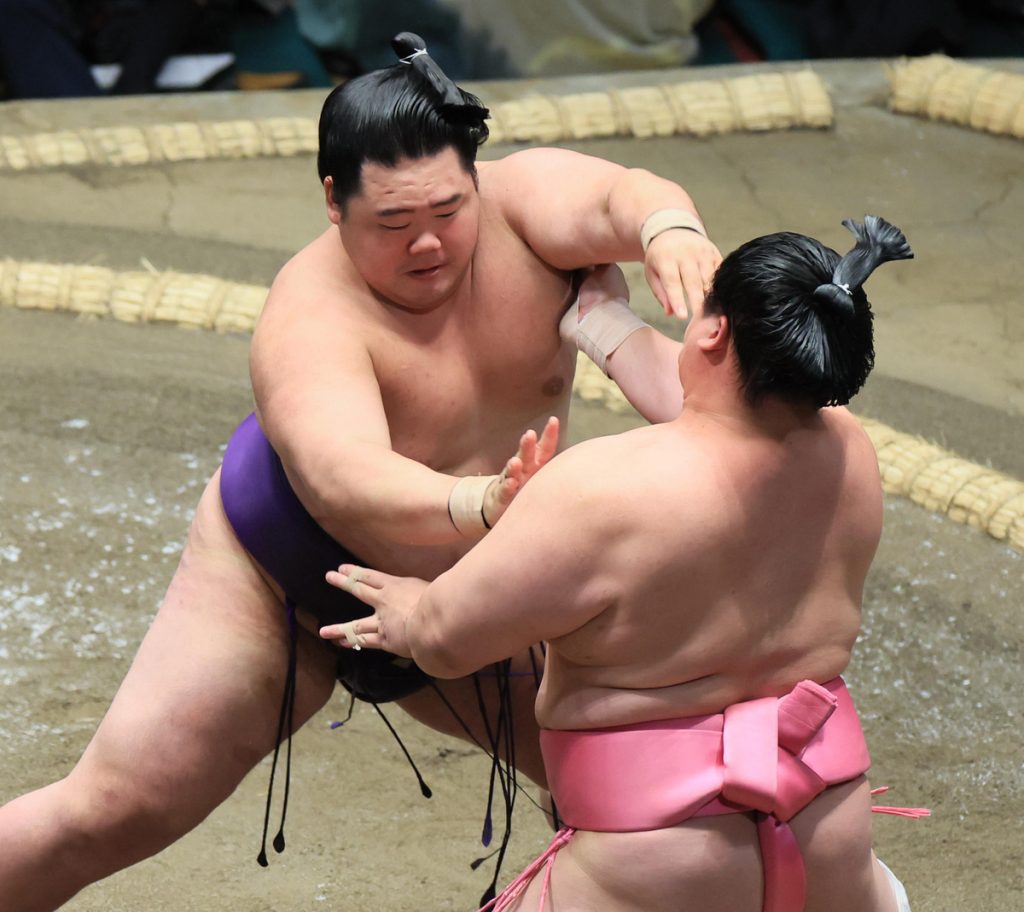 Sixth-ranked maegashira Meisei improved to 6-0 for the first time in his career when he used a frontal crush-out to defeat fourth-ranked maegashira Ura, who fell to 3-3.
Daieisho Beats Hoshoryu in Sekiwake Clash
In an all-sekiwake showdown, Daieisho bounced back from a loss on the previous day when he unleashed a series of arm thrusts to the chest to send Mongolian Hoshoryu backpedaling out over the straw ridge to raise his record to 5-1.
Hoshoryu, who seemed to lack focus, was handed his second loss of the tournament and dropped to 4-2.
Ozeki Takakeisho used his powerful arm thrusts to dispatch No. 3 maegashira Nishikifuji (1-5) and improve to 4-2. Takakeisho needs at least eight wins in the 15-day tournament to maintain his ozeki rank for the next meet.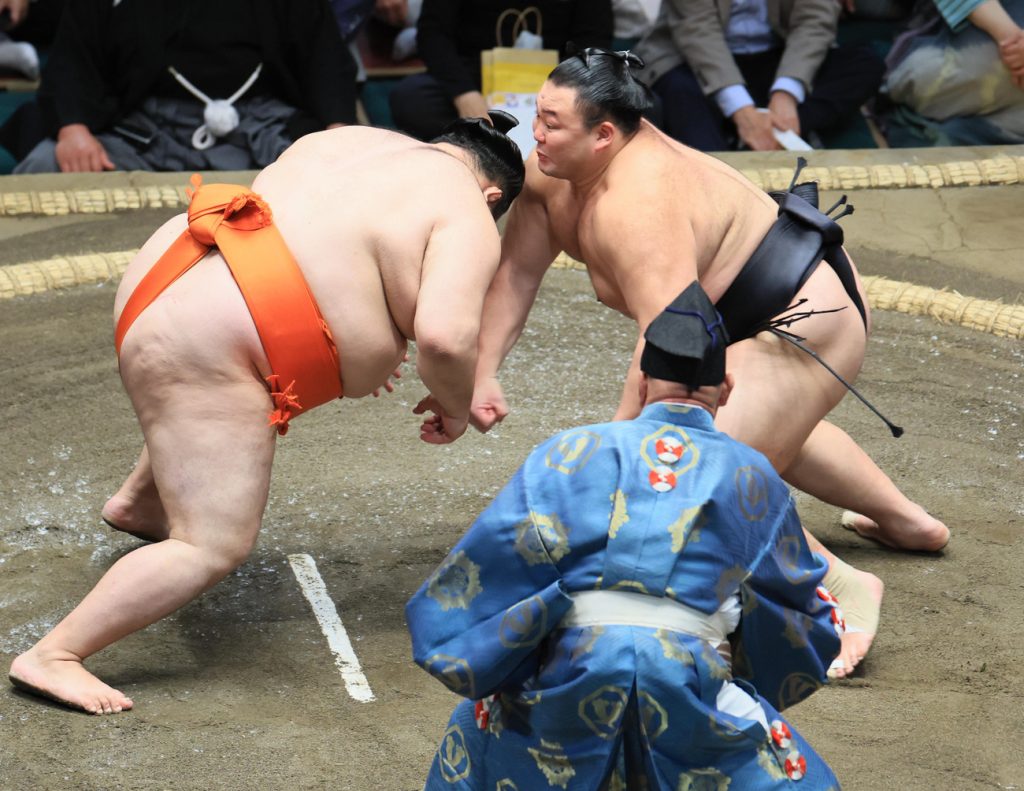 No. 14 maegashira Asanoyama quickly got a left-hand grip on the belt of No. 16 maegashira Mitoryu and forced his opponent out to stay tied for the lead at 6-0. Mitoryu dropped to 4-2.
Top maegashira Abi shifted to his left immediately after the face-off and deployed an under-shoulder swing-down to stun previously undefeated sekiwake Wakamotoharu.
Abi improved to 3-3 while Wakamotoharu dropped out of the lead and fell to 5-1.
No. 11 maegashira Hokuseiho, a protege of former yokozuna Hakuho, improved to an impressive 5-1 when he forced out No. 12 Kotoeko, who slipped to 2-4.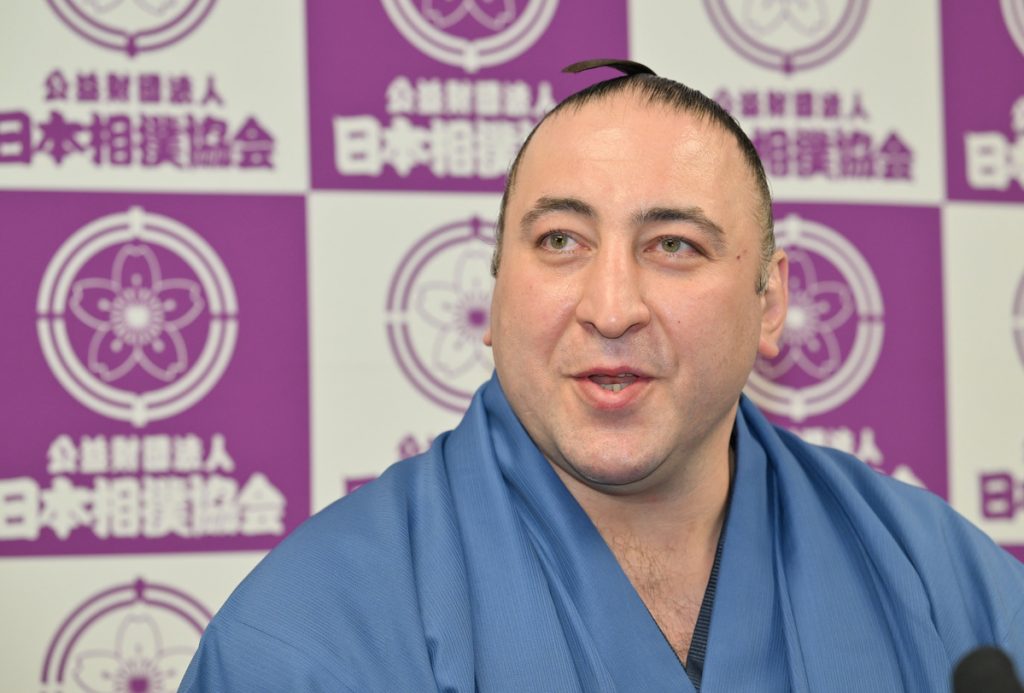 Tochinoshin Announces Retirement
Meanwhile, Georgian sumo wrestler Tochinoshin announced on Friday that he has decided to retire.
The 35-year-old Kasugano stable wrestler, whose real name is Levan Gorgadze, has been fighting in the second-tier juryo division. He was 0-5 through Thursday's bouts.
Tochinoshin won one grand tournament in January 2018. He wrestled as an ozeki in seven basho between July 2018 and September 2019.
A former judoka, Tochinoshin needed only two years to reach the elite makuuchi division. He was the third European to reach the second-highest rank of ozeki following Baruto (Estonia) and Kotooshu (Bulgaria).
Unlike many foreign-born wrestlers who reach the elite ranks, Tochinoshin never acquired Japanese citizenship, which is needed to remain within the Japan Sumo Association as an elder, and he will leave the sport.
RELATED:
Author: Jim Armstrong
The author is a longtime journalist who has covered sports in Japan for over 25 years. You can find his articles on SportsLook.