Terunofuji Bundles Out Ura and Stays Tied for Lead at Summer Basho
Lone yokozuna Terunofuji used one of his favorite techniques to improve to 5-0 at the Summer Basho. He shares the lead with three other wrestlers.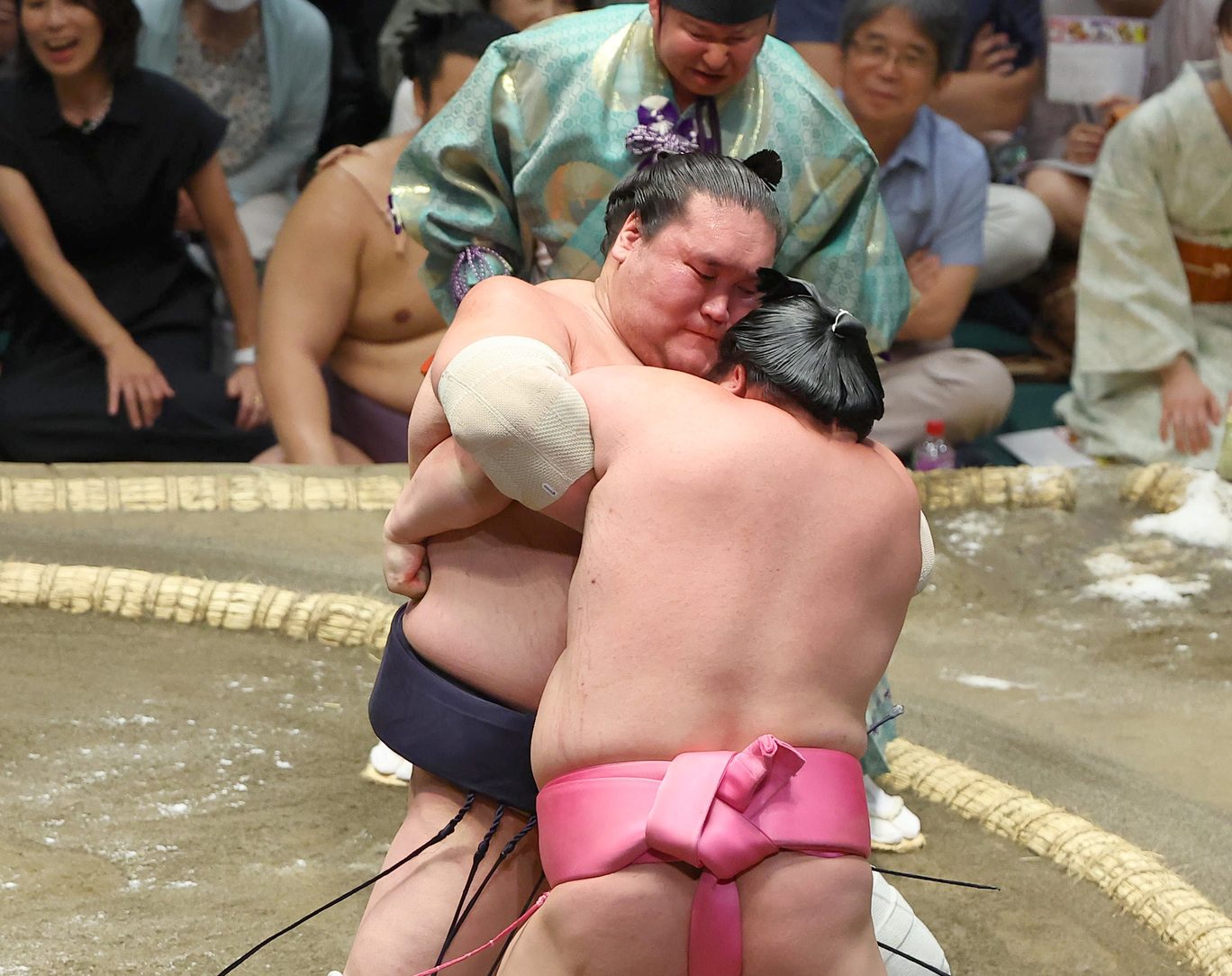 Grand champion Terunofuji used one of his go-to techniques on Thursday, May 18 to defeat rank-and-filer Ura and stay undefeated and tied for the lead on Day 5 of the Summer Basho.
Shortly after the face-off in the day's final bout at Ryogoku Kokugikan, Terunofuji got a double arm lock on No. 4 maegashira Ura and slowly but surely forced him out over the straw ridge to improve to 5-0.
It was exactly the same technique yokozuna Terunofuji used on the previous day to defeat Tobizaru.
Ura, who was virtually helpless once he got into the iron grip of Terunofuji, tried to wriggle free but had nowhere to go and dropped to 3-2.
Terunofuji missed four of the previous bouts but has looked strong in his comeback to competition thus far at the 15-day Summer Grand Sumo Tournament.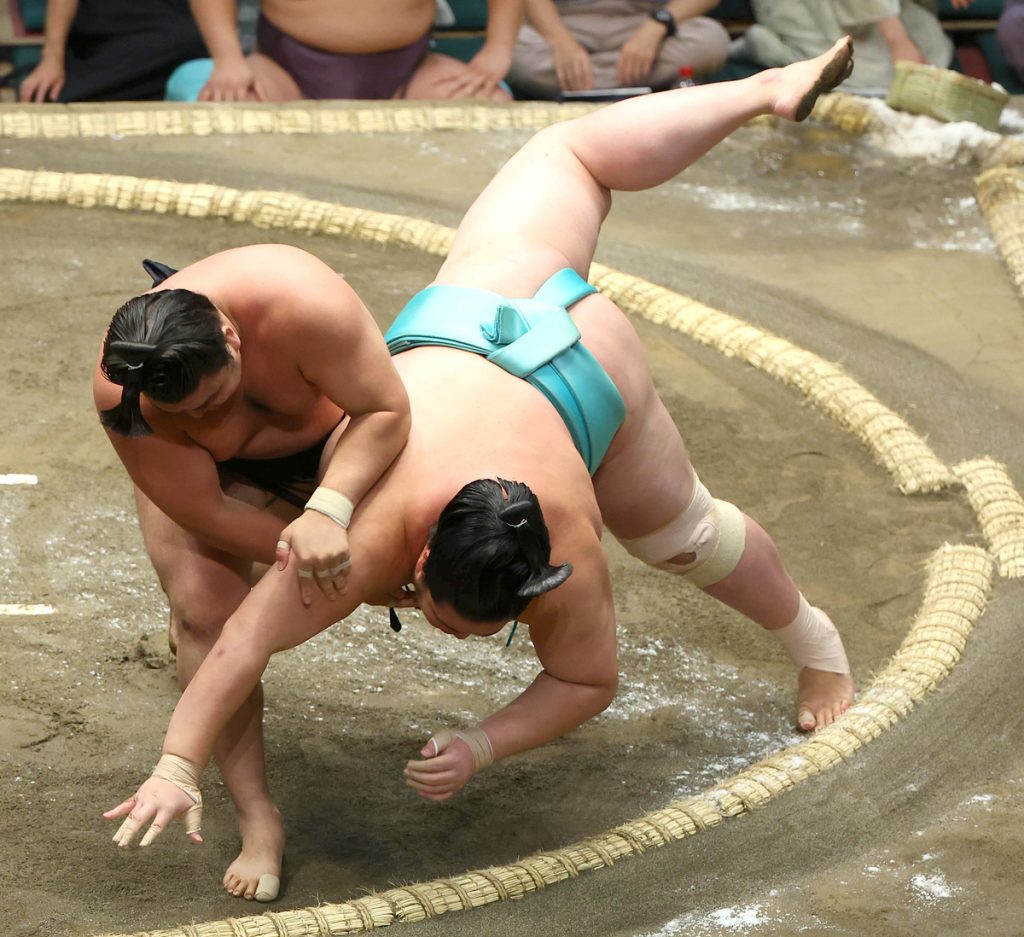 Kiribayama Earns 300th Career Win
In other major bouts, sekiwake Kiribayama was in trouble against Kotonowaka when he was pushed back to the edge. But Kiribayama got his left arm under the arm of his opponent and used a beltless arm throw to pull out a victory at the last minute.
It was the 300th career win for Kiribayama, who improved to 4-1. Komusubi Kotonowaka fell to 3-2.
Sekiwake Wakamotoharu also shares the lead at 5-0 after he got a double-handed grip on the belt of Midorifuji and shoved the winless top maegashira over the straw bales.
Wakamotoharu is off to his best start ever in the elite makuuchi division as he chases potential promotion to ozeki.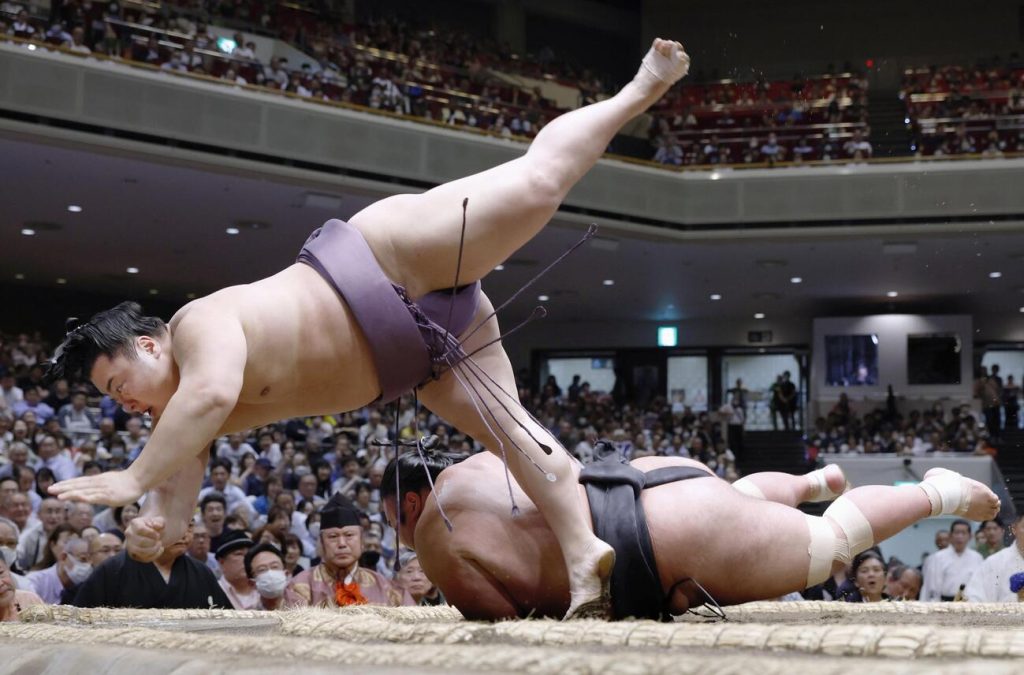 Tobizaru Topples Takakeisho
No. 3 maegashira Tobizaru fought off a barrage of arm thrusts by Takakeisho and then used an upper arm throw to send the struggling ozeki sprawling to the dirt surface.
Tobizaru (2-3) had won three in a row against Takakeisho coming into Thursday's bout. Takakeisho, who needs eight wins to maintain his ozeki rank, dropped to 3-2.
"There are good days and bad days and today was good," Tobizaru said. "I just tried to keep moving forward and was happy with the outcome today."

He added, "I'll just take it one bout at a time."
Sekiwake Daieisho, who is also pursuing promotion to ozeki, suffered his first defeat and dropped out of the lead when top maegashira Abi shifted to his side and swatted his opponent out.
Daieisho dropped to 4-1 while Abi improved to 2-3.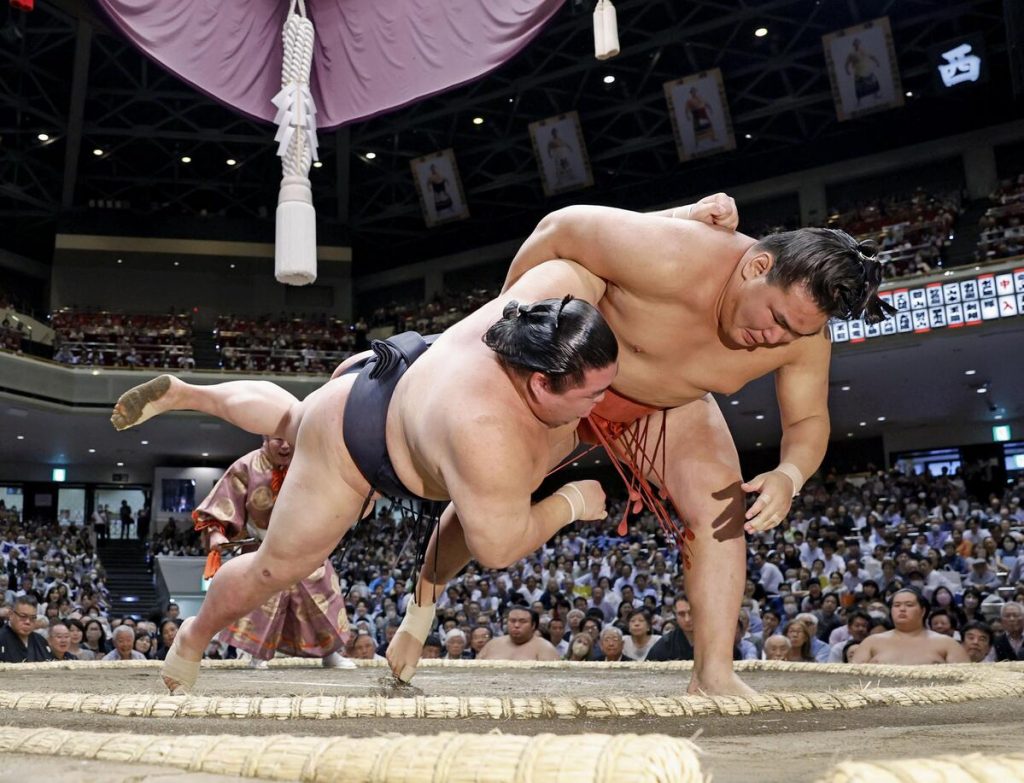 Sekiwake Hoshoryu got a strong right-hand-outside grip and then deployed a textbook overarm throw of Shodai to pick up his fourth win against a sole loss. Komusubi Shodai fell to 1-4.
No. 6 Meisei got his favorite grip on the belt of his opponent and unleashed a powerful underarm throw of Nishikigi at the edge to stay tied for the lead at 5-0. Fourth-ranked maegashira Nishikigi dropped to 1-4.
No. 14 maegashira Asanoyama (5-0) also maintained his share of the lead. He fought off several thrusts to the neck and shoved out Bulgarian giant and No. 12 maegashira Aoiyama, who dropped to 2-3.
RELATED:
Author: Jim Armstrong
The author is a longtime journalist who has covered sports in Japan for over 25 years. You can find his articles on SportsLook.