Yokozuna Terunofuji calmly thwarted a determined attack by top maegashira Wakatakakage to improve to 2-0 at the New Year Grand Sumo Tournament on Monday, January 10.
In the day's final bout at Ryogoku Kokugikan, Wakatakakage got a hold of Terunofuji's arm shortly after the face-off and drove the lone grand champion back to the edge.
But just as he did in his opening-day win over Daieisho, Terunofuji remained calm and turned the tables on his opponent, this time with an arm lock throw to send winless Wakatakakage sprawling to the dirt surface.
Terunofuji is bidding to win a third straight Emperor's Cup for the first time in his career.
He was promoted to sumo's highest rank in July of 2021 and then won the September tournament in his yokozuna debut and followed that up with another title at the November tournament in Kyushu.
In other major bouts, resurgent ozeki Shodai deployed a series of arm thrusts to shove Ura off the raised ring and improve to 2-0 in the 15-day basho.
Top maegashira Ura, who dropped to 0-2, hit his head after toppling off the ring and needed the assistance of the ringside officials to be helped off the dohyo.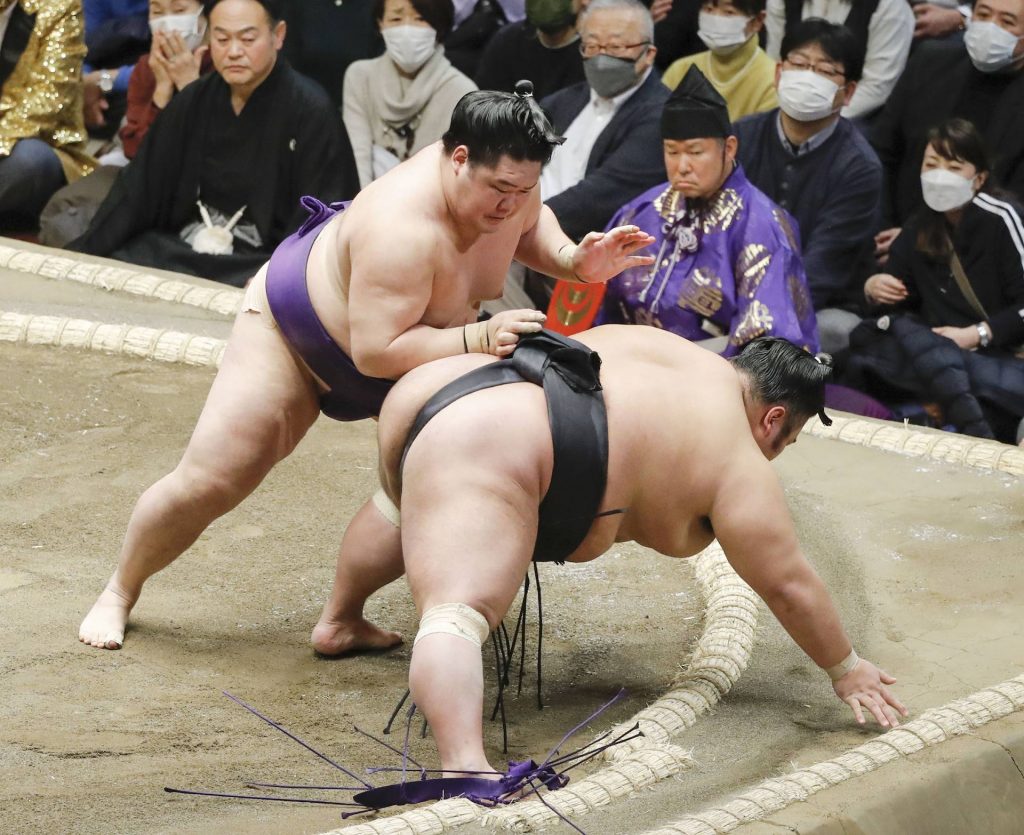 Elsewhere, komusubi Meisei dodged to his side and swatted down Takakeisho to pick up his first win while handing the ozeki wrestler his first loss.
Former sekiwake Meisei was demoted to komusubi after losing eight bouts in the November tournament.
Takakeisho is one of the favorites to challenge Terunofuji after going 12-3 in the November tournament.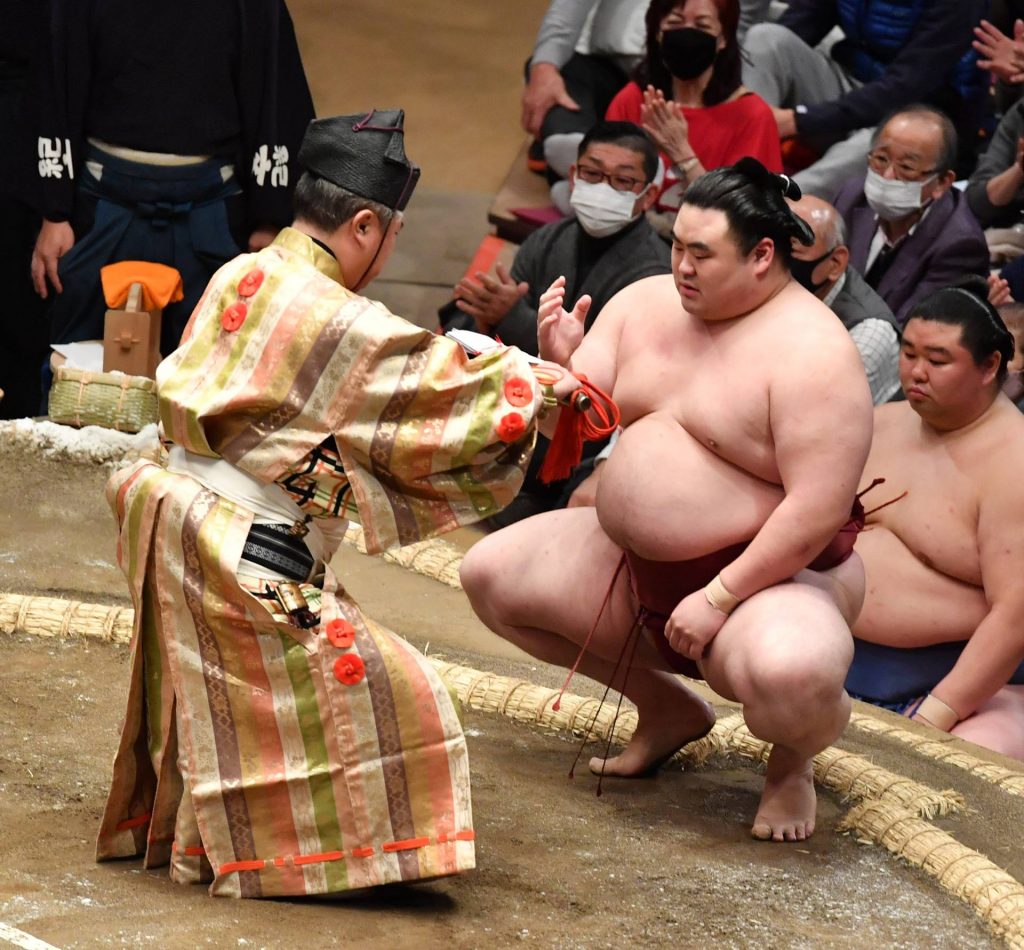 Sekiwake Takanosho, who is bidding for promotion to ozeki, used an under-shoulder swing down to defeat top maegashira Kiribayama and improve to 1-1.
Mongolian Kiribayama is aiming to improve on his 6-9 record from the previous tournament but is already at 0-2.
Abi, who went 12-3 and was in the title chase in the November meet, used several powerful arm thrusts to the neck of Chiyoshoma to send the No. 5 maegashira toppling off the raised ring.
No. 6 maegashira Abi improved to 2-0 while Chiyoshoma stands at 0-2.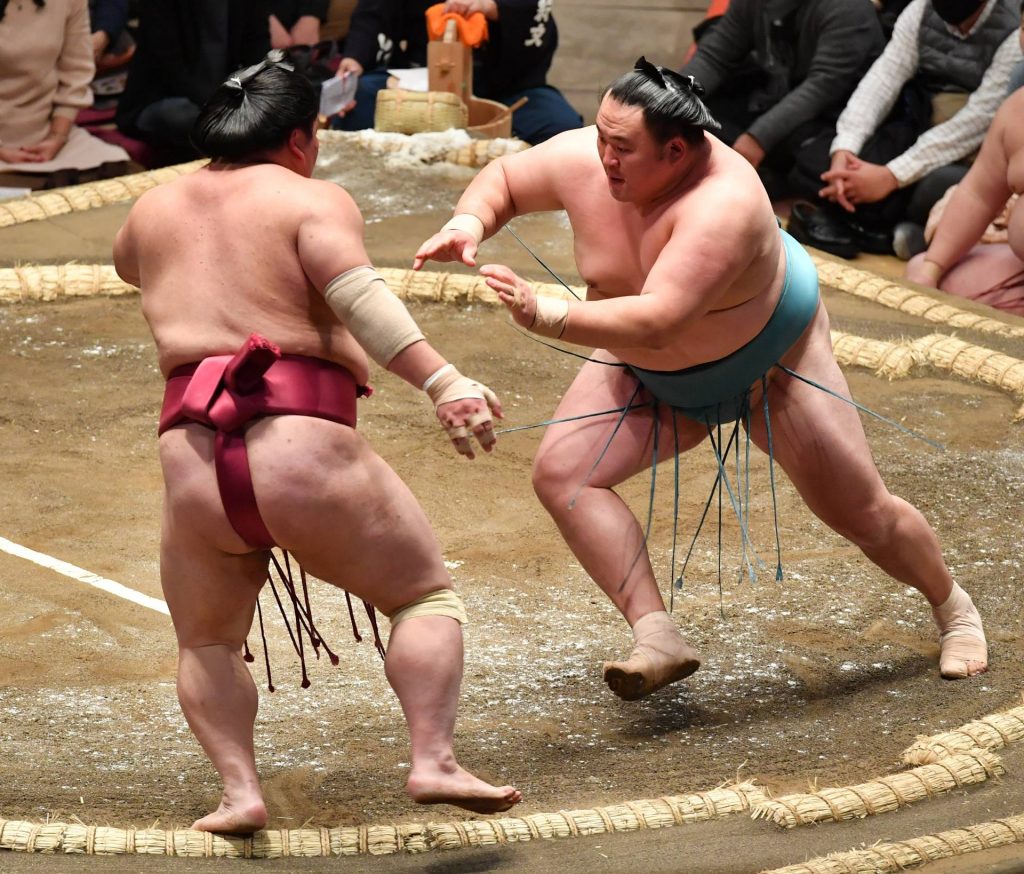 Third-ranked maegashira Tamawashi improved to 2-0 when he relied on a barrage of powerful arm thrusts to dispatch komusubi Daieisho, who dropped to 0-2.
Daieisho put in a spirited performance against Terunofuji on the opening day but was no match for the determined veteran Tamawashi.
Sekiwake Mitakeumi had his hands full with Mongolian-born giant Ichinojo, spinning his 206-kg opponent around before shoving him out to pick up his second straight win.
No. 2 maegashira Ichinojo dropped to 1-1.
No. 18 maegashira Oho made it two wins in a row in his debut in the elite makuuchi division when he used a twist down maneuver to defeat Kotoeko, a 17th-ranked maegashira who dropped to 1-1.
Oho is the grandson of legendary yokozuna Taiho and the son of former sekiwake Takatoriki.
Taiho, who died in 2013, fought during the Showa Era and won 32 championships between 1960 and 1971.
Wakamotoharu, the older brother of top maegashira Wakatakakage, was handed his first loss of his makuuchi debut when he was swatted down by fellow rank-and-filer Aoiyama to give both wrestlers a 1-1 record.

Three Stars
First Star: Shodai. Off to a 2-0 start, the ozeki wrestler looks like he has regained the confidence that allowed him to win the championship in September of 2020.
Second Star: Sekiwake Takanosho. With an impressive win over top maegashira Kiribayama, ozeki-promotion chasing Takanosho could be poised to go on a run of victories.
Third Star: Abi. At 2-0, the sixth-ranked maegashira has picked up where he left off in the previous tournament when he was in contention until the final day when he lost to Terunofuji.
Author: Jim Armstrong
The author is a longtime journalist who has covered sports in Japan for more than 25 years. You can find his articles here, on JAPAN Forward.