Grand champion Terunofuji overpowered Mongolian compatriot Kiribayama on Tuesday, January 11 to remain undefeated at the New Year Grand Sumo Tournament on a day when both ozeki wrestlers lost.
Lone yokozuna Terunofuji was all business in the day's final bout at Ryogoku Kokugikan when he deployed a perfectly executed arm throw at the edge to send the winless top maegashira toppling off the raised ring.
Bidding for a third straight Emperor's Cup for the first time in his career, Terunofuji is tied for the lead at 3-0 with five other wrestlers.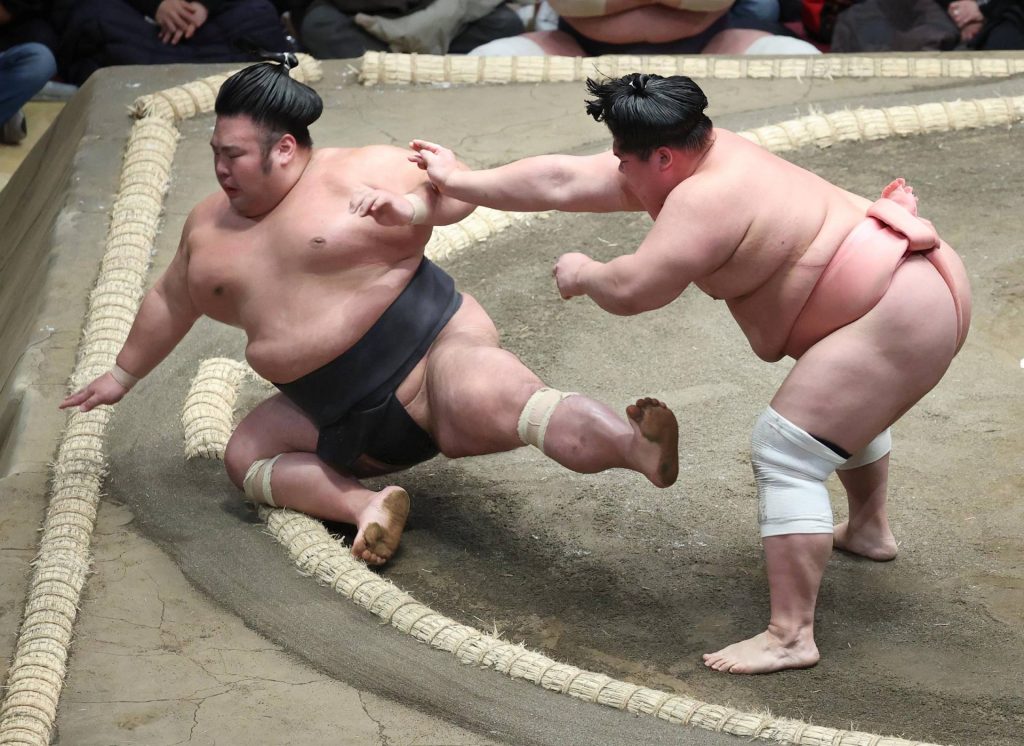 In Tuesday's penultimate bout, No. 2 maegashira Ura dodged to his side shortly after the face-off and thrust down an exhausted Takakeisho to hand the ozeki his second straight loss and give both wrestlers a 1-2 record.
Ura's win followed another bout with Takakeisho that ended in a draw with both wrestlers hitting the dirt surface at the same time.
It was a painful loss for Takakeisho, who many expected to challenge Terunofuji for the title. But with two losses already his chances are slipping away.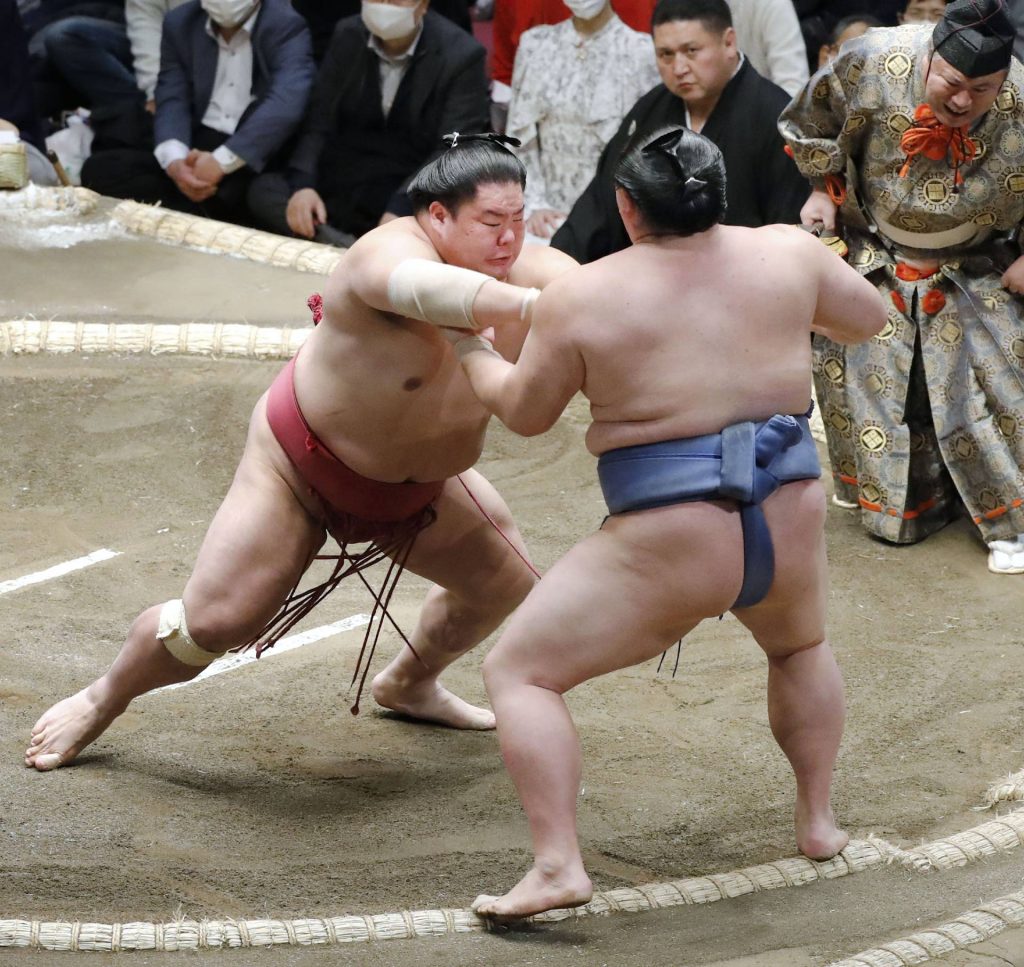 Komusubi Daieisho handed ozeki Shodai his first loss of the tournament when he deployed a powerful thrusting attack to send his opponent over the straw ridge and pick up his first win.
In other major bouts, sekiwake Mitakeumi joined the group of wrestlers at 3-0 when he got an inside grip on the belt of Wakatakakage and shoved the top maegashira out to remain undefeated. Wakatakakage dropped to 0-3.
Komusubi Meisei got a two-handed grip on the belt of Ichinojo and shoved the No. 2 maegashira out to pick up his second win. Former komusubi Ichinojo couldn't capitalize on his 60-kg weight advantage and dropped to 1-2.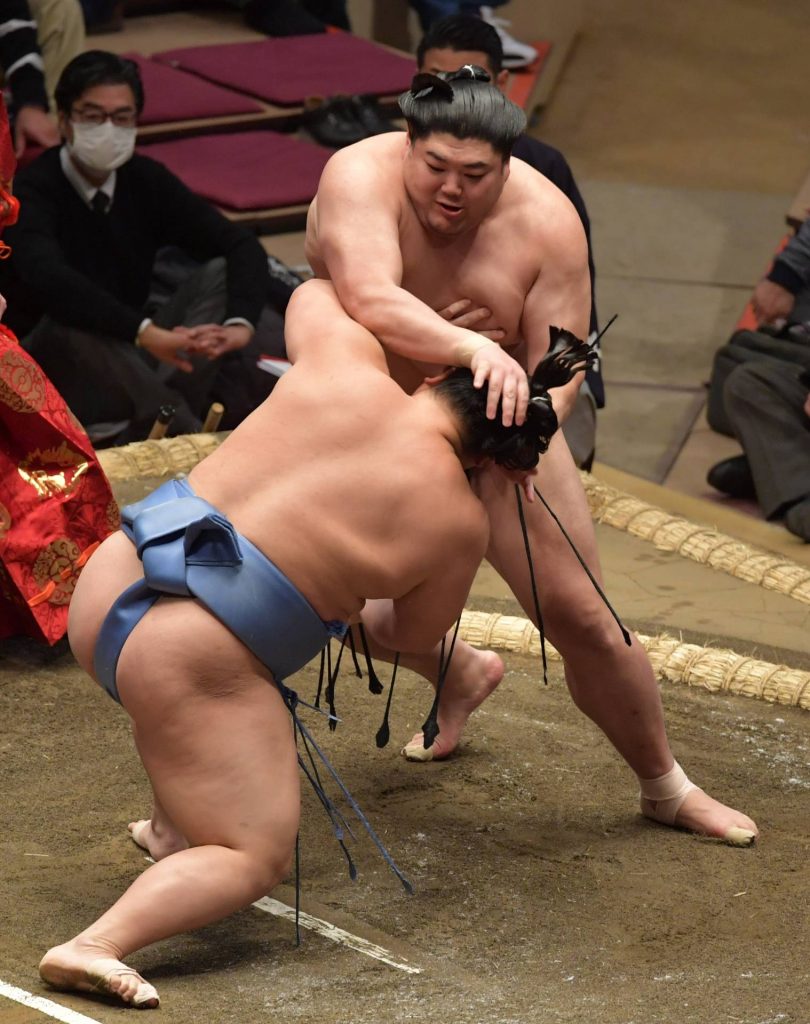 No. 6 maegashira Abi exchanged a series of arm thrusts with Tobizaru before swatting the eighth-ranked maegashira down to remain perfect at 3-0.
Tobizaru lost his footing shortly after the face-off and was handed his first loss of the tournament.
Abi, who went 12-3 and was in the title chase in the November meet, looks poised to make another strong run in the New Year Basho.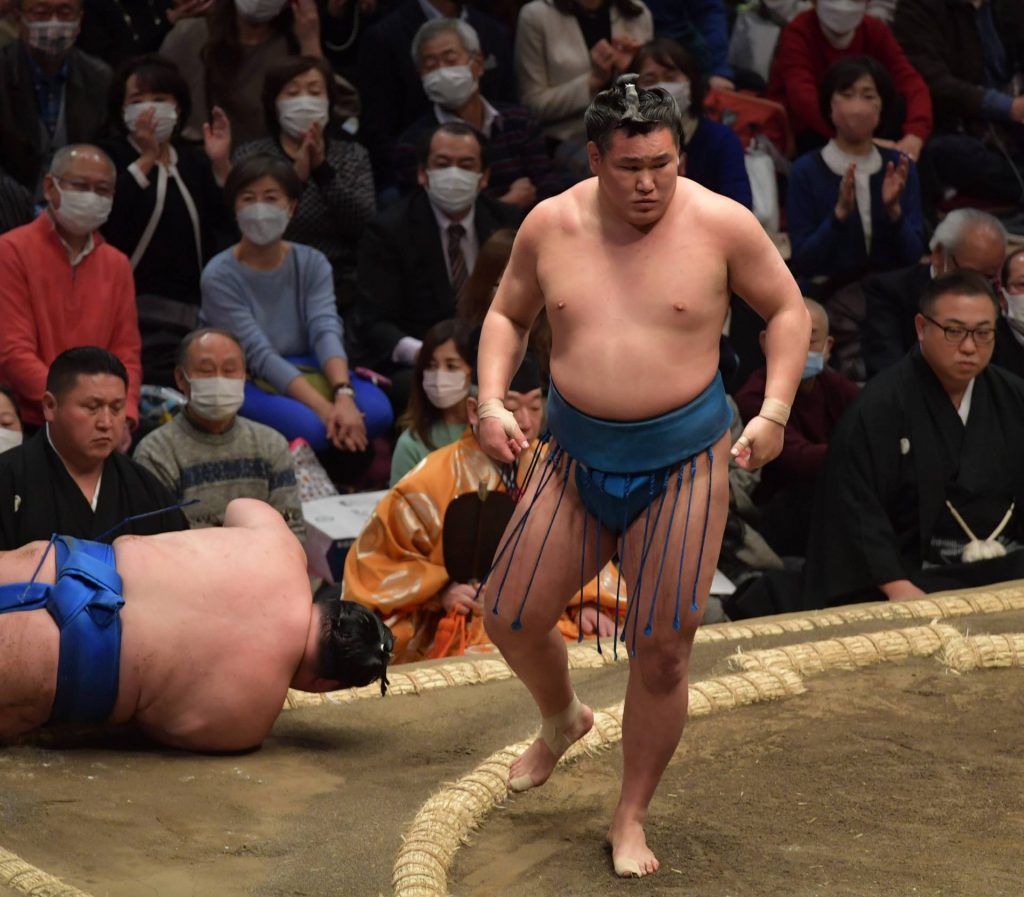 Mongolian Hoshoryu, a sixth-ranked maegashira, displayed agile footwork at the edge of the ring when he hauled down Hokutofuji to improve to 2-1. No. 4 maegashira Hokutofuji stands at 1-2.
Sekiwake Takanosho dodged to his side at the edge of the ring and thrust down No. 3 maegashira Tamawashi to give both wrestlers a 2-1 record.
Takanosho is hoping to improve his chances for promotion to ozeki in this tournament and should be in good standing for that if he continues the brand of sumo he displayed on Day 3.
Further down the ranks, two young wrestlers making their makuuchi division debuts both posted wins on Day 3.
Wakamotoharu, the older brother of top maegashira Wakatakakage, overpowered Tochinoshin (1-2) with a frontal force-out in an impressive display of sumo to improve to 2-1.
In the previous bout, No. 18 maegashira Oho made it three wins in a row when he shoved out winless 16th-ranked Tsurugisho.
Oho is the grandson of legendary yokozuna Taiho and the son of former sekiwake Takatoriki.
Three Stars
First Star: Ura. It took two bouts for Ura to post a hard-fought win over ozeki Takakeisho. Both wrestlers were exhausted after working double duty but give Ura credit for a huge upset win.
Second Star: Daieisho. Any win over an ozeki is worthy of praise and Daieisho came through with an impressive win over Shodai who had yet to lose in the New Year Basho.
Third Star: Mitakeumi stayed undefeated with a clutch win over top maegashira Wakatakakage and is deserving of honorable mention.
Author: Jim Armstrong
The author is a longtime journalist who has covered sports in Japan for more than 25 years. You can find his articles here, on JAPAN Forward.