Underdog Ura came within inches of pulling off a massive upset at the New Year Grand Sumo Tournament on Wednesday, January 12 but eventually lost to grand champion Terunofuji who remains undefeated and tied for the lead.
Fresh off a shock defeat of ozeki Takakeisho the previous day, No. 2 maegashira Ura was looking for another upset in the day's final bout at Ryogoku Kokugikan.
Ura came bursting out of the face-off and forced the lone yokozuna to the edge of the ring. With both feet on the straw ridge, Terunofuji relied on his considerable size advantage to stay in bounds before eventually shoving Ura down with a powerful thrust.
Terunofuji, who is bidding for his third straight Emperor's Cup, improved to 4-0 and is tied for the lead with four other wrestlers. Ura dropped to 1-3.
Terunofuji's fourth win came on a day when one of his major rivals bowed out of the 15-day basho.
Ozeki Takakeisho was forced to pull out on Wednesday due to a right-foot injury.
Takakeisho won his opening-day bout on Sunday but then lost two in a row, including to Ura on Tuesday when he injured his foot.
Takakeisho came into the New Year basho aiming to challenge Terunofuji after going 12-3 in the November tournament when he was in contention until the final weekend.
He is expected to sit out the entire tournament and finish with a losing record. He forfeited his Day 4 bout against top maegashira Kiribayama (1-3) to give him a 1-3 record.
If the 25-year-old is unable to return to the tournament, he will fight as a demotion-threatened "kadoban" wrestler at the next tournament in March.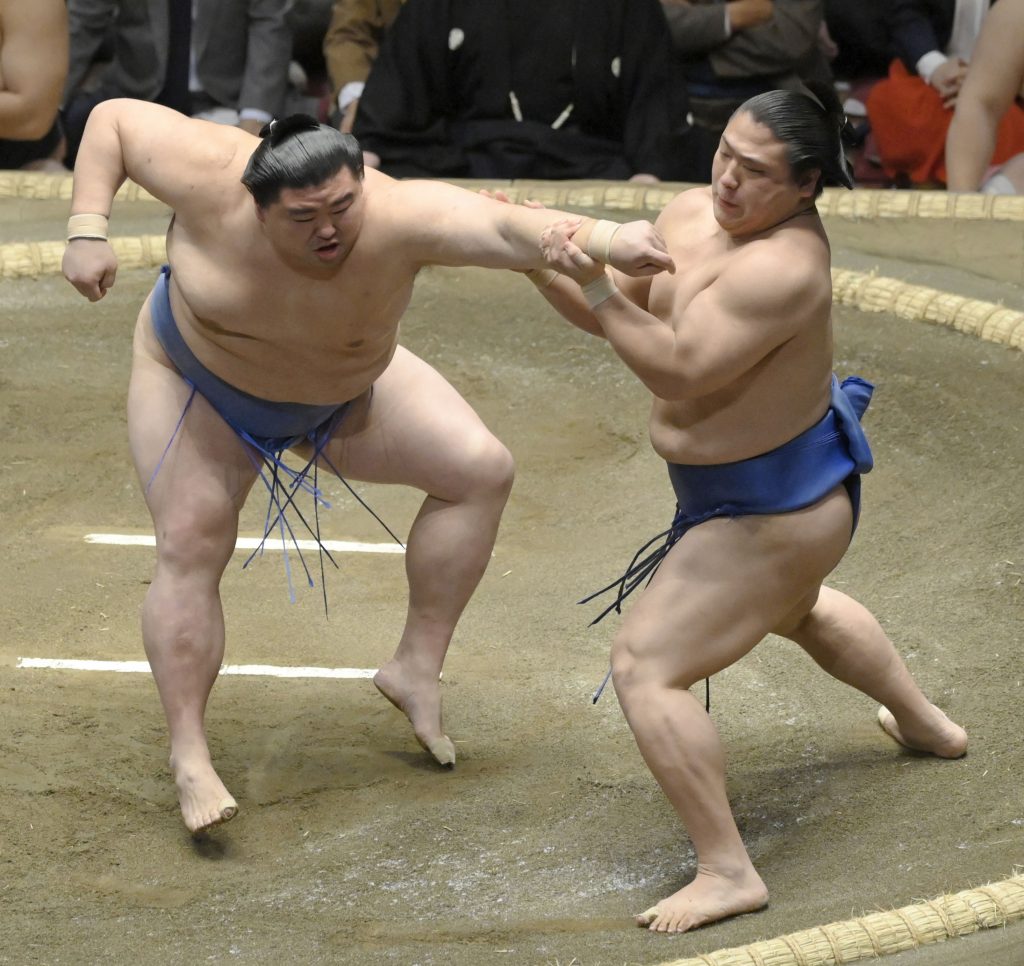 In other major bouts, ozeki Shodai got a huge break in his bout with top maegashira Wakatakakage.
Shodai was forced to the edge by his opponent and appeared to have been forced out but the ringside judges got input from a video replay to determine that Wakatakakage stepped out before Shodai.
Shodai improved to 3-1 while Wakatakakage remained winless.
Sekiwake Mitakeumi needed two bouts before dispatching Meisei with a frontal force out to improve to 4-0.
Mitakeumi's first bout with the komusubi ended in a draw when both wrestlers fell off the raised ring simultaneously resulting in a do-over.
Mitakeumi made no mistake the second time around with an emphatic frontal force-out of Meisei, who fell to 2-2.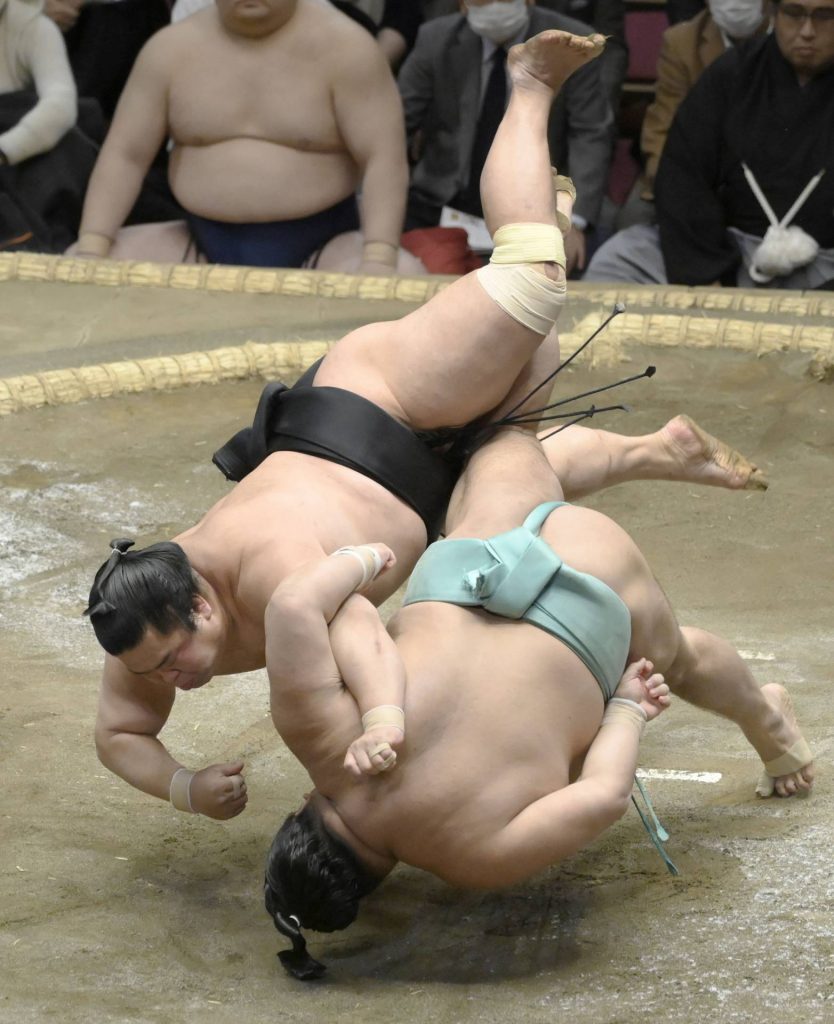 In-form No. 10 maegashira Myogiryu maintained a share of the lead when he deployed a beltless arm throw to send winless 10th-ranked maegashira Akua sprawling to the dirt surface.
Sixth-ranked maegashira Abi also stayed undefeated at 4-0 when he used a barrage of powerful arm thrusts to the neck and head of Chiyonokuni to send the winless No. 9 maegashira backpedaling out of the ring.
Abi went 12-3 in the November meet and, with Takakeisho now out, is one of the leading candidates to challenge Terunofuji.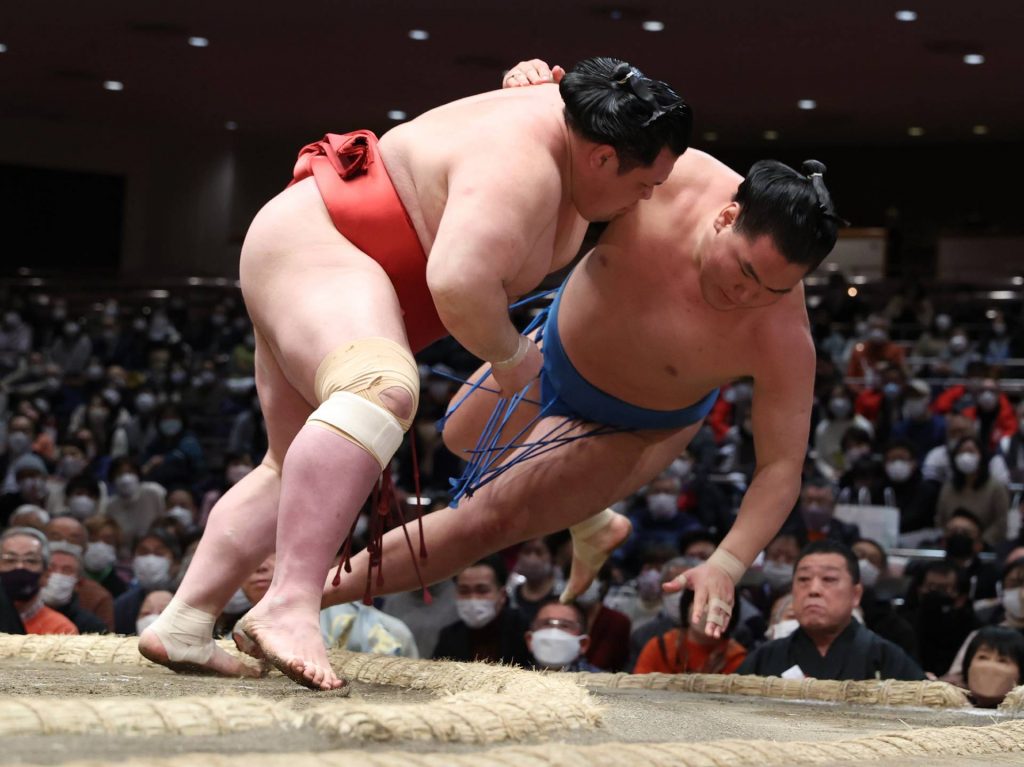 Sixth-ranked Onosho overpowered Mongolian Hoshoryu to stay tied for the lead at 4-0. Hoshoryu, a fourth-ranked maegashira, dropped to 2-2.
Mongolian giant Ichinojo, a No. 2 maegashira, fought off a series of arms thrusts to the upper body before forcing komusubi Daieisho (1-3) to the edge and out to pick up his second win against a pair of losses.
Further down the ranks, No. 18 maegashira Oho, the grandson of legendary yokozuna Taiho and the son of former sekiwake Takatoriki, was handed his first makuuchi division loss in a bout with Aoiyama.
No. 16 maegashira Aoiyama maneuvered Oho to the edge and forced him out to picked up his second win against two losses. Oho dropped to 3-1.
Three Stars
First Star: Ura. Even though he lost, the No. 2 maegashira, who has a flair for the dramatic, got the biggest ovation of the day with his near-upset of grand champion Terunofuji.
Second Star: Mitakeumi. It took him two bouts but sekiwake got the job done against a formidable opponent in  komusubi Meisei.
Third Star: Shodai. Sometimes you have to be lucky to win and that was the case for the ozeki on Day 4. But give him credit for holding on just long enough for Wakatakakage to step out.
Author: Jim Armstrong
The author is a longtime journalist who has covered sports in Japan for more than 25 years. You can find his articles here, on JAPAN Forward.