Grand champion Terunofuji won a battle of the heavyweights on Thursday, January 13 to improve to a perfect 5-0 at the New Year Grand Sumo Tournament.
In the day's final bout at Ryogoku Kokugikan, Terunofuji got a left-hand grip on the belt and deployed a textbook arm throw of fellow Mongolian Ichinojo, who dropped to 2-3.
Maegashira No. 2 Ichinojo weighs in at a whopping 206 kilograms and is the largest wrestler in the elite makuuchi division. He enjoys a 22-kg weight advantage over Terunofuji.
But Terunofuji, who is bidding for his third straight Emperor's Cup, barely broke a sweat after getting his preferred left-hand grip.
The lone yokozuna is now tied for the lead with sekiwake Mitakeumi and rank-and-filer Abi. Tamawashi, Takarafuji, Onosho, Myogiryu and Chiyomaru are all one win off the pace at 4-1.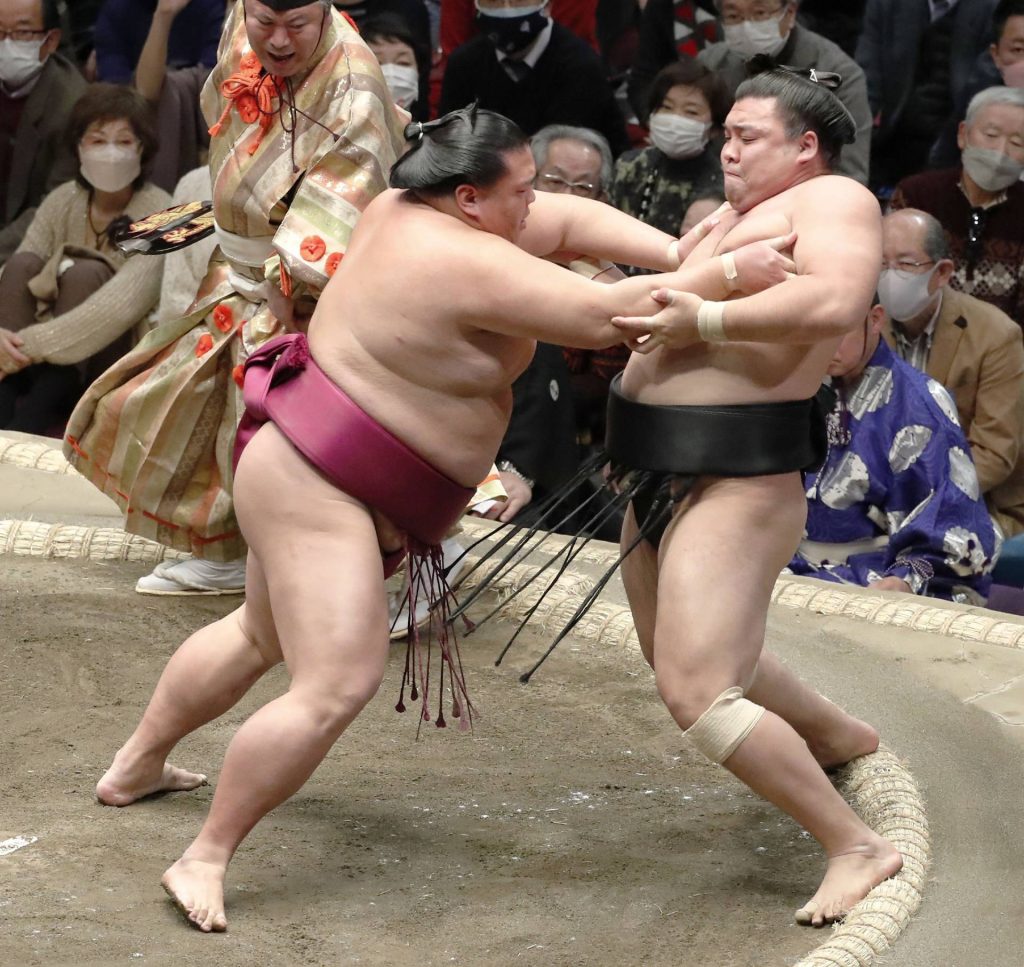 In other major bouts, Mitakeumi fought off a ferocious charge at the face-off by Kiribayama and bulldozed the top maegashira out over the edge in a matter of seconds to stay perfect at 5-0.
Kiribayama couldn't capitalize on his strong start and saw his record fall to an unflattering 1-4.
Sixth-ranked maegashira Abi remained undefeated and tied for the lead at 5-0 with a comprehensive win over fourth-ranked Hokutofuji, who dropped to 2-3.
Abi, who went 12-3 in the November meet where he lost to Terunofuji on the penultimate day, used several powerful arm thrusts to the upper body to dispatch Hokutofuji.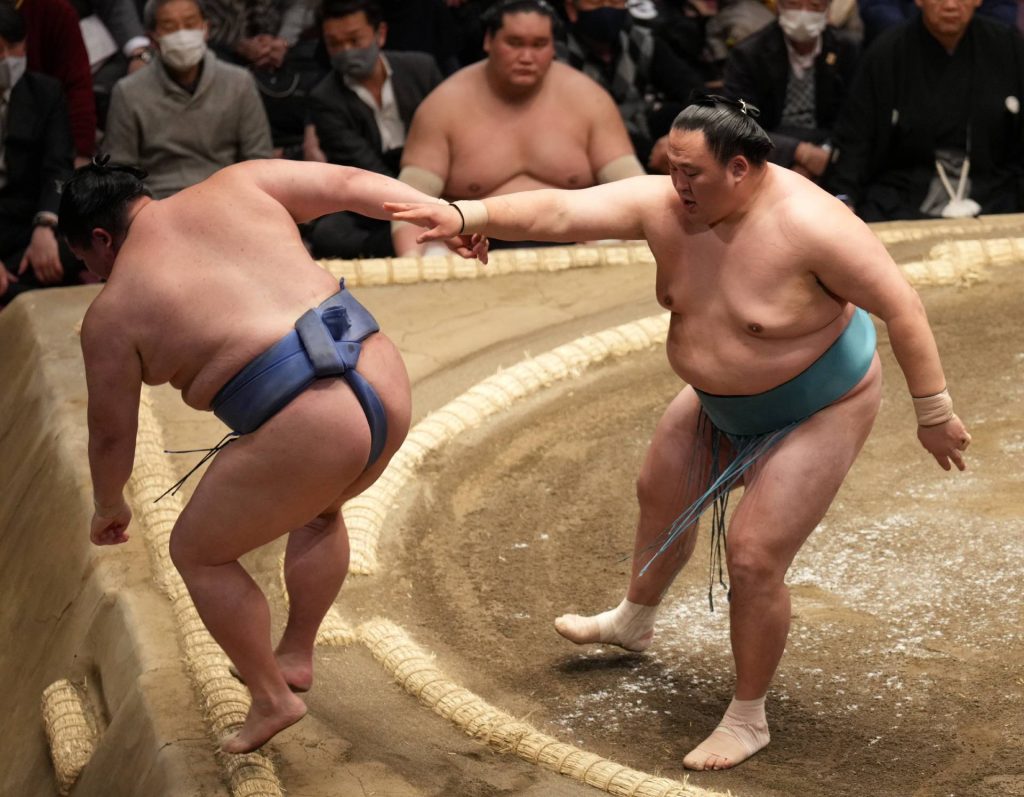 Third-ranked maegashira Tamawashi improved to 4-1 when he took advantage of a superior face-off to overwhelm ozeki Shodai, who fell to 3-2.
It was the 1,100th win for 37-year-old Tamawashi in the makuuchi division.
"I don't think about the numbers too much," Tamawashi said. "I was able to get off to a good start today and just tried to take advantage of that."
Tenth-ranked maegashira Myogiryu fell out of the lead and dropped to 4-1 when he was quickly overwhelmed by No. 12 Ishiura, who improved to 3-2.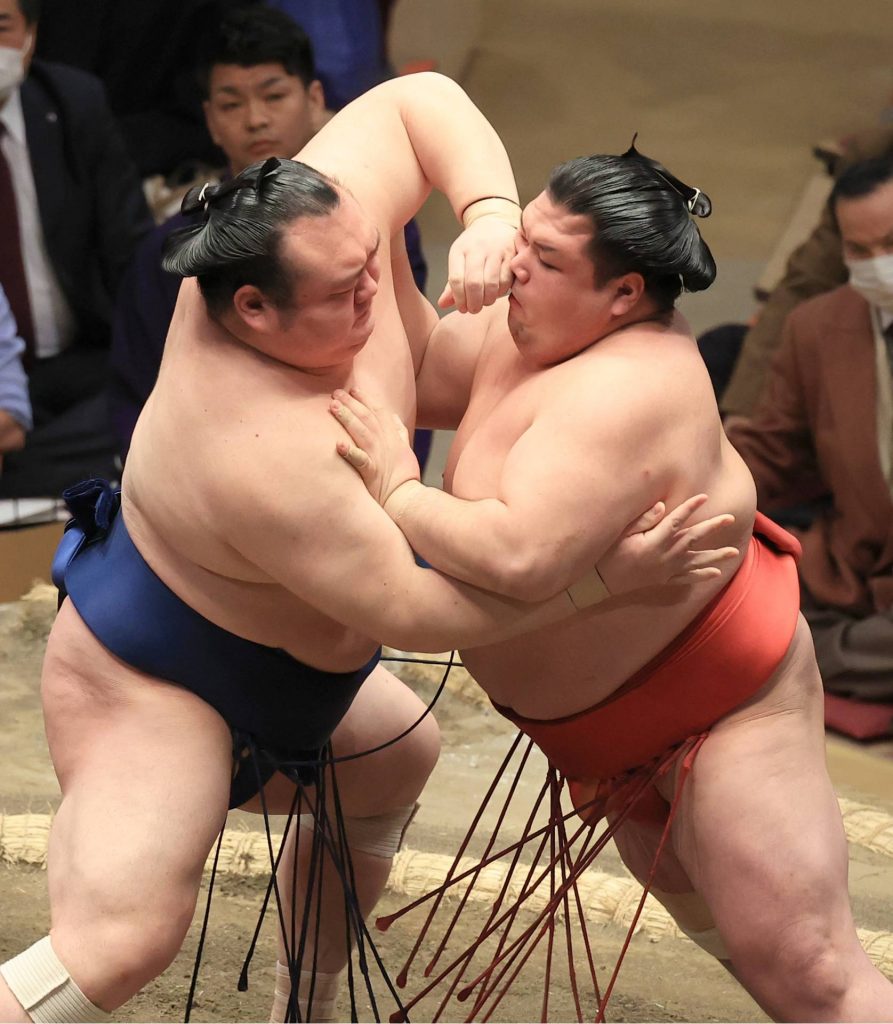 No. 5 maegashira Onosho also relinquished a share of the lead when he was slapped down by seventh-ranked Takarafuji to give both wrestlers a 4-1 record.
Komusubi Meisei overpowered fan favorite Ura with a series of arm thrusts to pick up his third win against a pair of losses.
No. 2 maegashira Ura, who electrified the audience on the previous day with a spirited effort against Terunofuji, fell to 1-4.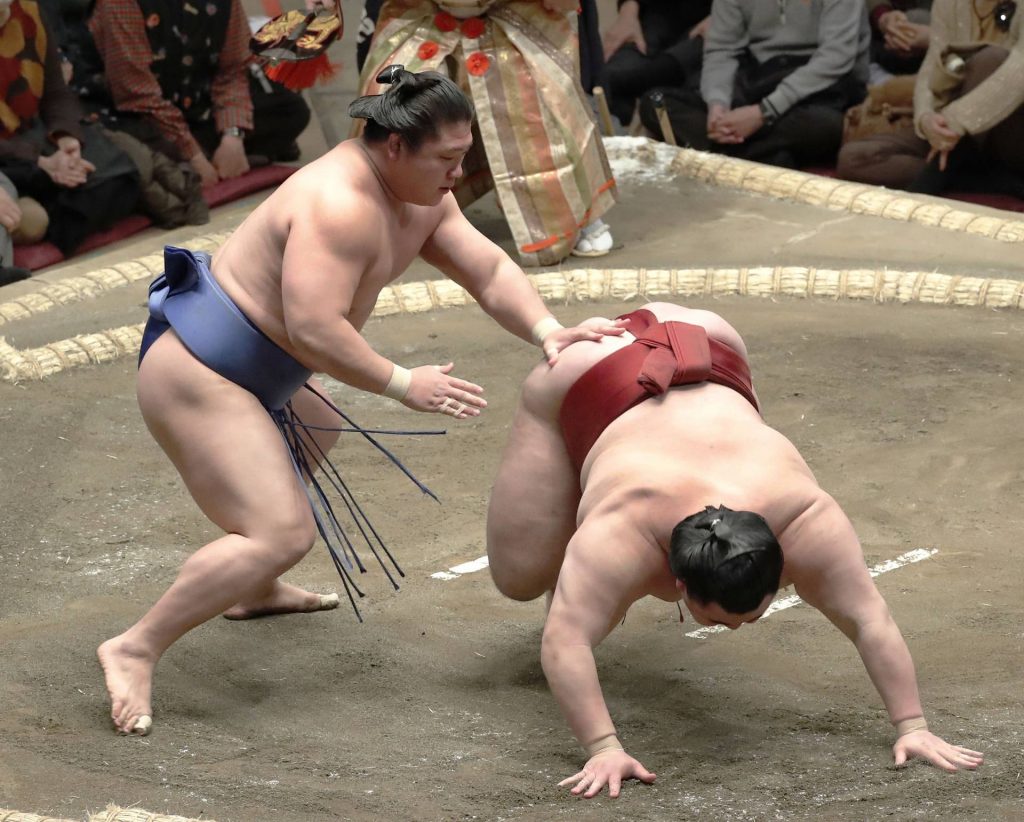 Top maegashira Wakatakakage finally picked up his first win of the basho with a thrust-down maneuver over sekiwake Takanosho, who dropped to 2-3.
Further down the ranks, No. 18 maegashira Oho, the grandson of legendary yokozuna Taiho and the son of former sekiwake Takatoriki, was handed his second straight loss when he was shoved out by juryo wrestler Kagayaki to give both wrestlers a 3-2 record.
Oho is making his debut in the elite makuuchi division as is Wakamotoharu, a No. 15 maegashira who dropped to 2-3 after a loss to No. 13 Chiyomaru, who improved to 4-1.
Three Stars
First Star: Abi. The No. 6 maegashira continues to impress and appears to get stronger by the day. He challenged Terunofuji until the second last day of the November tourney and looks poised for a similar run this time out.
Second Star: Mitakeumi. The sekiwake wrestler looked in total control against top maegashira Kiribayama and has displayed a confidence in this tourney that should keep him in contention until the final weekend.
Third Star: Terunofuji. The lone yokozuna made it look easy against Mongolian behemoth Ichinojo and that's no easy feat against such a large opponent.


Author: Jim Armstrong
The author is a longtime journalist who has covered sports in Japan for more than 25 years. You can find his articles here, on JAPAN Forward.