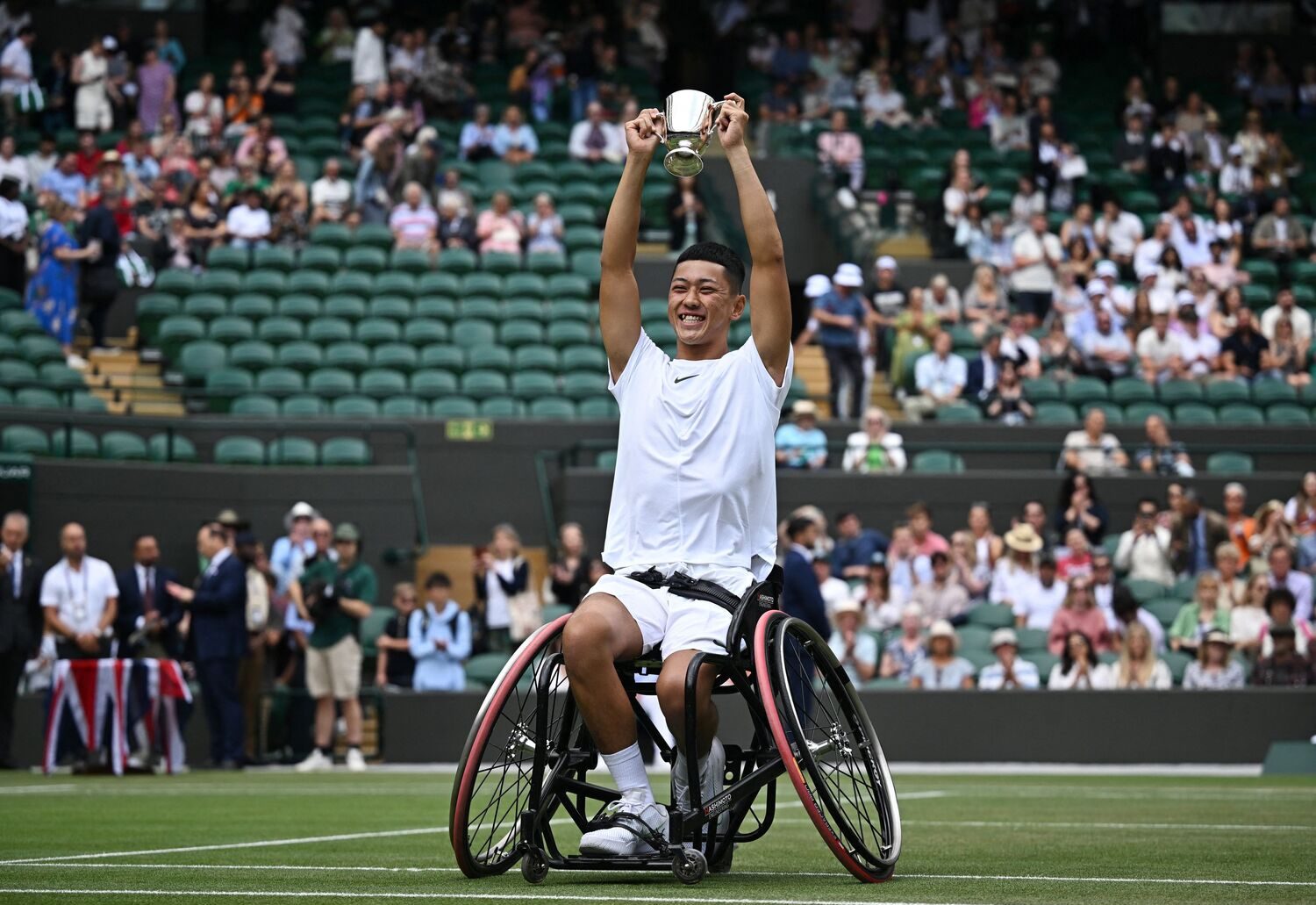 Tokito Oda outplayed Alfie Hewett in the Wimbledon men's wheelchair singles final, winning 6-4, 6-2.
No longer on the verge of superstardom, the 17-year-old Oda is the heir apparent to retired legend Shingo Kunieda, winner of a record 50 Grand Slam titles (28 in singles competition, 22 in doubles).
Look no further than Oda's performance on Sunday, July 16 at London's All England Lawn Tennis & Croquet Club.
Oda denied Hewett a chance to complete his quest to win the career Grand Slam in singles. The 25-year-old British player has won the French Open and the US Open three times apiece. And he triumphed for the first time in the Australian Open in January 2023, defeating Oda 6-3, 6-1 in the final.

Sunday's victory was an impressive achievement for Oda against one of wheelchair tennis' top stars of the past decade. (Check out match highlights on Wimbledon's YouTube channel.)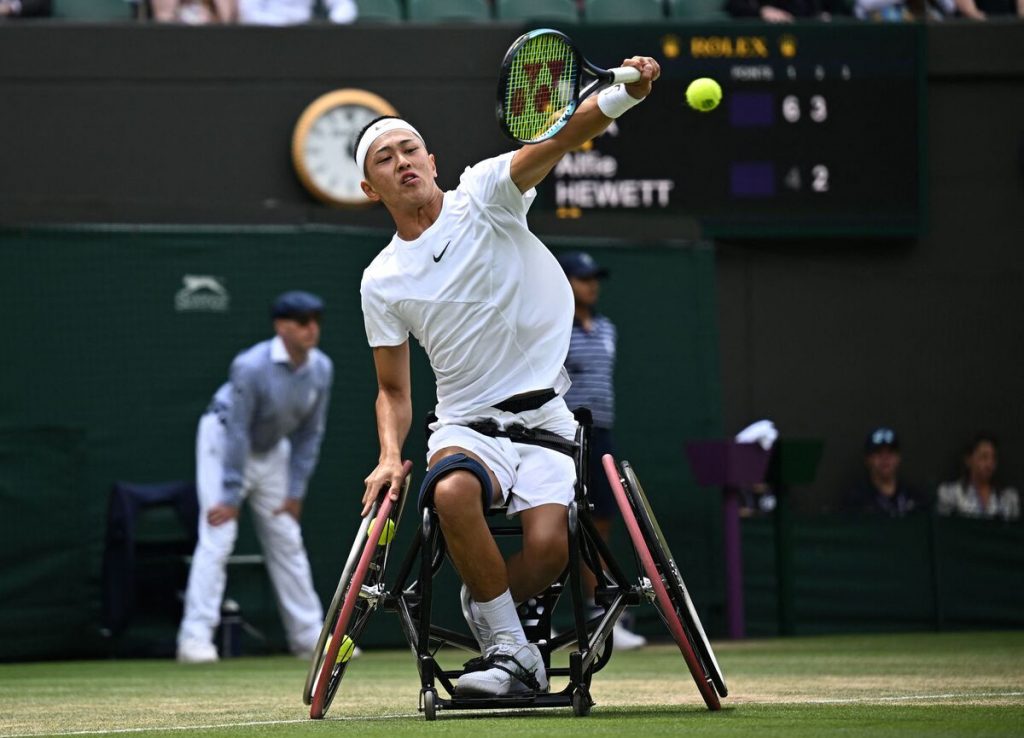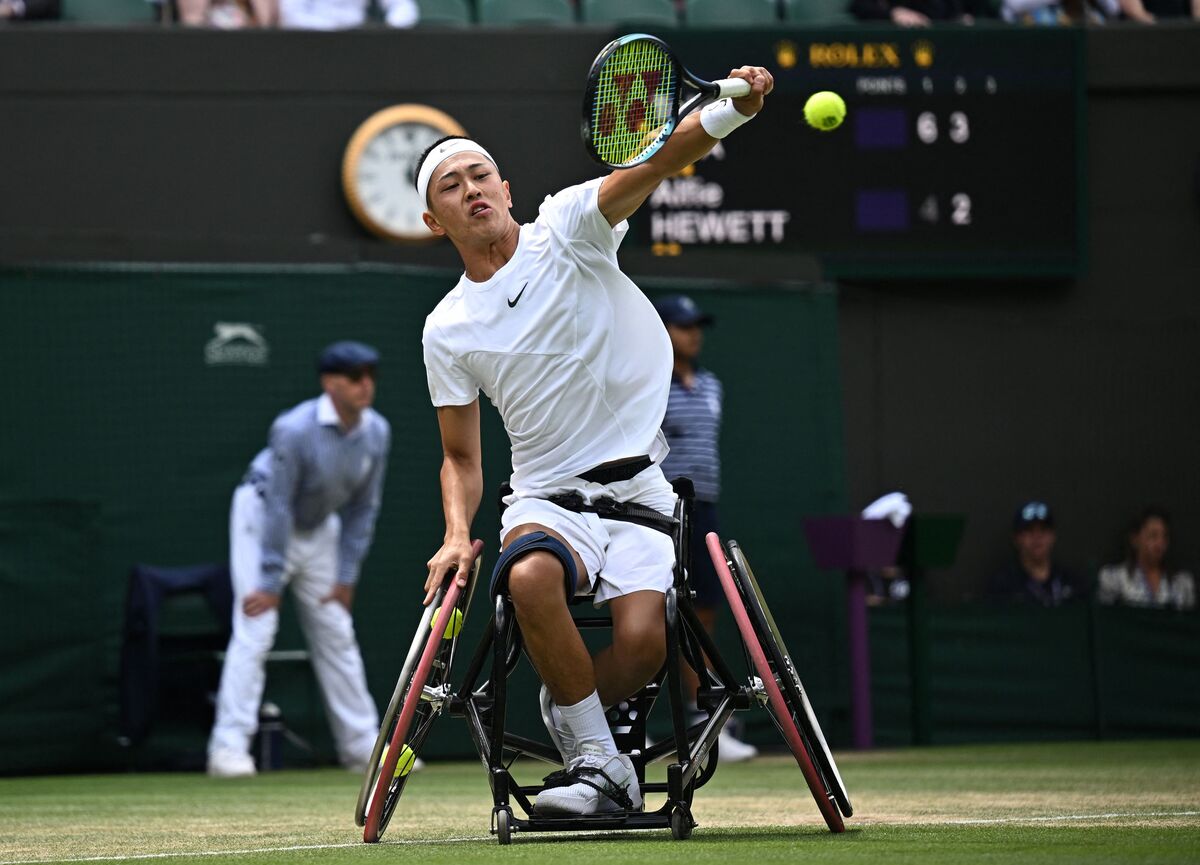 "This is so amazing," Oda commented after the match, BBC reported. "I didn't expect this amazing support and [on] this court, I am feeling like I'm living in a dream, [and] I'm so happy."

He added: "I want to thank Alfie and his support team. It was not easy playing in this situation against home country players.
"I am still 17 [and] I wanted to open the champagne but I couldn't so maybe I will have sparkling water with my team."

Oda made history by winning the singles title in Wimbledon. Before Oda, the youngest winner of any singles discipline there was Martina Hingis, who was 16 years and 279 days old when she claimed the women's title in 1997.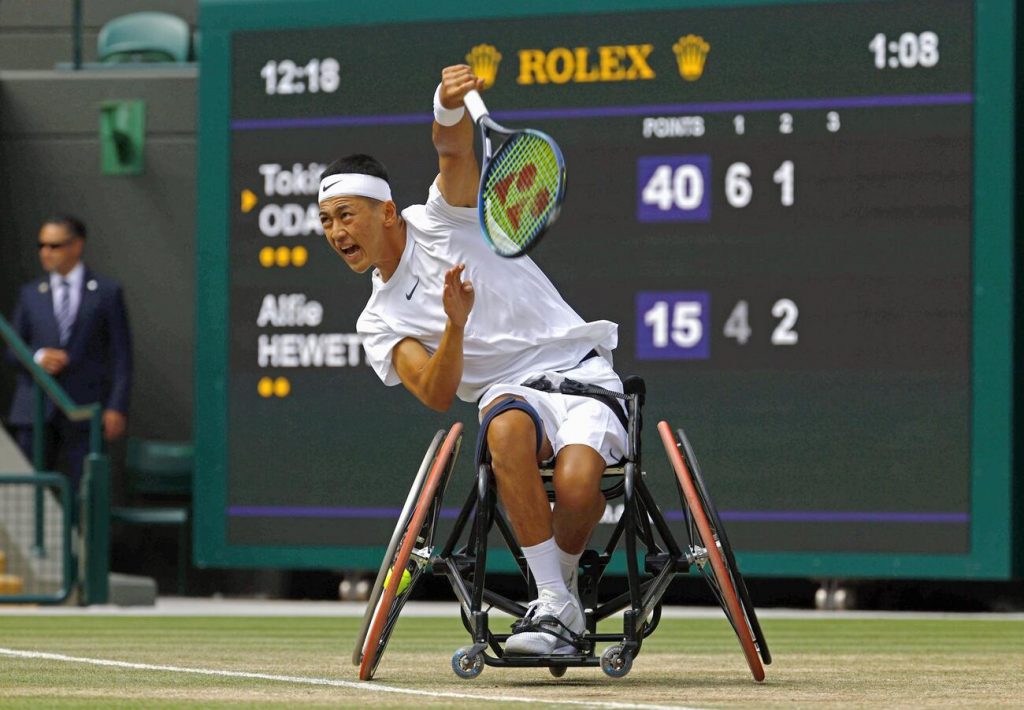 Breakthrough for Tokito Oda in Paris
In June, Oda avenged the aforementioned loss in Melbourne, topping Hewett 6-1, 6-4 in the French Open final in Paris. He also moved from second to first in the world rankings to become the youngest top-ranked men's wheelchair player in the world.

Clearly, the sky's the limit for Oda.

And he's excited about his future and the future of the sport.

"I hope more people will enjoy watching wheelchair tennis, just like soccer and baseball," the Aichi Prefecture native told NHK after the French Open final. "That really motivates me. I want wheelchair tennis to become a major sport, and will always do my best."

On Sunday, Oda displayed resilience and maturity beyond his years after world No 2 Hewett jumped out to a 4-1 lead in the first set. He rallied back, winning the next four games to seize control of the opening set.
Oda made effective backhand and strong forehand shots throughout the first set.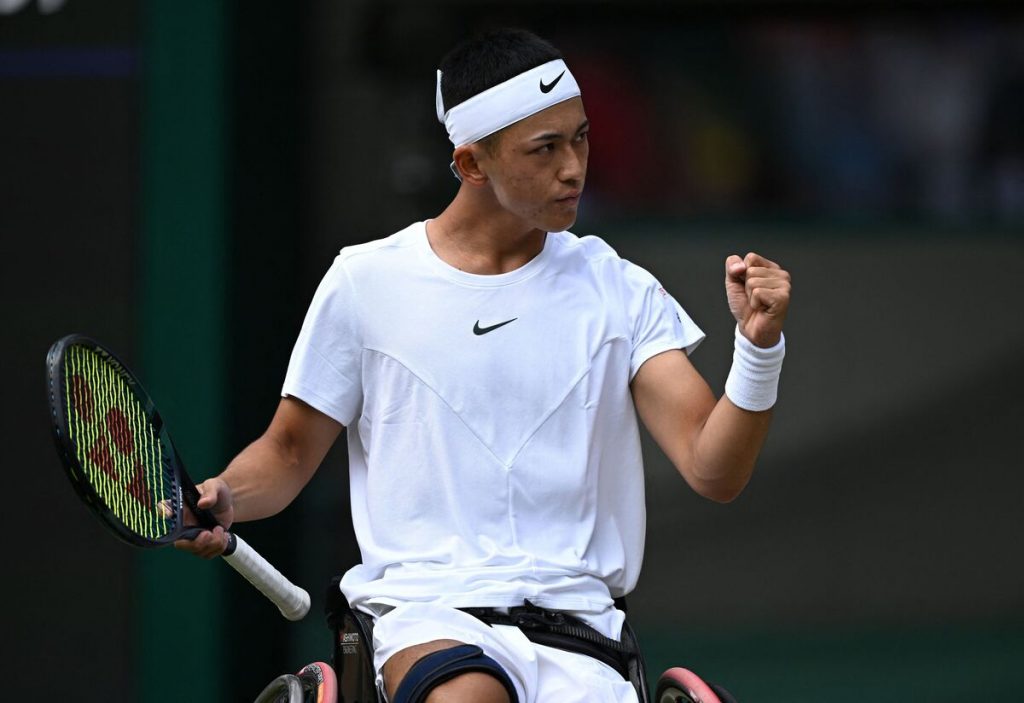 In the second set, Hewett led 2-0, but his service game proved problematic and he wasn't able to sustain his lead.

Hewett had six of his 11 double faults in the second set. Oda, who had just two for the match, finished strong after his slow start in the second set, winning six consecutive games to seal the victory. In the final game, Oda held serve on match point and delivered a strong serve, with Hewett's return sailing out of bounds.

Oda raised both arms above his head to celebrate the occasion as the Wimbledon crowd cheered loudly.

Another key to victory for Oda was his success on his break points. He won 50% of them (5-for-10).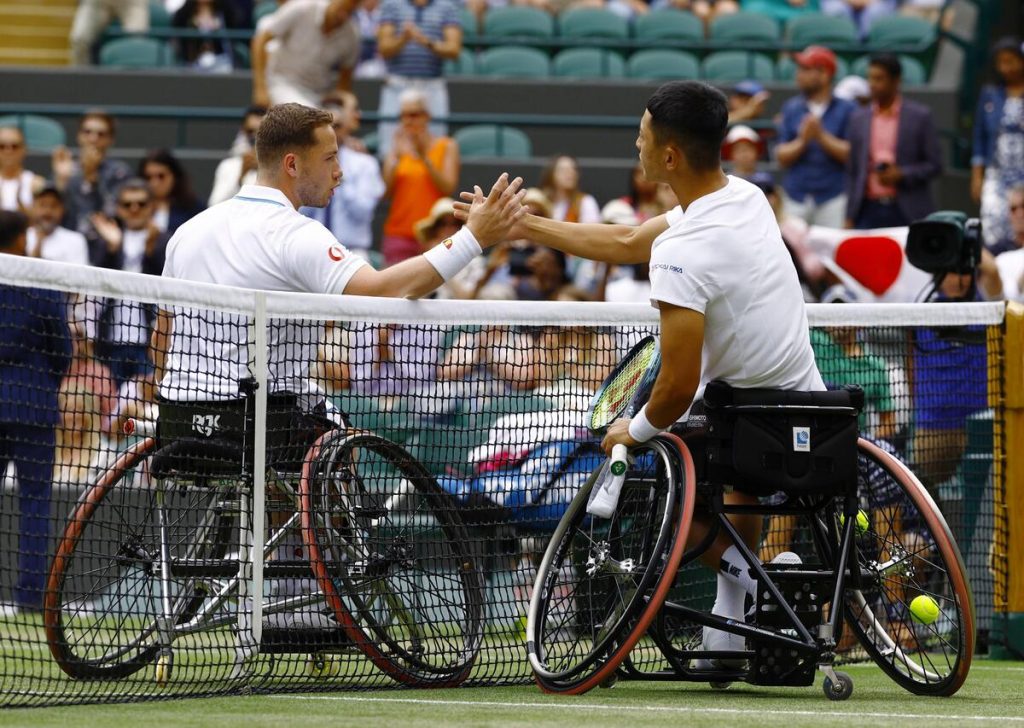 Sustained Excellence in 2023
Oda, who began playing tennis at age 10, owns a 37-5 record in singles matches in 2023, including titles at the Japan Open, the Dunlop Kobe Open and the Cajun Classic.

His hunger for success is a healthy catalyst, motivating him to focus on long-term goals and his next match with equal intensity.

"My goal is winning the whole Grand Slam, winning the Paralympics," Oda told a Wimbledon news conference after Sunday's match, looking ahead to the 2024 Paris Games. "That's my goal. My tennis is not perfect right now, so I wanted to play more things. I'm thinking I want to play more aggressively and play faster.
"My tennis craft is not perfect yet. I'm just looking for what I want to do. I'm just looking forward to my perfect [performance], so just go for it."
Doubles Glory for Hewett and Reid
On Saturday, July 15, Hewett and Gordon Reid faced Oda and Japanese compatriot Takuya Miki in the Wimbledon men's wheelchair doubles final. The British duo triumphed 3-6, 6-0, 6-3, collecting their 18th Grand Slam doubles title, including five at Wimbledon.
Also on Saturday, Diede de Groot and Jiske Griffioen of the Netherlands defeated Japan's Yui Kamiji and South Africa's Kgothatso Montjane 6-1, 6-4 in the Wimbledon women's wheelchair doubles final.

Author: Ed Odeven
Find Ed on JAPAN Forward's dedicated website, SportsLook. Follow his [Japan Sports Notebook] on Sundays, [Odds and Evens] during the week, and Twitter @ed_odeven.