Wheelchair Tennis Legend Shingo Kunieda Announces Retirement
Shingo Kunieda, who collected 50 Grand Slam titles, including 28 in singles competition, exits the game as the world's top-ranked men's player.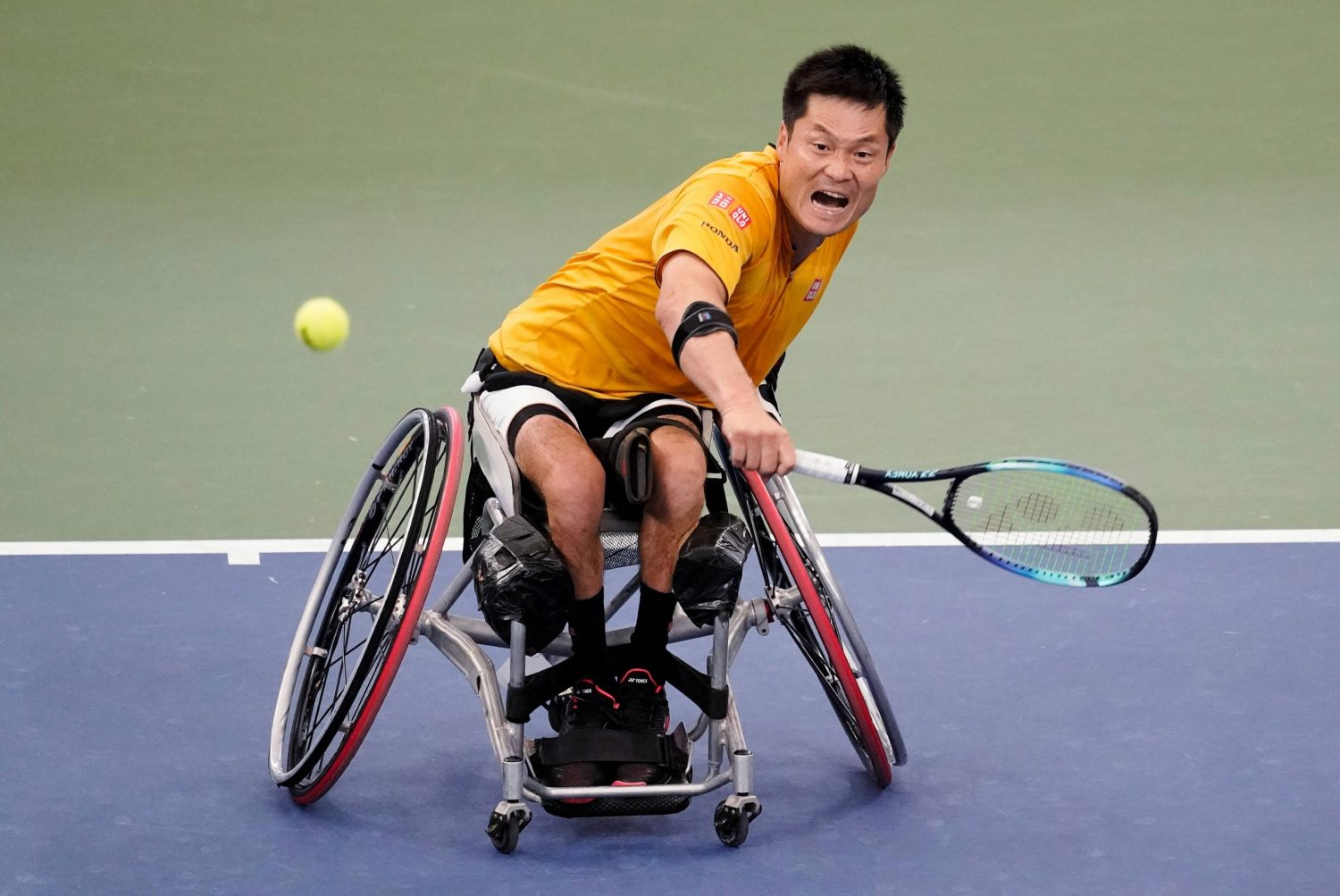 Shingo Kunieda reached the pinnacle of his sport for the first time in October 2006, climbing to world No 1 in the wheelchair tennis singles rankings.

And for more than a decade and a half, Kunieda had a remarkable run of sustained success. The numbers are incredible: a 699-106 career singles record, 582 weeks as the world's top-ranked player and 50 Grand Slam titles (a record 28 in singles and 22 in doubles). What's more, he was a 10-time International Tennis Federation world champion.
Kunieda, who turns 39 on February 21, announced his retirement via social media on Sunday, January 22.
He retires as the greatest player in wheelchair tennis history.

By all accounts, the Tokyo native had nothing left to prove. He reached that same conclusion.
"I topped the year-end rankings for the 10th time last year, so I have concluded that I have done enough," Kunieda wrote on Twitter.
Thoughts on Retirement
Kunieda admitted that his gold medal-winning performance at the Tokyo Paralympics, where he defeated the Netherlands' Tom Egberink in the final in September 2021, sparked thoughts about retirement.
"I kept thinking about retiring after my dream came true at the Tokyo Paralympics," wrote Kunieda, who claimed his first Paralympic gold medal in men's doubles with compatriot Satoshi Saida at the 2004 Athens Games, then added singles titles in 2008 and 2012 before winning again in singles in Tokyo.
Kunieda added, "I began to feel I didn't have much energy left to play on the tour when I won the long-sought Wimbledon title last year."
A love for competition and a singular focus on the court propelled Kunieda to great heights. Consistency was another hallmark of his legendary career.
Shingo Kunieda Achieved Goal in 2022
As a singles player, he won 11 Australian Open titles, adding eight victories apiece in the French Open and US Open. At Wimbledon, which added a wheelchair singles tournament in 2016, he collected his first title in July 2022.

In doing so, Kunieda became the first man to complete the career Grand Slam in wheelchair singles tennis.

That title-clinching match against Britain's Alfie Hewett meant a great deal to Kunieda, who attended Reitaku University and now works at his alma mater.

"This was a very special moment and my most special moment since Tokyo 2020," Kunieda said after the match. "Tokyo was the biggest highlight of my career, and this was almost the same."
Kunieda captured his final career singles title at the Rakuten Japan Open in October 2022, beating 16-year-old Tokito Oda 6-2, 6-3 in the final at Tokyo's Ariake Colosseum. It was his 119th ITF singles title.
"It was a very tough match. Tokito had a great performance today," Kunieda told reporters after the match. "Never giving up was the key today.
"I'm very happy to play in front of so many spectators. If they enjoyed our match, it makes me very happy."
A Tumor Changed His Life
Kunieda was diagnosed with having a tumor in his spinal cord at age 9. As a result, he became paralyzed in the lower half of his body. He began playing wheelchair tennis at age 11, developing into an incredible player.
In August 2001, the 17-year-old made his Wheelchair Tennis Tour debut at the Kanagawa Open.

For Kunieda, it was a successful start and a sign of things to come. He defeated Kazunori Kamo 1-6, 7-6 (7-3), 6-2 in the final.
In the years to come, epic winning streaks defined Kunieda's career.

He had 106 consecutive wins in singles matches between 2007 and 2010 and another 77-match win streak in 2014-15.

In addition, he was unbeaten in Grand Slam singles matches spanning the 2007 Australian Open to the 2011 Australian Open. It added up to a jaw-dropping 12 straight Grand Slam singles titles, including five in a row in Australia.

More than a decade later, in the final year of Kunieda's career, he won singles titles at the Australian Open, French Open and Wimbledon.

And after being named world champion for the 10th time in December 2022, he reflected on his achievements.

"I am proud of myself," Kunieda said, according to the ITF website. "But these achievements didn't happen without the support from my team ― my wife, coach, physio, sponsors and fans. I would like to celebrate another monumental year with them."
A Career of Big Highlights
Kunieda also enjoyed great success as a doubles player, most notably in the biggest events on the tennis calendar.

He collected eight doubles titles apiece at the Australian Open and French Open, four more at Wimbledon and two at the US Open.

But it was in singles competitions that Kunieda will be most remembered.
Hewett, who is 25, was Kunieda's top rival in recent years. They met in seven of Kunieda's last 10 Grand Slam singles finals, with the Japanese superstar winning three of those matches.

Kunieda and Hewett alternated as world No 1 throughout 2022.
Hewett paid tribute to Kunieda upon learning his great rival had retired.

"Sad news to hear about the retirement of Shingo Kunieda," Hewett wrote on Twitter. "Undoubtedly one of the best athletes this sport has and ever will see. You're an extraordinary role model and ambassador and what you've achieved on and off the court has been inspirational.
"We've shared some big moments and epic battles along the way, some I want to forget. You leave a huge legacy behind you [and] you and your team should be very proud. Enjoy the retirement, Shing."

In 2021, Hewett eloquently summed up what Kunieda accomplished by winning the Paralympic gold and the US Open title in a span of nine days.

"You've won a Grand Slam and a Paralympic gold medal in the space of pretty much one week," Hewett noted. He then added, "You've put in some insane work."
So who could blame Kunieda for wanting to start the next chapter of his life?
RELATED:

Author: Ed Odeven
Follow Ed on JAPAN Forward's [Japan Sports Notebook] here on Sundays, in [Odds and Evens] here during the week, and Twitter @ed_odeven.