Shuko Aoyama and Ena Shibahara Fall to Czech Pair in Australian Open Women's Doubles Final
Katerina Siniakova and Barbora Krejcikova extend their Grand Slam winning streak to 24 matches, including back-to-back Australian Open titles.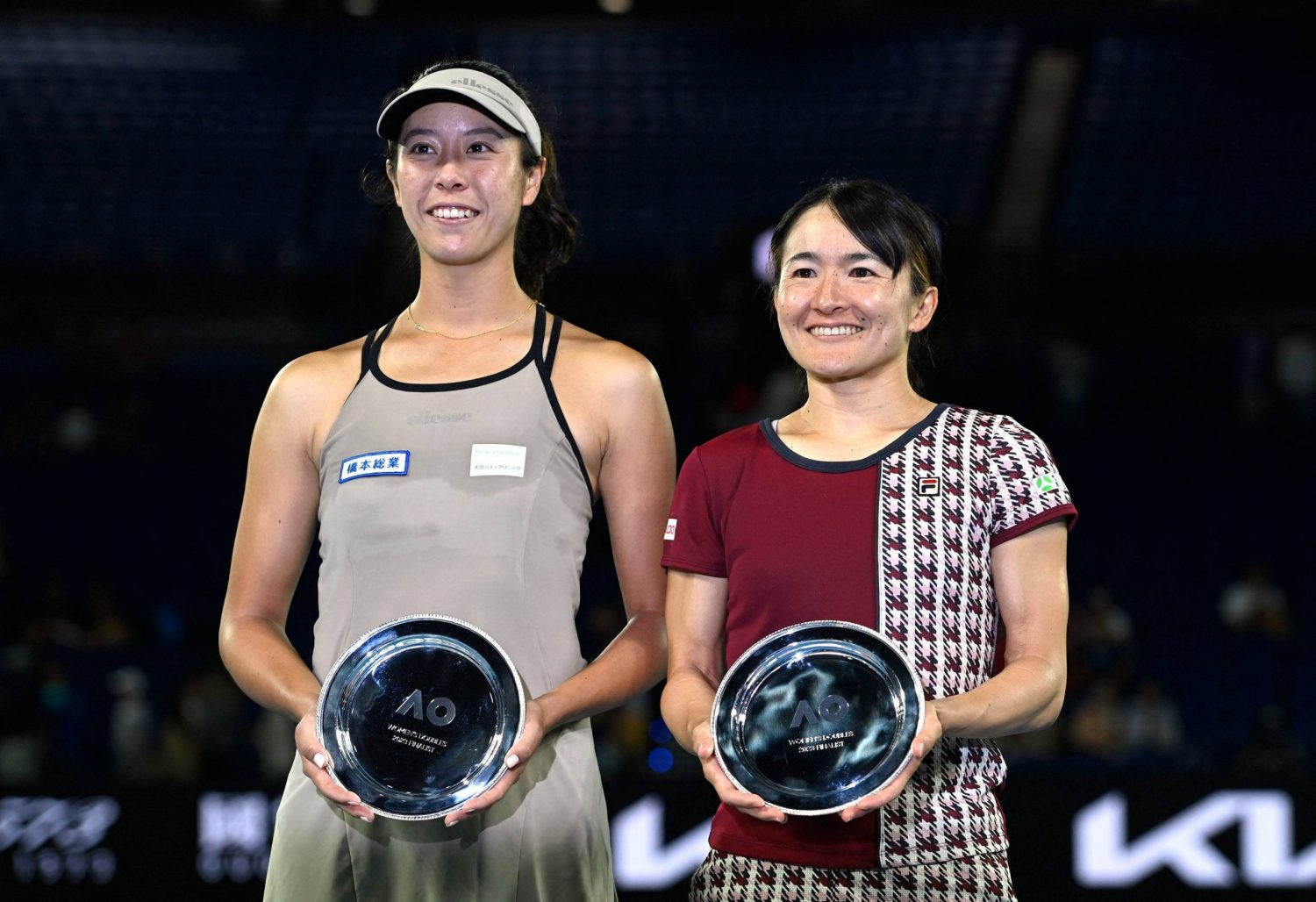 Shuko Aoyama and Ena Shibahara encountered a juggernaut in the Australian Open women's doubles final on Sunday, January 29.
The Japanese pair faced the daunting task of trying to halt the Czech tandem of Katerina Siniakova and Barbora Krejcikova's impressive Grand Slam winning streak.
Instead, the streak lives on.
Top-seeded Siniakova and Krejcikova ended their opponent's title quest with a 6-4, 6-3 victory in Melbourne, Australia. It was their 24th straight win in Grand Slam doubles matches, including titles in the Australian Open, Wimbledon and US Open in 2022, bringing their doubles title haul to seven in tennis majors. They didn't compete at the French Open in 2022 due to Krejcikova's positive COVID-19 in Paris.

Siniakova and Krejcikova, who've been partners for 10 years, are the first repeat winners in women's doubles at the Australian Open since Italy's Sara Errani and Roberta Vinci in 2014.
"I'm really excited to have this trophy again," the 26-year-old Siniakova said, according to BBC Sport. "What we achieved the last few months, it's amazing. I'm really proud and we're playing great. The team spirit is working, because it's tough."
The Czech stars demonstrated their superiority in Sunday's final, closing out the match in 1 hour, 29 minutes. They had 26 winners to their Japanese opponents' 12, including an 18-6 advantage on volley shots. And they were 4-for-6 on break points.

The winning duo set the tone by breaking Aoyama and Shibahara, then controlling the majority of the opening set. The Czechs replicated that winning formula in the second set.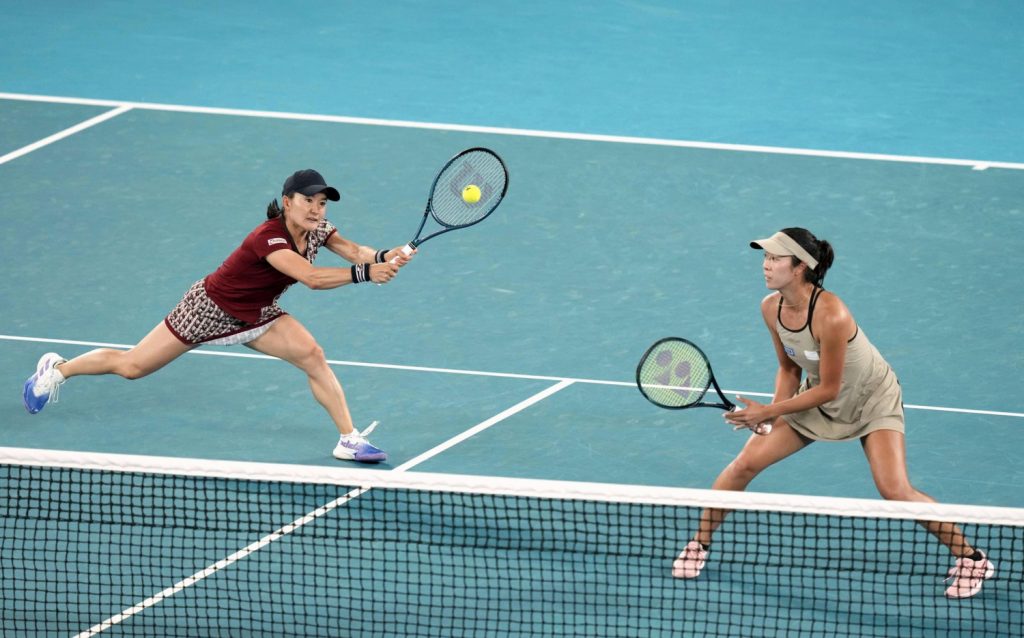 Aoyama, Shibahara Reflect on Australian Open Defeat
For Aoyama and Shibahara, who were seeded 10th, it was their first appearance in a Grand Slam women's doubles final. They've played in 10 finals together, earning their first title in China at the Tianjin Open in October 2019, and winning seven more tournaments since then.
Aoyama, 35, spoke on the court after the match, addressing the crowd and her partner simultaneously.
"It's amazing playing [with you]," Aoyama said, referring to Shibahara. "We tried to do our best, but I'm a little bit sad."
What was Shibahara's post-match reaction?
"Obviously our opponents were just too good and solid," Shibahara was quoted as saying by The Associated Press.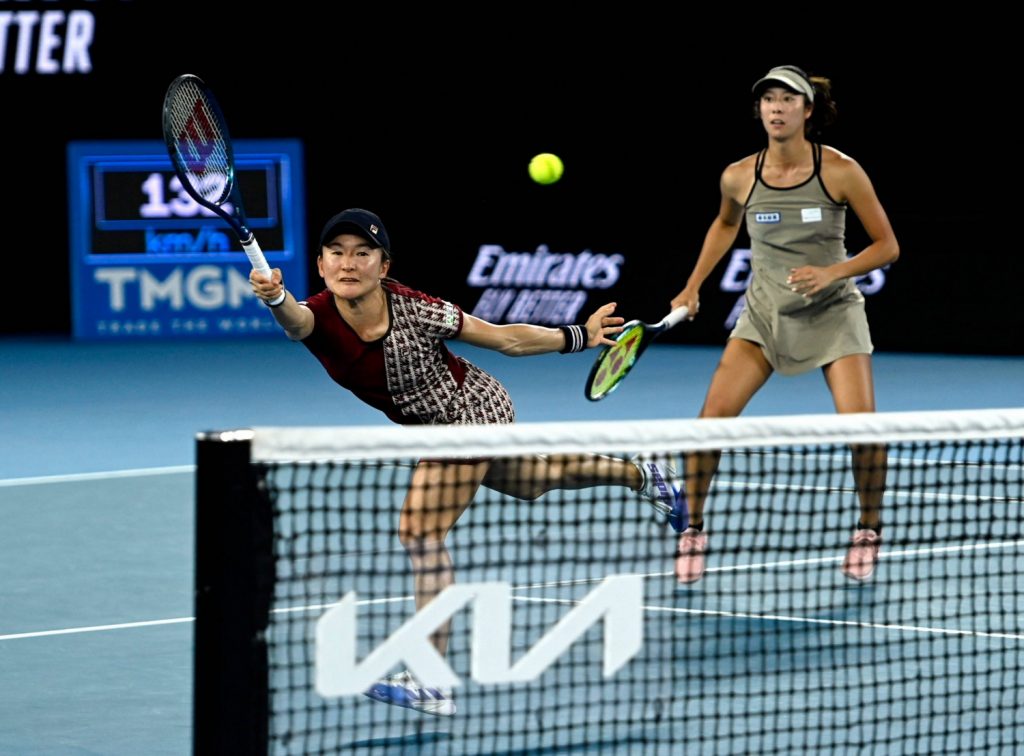 Shuko Aoyama hits a return as partner Ena Shibahara looks on in the Australian Open women's doubles final. (Jaimi Joy/REUTERS)
But the 24-year-old walked off the court with pride.

"We're just really proud of how we did this week, [and] hopefully next time we can get the title," Shibahara said in comments posted on the Australian Open website's match report.

"It's been a dream these past two weeks, I've always dreamt of getting to the finals. Of course I really wanted to really get this title, but I know our future is bright."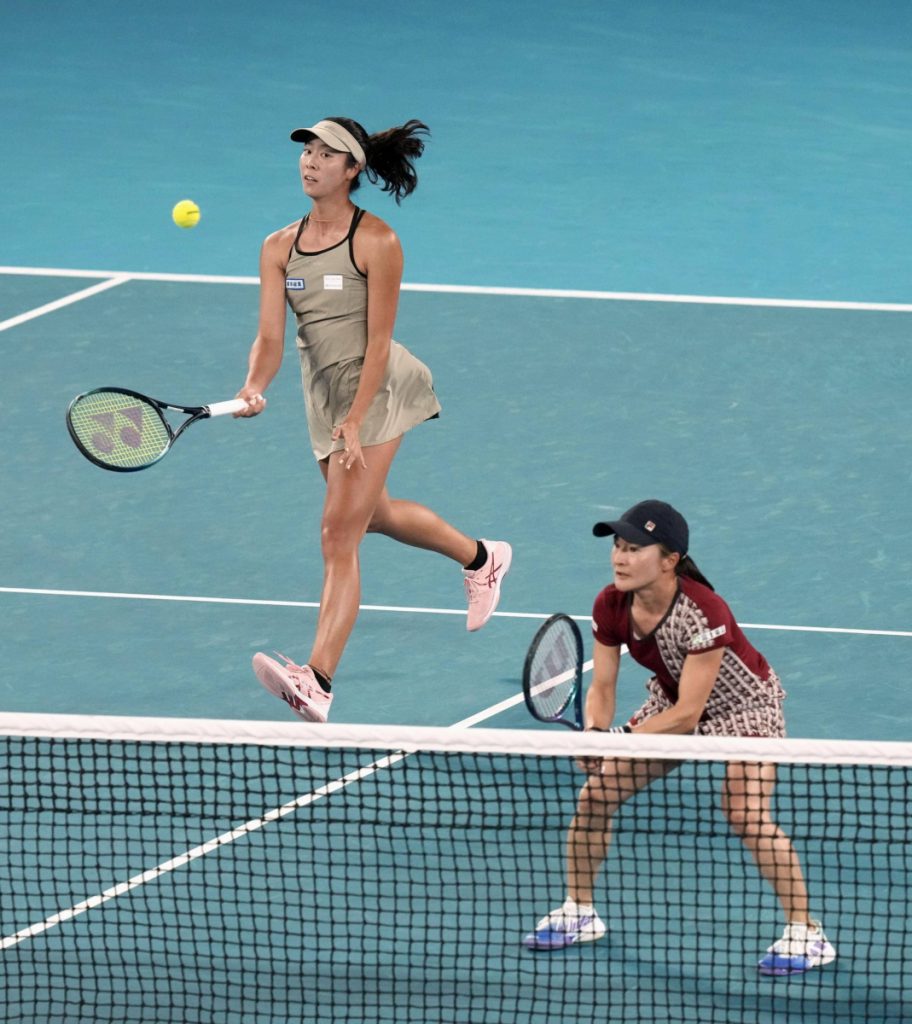 Ena Shibahara plays a shot as Shuko Aoyama stands near the net. (KYODO)
Last year, Aoyama and Shibahara were eliminated in the Australian Open semifinals.
In 2022, Shibahara teamed up with Dutch partner Wesley Koolhof and won the French Open mixed doubles title.

Past Japanese Appearances in Australian Open Women's Doubles Finals
Before Sunday, two Japanese had played in Australian Open women's doubles finals.
Naoko Sato and Australian partner Pam Whytcross lost 7-5, 6-2 to Betsy Nagelsen of the United States and Czechoslovakia's Renata Tomanova in the 1978 final.
In 2009, American stars Venus Williams and Serena Williams defeated Slovakia's Hantuchova and Ai Sugiyama 6-3, 6-3.
RELATED:
Author: Ed Odeven
Find Ed on JAPAN Forward's dedicated website, SportsLook. Follow his [Japan Sports Notebook] on Sundays, [Odds and Evens] during the week, and Twitter @ed_odeven.