Abi Stuns Promotion-Chasing Kiribayama on Day 3 of Summer Basho
Sekiwake Kiribayama was handed his first loss of the 15-day tournament after being hauled down by top maegashira Abi at Ryogoku Kokugikan.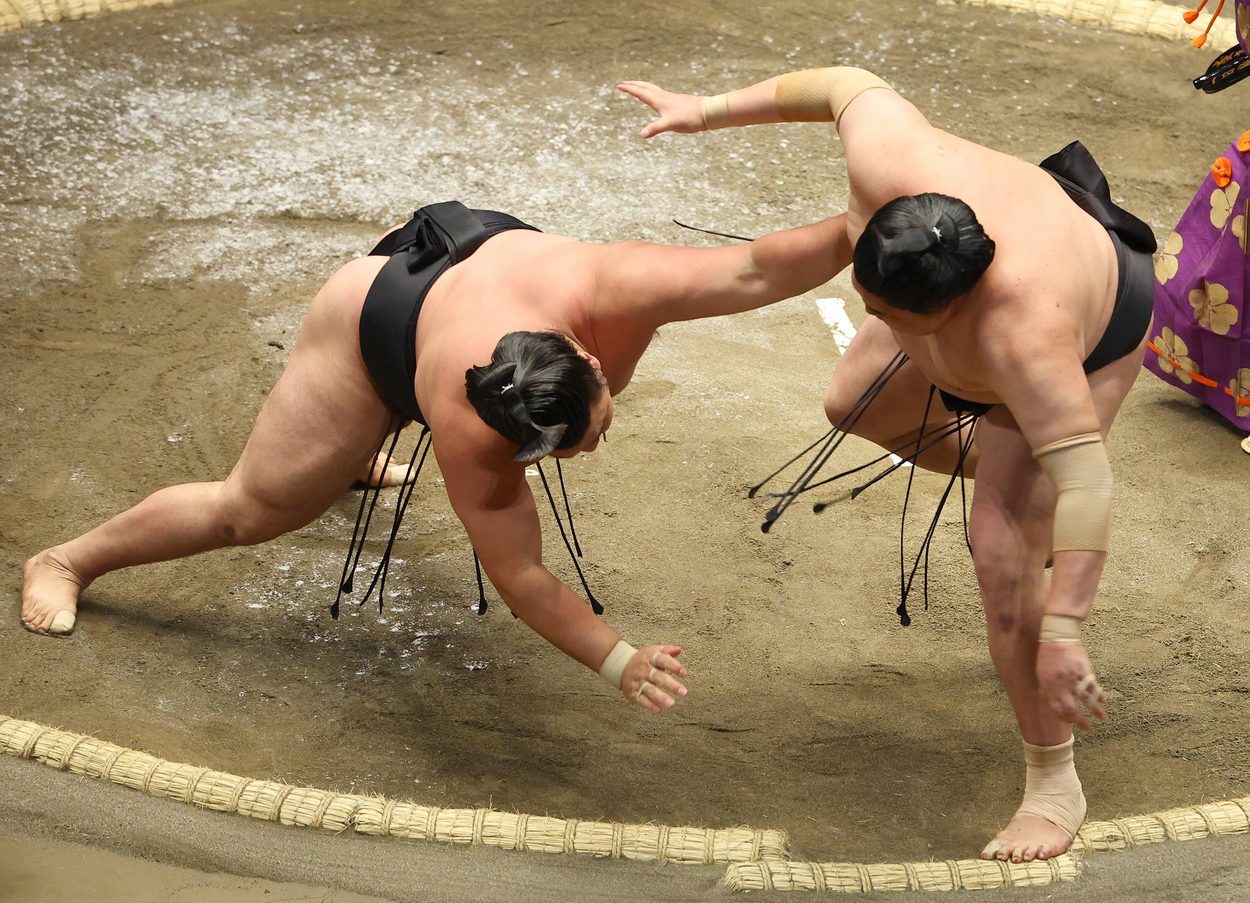 Mongolian sekiwake Kiribayama was handed a shock defeat at the hands of top maegashira Abi on Tuesday, May 16, Day 3 of the Summer Grand Sumo Tournament.
Kiribayama, winner of the March tournament, needs 10 wins in the 15-day basho to garner consideration for promotion to the sport's second-highest rank of ozeki.
He easily won his first two bouts. But Kiribyama hit a speed bump on Tuesday when Abi stunned him with several powerful arm thrusts to the neck after the face-off and then hauled him down at the edge to improve to 1-2.
While he dropped to 2-1, Kiribayama is still in a good position to earn 10 wins but will be eager to get back to his winning ways when he takes on No. 3 maegashira Nishikifuji on Day 4.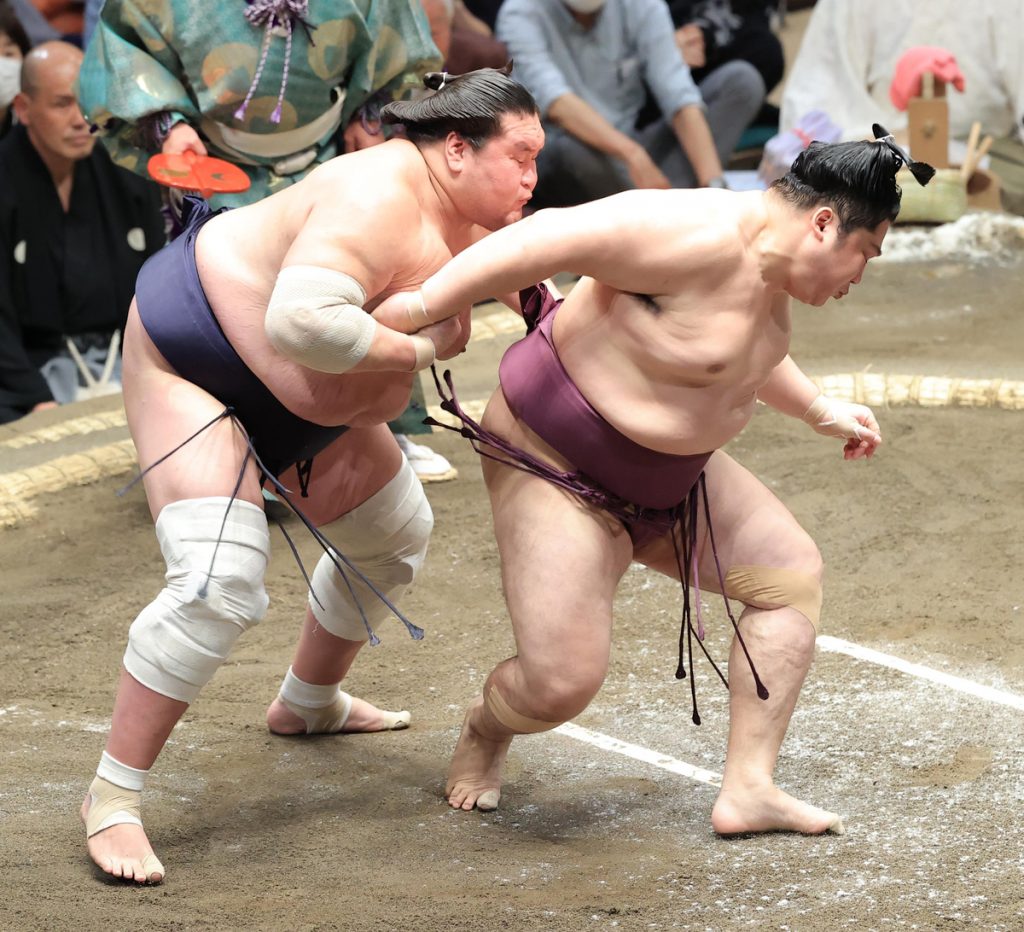 Terunofuji Still Unbeaten
In the day's final bout at Ryogoku Kokugikan, lone grand champion Terunofuji spun Endo around after the face-off and then calmly shoved out the winless No. 2 maegashira to improve to 3-0.
Terunofuji, a seven-time Emperor's Cup winner, is returning to competition after missing the last four tournaments either entirely or in part after he underwent surgery on both knees.
The Mongolian has looked solid through three bouts but has yet to get into a prolonged battle that would test his knees. He may get a sterner test on Day 4 when he faces the agile Tobizaru.
Sekiwake Wakamotoharu got a grip on the belt of Shodai and twisted the former ozeki down at the edge of the ring to stay tied for the lead at 3-0. Komusubi Shodai fell to 1-2.
Sekiwake Daieisho, who is also bidding for promotion to ozeki, used his trademark arm thrusts to the neck to send winless fourth-ranked Nishikigi out to remain in the large group of leaders at 3-0.
Komusubi Kotonowaka got his left hand on the back of Nishikifuji's head shortly after the face-off and then deployed an upper arm throw to send the No. 3 maegashira sprawling to the dirt surface and stay perfect at 3-0. Nishikifuji fell to 0-3.
Lone ozeki Takakeisho bounced back from a loss on the previous day when he unleashed his bread-and-butter arm thrusts to send diminutive top maegashira Midorifuji (0-3) out over the straw ridge for his second win against a lone loss.
Tobizaru Shocks Hoshoryu
In the day's first major upset, sumo's Flying Monkey Tobizaru dodged to his side at the face-off and swatted down sekiwake Hoshoryu to pick up his first win.
While no doubt desperate to get in the win column, the move used by Tobizaru is often frowned upon by sumo purists and Hoshoryu, who dropped to 2-1, did not look very pleased by the evasive tactic taken by the No. 3 maegashira.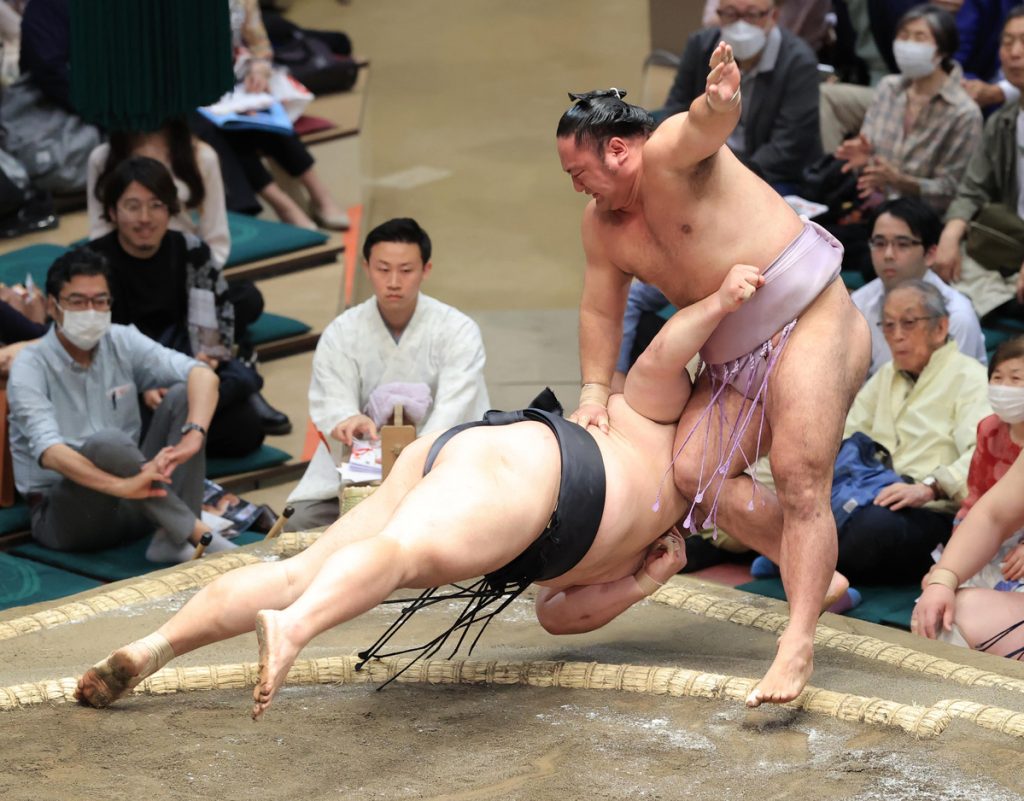 Asanoyama Earns Third Victory
No. 14 maegashira Asanoyama continued his impressive start to the tournament with a hard-fought win over Kotoeko to improve to a perfect 3-0.
The former ozeki forced the No. 12 maegashira to the edge where Kotoeko (1-2) shifted slightly to his side.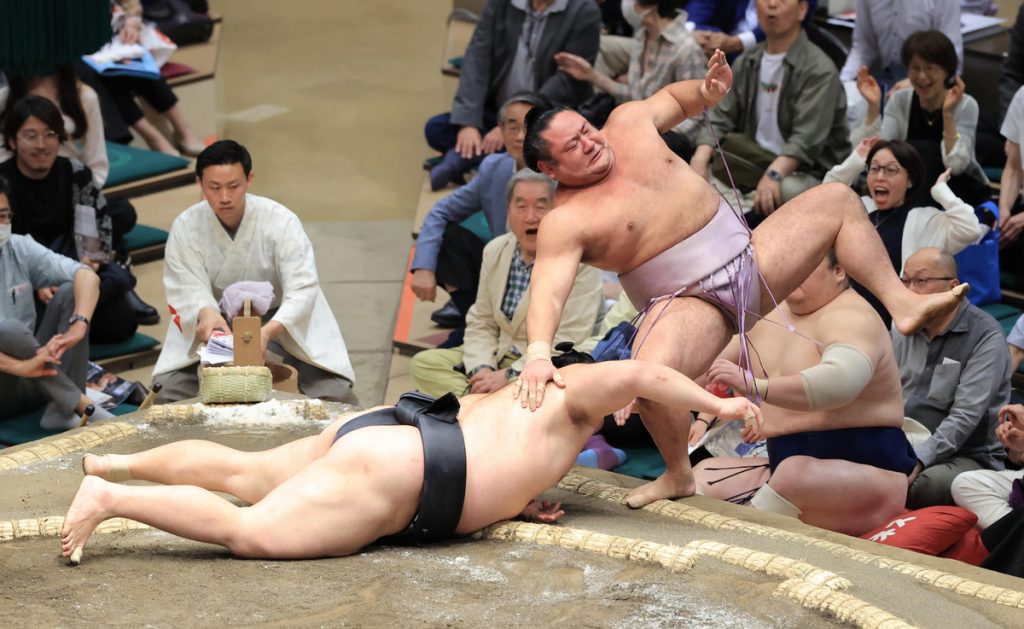 Asanoyama's momentum carried him out and the referee initially determined that he touched out first with his hand. But the ringside judges huddled and ruled that Kotoeko stepped out first with his foot and awarded Asanoyama a win by frontal force-out.
Due to a one-year suspension for violating COVID-19 safety measures, Asanoyama dropped all the way to the fourth-tier sandanme division. Since then, he has been near-perfect as he fought his way back up through the ranks to reach the elite makuuchi division.
No. 6 maegashira Meisei kept a clean slate and moved to 3-0 with a force-out win over Kinbozan in which he deployed a series of powerful arm thrusts to dispatch the fifth-ranked maegashira, who dropped to 1-2.

Author: Jim Armstrong
The author is a longtime journalist who has covered sports in Japan for over 25 years. You can find his articles on SportsLook.