Terunofuji Picks up Easy Win on Day 2 of Summer Basho
Lone yokozuna Terunofuji benefitted from a slip-up by Abi at the Summer Basho, while Takakeisho was overpowered by Kotonowaka and fell to 0-2.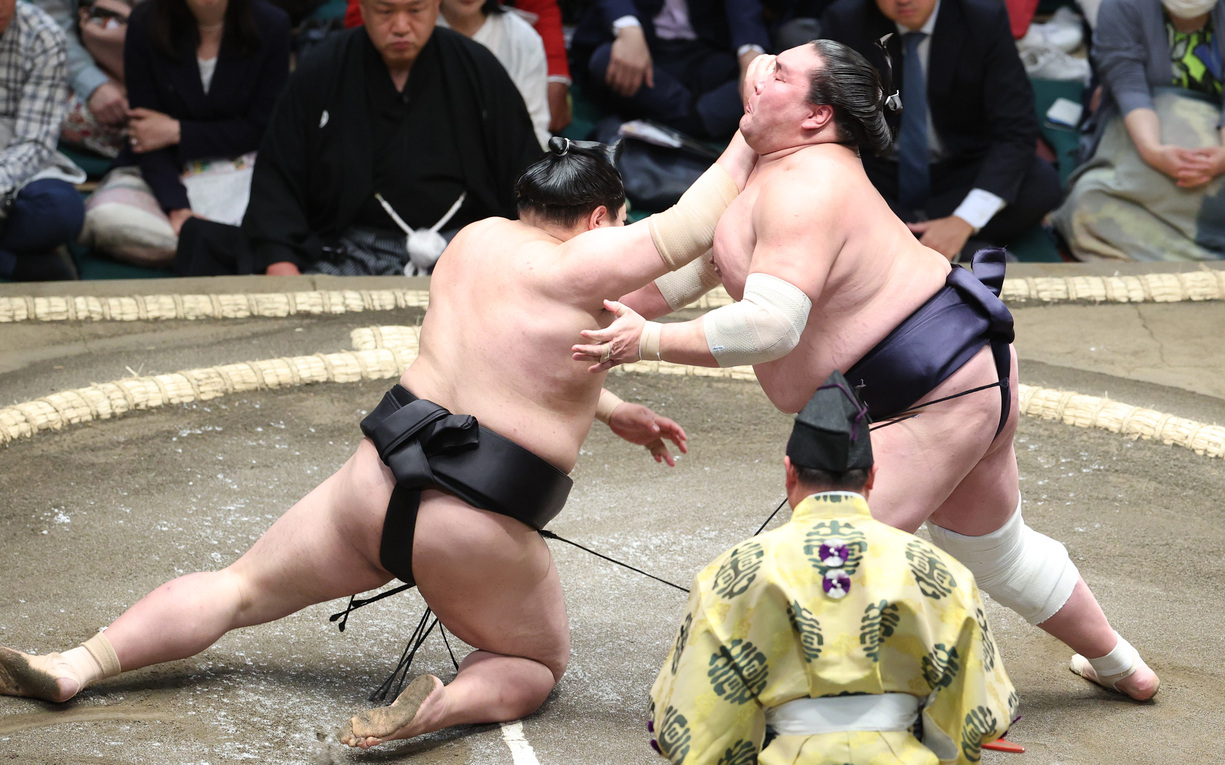 Terunofuji barely broke a sweat on Monday, May 15 before picking up his second win on Day 2 of the Summer Basho.
Fighting before a capacity crowd at Tokyo's Ryogoku Kokugikan, lone yokozuna Terunofuji was virtually gifted a win when top maegashira Abi lost his footing after a routine face-off in the day's final bout.
Seven-time champion Terunofuji is returning to action after missing the last four tournaments either entirely or in part after he underwent surgery on both knees.
Terunofuji (2-0) won his opening bout of the Summer Grand Sumo Tournament against Shodai on Sunday but was hardly dominant. He will gladly take the easy win on Day 2. But it's hard to gauge his fitness after a bout like the one against Abi, who dropped to 0-2.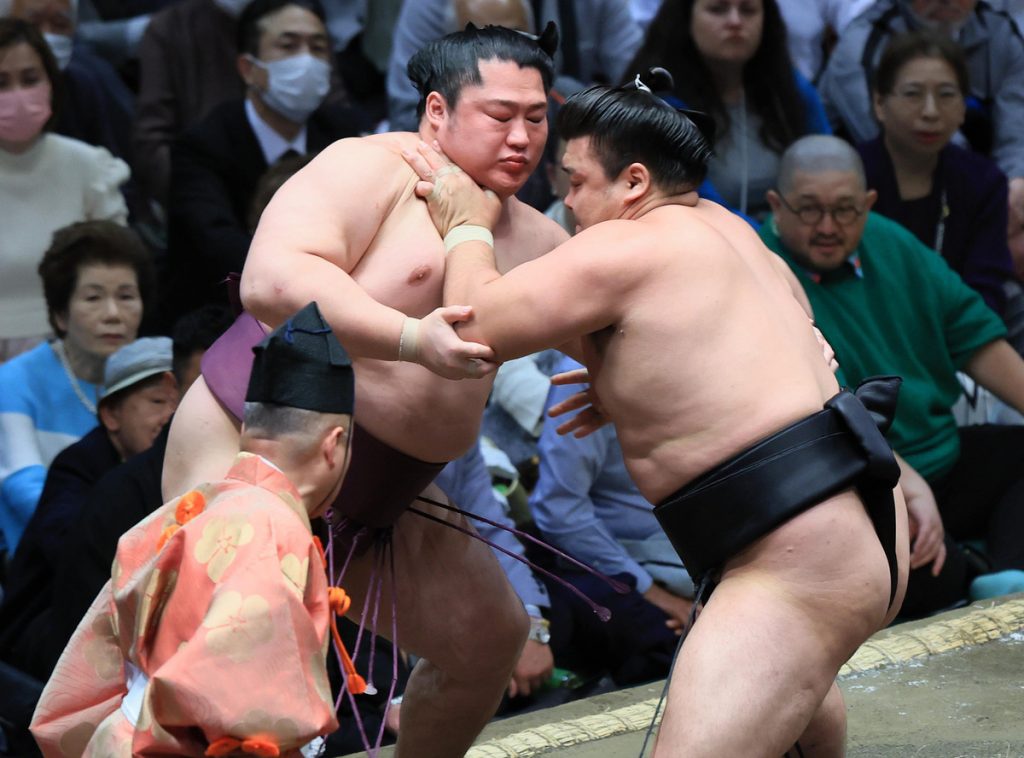 In other major bouts, promotion-chasing sekiwake Kiribayama made quick work of No. 2 maegashira Endo to improve to 2-0.
Kiribayama used a superior face-off to knock Endo off balance and then shoved him over the edge with an arm thrust to the neck to keep a clean slate on Day 2.
The winner of the March tournament, Kiribayama needs at least 10-wins in the 15-day basho to garner consideration for promotion to the sport's second-highest rank of ozeki.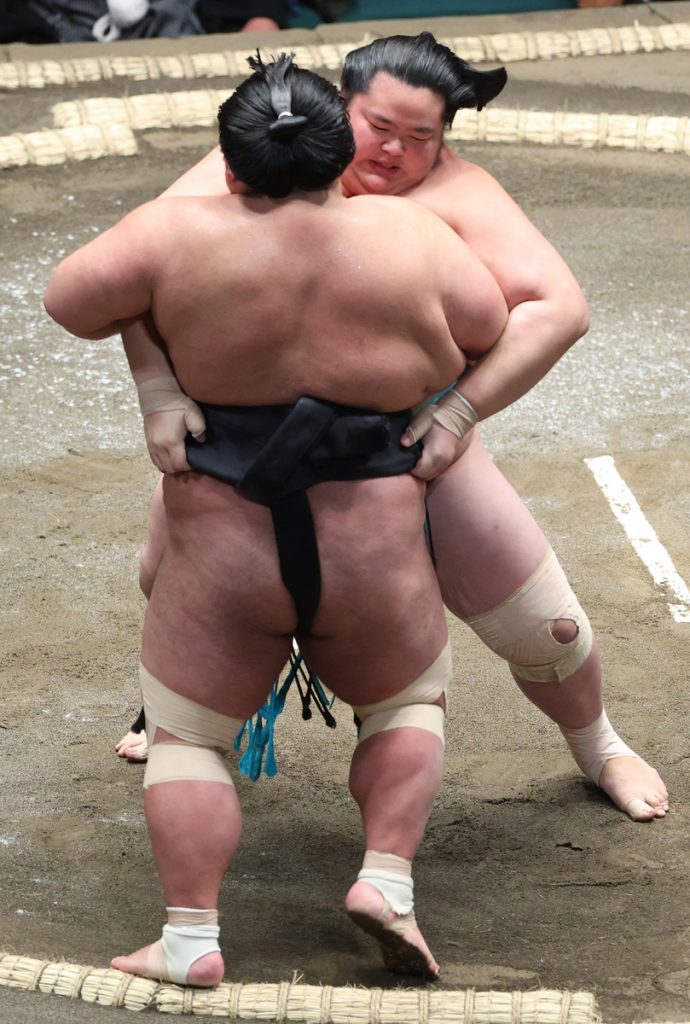 Kotonowaka Overpowers Takakeisho
In the day's first and only major upset, komusubi Kotonowaka got both arms around Takakeisho, prevented the ozeki from using his trademark arm thrusts, and bulldozed his opponent out with a frontal force-out to move to 2-0.
Lone ozeki Takakeisho, who was forced to pull out of the March tournament with a knee injury, fell to 1-1.
Sekiwake Daieisho, also chasing promotion to ozeki, used his trademark arm thrusts to the neck to send fourth-ranked maegashira Ura backpedaling out of the ring.
Daieisho improved to 2-0 while Ura dropped to 1-1.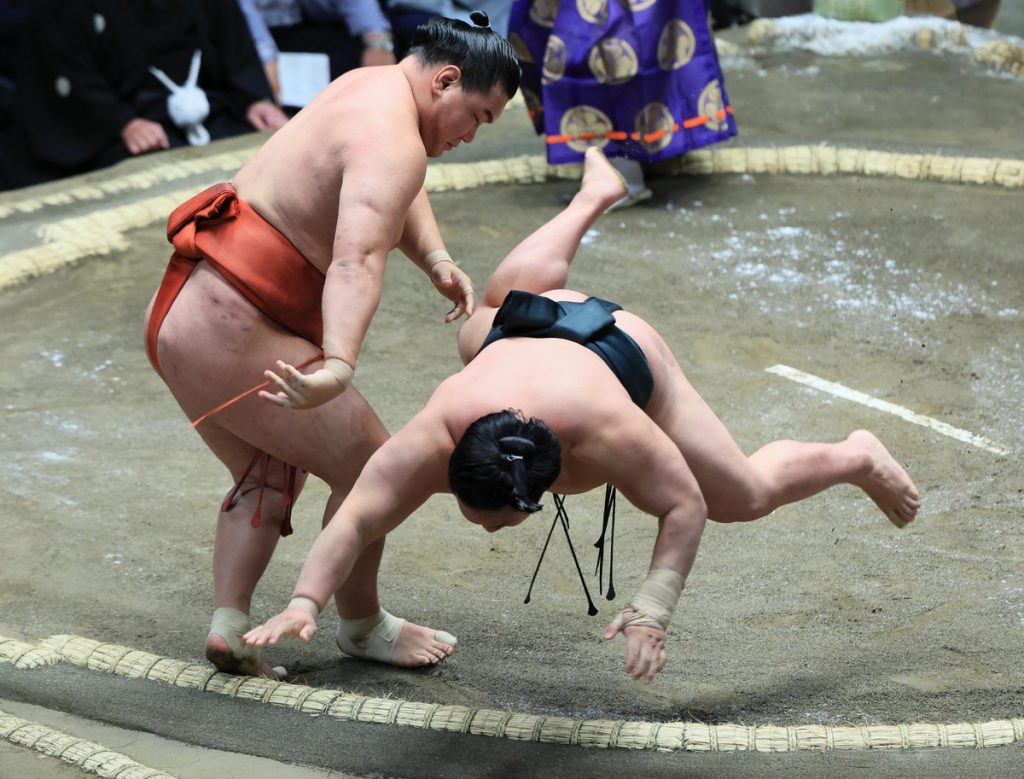 Sekiwake Hoshoryu, who was given a day off the previous day when his opponent Takayasu pulled out, had his hands full with Midorifuji (0-2) but shifted to his side at the edge and swatted the top maegashira down to improve to 2-0.
Wakamotoharu, Asanoyama Improve to 2-0
Sekiwake Wakamotoharu deployed a series of powerful arm thrusts to the neck of No. 3 maegashira Tobizaru to send sumo's Flying Monkey toppling off the raised ring for a perfect 2-0 record. Tobizaru is winless so far.
Former ozeki Asanoyama improved to 2-0 when he got a left-hand grip on the belt of fellow No. 14 maegashira Myogiryu (1-1) shortly after the face-off and used a frontal force-out to dispatch his opponent in a matter of seconds.
Asanoyama dropped all the way to the fourth-tier sandanme division due to his year-long suspension for violating COVID-19 safety measures.
He has been near-perfect as he fought his way back up through the ranks to reach the elite makuuchi division.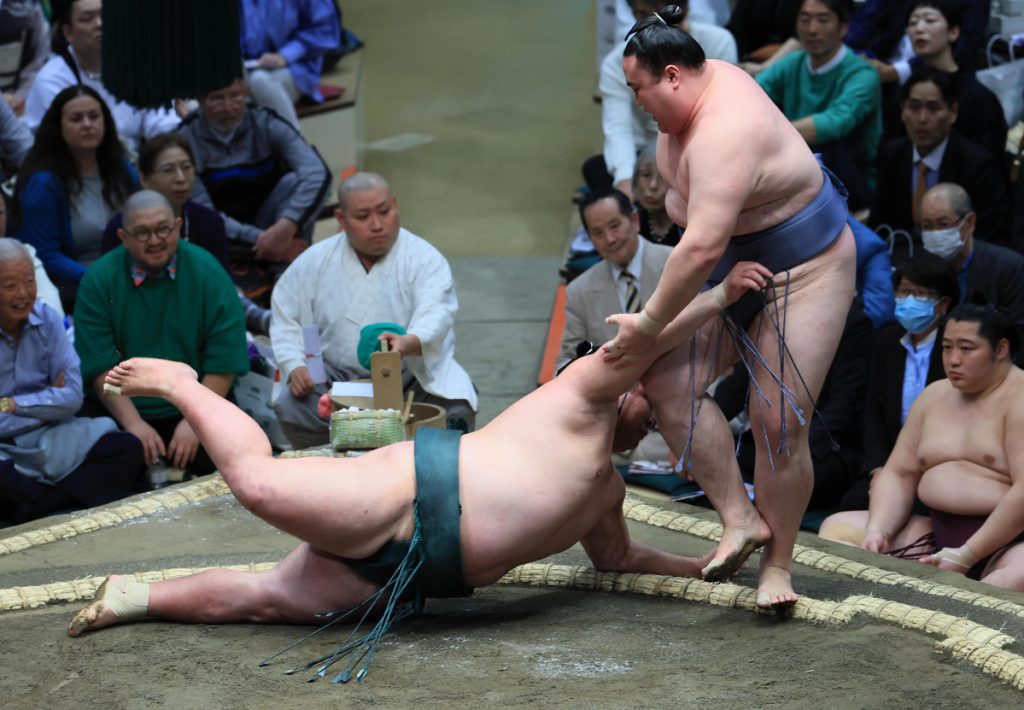 No. 5 maegashira Kinbozan of Kazakhstan picked up his first win with a thrust down technique over winless fourth-ranked maegashira Nishikigi.
Tamawashi Outduels Sadanoumi
In a showdown of sumo veterans, 38-year-old ironman Tamawashi used an arm thrust to the neck then displayed superb footwork at the edge when he used an arm-lock throw to send 36-year-old Sadanoumi toppling off the raised ring.
Both seventh-ranked Tamawashi and No. 8 Sadanoumi have records of one win and one loss.
Former ozeki Mitakeumi and Hokutofuji needed a rematch after their first bout ended in a draw.
In the do-over, No. 6 maegashira Mitakeumi got a left-hand grip on the belt of seventh-ranked Hokutofuji and used a frontal crush-out to give both men a record of 1-1.

Author: Jim Armstrong
The author is a longtime journalist who has covered sports in Japan for over 25 years. You can find his articles on SportsLook.