Terunofuji Makes Winning Return at Summer Basho
Lone yokozuna Terunofuji looked shaky at the outset, but recovered with an arm throw at the edge to defeat Shodai on the first day of the tournament.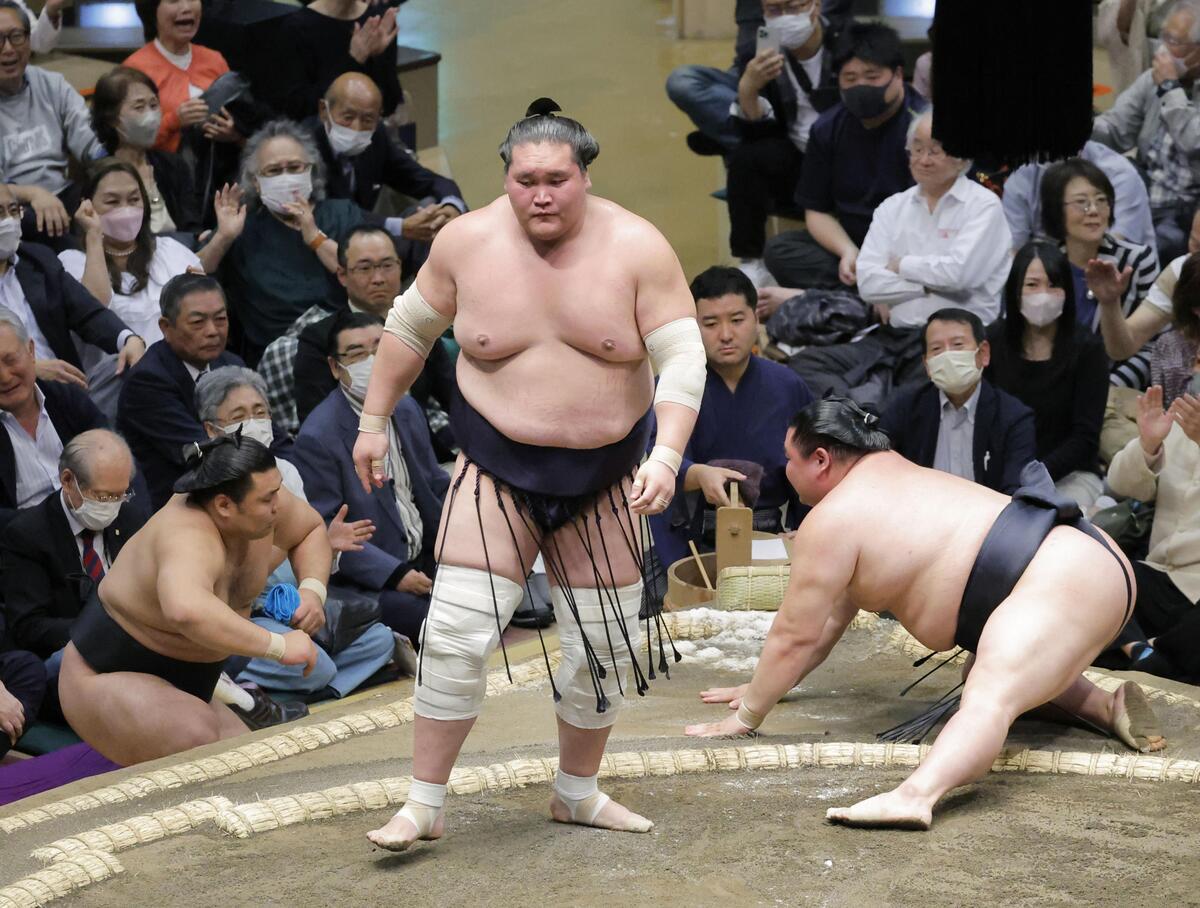 Lone grand champion Terunofuji made a triumphant return to competition on Sunday, May 14 with a win over former ozeki Shodai on the opening day of the Summer Grand Sumo Tournament.
In the day's final bout at a sold-out Ryogoku Kokugikan, komusubi Shodai stunned Terunofuji with a dominant face-off that had the yokozuna backpedaling and in trouble.
But Terunofuji calmly used a beltless arm throw at the edge to post his first win since September of last year.
Injury-plagued seven-time champion Terunofuji is returning to action, having missed the last four tournaments either entirely or in part after he underwent surgery on both knees.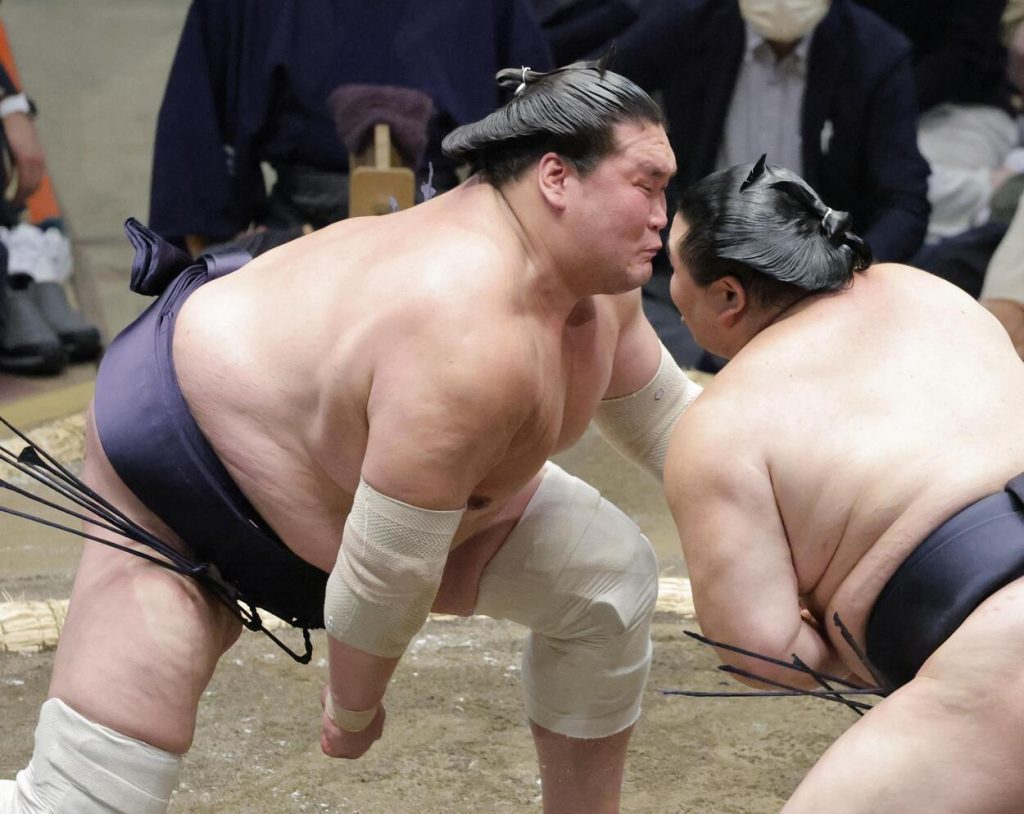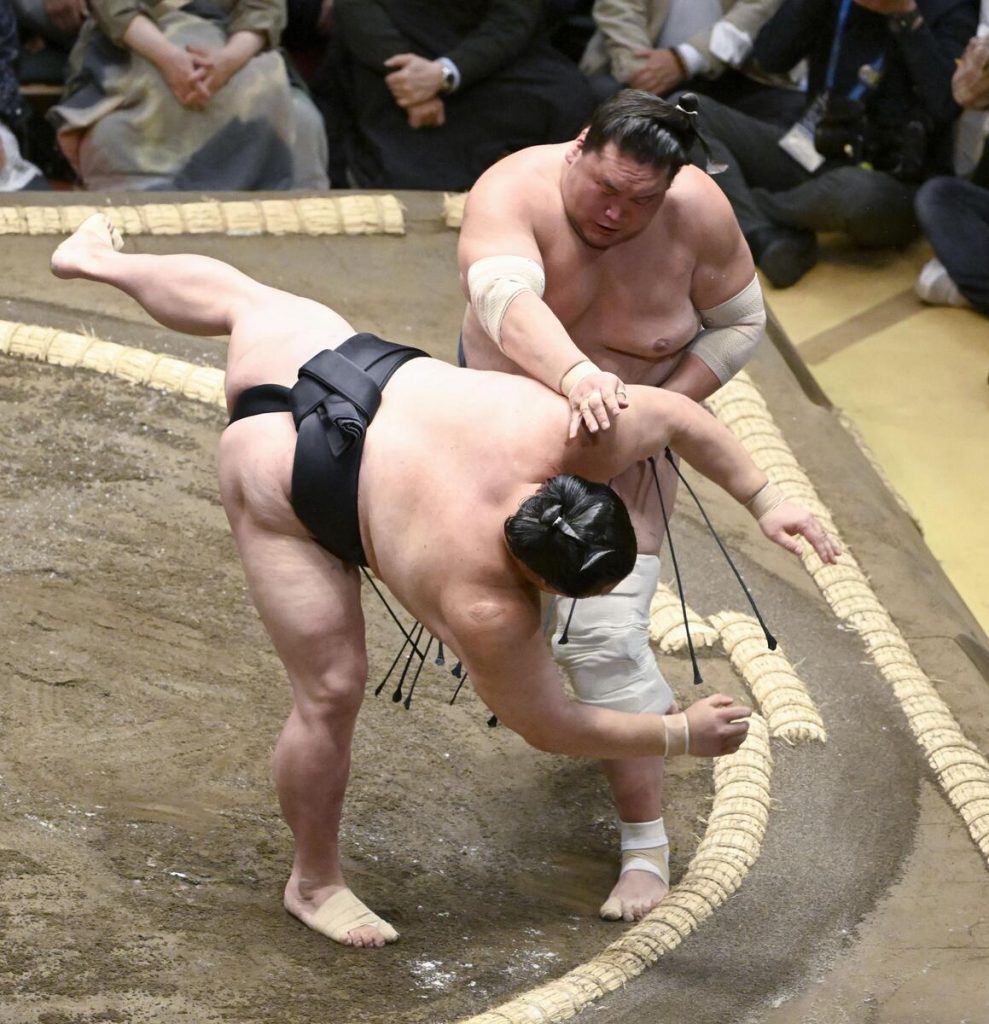 Sunday's bout was far from convincing. But it will be a welcome relief to Terunofuji and his fans that he was able to prevail when it mattered most.
In other major Summer Basho bouts, ozeki promotion-chasing Kiribayama used an under shoulder swing-down technique to dispatch top maegashira Midorifuji at the edge.
Mongolian sekiwake Kiribayama, who won the March tournament in a playoff with Daieisho, needs at least 10 wins to garner consideration for ozeki.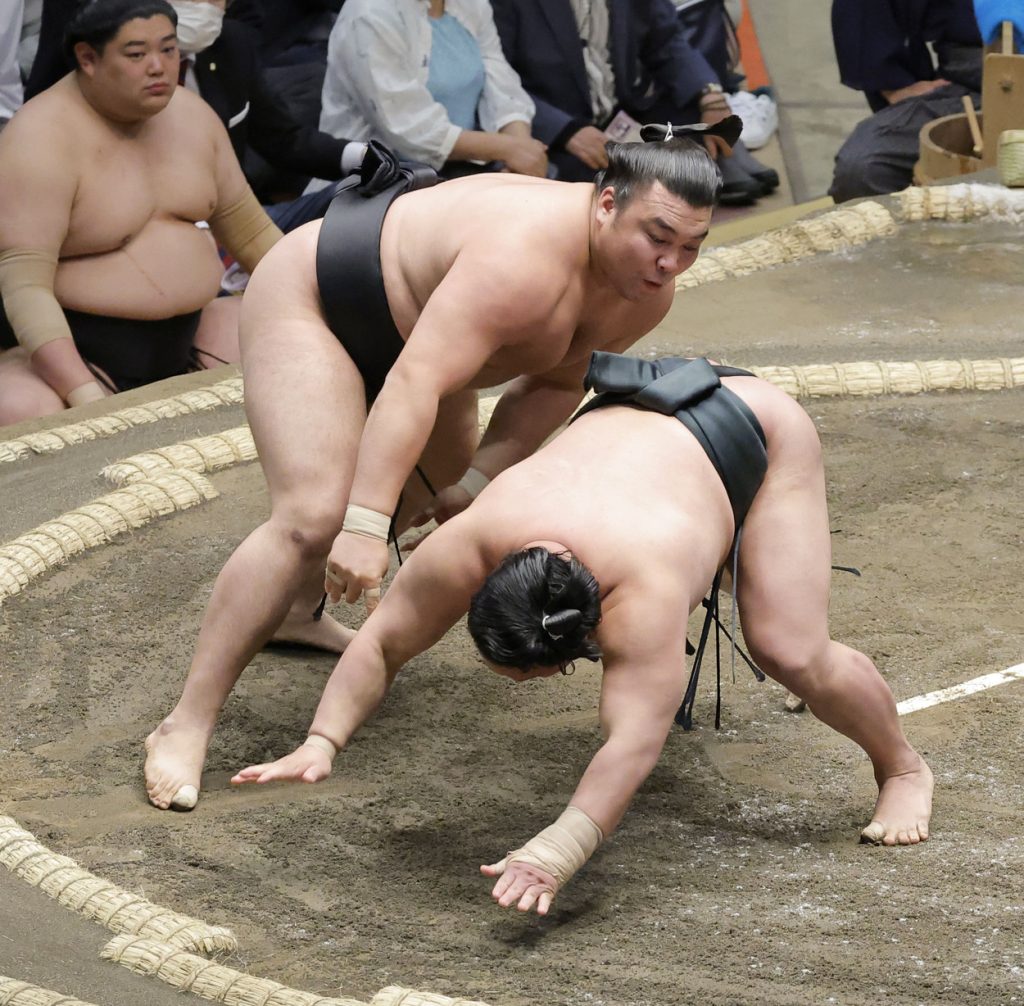 Sekiwake Daieisho, another ozeki hopeful, got off to a winning start when he shoved out No. 3 maegashira Nishikifuji.
If Daieisho can get 11 or 12 victories and contend for the title here, he will be in a good position to earn promotion to sumo's second-highest rank.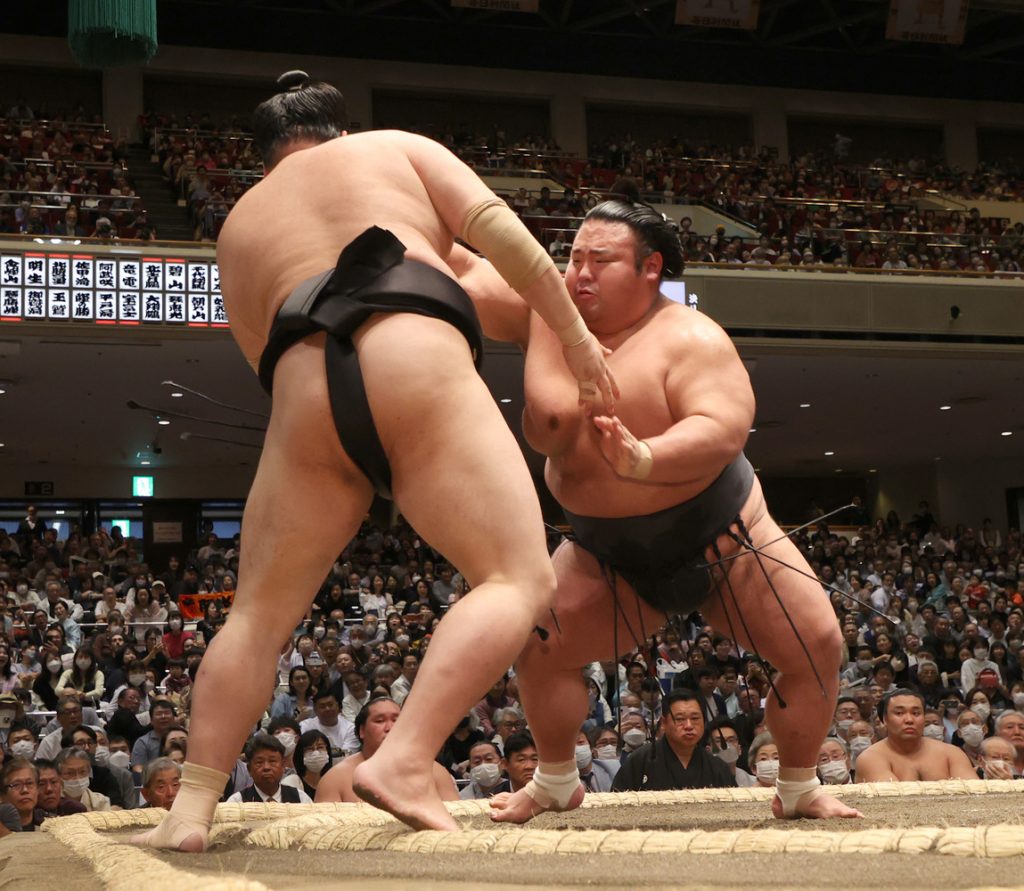 Takakeisho Wins on Opening Day
Lone ozeki Takakeisho earned a crucial opening-day win when he shoved out top maegashira Abi.
Takakeisho was forced to pull out of the March tournament with a knee injury. While he didn't look as mobile as he has in the past, he displayed good footwork at the edge to get the win.
Sekiwake Wakamotoharu deployed a superb pulling overarm throw at the edge to send No. 2 maegashira Endo sprawling to the dirt surface and win on opening day.
Kotonowaka was pushed back after the face-off but the giant komusubi showed great resilience and footwork on the straw ridge before thrusting down No. 3 maegashira Tobizaru to open with a hard-fought win.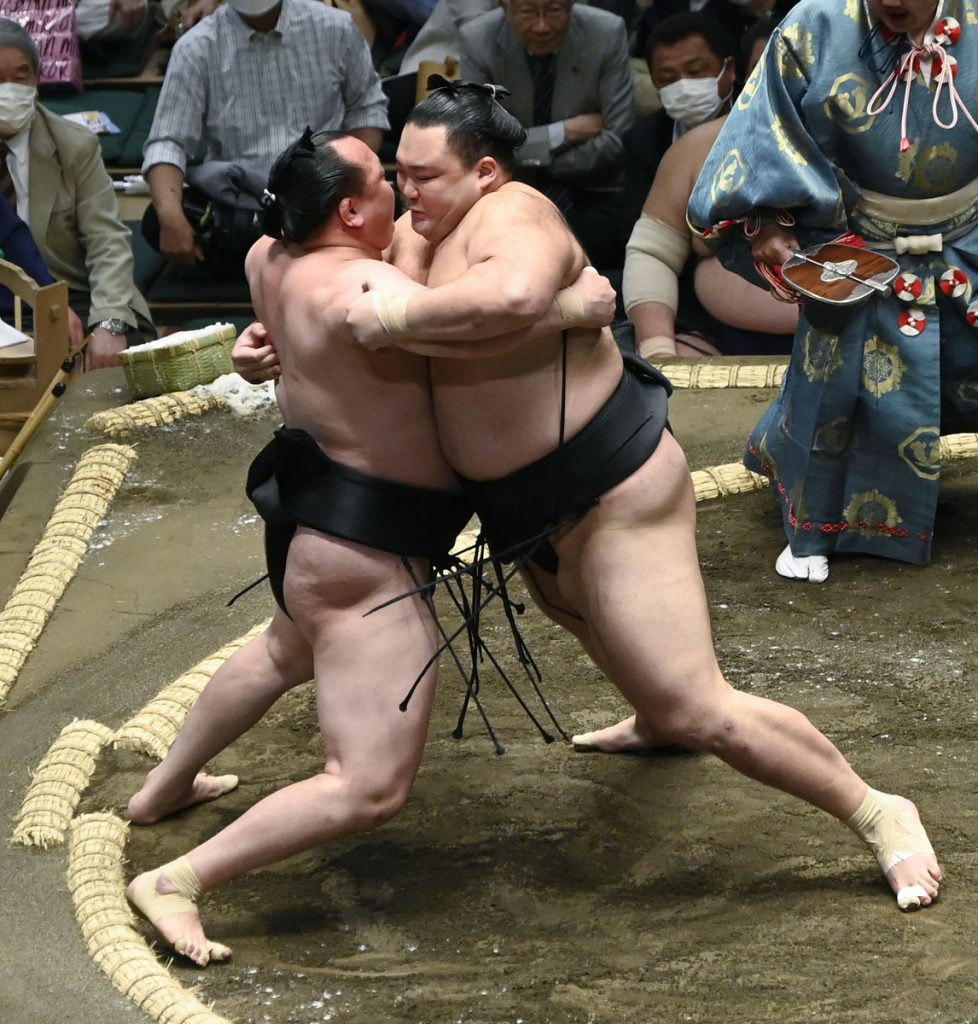 Asanoyama Manhandles Chiyoshoma
Back to the top division after a prolonged suspension for violating COVID-19 safety guidelines, Asanoyama came bursting out of face-off and overpowered Chiyoshoma to pick up an opening-day win.
No. 14 maegashira Asanoyama got a right arm in on his opponent and drove No. 13 Chiyoshoma out in a one-sided bout that bodes well for Asanoyama's comeback after a six-meet ban.
Meisei was pushed back to the brink by fellow No. 6 maegashira Mitakeumi. But Meisei recovered and shifted to his left before shoving out the former ozeki.
In a showdown of No. 5 maegashira, Kotoshoho got a lift hand inside on Kinbozan and forced his opponent to the edge where he toppled him with a frontal force-out.
Kinbozan, the first wrestler from Kazakhstan, went 11-4 in his debut tournament in the top division in March and will be looking to build on that success in the 15-day Summer Basho.
Injured Takayasu Withdraws from Tournament
Before the start of the tournament, it was announced that No. 2 maegashira Takayasu was forced to pull out with a thigh injury. He forfeited his Day 1 bout to Mongolian sekiwake Hoshoryu (1-0), who has four straight tournaments with a winning record.
According to reports, Takayasu will need three weeks to fully recover.
In a lengthy bout between two No. 11 maegashira that lasted almost three minutes, Hokuseiho finally prevailed with a frontal force-out win over Daishoho.
RELATED:
Author: Jim Armstrong
The author is a longtime journalist who has covered sports in Japan for over 25 years. You can find his articles on SportsLook.