Alone at the Top: Terunofuji Beats Hoshoryu to Take Sole Kead at Kyushu Tournament
Takakeisho and Mitakeumi are dealt setbacks on Day 10 while Abi continues to impress.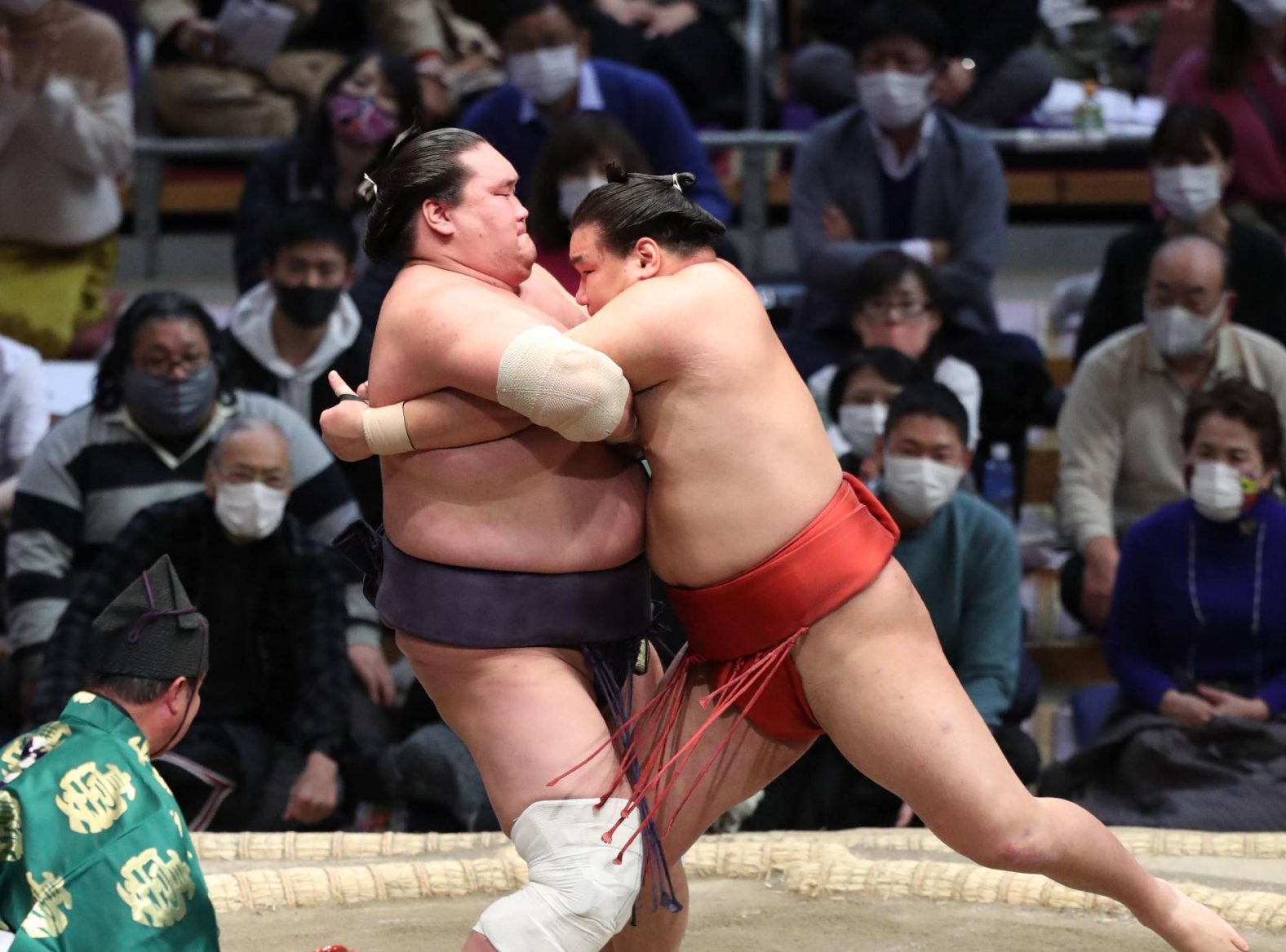 Lone yokozuna Terunofuji took a major step forward in his bid for a second straight Emperor's Cup when he overwhelmed compatriot Hoshoryu on Tuesday, November 23 to move into the sole lead at the Kyushu Grand Sumo Tournament.
In the day's final bout at Fukuoka Kokusai Center, Terunofuji was pushed back several steps after the face-off by the determined No. 5 maegashira but eventually got both arms locked under those of his opponent and hoisted Hoshoryu out to improve to a perfect 10-0.
Terunofuji will face another Mongolian on Day 11 when he takes on the 206-kg komusubi Ichinojo, who improved to 4-6 with a convincing win over No. 3 maegashira Myogiryu (2-8).
Ozeki Takakeisho looked to be Terunofuji's most serious challenger but his winning streak finally came to an end when the ozeki was shoved out by sekiwake Meisei in the previous bout.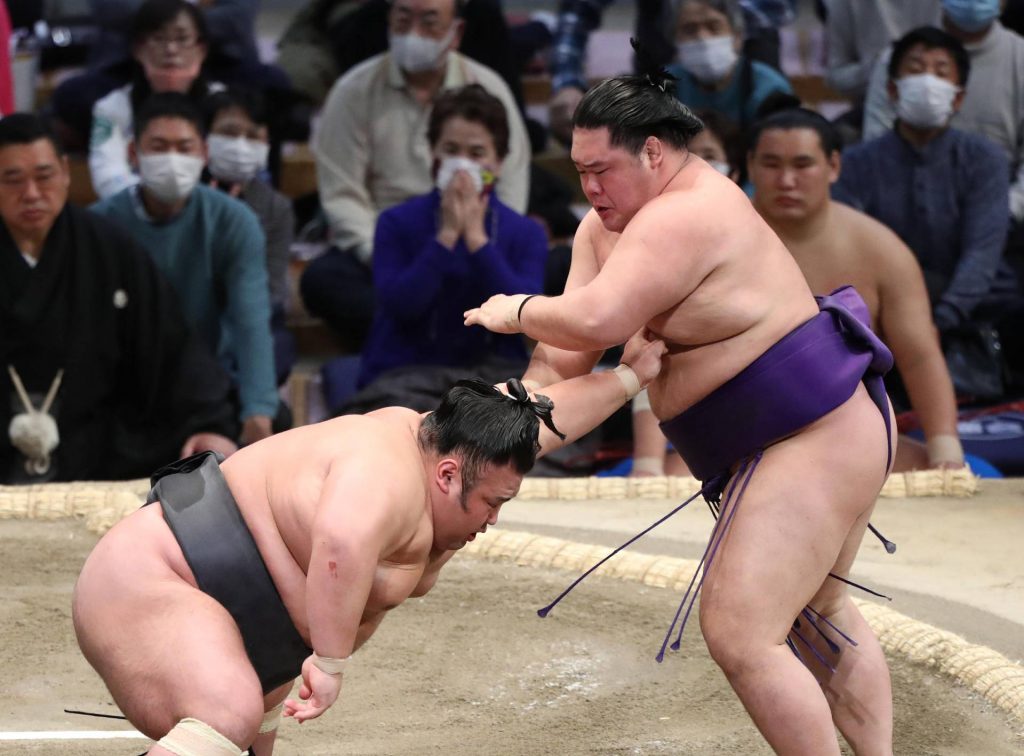 Takakeisho had won nine in a row but couldn't pull off another win over Meisei, who improved to 5-5. Takakeisho is still in contention but the road ahead just got more difficult for the Tokiwayama stable wrestler.
It was a feather in the cap of Meisei, who came into the 15-day basho with high hopes but so far hasn't really lived up to the lofty expectations.
"It's a huge win," Meisei said. "I'm quite familiar with his style of wrestling and just tried to stay calm. From here on in, I'll just try to take it one day at a time and aim for a winning record."
Takakeisho is now tied with rank-and-filer Abi at 9-1.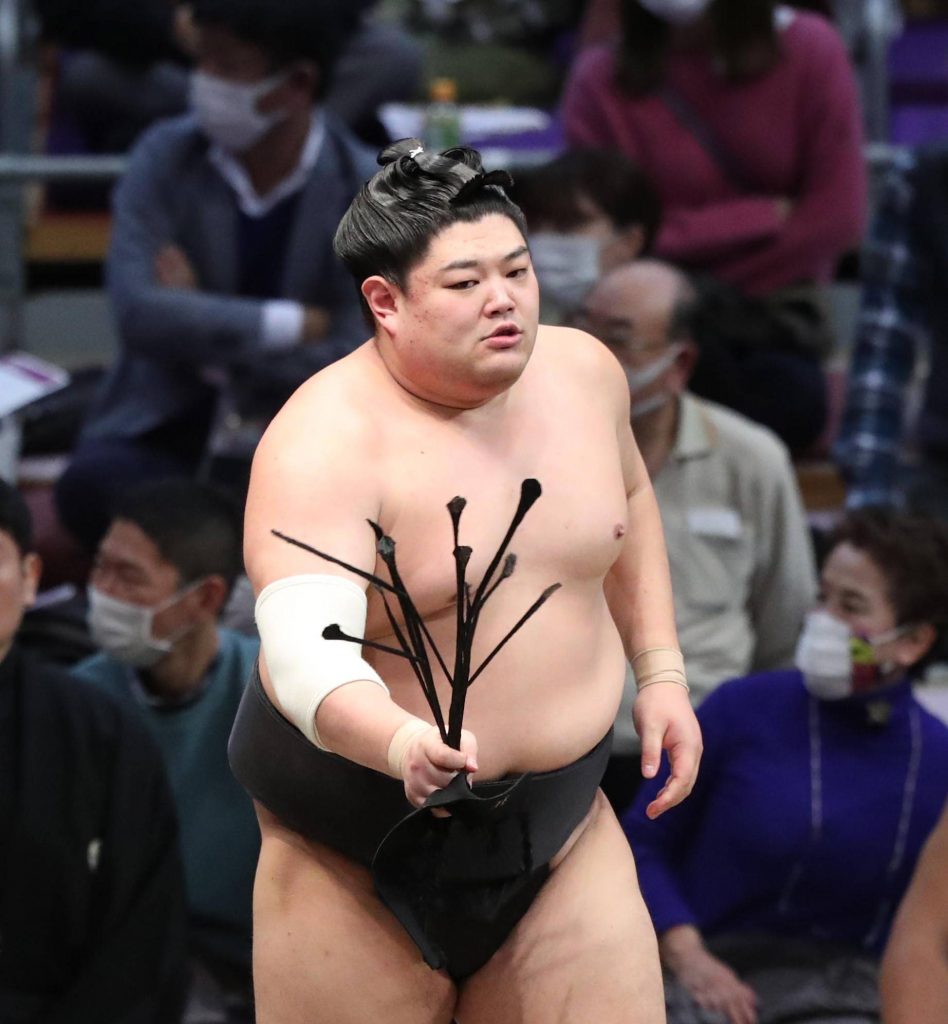 No. 15 maegashira Abi overpowered sumo's flying monkey Tobizaru with a series of ferocious arm thrusts to the upper body. Tobizaru, an eighth-ranked maegashira, fell to 5-5.
Sekiwake Mitakeumi also fell further off the pace to 8-2 when No. 4 maegashira Takarafuji got a left-hand grip on his belt and hoisted his opponent out over the edge to improve to 4-6.
The losses of Takakeisho and Mitakeumi give Terunofuji a little breathing room heading into the final five days.
In other major bouts, popular No. 7 maegashira Ura stayed in the pack of four wrestlers at 8-2 when he used an under-shoulder swing down to defeat 11th-ranked Kotonowaka (3-7).
"I'm happy to wrap up a winning record," Ura said. "I had to work hard today, I wanted to get the wins in this tournament which I didn't get last time out."
Hokutofuji wrapped up a winning record and also improved to 8-2 when the No. 12 maegashira sidestepped Sadanoumi and swatted the 16th-ranked maegashira out to his fourth loss against six wins.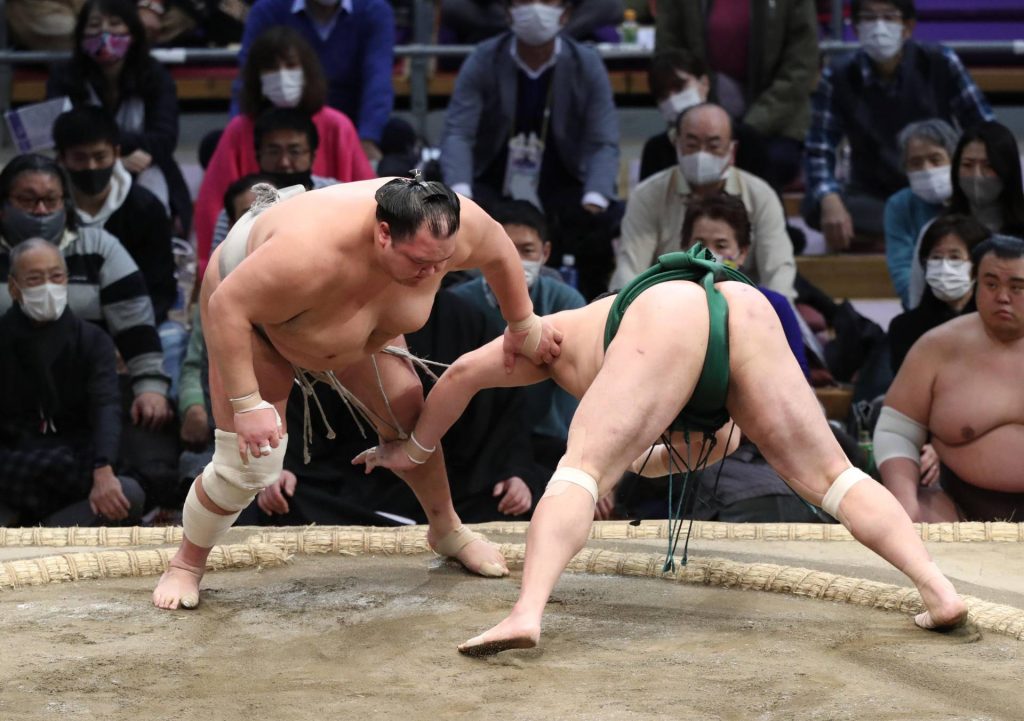 "I am where I am in the banzuke so I need to be moving up in the ranking," said Hokutofuji, who has battled through injuries.
Mongolian Tamawashi, a No. 6 maegashira, also wrapped up a winning record and improved to 8-2 when he overpowered Aoiyama, a ninth ranked maegashira who fell to 3-7.
Ozeki Shodai prevailed in a hard-fought win over Takayasu (5-5) who had several opportunities to push out the Kumamoto native.
Shodai was pushed to the edge several times before deploying a series of thrusts to the chest to send the fifth-ranked maegashira tumbling off the raised ring while improving to 6-4.
Shodai has not had a good tournament at sumo's second-highest rank but could still wrap up a winning record.


Three Stars
First Star: Meisei. With an upset win over previously undefeated Takakeisho, the sekiwake took the first step in salvaging what has been a disappointing tournament so far. It's a confidence-boosting win that should help Meisei over the final five days.
Second Star: Abi. The No. 15 maegashira held his ground against a determined Tobizaru and is in the middle of the title chase. He'll face 8-2 Ura on Day 11 for a chance to keep the pressure on Terunofuji
Third Star: Terunofuji showed the poise of a grand champion when he manhandled upset-minded Hoshoryu to take over the sole lead. It could be just the win he needs to carry him to his second straight Emperor's Cup at sumo's highest rank.


Author: Jim Armstrong
The author is a longtime journalist who has covered sports in Japan for more than 25 years. You can find his articles here, on JAPAN Forward.