Terunofuji may be the man to beat at the Kyushu Grand Sumo Tournament but Takakeisho is proving he is a force to be reckoned with.
The resurgent ozeki posted a hard-fought win over Mongolian Hoshoryu on Monday, November 22 to stay undefeated and tied for the lead with yokozuna Terunofuji in the 15-day basho.
After fighting off a belt grip by Hoshoryu, Takakeisho used a powerful arm thrust to the neck to send the fifth-ranked maegashira toppling off the raised ring.
Takakeisho improved to a perfect 9-0 while Hoshoryu fell to 4-5.
The winner of this tournament a year ago, Takakeisho has shown remarkable improvement over the previous meet in September when he went a modest 8-7.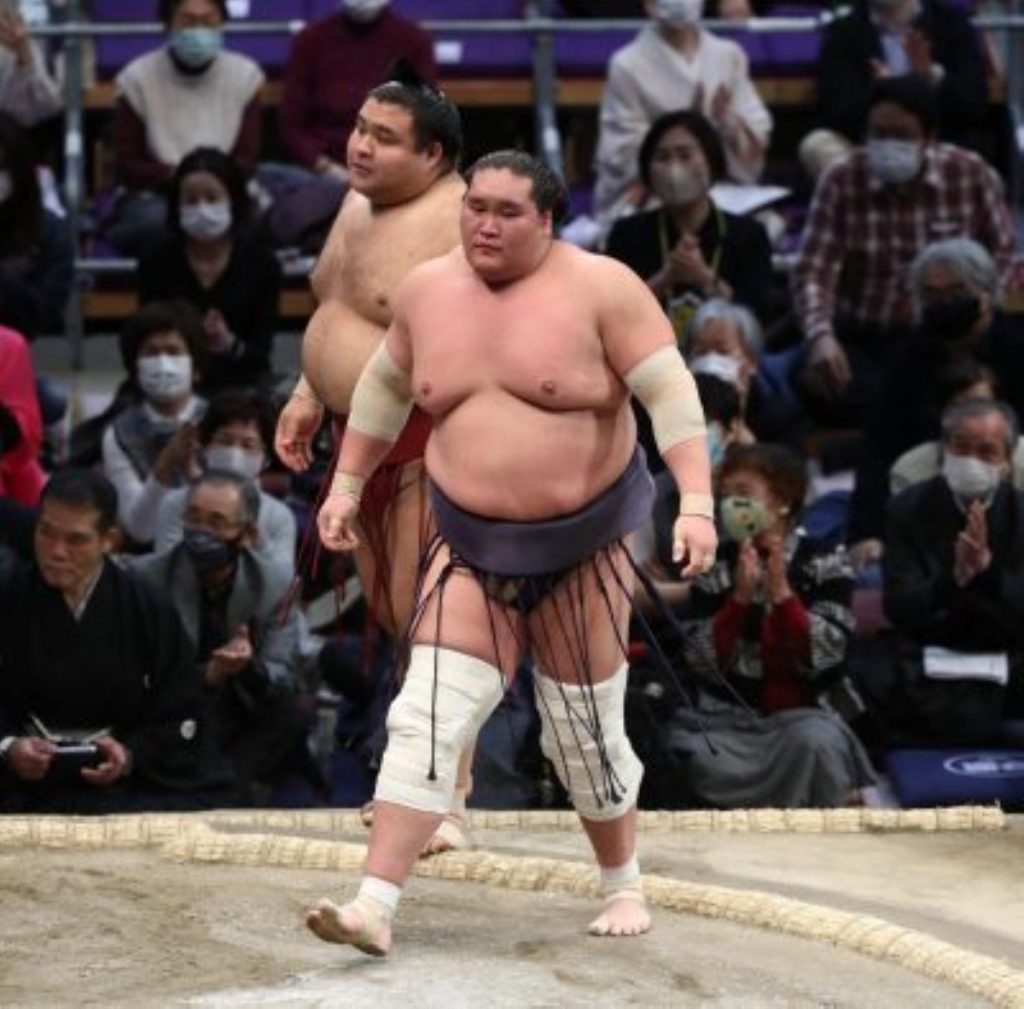 In the day's final bout, lone grand champion Terunofuji got a right-hand outside grip on the belt of Takayasu (5-4) and calmly lifted the fifth-ranked maegashira over the straw ridge to maintain his clean slate.
Mongolian Terunofuji is bidding for his second straight Emperor's Cup since being promoted to the sport's highest rank.
Sekiwake Mitakeumi and lower-ranked wrestler Abi are one win off the pace at 8-1, while Tamawashi, Ura and Hokutofuji are at 7-2.
Shodai, the other ozeki wrestler, is at the opposite end of the spectrum from Takakeisho and was thrust down by Endo to drop to 5-4. Endo, a fourth-ranked maegashira, also stands at 5-4.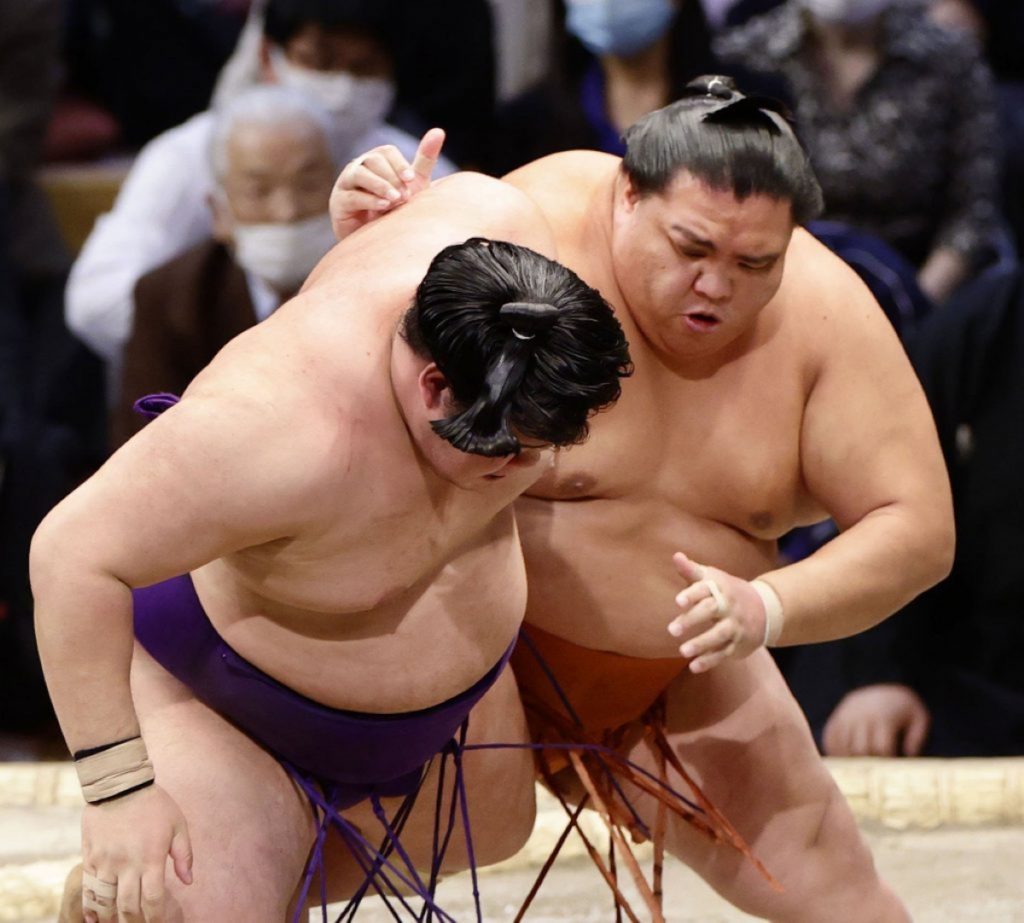 In other major bouts, Mitakeumi kept his title hopes very much alive when he got a left-hand grip on the belt of Meisei (4-5) and hoisted his fellow sekiwake out to improve to 8-1.
"I'm just trying to have a strong record in this tournament," said Mitakeumi, who wrapped up a winning record. "I think it may be a little too early to think about the title."
Abi, who was suspended last year for violating the Japan Sumo Association's COVID-19 protocols, continued with his impressive return to the elite makuuchi division.
The No. 15 maegashira used a hand pull down to defeat Chiyotairyu and improve to 8-1. Chiyotairyu, a tenth-ranked maegashira, fell to 5-4.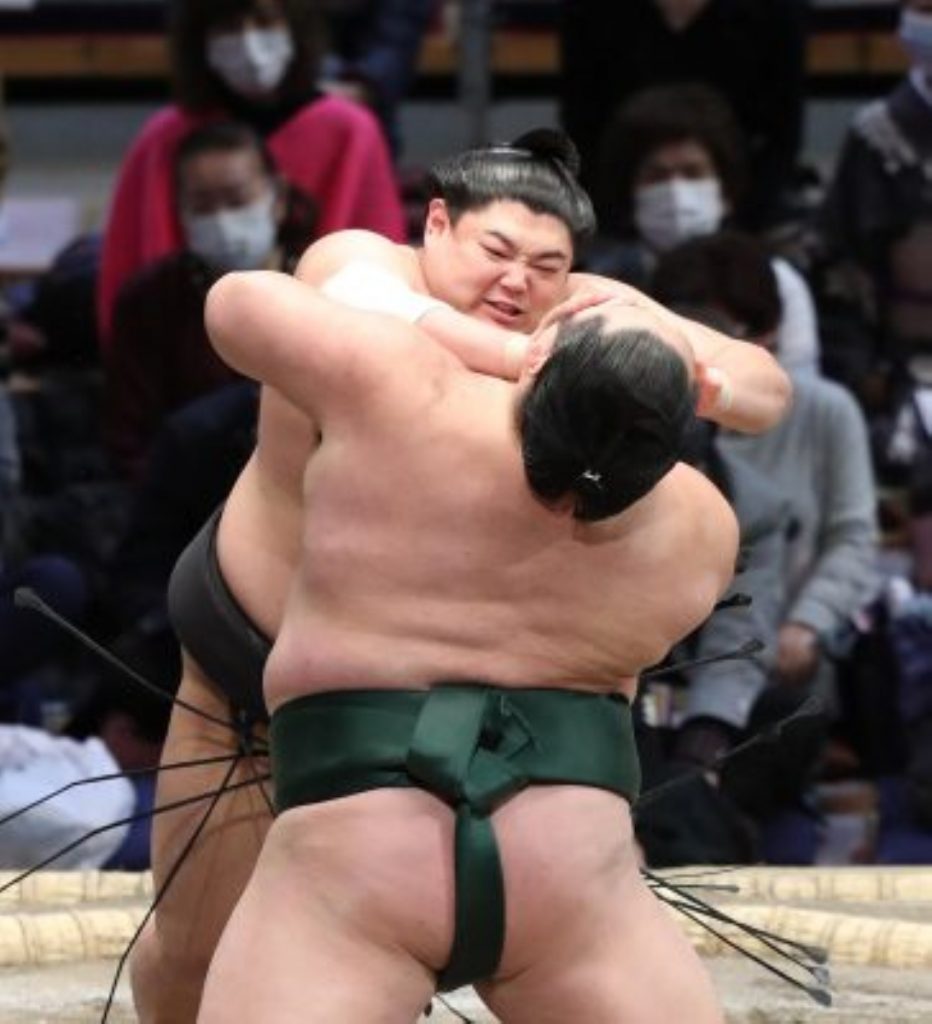 "My face-off wasn't the best," Abi said. "I don't match up well with Chiyotairyu so I just relied on my brand of sumo and got the win. I'm grateful to everyone that I was able to return to the top division."
No. 12 maegashira Hokutofuji improved to 7-2 when he used a series of powerful arm thrusts to dispatch 194-kilogram Brazilian Kaisei, a No. 17 maegashira who dropped to 4-5.
Popular No. 7 maegashira Ura used an under-shoulder swing down to haul down Aoiyama and remain in the chase pack at 7-2. Ninth-ranked maegashira Aoiyama was handed his sixth loss against only three wins.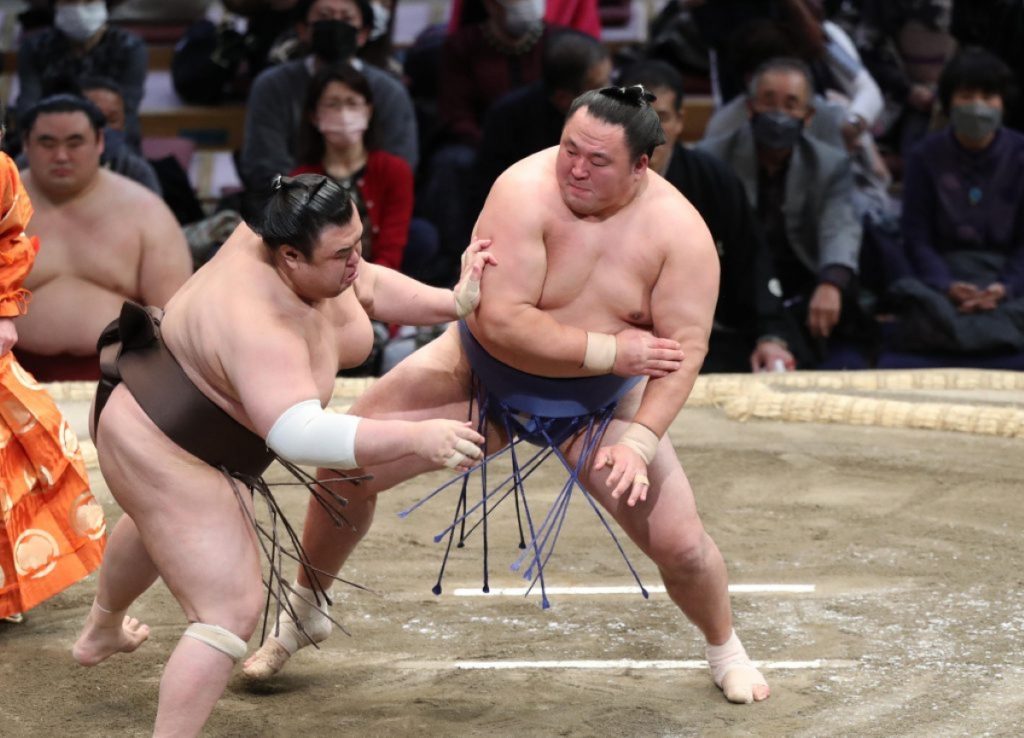 Veteran grappler Tamawashi also stayed in the group of wrestlers at 7-2 with a one-sided force out of ninth-ranked maegashira Hidenoumi, who put up little resistance and fell to 5-4.
Sixth-ranked Mongolian Tamawashi will be aiming to wrap up a winning record when he faces Aoiyama on Day 10.
In a showdown of two wrestlers who have struggled mightily in the first week of the tournament, new komusubi Kiribayama used a textbook inner thigh throw to send Wakatakakage sprawling to the dirt surface.
Mongolian Kiribayama improved to 3-6 while top maegashira Wakatakakage fell to an unflattering 2-7.


Three Stars
First Star: Mitakeumi. Nobody expected the sekiwake to be doing this well heading into the final six days. His dominant win over up-and-comer Meisei sends a clear message that the Dewanoumi stable wrestler is a force to be reckoned with.
Second Star: Tamawashi. The Mongolian wrestler has put in an impressive showing in this tournament. He overpowered Hidenoumi on Monday and will be looking for more of the same against Aoiyama.
Third Star: Abi. The rank-and-filer is showing positive results after being suspended by the JSA. If he continues on this path, the No. 15 maegashira will certainly be moving up the ranks for the next tournament.


Author: Jim Armstrong
The author is a longtime journalist who has covered sports in Japan for more than 25 years. You can find his articles here, on JAPAN Forward.