After opening the season with three losses in their first six games, the Alvark Tokyo began to find their rhythm under first-year head coach Dainius Adomaitis.

The Alvark, the only team to win back-to-back titles in B.League history (in 2017-18 and 2018-19), had a 9-5 record after 14 games. Since then, Tokyo has emerged as one of the best teams in the 24-team league.
Entering their Christmas weekend series against the visiting Shiga Lakestars, the Alvark (16-5) are riding a seven-game winning streak. What's more, they are tied with the Hiroshima Dragonflies for the second-best record in the league. Only the Ryukyu Golden Kings and Chiba Jets, both of whom are 17-4, have more wins heading into the penultimate weekend of 2022.
December has been a fabulous month for Lithuanian bench boss Adomaitis' team.

It started with wins over the host San-en NeoPhoenix on December 3 and 4 (79-65 and 82-61), followed by home victories over the Kyoto Hannaryz on December 10 and 11 (86-70 and 62-58).

The Alvark extended their win streak by topping the host Ibaraki Robots 83-62 on December 14.
Too Close for Comfort
Tokyo then recorded 74-66 and 78-74 home triumphs over the Toyama Grouses on December 17 and 18 at Yoyogi National Gymnasium.
Five Alvark players scored in double figures in their four-point victory in last weekend's series finale: Justin Cobbs (16 points), Shuto Ando (14), Ryan Rossiter (13), Alex Kirk (12) and Sebastian Saiz (11).
"I'm glad that the entire team was able to persevere until the very end and finish the tough match with a victory," said Adomaitis, a former Lithuania national team head coach.

After two games decided by fewer than 10 points, Ando, who is averaging 9.5 points per game, said the Alvark have room for improvement in building and sustaining leads.

"We still don't have the power to decide the match when we take the lead," Ando told reporters after the weekend finale. "And we tend to let our guard down when it comes to the score difference, so I think we have to reflect on that."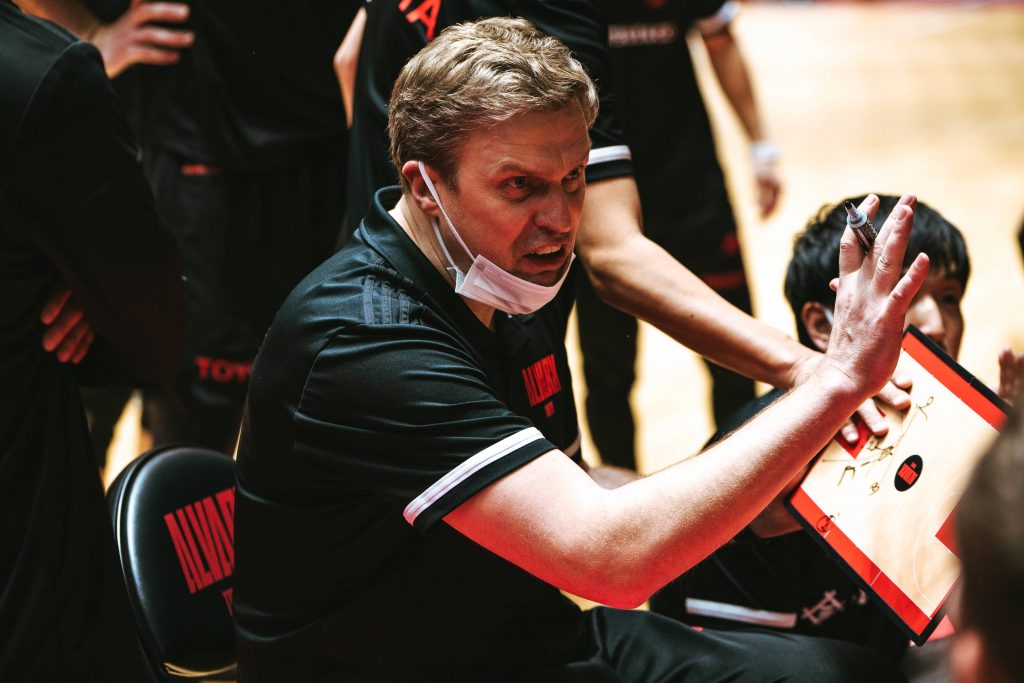 New Leadership in Tokyo
Adomaitis took over as Alvark coach this past summer after the departure of Montenegrin mentor Luka Pavicevic, who led the club from 2017-22.

Under the 48-year-old Adomaitis' leadership, the Alvark are allowing a league-low 69.2 points per game. Already this season, they have held opponents to 70 or fewer points on 14 occasions.
Tokyo's stingy defense is augmented by effective rebounders and veteran players with a successful track record of protecting the rim.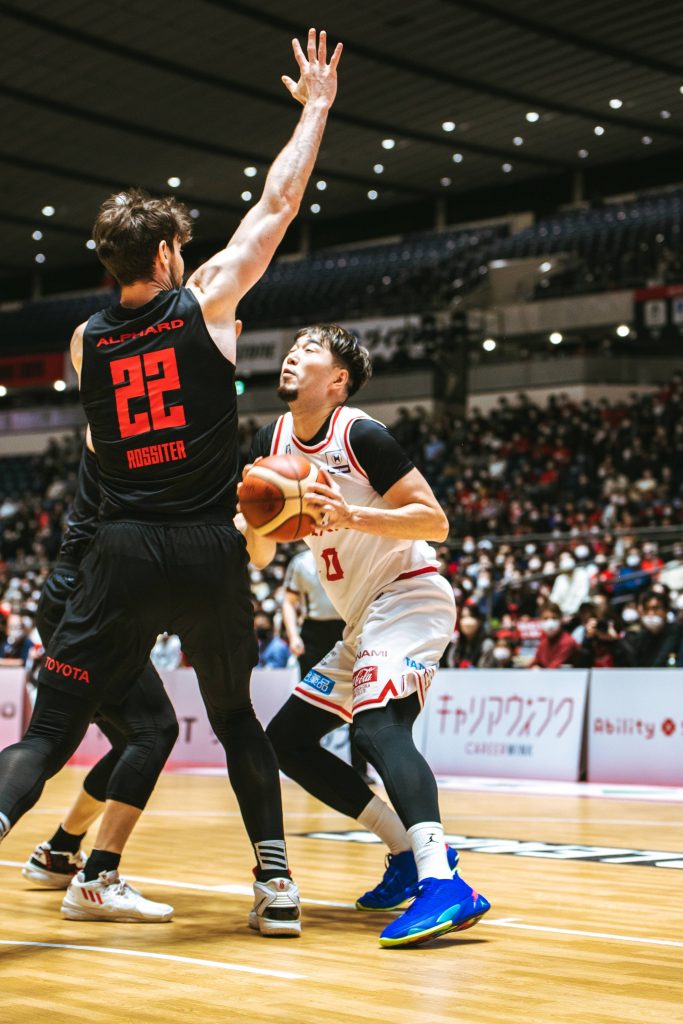 The 205-cm Saiz, who has also played for the Spain national team in recent years, is the Alvark's leader in blocked shots (1.2 per game). Saiz and Rossiter are both averaging 1.1 steals per game.
Rossiter, who stands 204 cm, is Tokyo's top rebounder (9.5) and Saiz is No. 2 (9.3).

Kirk, at 211 cm, has played for the Alvark since 2017 and is one of the top inside defenders in the league.
Cobbs Adds Spark to Alvark Offense
Cobbs, a point guard who attended the University of Minnesota and the University of California before launching his pro career in 2014, spent the past three seasons playing for Montenegrin club Buducnost. He is the Alvark's leading scorer (14.8 ppg) with just over one-third of the 2022-23 season finished.

Saiz is averaging 12.6, followed by Kirk at 10.2. Rossiter, one of the B.League's most versatile players, is contributing 8.2 points and 4.0 assists. Daiki Tanaka, Zack Baranski and Taiki Osakabe are among the team's other main scoring options.
Rossiter, who added eight rebounds and nine assists on Sunday, said he believes he made a positive impact in his team's win over the Grouses.

"As a decision maker, I was able to pass the ball inside to Saiz and Kirk. And I feel that I was able to contribute to the team with assists," Rossiter said.
The Alvark-Lakestars games on Christmas Eve and Christmas are scheduled to tip off at 3:05 PM both days at Arena Tachikawa Tachihi.
Brave Warriors Climb Above .500
The Shinshu Brave Warriors (11-10) take a six-game win streak into their Christmas Eve series opener against the visiting Shimane Susanoo Magic (15-6).

Shinshu climbed above .500 with an 83-69 victory over the Lakestars on December 18. Yuta Okada and Washington State alum Josh Hawkinson sparked the Brave Warriors with 24 and 21 points, respectively.

Author: Ed Odeven
Follow Ed on JAPAN Forward's [Japan Sports Notebook] here on Sundays, in [Odds and Evens] here during the week, and Twitter @ed_odeven.