Anthony McHenry Shares Memories of Successful Career and Reflects on Legacy
After a decade with the Ryukyu Golden Kings, including four title-winning seasons, veteran leader Anthony McHenry moved to the Shinshu Brave Warriors in 2017.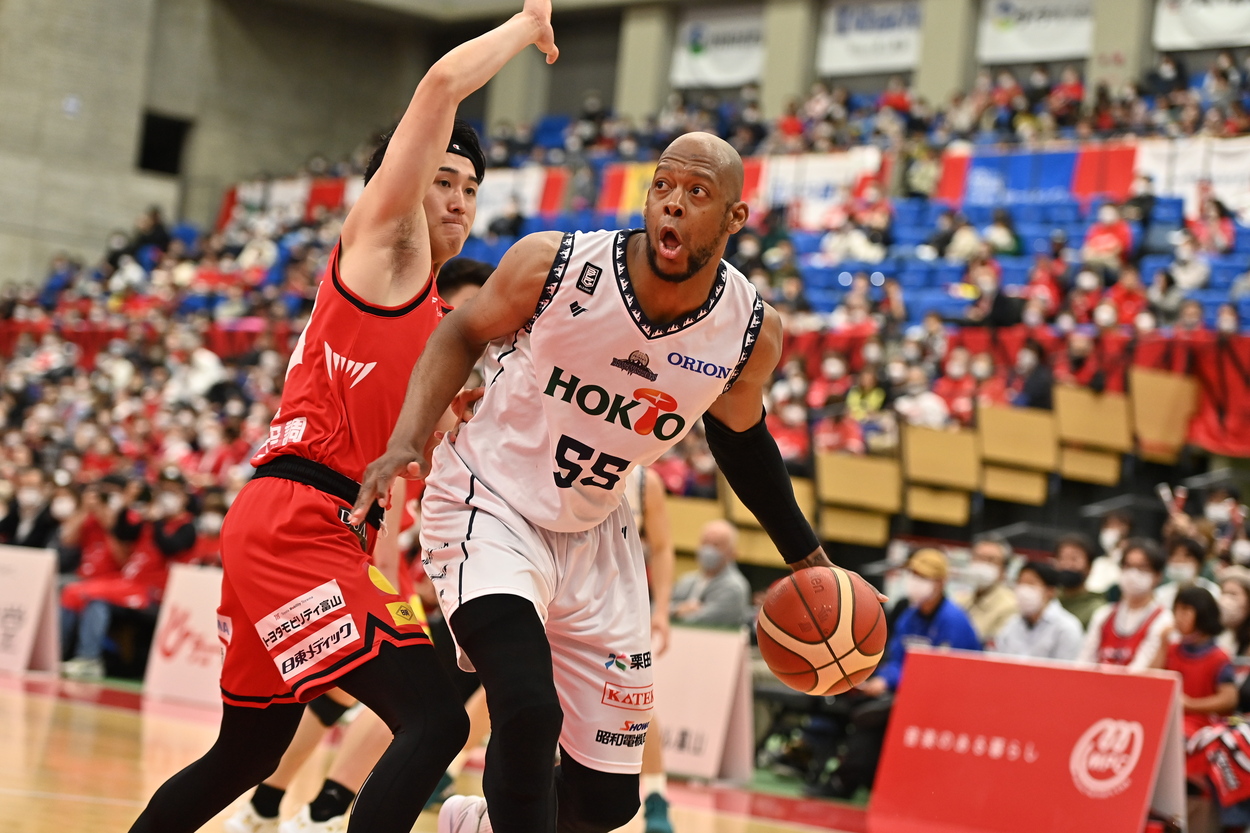 Anthony McHenry arrived in Japan in 2008 to play for the fledgling Ryukyu Golden Kings, a second-year franchise in the now-disbanded bj-league. McHenry made an immediate impact for the team, helping establish the Okinawa-based franchise's winning culture.
Ryukyu has had only one losing season (29-31 in the B.League's inaugural season, 2016-17) since McHenry, a former Georgia Tech guard/forward, laced up his sneakers to play for the team.
The Golden Kings captured the league title in McHenry's first season in Japan. After that, the team set the bar so high that it always expected to compete for a championship each season.
With McHenry as a consistently strong all-around player, the Golden Kings won three more bj-league titles (2011-12, 2013-14 and 2015-16), the first two of which came with now-retired center Jeff Newton, whose No. 50 jersey hangs in the rafters at Okinawa Arena.

McHenry's No. 5 jersey from his Ryukyu years (2008-17) will hang next to Newton's in the future. He's one of Japan's basketball legends in the 21st century.
The Alabama native, who now wears jersey No. 55, has suited up for the Shinshu Brave Warriors since 2017. His energy, leadership and hoop smarts helped the Nagano Prefecture-based club earn promotion from the B.League second division to the first division for the 2020-21 season.

Entering the final weekend of the 2022-23 season, Shinshu has a 27-30 record. Ten B.League teams have more wins, and the Brave Warriors will miss the eight-team playoffs.
McHenry spoke to SportsLook a few days after celebrating his 40th birthday on April 16.
This interview has been edited for length and clarity.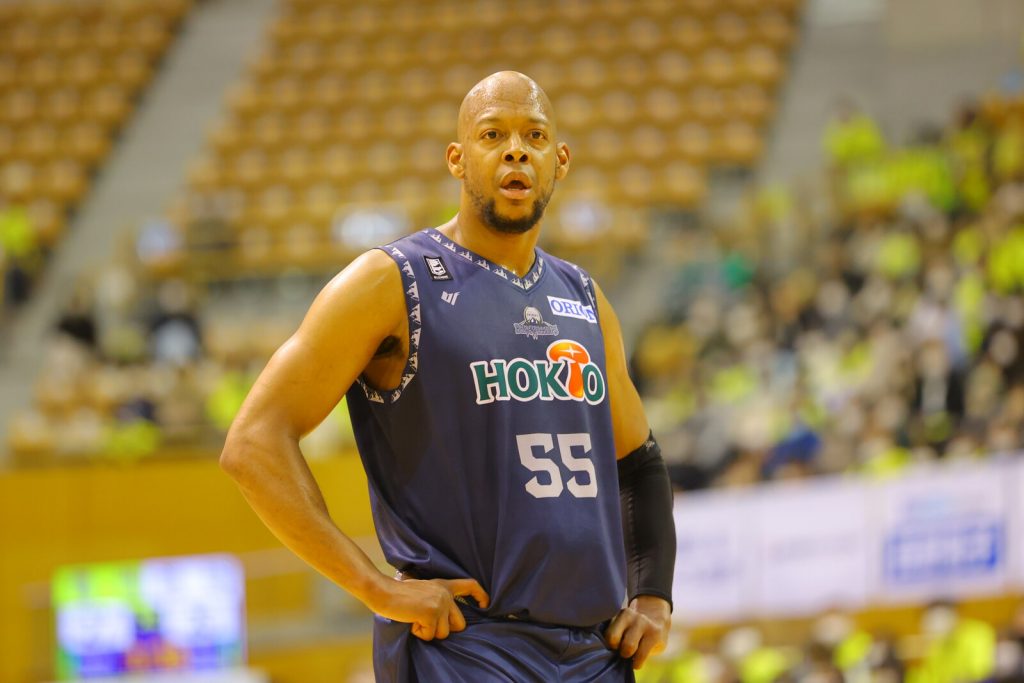 General Thoughts on 2022-23 Season
How would you say the season has gone overall for the team based on expectations and based on results?
I think our expectations were pretty high coming into the season. Based on those, I would say pretty up and down this season with the amount of injuries that we've had. With people in and out of the lineup, it was just tough to play up to the standard that we wanted to play at each night.
How would you evaluate your overall performance this season?
I would say it's the same as the team's production. It's up and down, with the lineups changing so much and the level of competition that we have to play against it was a tough season for us. We didn't land where we wanted to land and I think that goes for everybody individually as well as the team.
What are your thoughts on having a current 24-team top division compared with 18 or 20 teams as in past seasons? Does the number of teams match the talent pool? Or would you like to see, say, 16 or 18 teams in B1?
I would say it's a good number. We pretty much cover the terrain of Japan, and the more teams that you have, the more opportunities that you get as players to play, so I'm always for that.
As far as the competition goes, I think that Japan is producing better and better players each year, and with the bottom two teams going down and the top teams in B2 coming up, I think it also provides a competitive spirit of the leagues where it incentivizes you to be productive every year.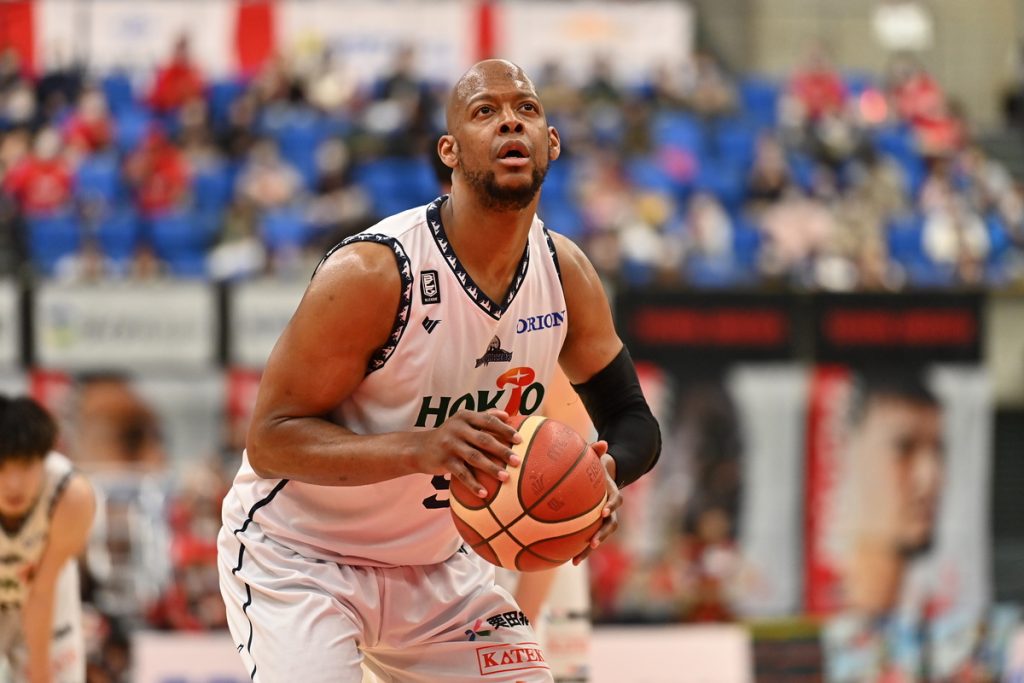 Reflections on McHenry's Role as a Player
On the Georgia Tech athletics website, McHenry's profile page includes the following description of him: "Didn't light up the box score often, but was one of the unsung heroes for Georgia Tech during his four years."
What is your reaction to that description of the way you played in college? And is that a good description of your playing style as a pro?
I would say so. I think it's pretty accurate. Like it says, I don't have the stats that some players have, but I feel like I did have an impact on those teams that I was on. When I was able to get minutes, I played with some really talented guys so just trying to find my way on the court.
Sometimes you have to do things to just make an impact. That might not show up on the stat sheet, and I try to pride myself on doing those things and in doing so my teammates trusted me more and so did the coaches and they got me the minutes that I could to try to have a successful career in college. With that said, I pretty much think I carried that throughout my entire career here.
Most of the time I'm not the top scorer or rebounder, but I try to do whatever the team needs me to do in order to get a win.
Of all the college players you competed with, who are the ones that you think need to be remembered and called the top guys among your teammates?
[Hall of Famer] Chris Bosh comes to mind, of course everybody knows his resume.

But as far as other guys from that Final Four team (in 2004, Georgia Tech was the tourney runner-up to UConn), we are still really close and I don't really look at those guys as top guys as much as I do brothers.
[Longtime NBA guard and current Phoenix Suns assistant coach] Jarrett Jack, I still talk to him to this day. I meet up with a lot of my old teammates still to this day and our families know each other. We've grown from being college teammates to being lifelong friends.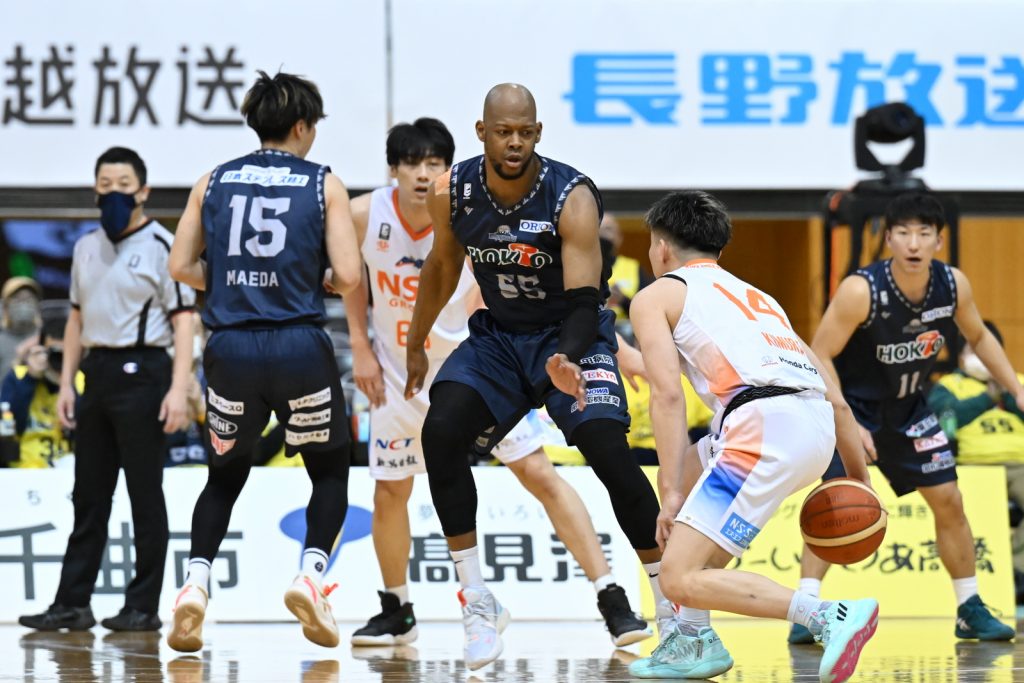 McHenry Reveals Biggest Thrills
What was your biggest thrill as a player? Was it a particular game or an unforgettable moment or game highlight?
I would say that the entire tournament experience was the highlight of my career and not only because of the scale of things ― March Madness is huge in the United States ― and being at those games and seeing the amount of people that show up for 'em is a little bit overwhelming.

But the people that I was able to go through it with were just some really good people, coaching staff and teammates, and for us to be able to share that, I think that's the biggest highlight of anything that I've done, professional or amateur.
A 40th Birthday to Remember
Did the Brave Warriors intend for you to have your season-high scoring performance (26 points) on your 40th birthday against the Toyama Grouses? Was that part of the game plan?
No, it was not [part of the game plan]. We were down, we came out flat, and if you look at the game, I played horrible in the first half (four points). So we were just trying to fight back and get into the game.
(Check out game highlights on Shinshu's YouTube channel. Toyama won 102-96.)

Playing in Japan for 15 consecutive seasons is a special achievement. Many overseas players wind up playing in numerous countries in their careers. So have you received advice from a coach, or agent or someone you consider an important mentor to seek continuity in your career?
There's never been any official advice. One of my good friends that actually got me over to Japan (former Indiana University player) Jeff Newton, I watched the way his career went. Just being loyal to the organizations that are loyal; I don't like moving around a lot. I like working with the people that I know, and it kind of just worked out that way where I wanted to stay and the teams that I've been on so far have wanted me to stay.
It's been a good career. I can't complain.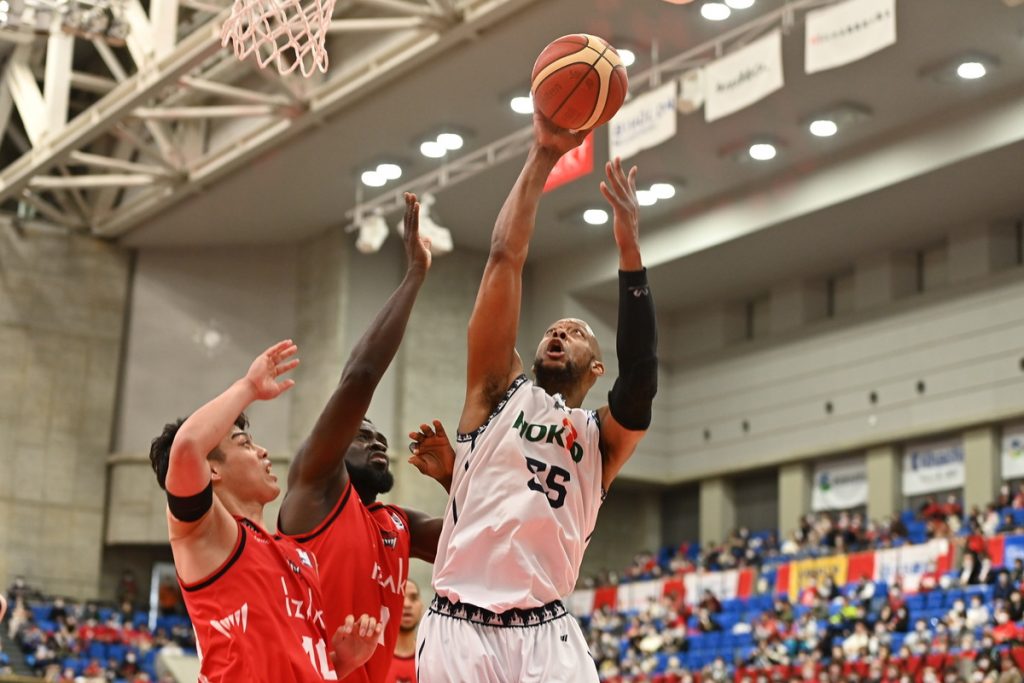 Looking Beyond the 2022-23 Season
Have you thought about playing beyond this season? Do you want to continue playing?
At this juncture of my career, I'm just taking it year by year. Of course, I have a family now, a wife and kids, that I have to think about, and I'm not able to have them with me [in Japan] like I have in the past, so it's just something you talk about with your family and you make decisions together.
But as long as I'm healthy and teams want me around, you never know what might happen.

Are you interested in working for a pro team in the future in the front office or in a coaching or scouting role or as an agent?
I've had thoughts about coaching or front office work, but I haven't dove too much into anything.
Japanese Culture and Respect from Teammates
Are there aspects of Japanese culture that you particularly like that you'd also like to see become bigger characteristics of America?
The cleanliness, I would say. This country is one of the cleanest places I've ever been, including the trains and any public places, and how the people that live in the community actually take care of the community themselves. … I wish we could adopt that more [in the United States], where it's more of a national thing like it is here.

What's the biggest compliment you've received from a Japanese player, coach or fan about your basketball impact here?
At this point in my career, they call me "sensei" (master). I don't know if it's an age thing or because I have a lot of experience. But for the younger players to call me that, as opposed to grandpa or something like that, I take it as a compliment.
When I first got here, a lot of my teammates commended me on how hard that I played and I take pride in that, especially with my teammates, because you get the honesty from your teammates.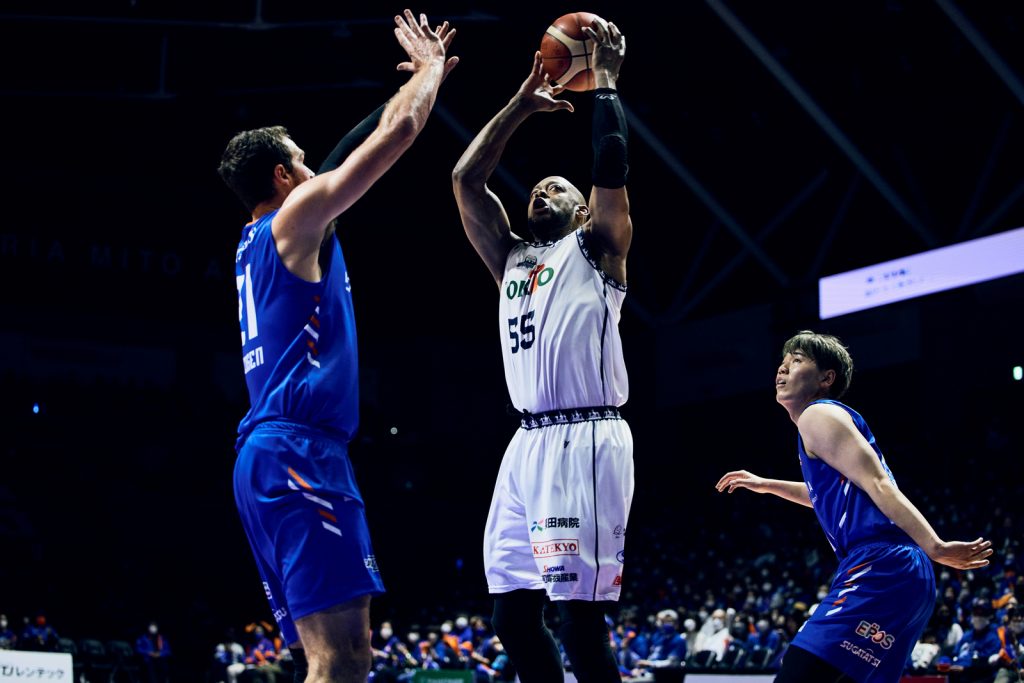 Impressions of Top Japanese Players
Who are four or five of the best Japanese players you've competed with and against in your career here?
Yokohama B-Corsairs point guard Yuki Kawamura, the first iteration of him that I've seen was [Chiba Jets star] Yuki Togashi, and the first time I'd seen him was in the 2014 bj-league championship game against the Akita Northern Happinets. They both are tremendous talents.
[Utsunomiya Brex guard] Makoto Hiejima comes to mind as well. He's really a guy that's capable of taking over a game no matter who's guarding him, an American or a Japanese player. Just a really good, smart player with size.

And after that, I would have to say Ryuichi Kishimoto (Golden Kings) and Narito Namizato (currently with the Gunma Crane Thunders; former Golden Kings star). I watched their careers become what they are now, and the leaps and bounds that they've made in the time that I met them to this point. They are two of the best in the league at their spots, and I'm proud of whatever part I played in that.
Thoughts on Basketball Legacy in Japan
How would you define your legacy as a pro basketball player in Japan?
I wouldn't define it; I think it's up to other people to define.
I just try to be the guy that shows up every day that's ready to work, and I try to be helpful to my teammates and kind to everyone … and I want to win. And I want my teammates to feel that way once I step onto the court.
RELATED:

Author: Ed Odeven
Find Ed on JAPAN Forward's dedicated website, SportsLook. Follow his [Japan Sports Notebook] on Sundays, [Odds and Evens] during the week, and Twitter @ed_odeven.