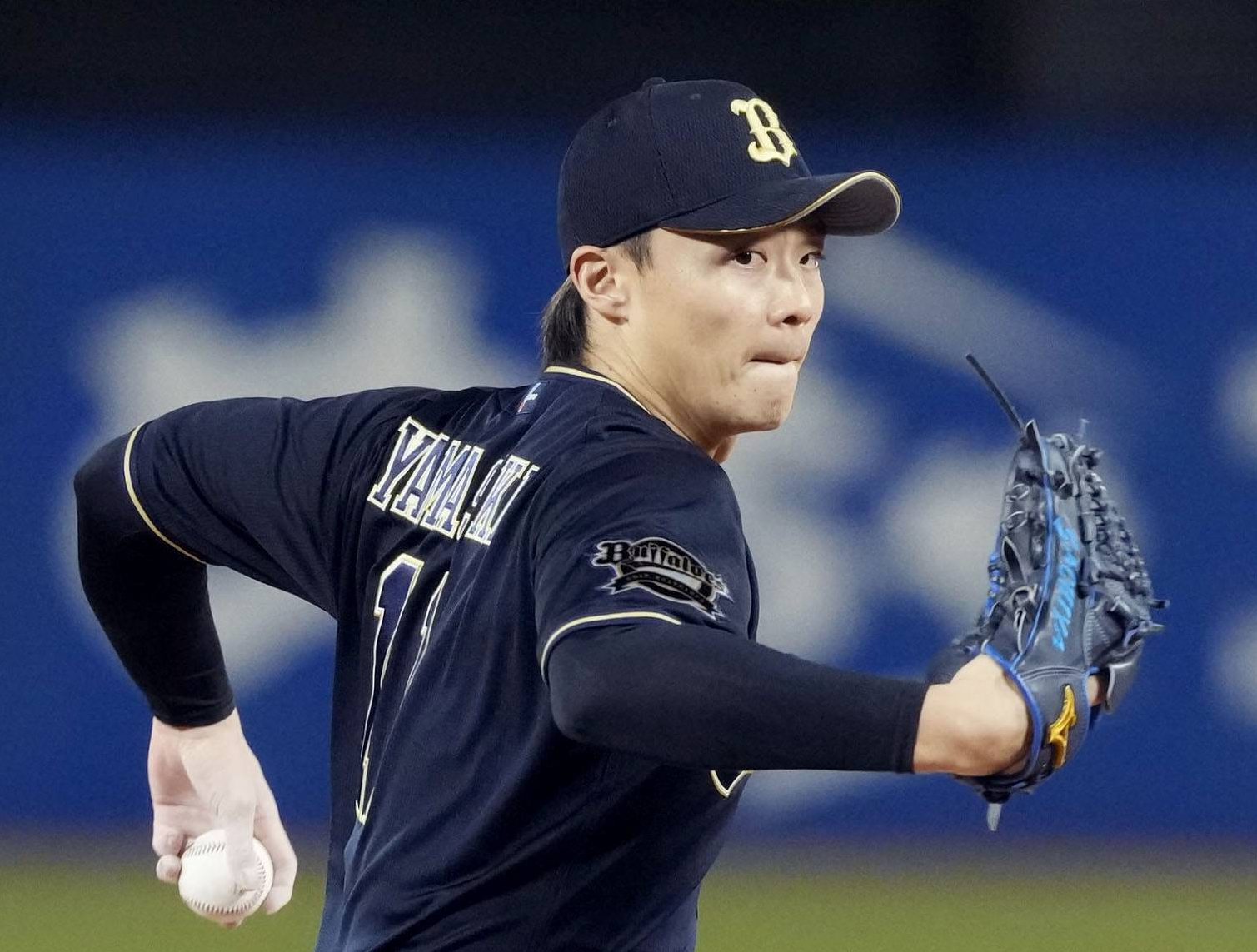 Orix Buffaloes starter Sachiya Yamasaki and four relievers pitched a combined one-hitter in Game 6 of the Japan Series on Saturday night, October 29.
The Buffaloes broke a scoreless tie on Yutaro Sugimoto's single with two outs in the sixth inning and added two more in the ninth off struggling closer Scott McGough in a 3-0 road victory over the reigning champion Tokyo Yakult Swallows at Jingu Stadium.
Game 7 is set for 6:30 PM on Sunday at the same venue. If necessary, a Game 8 will also be played at Jingu on Monday night. (A 3-3 tie in Game 2 led to these unusual circumstances in the best-of-seven series.)
The Buffaloes are one win away from capturing their first Japan Series title of the 21st century. The current franchise was a merger of the Orix BlueWave and Kintetsu Buffaloes, two Pacific League rivals, after the 2004 season.
Orix, known as the Hankyu Braves under previous ownership, won three straight championships from 1975-77, and another as the BlueWave when Ichiro Suzuki was a top star in 1996.
"[We are] one win away from becoming number one in Japan," Buffaloes manager Satoshi Nakajima said, according to Chunichi Sports. "We've come this far, but last year and this year we won the [Pacific League] without magic, so I don't know what it is."
Yamasaki pitched five innings and Yuki Udagawa, Yoshihisa Hirano, Soichiro Yamazaki and Jacob Waguespack worked one inning apiece in succession. The starter fanned five batters and Orix's first three relievers each recorded two strikeouts. Waguespack had one strikeout.
In the ninth, Waguespack retired Tetsuto Yamada, Munetaka Murakami and Jose Osuna to preserve the shutout.
Buffaloes Extended Their Lead in Ninth
Moments earlier, pinch hitter Masahiro Nishino hit a sacrifice fly in the top of the ninth to extend the Buffaloes' lead to 2-0. He was Orix's fourth batter of the inning. Leadoff man Ryoichi Adachi singled to left off McGough, whose throwing error on the next batter Kotaro Kurebayshi's sacrifice bunt attempt put the Buffaloes in good position to score again.
Following Nishino's heroics, McGough walked the next batter, Ryo Ohta, with two outs, and Yakult manager Shingo Takatsu brought in Takuma Kubo to pitch to Yuma Mune.
Mune singled to left to make it 3-0 before Kubo got Keita Nakagawa to hit a groundout to shortstop.
Pitchers Set the Tone
A classic pitcher's duel captivated the attention of both teams' fans.
Swallows hurler Yasuhiro Ogawa and Yamasaki were both making their second start of the series.
Ogawa, who worked five innings in Game 1, fanned five batters through the first five innings, yielding just a pair of hits, including one to leadoff hitter Ohta in the first inning.
Yamasaki, who lasted four innings in Game 2, tossed 70 pitches over the first five frames, allowing a single hit while fanning three batters.
In the sixth, the 21-year-old Ohta, who played in 32 regular-season games, led off the inning with a single to left.
Three batters later, Game 5 hero Masataka Yoshida walked with two outs. Sugimoto followed with an opposite-field single to right, scoring Ohta.
"I knew that Masataka Yoshida was forced to walk, so I'm glad he [Sugimoto] hit it well, because we can't win if he doesn't hit it," Nakajima said in an on-field interview after the game.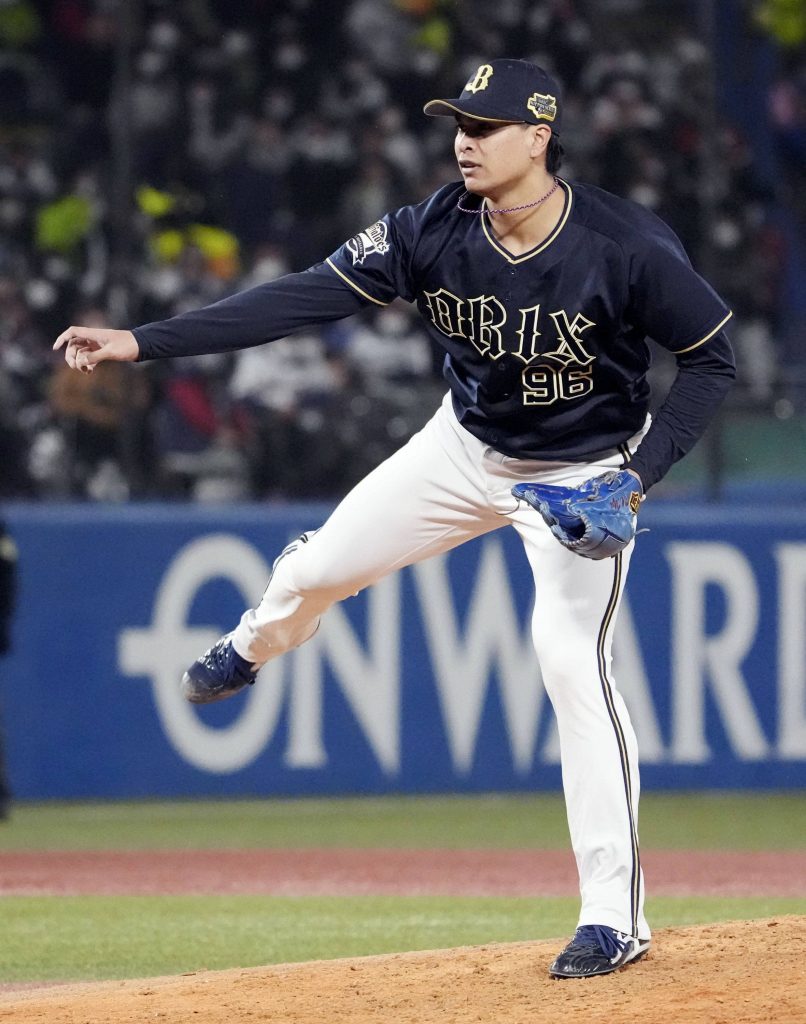 Udagawa Works Out of a Jam
For the Buffaloes, Udagawa took over the pitching duties in the sixth.
With two outs, Udagawa issued back-to-back walks to Yamada and Murakami, who bashed 56 homers in the regular season, as the Swallows tried to rally past the visitors. Murakami, the Central League's Triple Crown winner, is batting 4-for-22 in the Japan Series, including 0-for-9 and four walks in Games 4, 5 and 6.
Udagawa struck out Osuna to end the scoring threat.
"I was able to hold down a [lead] several times during the season, which led to my confidence," Udagawa said of his mindset on the mound in Game 6, according to Chunichi Sports.
Ogawa departed the game after making 88 pitches and allowing one run and four hits in six innings. Reliever Naofumi Kizawa, a nine-game winner during the regular season, became Yakult's second pitcher of the night.
The Buffaloes turned to Hirano in the seventh to preserve their slim lead. He worked a scoreless inning and fanned Domingo Santana and Hideki Nagaoka in succession to end the inning.
RELATED:
Author: Ed Odeven
Follow Ed on JAPAN Forward's [Japan Sports Notebook] here on Sundays, in [Odds and Evens] here during the week, and Twitter @ed_odeven.