Flying Monkey Tobizaru Records Another Big Upset at Autumn Basho
Two days after beating yokozuna Terunofuji, the top maegashira took down ozeki Mitakeumi for the first time.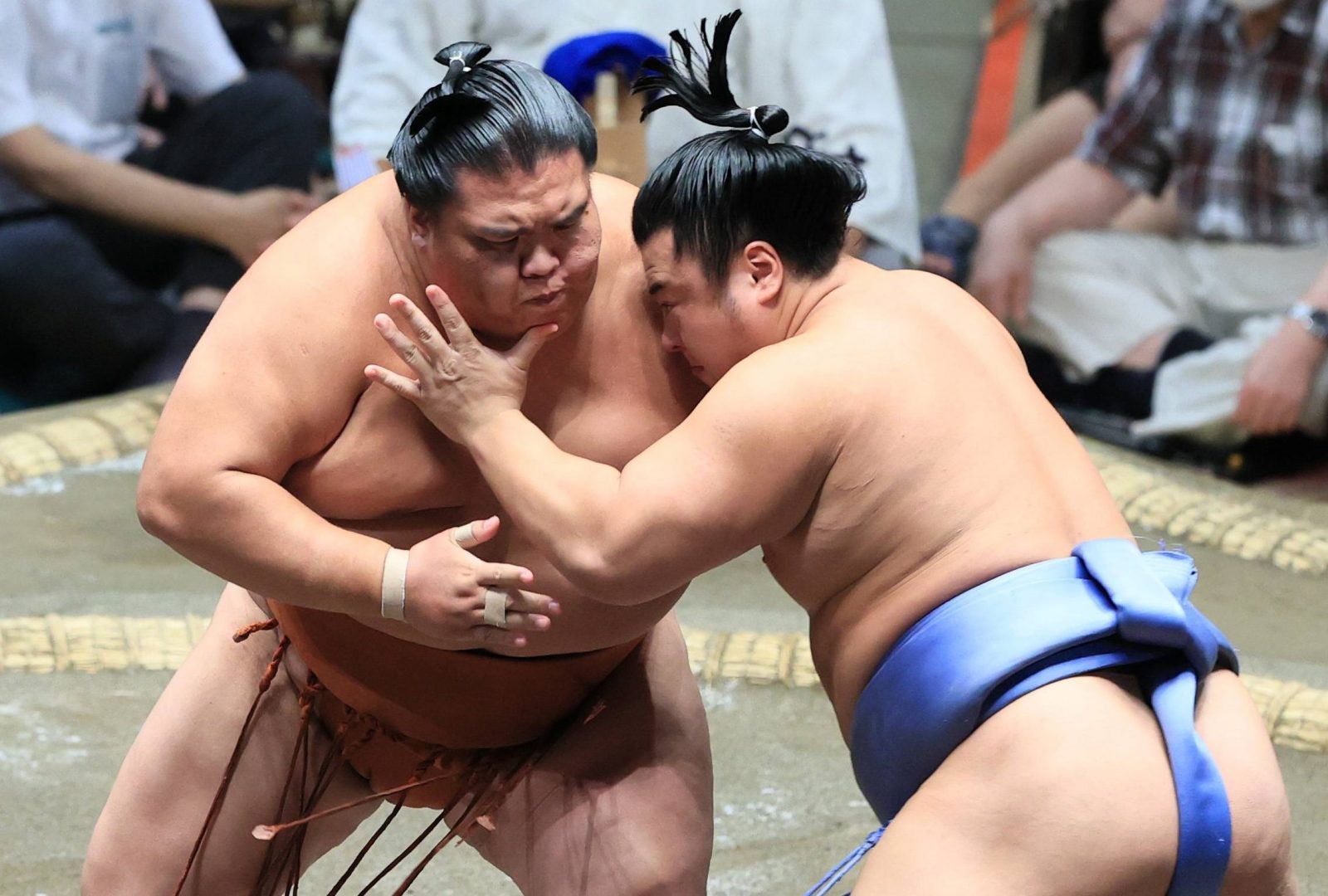 Sumo's Flying Monkey Tobizaru claimed his second major upset of the Autumn Grand Sumo Tournament on Wednesday, September 14 with an impressive win over ozeki Mitakeumi.
Tobizaru got a double-handed grip on the belt of Mitakeumi shortly after the face-off and shoved the stunned ozeki out to give both wrestlers a 2-2 record.
Tobizaru also defeated lone grand champion Terunofuji on Day 2 and won for the first time against Mitakeumi, who needs a winning record in this tournament to maintain his ozeki status.
"I was able to stay on the attack," said top maegashira Tobizaru. "I really wanted to beat the ozeki. I practice very hard every day and my body is in good form as a result of that."
Tamawashi Wins Again
In other major bouts, veteran Tamawashi used a powerful thrust to the neck to manhandle ozeki Shodai and maintain a share of the lead at 4-0. Shodai won his opening-day bout but has lost three straight since and fell to 1-3.
"I was able to stay offensive and keep going forward," said Tamawashi, who faces Terunofuji on Day 5. "I am just taking care of things one day at a time. I just want to do my style of sumo."
Tamawashi is tied with rank-and-filers Wakamotoharu, Hokutofuji and Oho.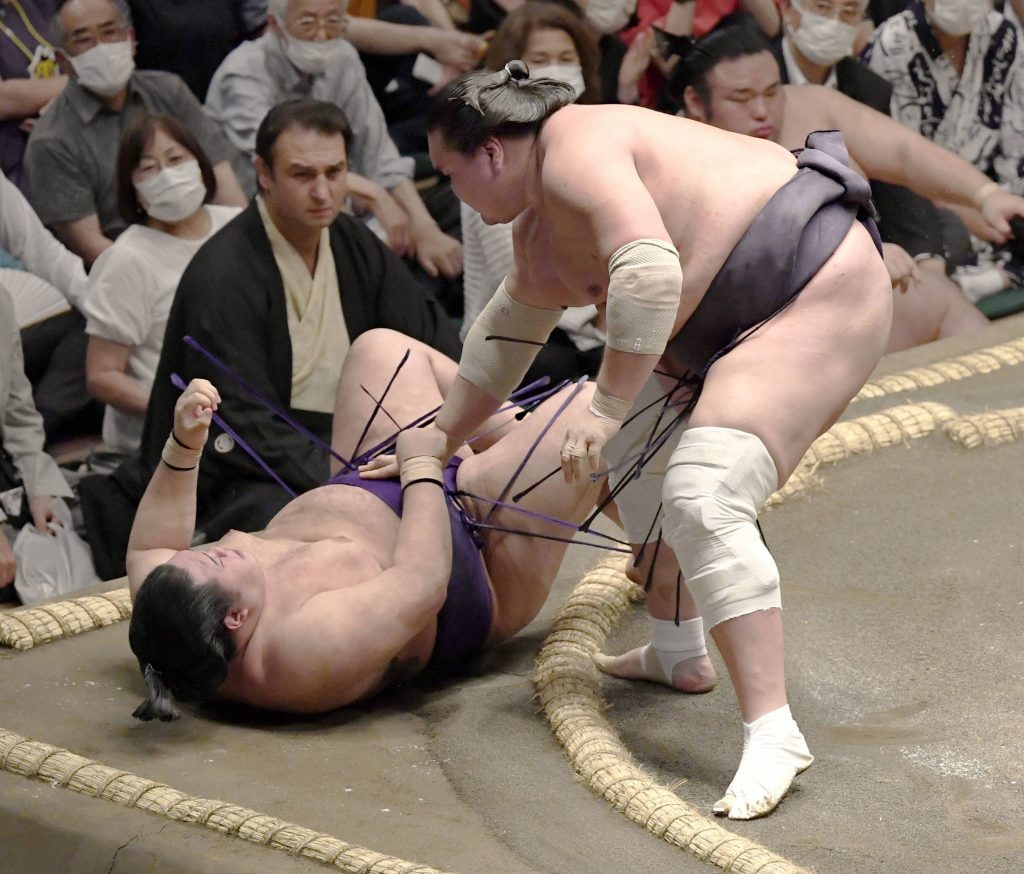 Terunofuji Triumphs over Meisei
Grand champion Terunofuji used an arm-barring force-down to defeat No. 2 maegashira Meisei (2-2) and improve to 3-1 in the day's final bout at Ryogoku Kokugikan.
Terunofuji is bidding for his eighth Emperor's Cup and has looked solid other than the loss to Tobizaru.
Ozeki Takakeisho used a series of ferocious thrusts and roundhouse slaps to the head to defeat Kotonowaka and improve to 3-1. No. 2 maegashira Kotonowaka dropped to 1-3.
Wakamotoharu overpowered Endo with a frontal thrust-out, taking advantage of his powerful arm thrusts to the neck of his fellow sixth-ranked maegashira to stay perfect at 4-0. Endo dropped to 1-3.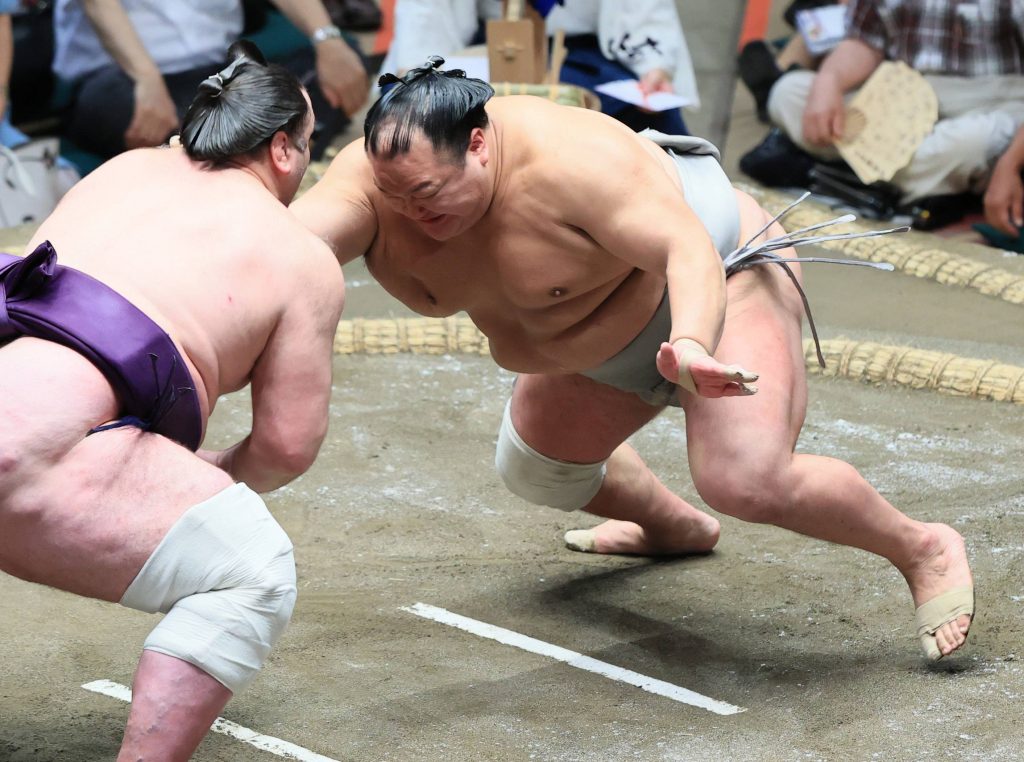 Hokutofuji Still Unbeaten
No. 8 maegashira Hokutofuji maintained a share of the lead at 4-0 with a comprehensive frontal push-out of Georgian Tochinoshin.
Tochinoshin, also at No. 8, tried to swat down his opponent at the edge but ran out of real estate and dropped to 2-2.
Further down the ranks, No. 13 maegashira Oho used a strong pushing technique to drive veteran Okinoumi back and out to go to 4-0. Okinoumi, ranked No. 12, dropped to 2-2.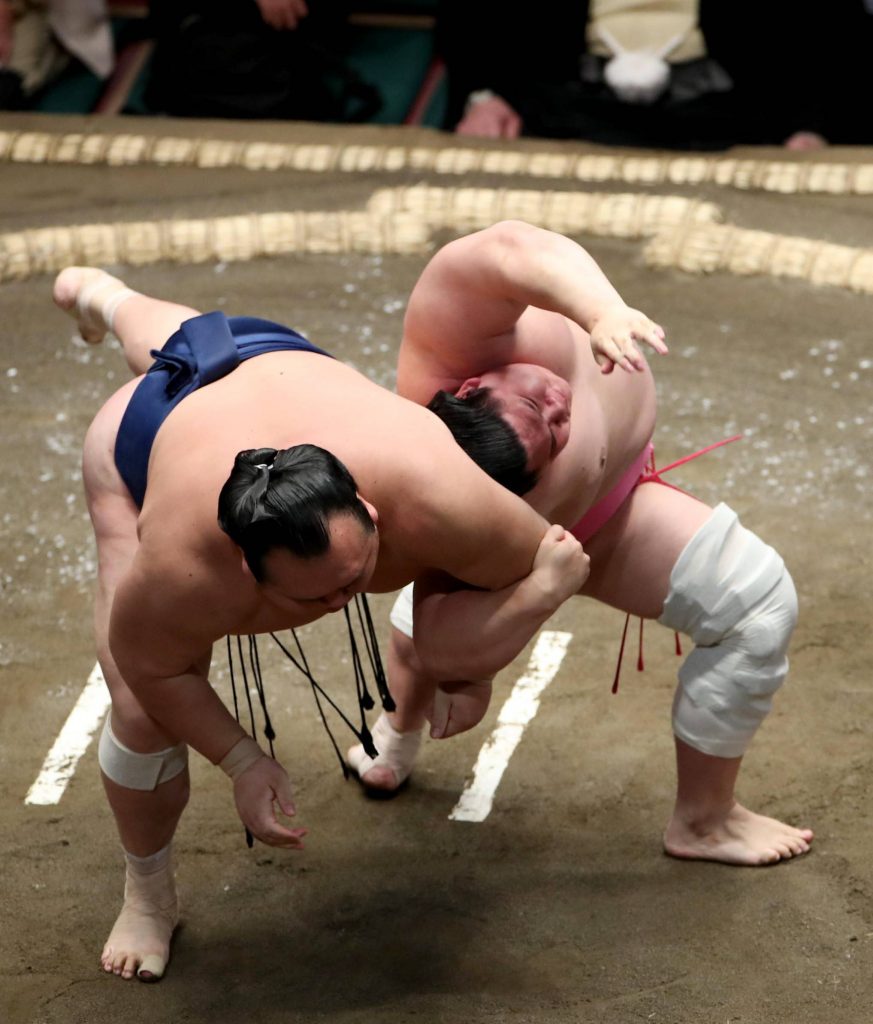 No. 3 maegashira Ura went into his bag of tricks and used a very rare tsutaezori technique to defeat winless No. 5 maegashira Takarafuji.
With the move, Ura, who improved to 3-1, ducked his head under the arm of Takarafuji and bent his body backward to take his opponent down.
The last wrestler to use the technique was Mongolian yokozuna Asashoryu way back in 2002.
July tournament winner Ichinojo, a komusubi, spun Daieisho (1-3) around after the face-off and shoved the sekiwake out to improve to 2-2.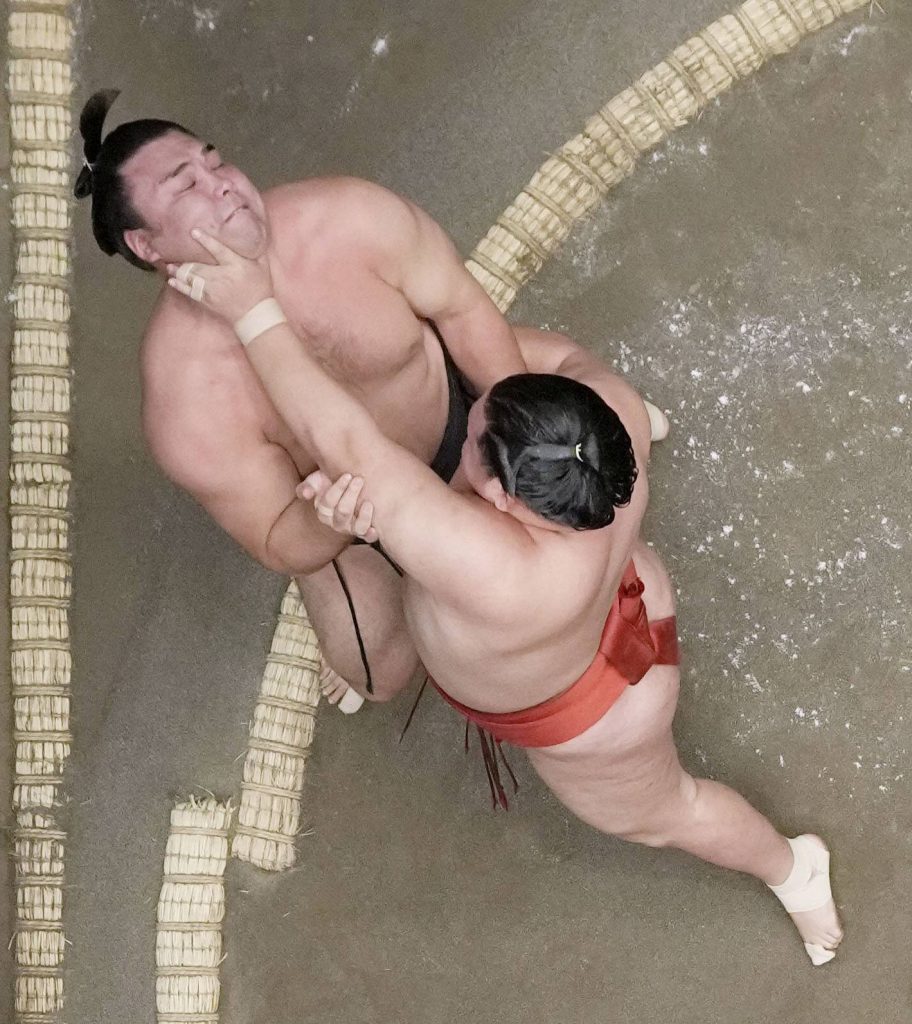 Hoshoryu Reaches Milestone
In an all-Mongolian showdown, Hoshoryu dodged to his right at the face-off, got a right-hand grip on the belt and used a frontal force-out to defeat Kiribayama and improve to 3-1.
It was the 100th makunouchi win for sekiwake Hoshoryu, who is the nephew of Asashoryu. Komusubi Kiribayama dropped to 2-2.
Sekiwake Wakatakakage used a ferocious left-hand slap down of Midorifuji to pick up his first win and improve to 1-3. Top maegashira Midorifuji, who was momentarily down for the count at the side of the ring, fell to 1-3.

Author: Jim Armstrong
The author is a longtime journalist who has covered sports in Japan for more than 25 years. You can find his articles here.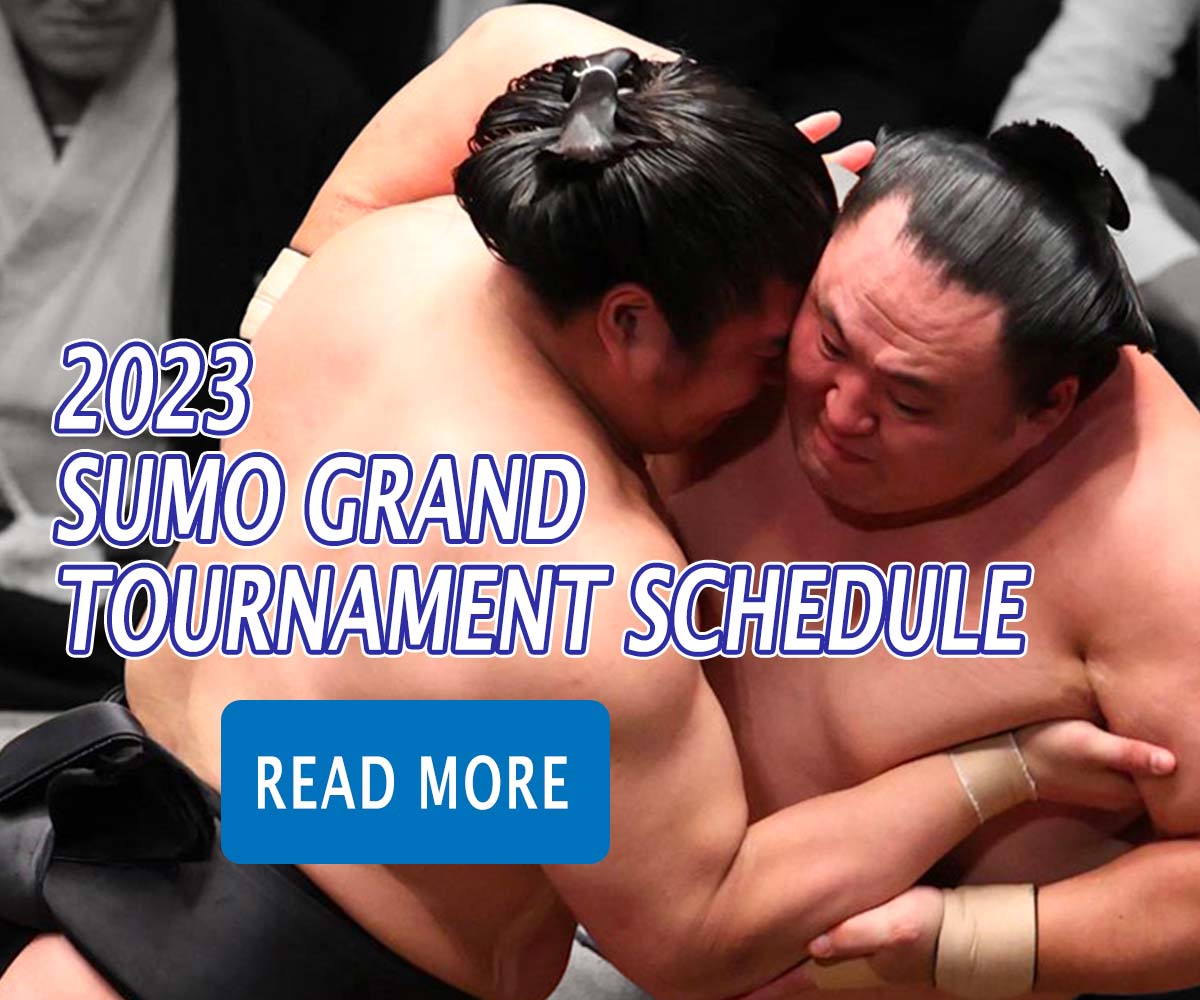 Subscribe to Our Newsletter