Tamawashi stunned grand champion Terunofuji and maintained a share of the lead with fellow rank-and-filers Oho and Hokutofuji on Thursday, September 15, Day 5 of the Autumn Grand Sumo Tournament.
In the day's final bout at Ryogoku Kokugikan, Mongolian Tamawashi sent the lone yokozuna back seconds after the face-off with several arm thrusts to the neck.
The veteran No. 3 maegashira then got under the arm of Terunofuji and used a frontal force-out with a grip on the belt to improve to 5-0 with yet another kinboshi victory.
Terunofuji, who seemed overwhelmed by his wily compatriot, dropped to 3-2. He's not out of contention yet but can ill afford many more losses if he wants to hoist his eighth Emperor's Cup on Day 15.
"I just tried to move forward as I always do," said Tamawashi, who now has seven kinboshi wins over grand champions. "I'm not thinking about the championship yet. Just aiming for a winning record."
Hoshoryu Improves to 4-1
A large group of six wrestlers, including ozeki Takakeisho and sekiwake Hoshoryu, are just one win off the pace at 4-1.
Mongolian Hoshoryu got a left-hand grip on the belt of Daieisho and waltzed his fellow sekiwake out to stay one win off the pace. Daieisho came into the tournament with hopes of contending but at 1-4, his chances have faded fast.
Human cannonball Takakeisho used his trademark pushing and shoving techniques to stand up Meisei before thrusting the No. 2 maegashira down.
Ozeki Takakeisho moved to 4-1 while Meisei fell to 2-3.
Ozeki Mitakeumi prevented Ura from any trickery and used a dominant push-down maneuver to send the No. 3 maegashira toppling off the raised ring for his second loss against three wins.
Ura, who has a tendency to attempt leg picks, used a very rare tsutaezori technique a day earlier but had no chance for anything unorthodox against the determined ozeki who improved to 3-2.
No. 2 maegashira Kotonowaka (2-3) came bursting out of the face-off and simply overwhelmed ozeki Shodai, who lost his fourth straight day and dropped to 1-4.
"I was able to move forward and establish my brand of sumo," Kotonowaka said. "I'm just focusing on things one day at a time."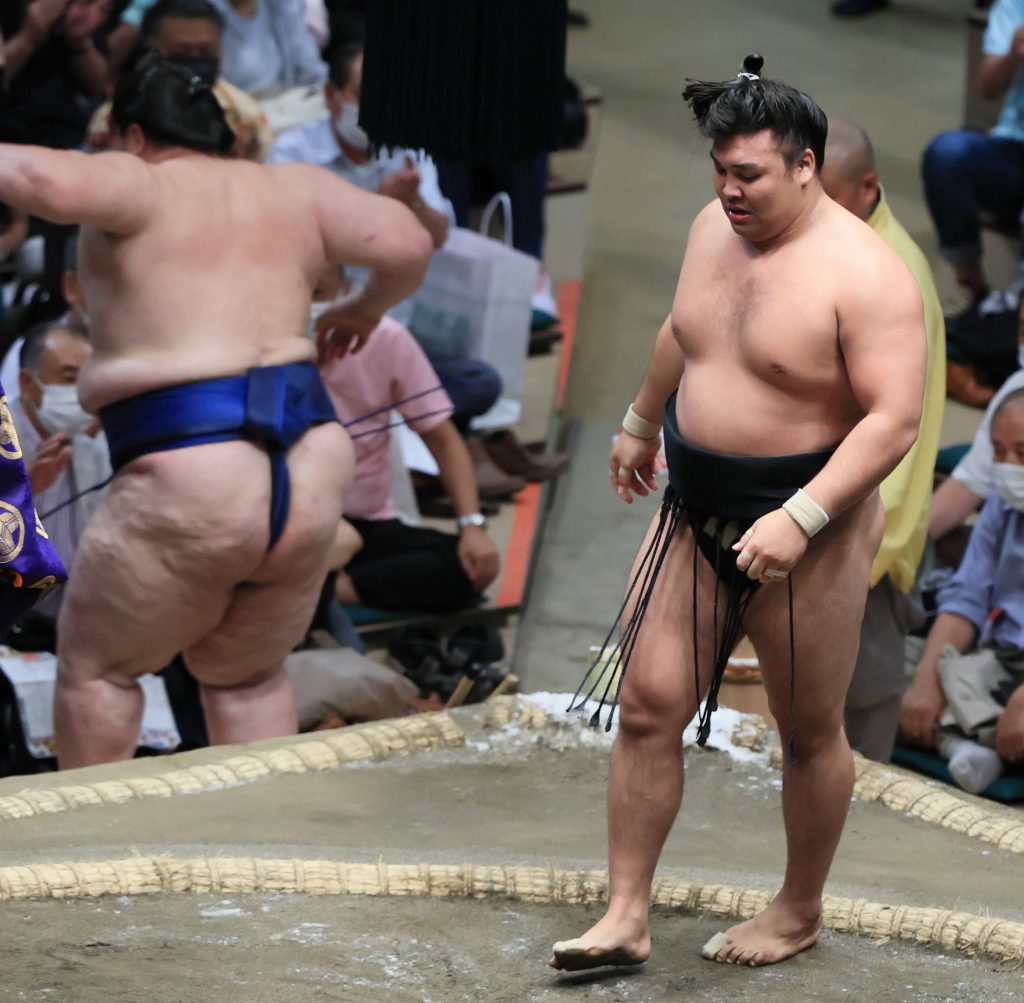 Kiribayama Outlasts Ichinojo
In a marathon bout that lasted 2 minutes and 14 seconds, Mongolian komusubi Kiribayama finally prevailed when he shoved out compatriot Ichinojo.
Kiribayama picked up his third win against two losses while komusubi Ichinojo dropped to 2-3.
Sekiwake Wakatakakage exerted his influence and power to bulldoze upset-minded Tobizaru out over the straw bales to win his second straight bout and improve to 2-3.
Top maegashira Tobizaru, who upset ozeki Mitakeumi the previous day and Terunofuji on Day 2, also stands at 2-3.
Fourth-ranked maegashira Takayasu dropped Wakamotoharu from the leaderboard when he got a left hand inside on the sixth-ranked maegashira before shoving him out to leave both men at 4-1.
No. 8 maegashira Hokutofuji (5-0) deployed a powerful frontal force-out of ninth-ranked Kotoeko (1-4).
Further down the ranks, No. 13 maegashira Oho overpowered No. 15 Terutsuyoshi (1-4) to maintain his share of the lead at 5-0.


Author: Jim Armstrong
The author is a longtime journalist who has covered sports in Japan for more than 25 years. You can find his articles here.