Terunofuji Drops Second Straight at Autumn Basho to Fall Further Behind
The lone grand champion has looked out of sorts and trails co-leaders Tamawashi and Hokutofuji by three wins.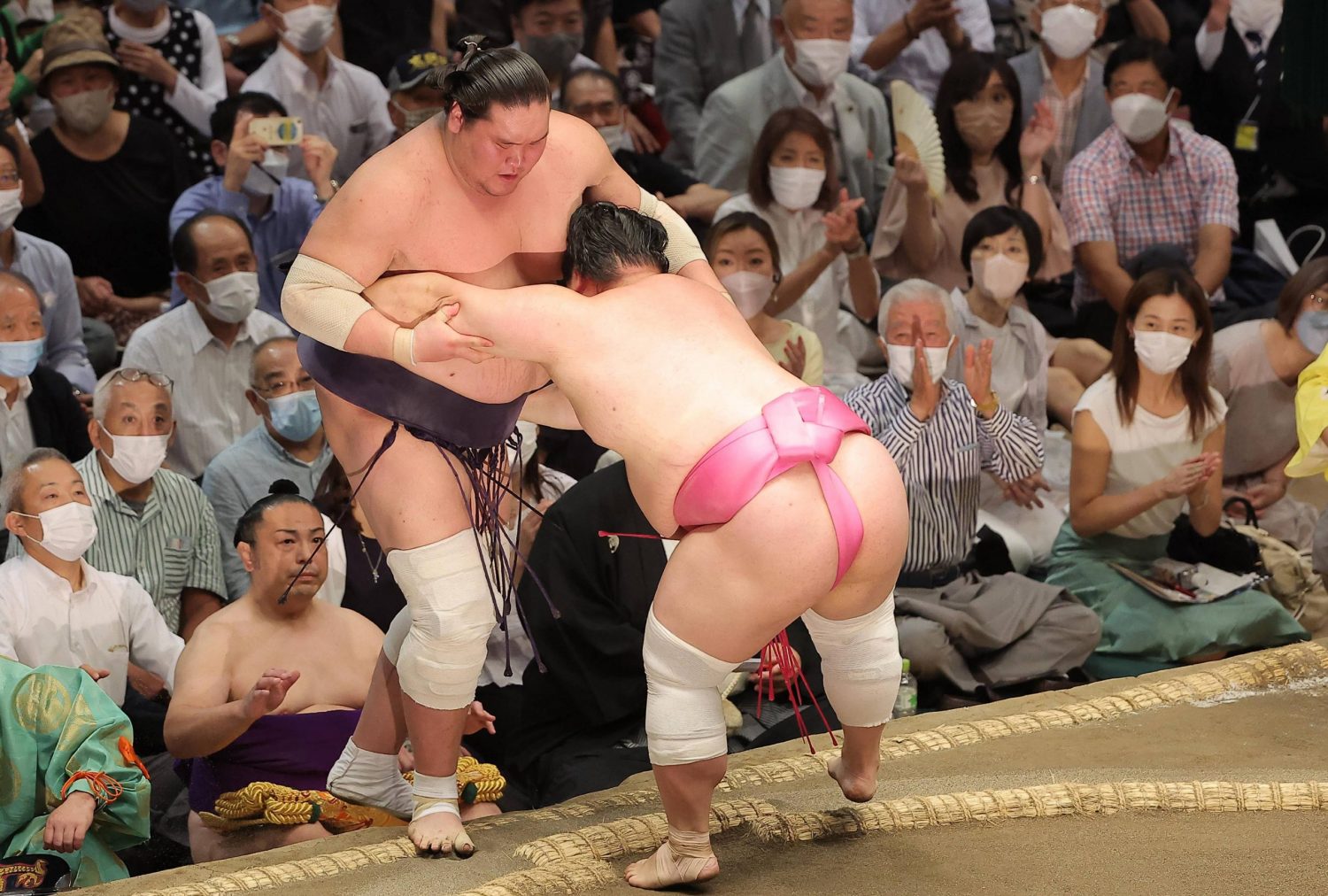 Grand champion Terunofuji is in trouble at the Autumn Grand Sumo Tournament.
The lone yokozuna suffered his second straight loss at the hands of rank-and-filer Ura on Friday, September 16 to fall three wins back of co-leaders Tamawashi and Hokutofuji nearing the midway point of the 15-day tournament.
In the day's final bout at Ryogoku Kokugikan, Ura and Terunofuji exchanged a series of slaps and thrusts to the head and upper body before Ura got both arms around the upper chest of the yokozuna and shoved him out to the delight of the near-capacity crowd.
It was the second kinboshi victory and the first against yokozuna Terunofuji for Ura, who improved to 4-2. Terunofuji dropped to an un-yokozuna like 3-3.
"I just attacked with all I had," Ura said. "I was able to achieve that win and am happy with the result. I'll just try to keep racking up the wins."
Terunofuji is bidding for his eighth Emperor's Cup but another loss would put him in a hole that would be nearly impossible to climb out of.
Veteran Tamawashi extended his longest winning streak when he swatted down ozeki Takakeisho in a matter of seconds to remain tied for the lead at a perfect 6-0.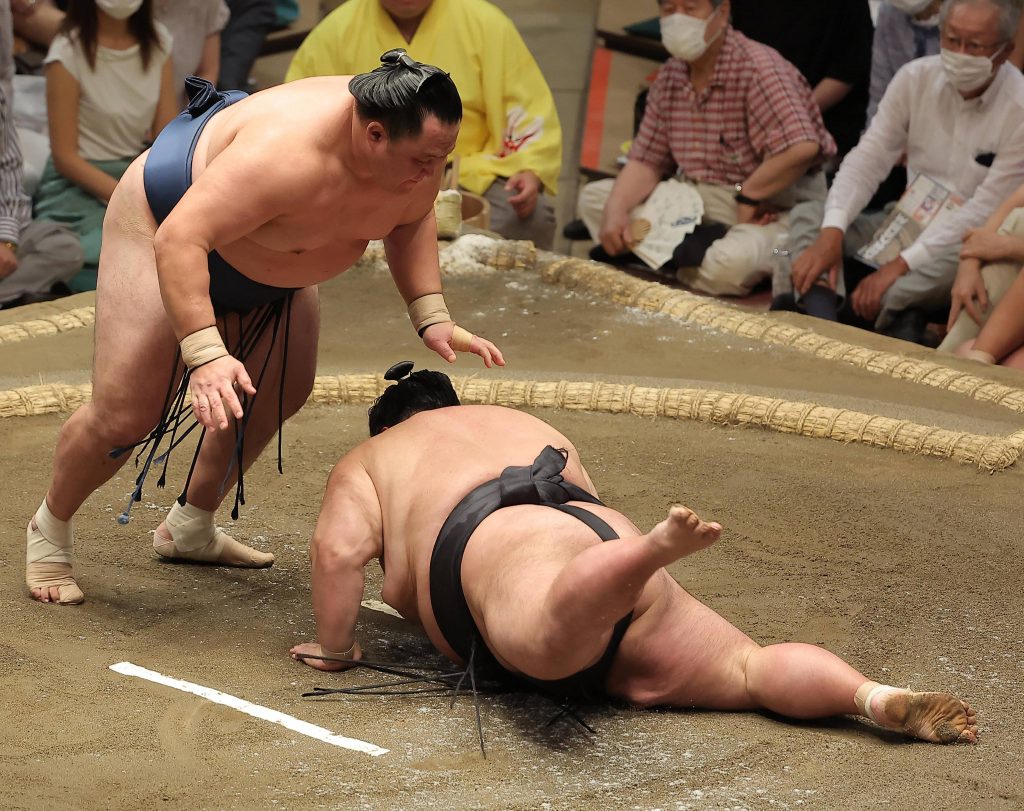 The 37-year-old Mongolian wasted little time when he got a hand on the back of Takakeisho shortly after the face-off and slapped the Tokiwayama stable wrestler down at the center of the ring.
"It wasn't the best sumo but it was better than losing," Tamawashi said. "I just want to concentrate and I'm not thinking about the championship yet. I'll go to bed early tonight and wake up early tomorrow as I always do."
Tamawashi has championship experience. He won the New Year Basho in 2019 with a stellar 13-2 record.
Takakeisho, who has used some brutal slapping techniques in previous bouts, got a taste of his own medicine and dropped to 4-2.
Hokutofuji maintained a share of the lead in a closely contested bout with Nishikifuji.
No. 8 maegashira Hokutofuji maneuvered Nishikifuji (4-2) to the edge where the 10th-ranked maegashira stepped out over the edge, ensuring that Hokutofuji improved to 6-0.
No. 2 maegashira Kotonowaka displayed superb footwork on the edge of the ring when he stood on one leg and swatted down ozeki Mitakeumi to give both wrestlers a record of 3-3.
Wakamotoharu Outmuscles Onosho
Sixth-ranked maegashira Wakamotoharu stayed in the chase pack at 5-1 when he got a left arm inside on Onosho and thrust the seventh-ranked maegashira out to his fourth loss against a pair of wins.
Former ozeki Takayasu, a fourth-ranked maegashira, used a vicious thrusting attack to send diminutive top maegashira Midorifuji toppling off the raised ring to improve to 5-1. Midorifuji put up little resistance and fell to 2-4.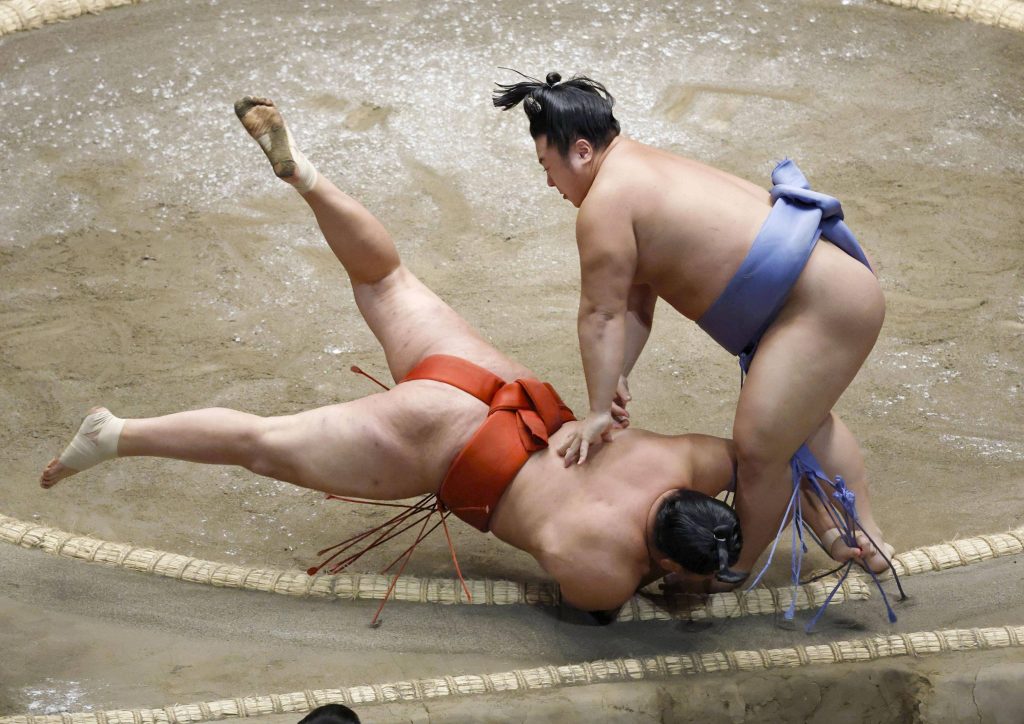 Tobizaru scored yet another upset when he swatted down in-form sekiwake Hoshoryu to improve to 3-3.
Top maegashira Tobizaru has now beaten a grand champion, an ozeki and a sekiwake in this tournament. Mongolian Hoshoryu had won four in a row but dropped to 4-2 with Friday's loss.
Sekiwake Wakatakakage overcame an 80-kilogram weight difference to shove July tournament winner Ichinojo out over the straw ridge and improve to 3-3.
Mongolian komusubi Ichinojo just doesn't have the juice he had in the last tournament when he went 6-0 to start. He's had trouble maintaining his stamina this time out and dropped to 2-4.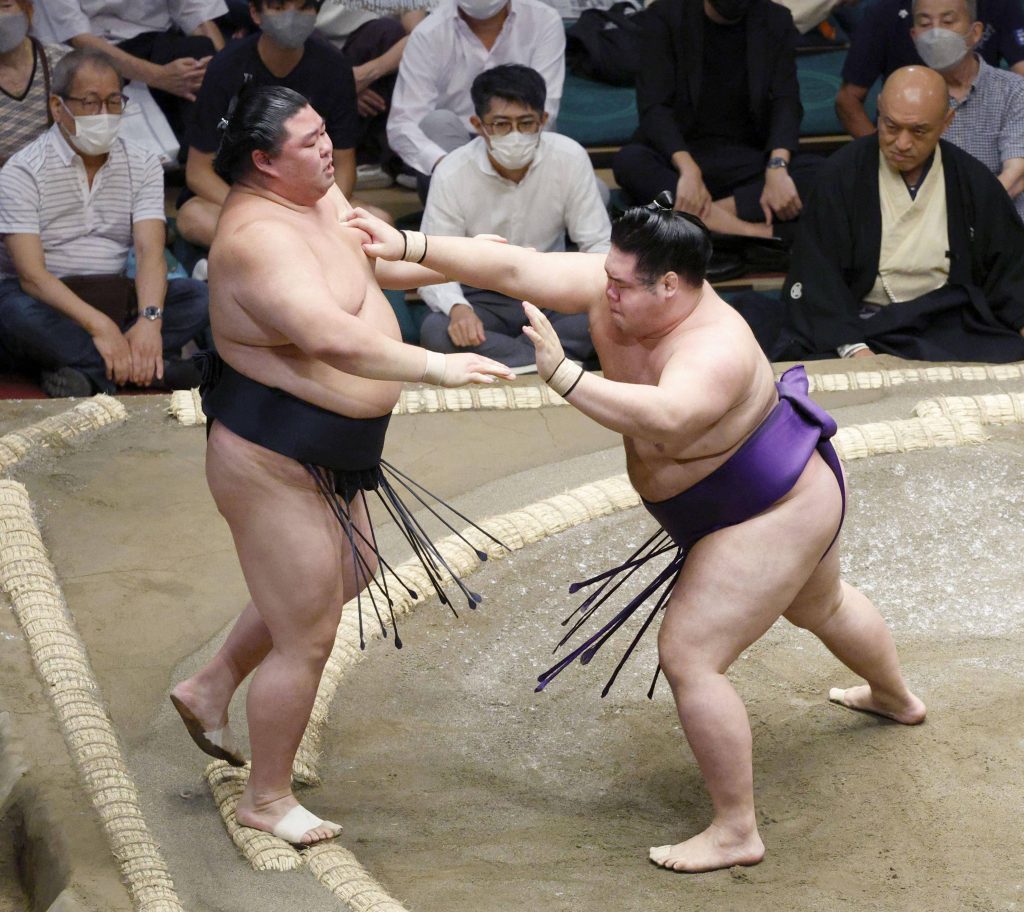 Shodai Suffers Another Defeat
The struggles continued for slumping ozeki Shodai, who was overpowered by Meisei's powerful arm thrusts to suffer his fifth straight loss and drop to 1-5. No. 2 maegashira Meisei stands at an even 3-3.
"I was on the attack and just tried to concentrate and move my opponent back," Meisei said. "There has been good and bad so far and I don't want to overthink things too much."
Mongolian komusubi Kiribayama deployed a series of rapid fire thrust to the chest to Daieisho backpedaling over the straw ridge.
Kiribayama improved to 4-2 while sekiwake Daieisho showed no fighting spirit whatsoever and dropped to 1-5.

Author: Jim Armstrong
The author is a longtime journalist who has covered sports in Japan for more than 25 years. You can find his articles here.