[ICE TIME] Announcer Ted Barton Sees Sakamoto, Uno Inspiring Whole New Generation
"Japan did so well at [senior] worlds. Sort of a revival in a way. Maybe they dipped a little bit, but now they are back," the skating analyst said.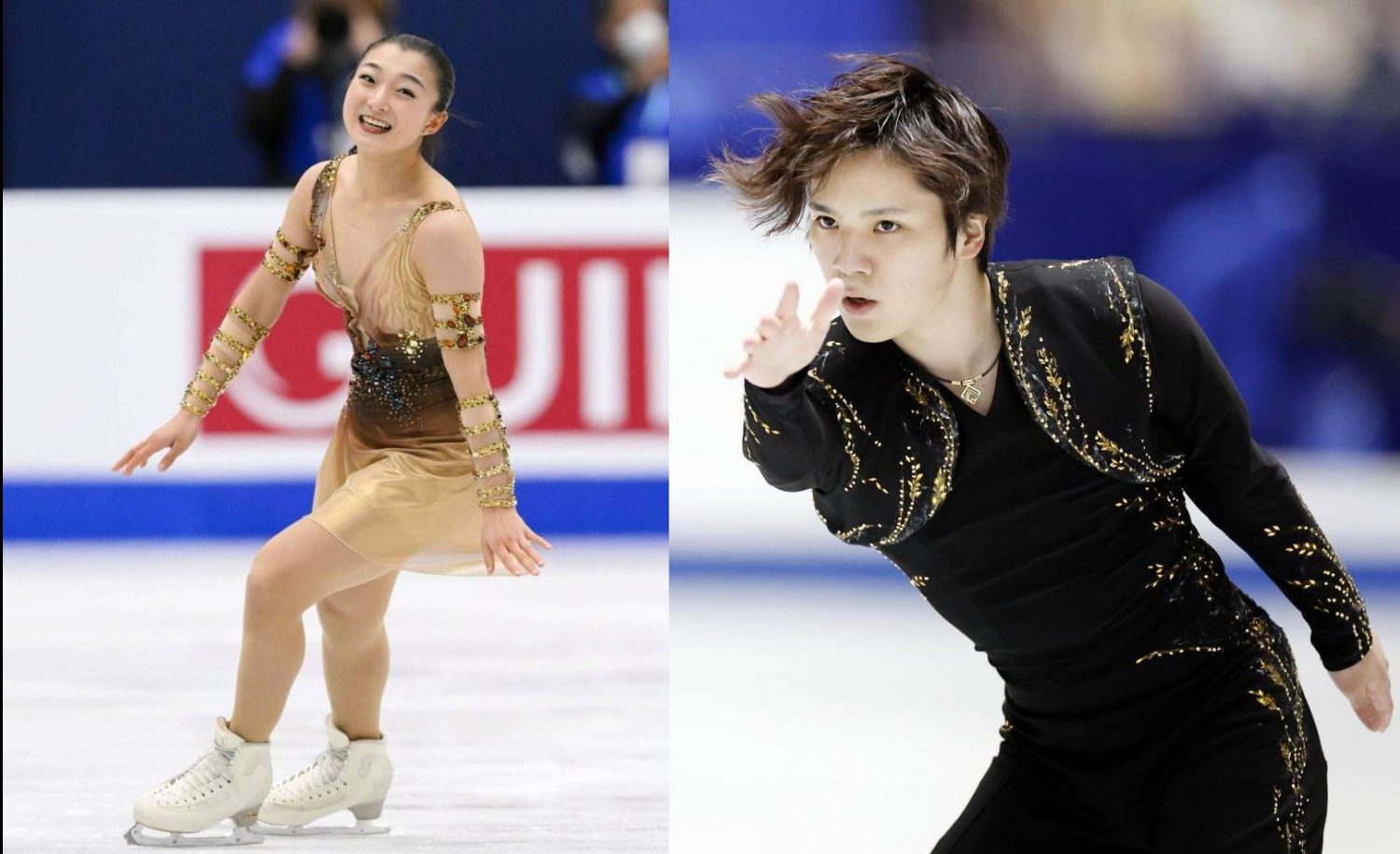 The voice of the ISU's Junior Grand Prix is looking forward to the expected return of Japanese skaters this season after they missed the last two campaigns due to the pandemic.
The seven-city JGP season will commence on Aug. 24 in Courchevel, France.
"We are thrilled to have the Japanese team back," Ted Barton told Ice Time in an exclusive interview by phone from his home in Vancouver, British Columbia, on Sunday, June 26. "Hopefully, they are going to come. That is so exciting. Japan did so well at [senior] worlds. Sort of a revival in a way. Maybe they dipped a little bit, but now they are back.
"I'm sure the fans in Japan are excited about the new kids coming up," he added.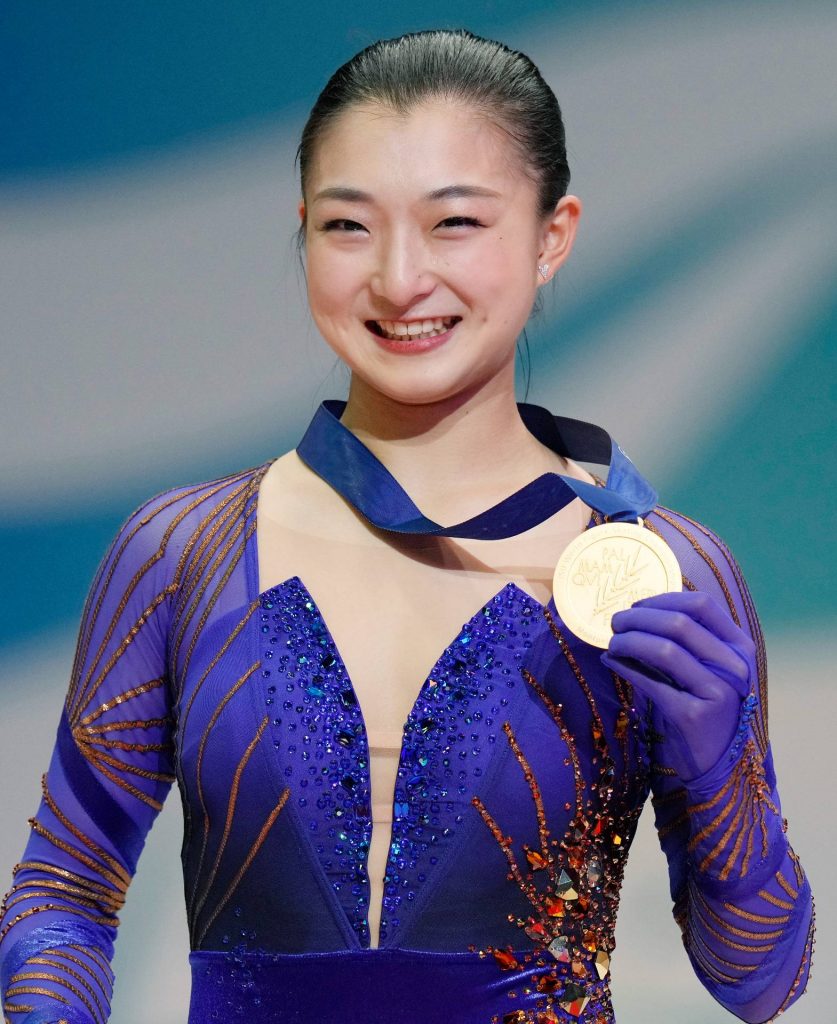 Confidence and Charm
Barton spoke enthusiastically about the stellar performances by Kaori Sakamoto and Shoma Uno at the world championships in France in March.
"I remember seeing Kaori years ago, I don't remember which year it was, and saying, 'Oh, my god,' " Barton recalled. "But she had a hard time in juniors being consistent. She looked like the best skater on the ice, the fastest skater on the ice, the biggest jumper on the ice, so you would think, 'No one can beat this girl, but she beat herself in a number of cases.'
"I wondered if she would settle down and gain confidence and be able to deliver under pressure," Barton continued. "When I saw her at worlds, I couldn't have been happier.
"I didn't get to follow her senior career as much, because I am following the juniors more. I watch the seniors, but I don't get to see every event. To see her come through brought me back to when I first saw her."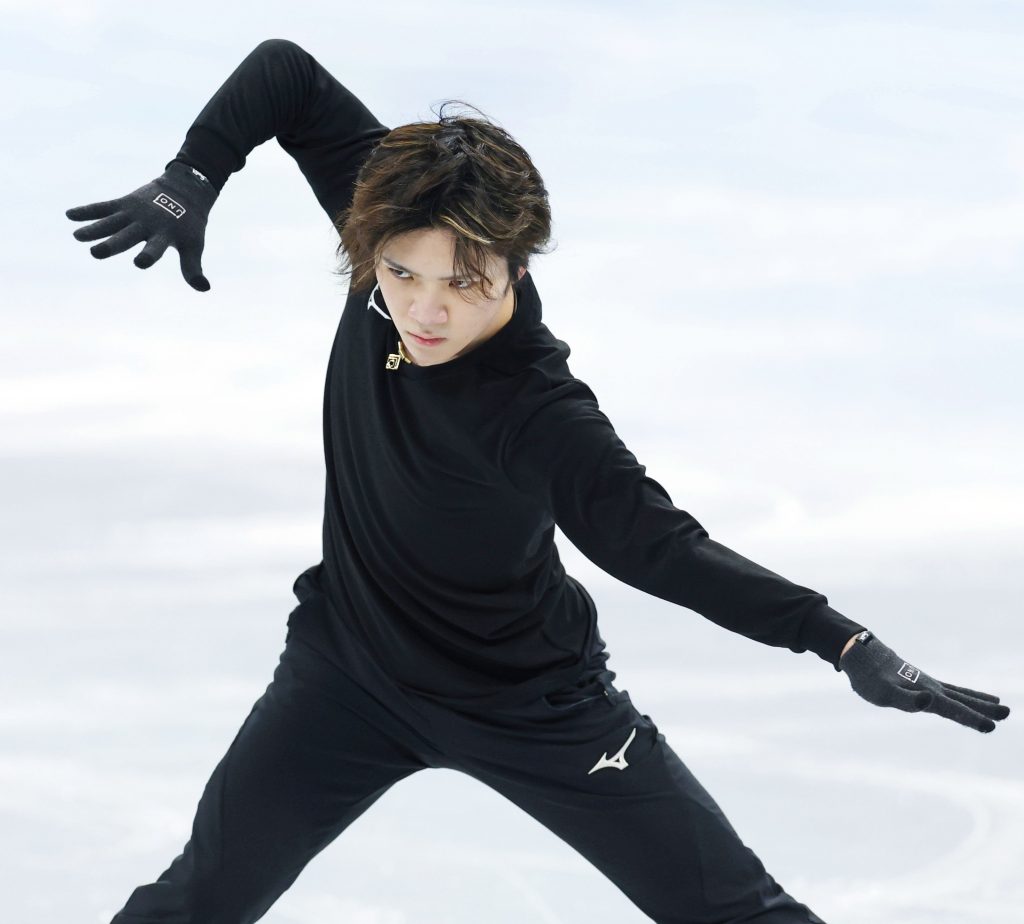 Barton was especially impressed by the revival of Uno.
"Shoma has a charm on the ice like nobody else does. He is really interesting," Barton commented. "But his technique got a little bit sloppy there for a while and he was missing elements. He was whipping his jumps and hammering them.
"It wasn't working and he looked frustrated and he looked tired. It kind of looked like the end a little bit as it does with some skaters."

Impressed by Uno's Showing at Worlds
Barton believes Uno's comeback can be an example for other skaters.
"When he became a reborn skater to many degrees, and however that happened with [coach] Stephane [Lambiel], whatever process they went through ― not from a technical perspective but from a mental perspective and from a rebirth of desire ― to see him skate like that at the worlds, I thought it was good for skaters to really watch these careers, because you are going to have your downs and you are going to have your ups.
"It depends on your ability to adapt to the downs and be persistent," Barton added. "That is exactly what he showed. I thought it was absolutely spectacular."
Barton made clear his respect for Japan and Japanese skaters.
"I was happy, because it has been tough for Japan," Barton remarked. "They haven't been able to compete in juniors and the Russians kids are coming up in skating and all the extra quads, and they were great. I am not going to be critical, because you saw what you saw. Who knows what went on in the background? Nobody knows.
"But for Japan to emerge at the world level, it will give the next generation of skaters, the juniors coming out this year, confidence and goals and heroes to follow," Barton said. "I'm very excited to see what the Japanese skaters on the Junior Grand Prix will be like this season. I am sure we will see some new ones."

Recalling Broadcasting Senior Worlds on Short Notice
With the world championships coming to Saitama this season, Ice Time inquired about whether Barton will be reprising his announcing role after stepping into a difficult situation at the March 2022 event.
Barton was called upon to take over in the middle of the event after the ISU suspended announcers Simon Reed and Nicky Slater following an incendiary comment about former Canadian pairs skater and two-time world champion Meagan Duhamel.
Barton described the surreal experience and how the opportunity unfolded.
"I was working in my office (in Vancouver) and somebody sent me a text about what was going on," Barton remembered. "I continued working and got distracted, and then my phone started ringing from France. I started thinking it was some kind of a scam call.
"There were two or three of these from France and it was the same number," Barton continued. "So I wondered what it was about. I finally picked it up and it was in French and they explained what had happened. Then they told me, 'You have to get ready tonight!'
"So I worked all day and then I had to start the broadcast at 1 AM. I had to get somewhat prepared."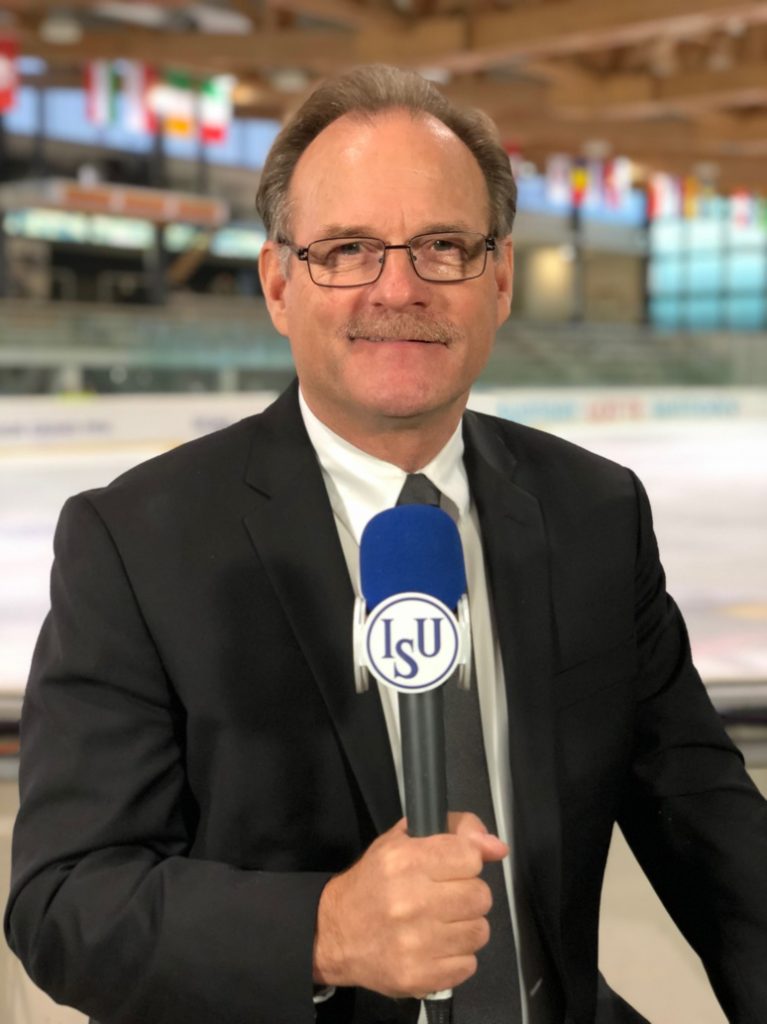 Helping the ISU Pull It Off
Barton said he felt it was his duty to help the ISU through a turbulent time.
"I felt somewhat responsible to the ISU to try to stabilize whatever I could during that worlds and not make it about the announcers," Barton commented. "Make it about the skating. I wasn't as prepared to do it. They told me I had to speak during the performance, which I don't like doing.
They said, 'This is for broadcast,' so I had to learn how to do enough of that to be OK and not be interfering. It was a new learning curve for me. I enjoyed it."
Barton said he is not sure if he will be in Saitama in March 2023.
"I don't know about this season. They are working on their teams," Barton noted. "I think they are happy with what I did. They may see fit to use me at some point, and maybe not. I just want whoever does it to be accurate, honest and supportive."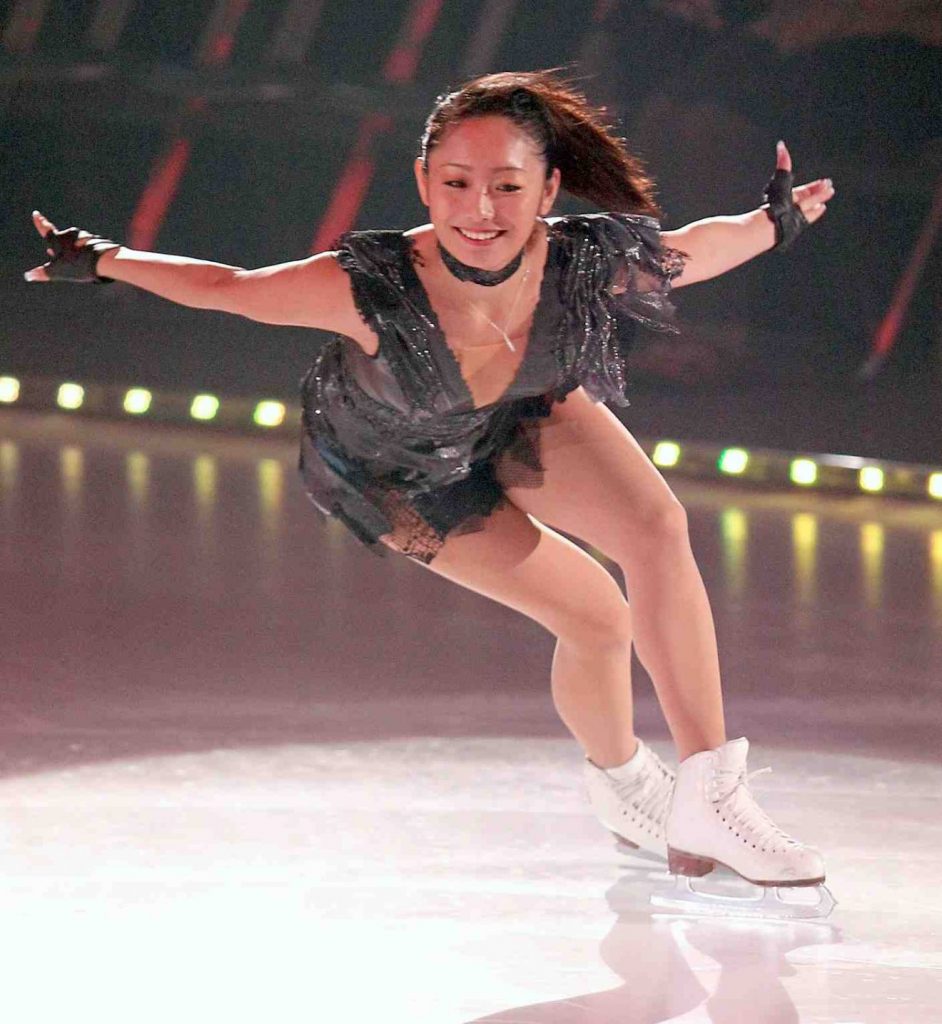 View on New Age Limit Rule
Ice Time wanted to know what Barton thought about the new age limit rule (a change from age 15 to 17) approved at the ISU Congress this month.
"I personally like it. In the beginning, when they first came out with it, I was not sure," Barton noted. "I thought these young kids it is easier for them to do these difficult elements than it is when they are a little older, so why hold them back?
"But then I started thinking about the person first," Barton stated.
"One, I think it is probably better from a physical and health perspective of the athletes. It doesn't mean that the juniors won't do quads and won't be able to do it. They will have more time in the juniors ranks to develop their skating skills along with the technical skills and growth and maturity before they enter seniors.
"Their junior career will be longer. Let's say it can be four years now. Right now, the junior career is 13-15 for your top kids. They are in for two [years] and then they are out. They are in seniors and who knows how long they stay."
Barton feels a longer junior career will lead skaters to be more polished upon entering the senior ranks.
New Rule Invites a Different Type of Skater
"They could have a four-year junior career, which will be very interesting following them through those four years," Barton stated. "It makes it much more interesting from a story perspective and better for the athletes' development. Then as they enter seniors, they are more of a young adult. So we will see a different type of skater.
"When skaters are juniors, they usually have a slower artistic development," Barton said. "Now we will see them emerge as an adult skater a little bit later.
"So I actually quite like it. I think it is good for the sport. I think it was the right move. They can always change it."

Thoughts on Russian Ban, Doping Scandal
Our conversation then moved on to the topic of the suspension of Russian skaters and then investigation into doping after Kamila Valieva failed a test prior to the Beijing Olympics.
"It is a very complicated situation from a human perspective," Barton stated. "It is horrific what is happening in Ukraine. It is horrific what the Russians have done. It wasn't the football Russians or hockey Russians or figure skating Russians who did it, it was the government.
"So are all Russians guilty of it? No. But they will be guilty in everyone's mind."
Barton says he agrees with the ISU's decision to sideline Russian skaters.
"There is enough combination between the drug scandal, which has never been settled yet, plus that (the war), that there needs to be a timeout."
"They need to stop everything they are doing, and consider what they are doing, before they have the privilege to come back. I think it is not a bad thing for Russia to have a timeout."
Barton acknowledged that the impact of the ban on Russian skaters will be difficult for them.
"It is terrible for the athletes that are clean and fair and honest," Barton commented. "I don't know who they all are. I'm sure they all have the right intent. I don't think they are all bad people at all.
"Hopefully the world can get back to a peaceful stability, get back to real sport, get back to honest effort," Barton added.
Barton thinks the focus should be on those who are following the rules.
"Let's move forward with the kids that are doing the job," Barton commented. "I think the world championships this year were so exciting. It's the world that competes, not one country. It hasn't been a bad thing to some degree."

Strong Stance Against Abuse of Skaters
Ice Time asked about sanctions for those coaching Valieva if it is confirmed that she was using performance-enhancing drugs.
"Forget about Valieva, for any coach, if there was proof ― there has to be proof ― that it was known and intentional, then there needs to be consequences, because those are children," Barton remarked. "They are not adults, and they are following adults.
"We have laws in my country and Japan. We have Safe Sport. It is abuse of a child."
Speaking to Ice Time, Barton cited the organization in the United States tasked with ending abuse of athletes in all sports.
"There are many things that come under the classification of abuse of a child. When a child is trusting an adult and whether it is physical, psychological or sexual abuse, or in this case, drug abuse unknowingly, there needs to be consequences.
"Having said that, there needs to be an independent investigation to find out the actors in all of that. Because everybody will blame certain people, doctors, coaches, this or that."
Barton is not confident the truth will emerge anytime soon.
"The easiest thing in life is to complain and throw your opinion and say it is this person or that person," Barton said. "Just find out the truth, not based on our emotion. Find out the truth through an investigation. I hope that gets done. I don't hold out any great hope that it will be done anytime soon. It should be."
Broadcasting Russian Nationals
Barton has broadcast the English feed of the Russian nationals the past three years. Ice Time wanted to know Barton's position on that assignment going forward.
"I wouldn't do it. I don't have the answers," Barton stated. "All I know is that people are dying, both Ukrainians and Russians for unnecessary reasons. I feel bad for the athletes of Russia who are trying to do the best they can. The government has made a decision that has stopped their careers and changed the pathway in their life.
"I was trying to help sport around the world and within Russia," Barton noted. "It was an honor to do so at the time, but it is only figure skating. When stuff like that happens, as it did, it is much bigger than the sport. … But the world needs to get sorted out before you can start anew with a positive future, and we are not even close to that."


Author: Jack Gallagher
The author is a veteran sports journalist and one of the world's foremost figure skating experts. Find articles and podcasts by Jack on his author page, here, and find him on Twitter @sportsjapan.