[ICE TIME] Comments by Muramoto, Takahashi Reveal Truth About Developing Ice Dance and Pairs in Japan
The retired athletes say Japan's skating officials should focus on improving the competitive environment and increase support for ice dance and pairs.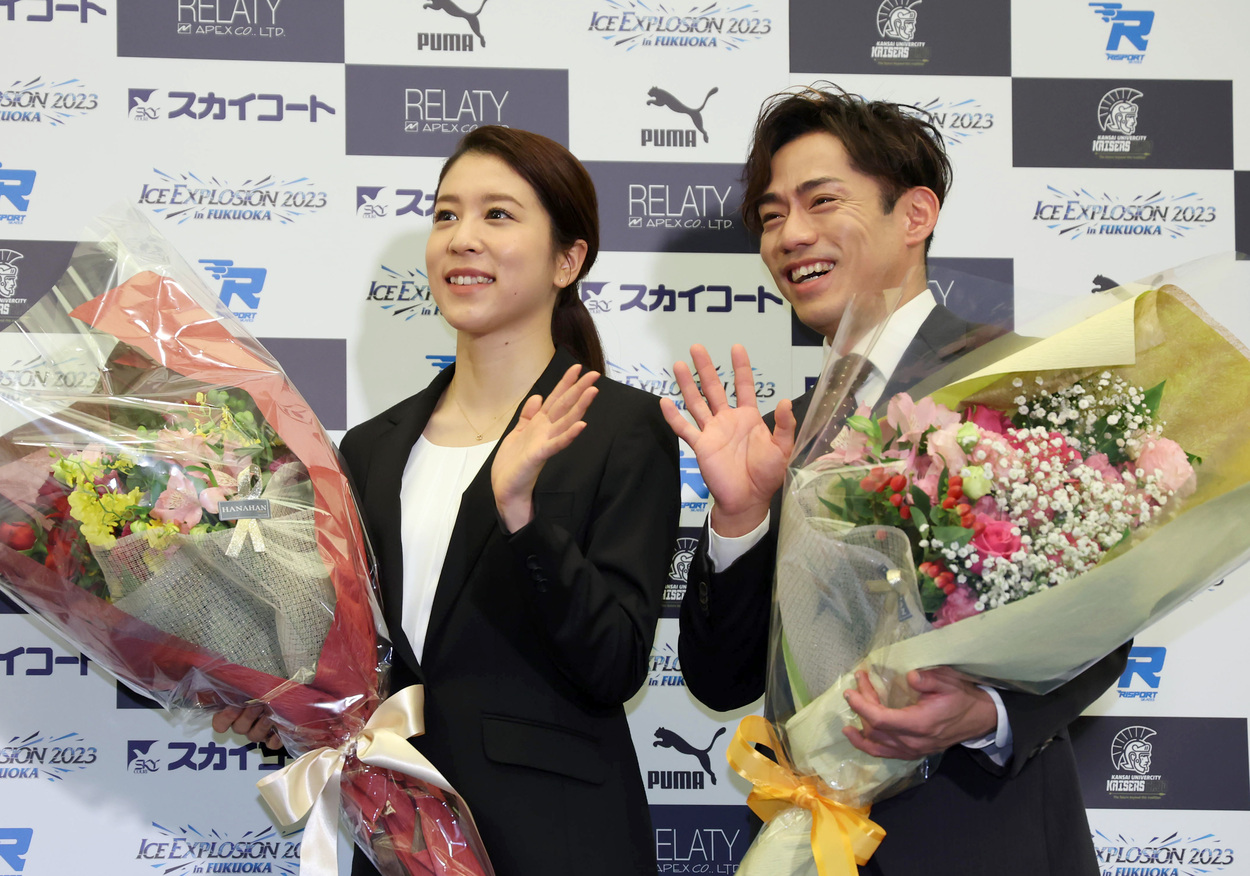 In early May, ice dancers Daisuke Takahashi and Kana Muramoto announced their retirement from competition. While this came as no surprise considering Takahashi's age (37) and physical condition (ongoing issues with his right knee), what did was their blunt comments about the state of ice dance and pairs in Japan.
Speaking at a press conference on May 2 in Tokyo, Muramoto didn't hold back when asked about the future of the two disciplines here.
"There is no environment in Japan to continue developing ice dance or pair skating," Muramoto stated in comments translated into English and posted on fs-gossips.com. "If we aim for the world level, coaching and team support become necessary. But that is still lacking in Japan."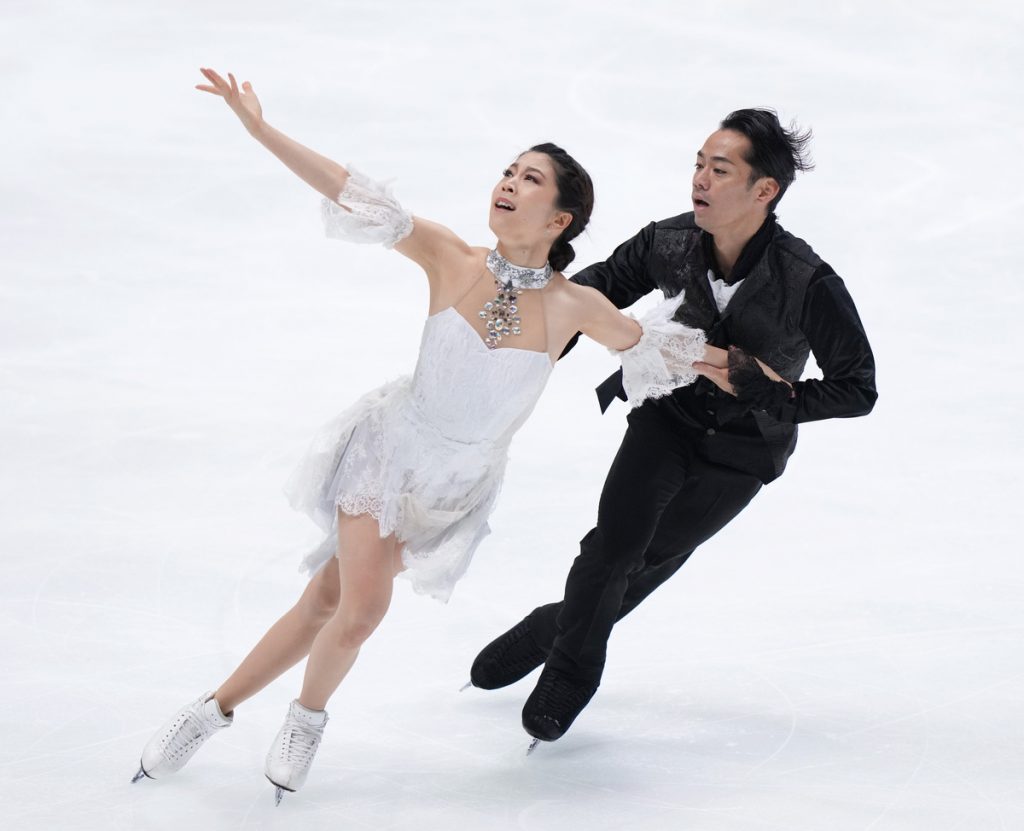 Comments Based on their Personal Experience
Muramoto was speaking from personal experience, as she and Takahashi trained far away in Florida with coach Marina Zoueva the past few years.
Takahashi, the legend who became Japan's first men's Olympic medalist and world champion, followed up with more honest analysis.
"It's the same in any sport. Without a conducive environment, it's difficult to concentrate and practice," Takahashi commented. "Especially in pair skating, Japan still has a long way to go. Right now, the people at the Japan Skating Federation are working hard, but ultimately, you have to go overseas.
"Going abroad also requires funding. I believe there are people who want to do it but can't," Takahashi continued.
"If the environment improves, pair skating will become more accessible. With an increase in the number of participants, it will both stimulate and raise the level."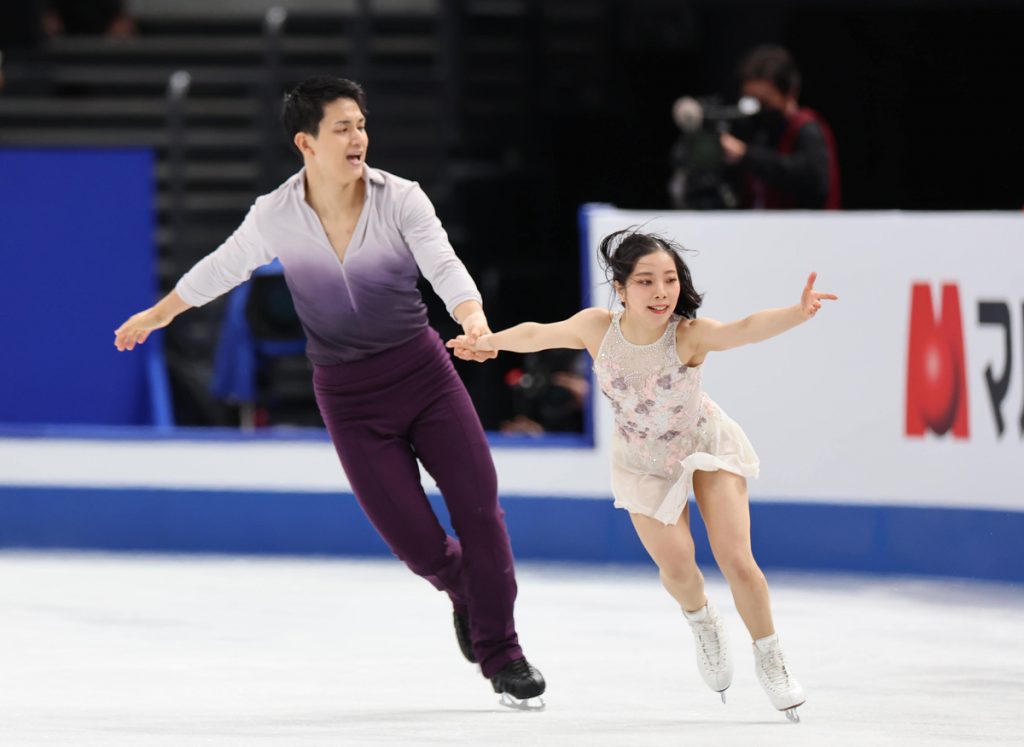 Miura and Kihara Could Spark More Participation in Pairs
One can only hope that the emergence of pairs world champions Riku Miura and Ryuichi Kihara, who train in Canada, can help change the narrative moving forward. In addition to costs, pairs and ice dancers also have to deal with the possibility that their partner could end the relationship at any time. We just saw this happen in the junior ranks after the past season ended with Haruna Murakami and Sumitada Moriguchi in pairs and Nao Kida and Masaya Morita (ice dance).
Ice Time can remember years ago covering Miura in the juniors when there would be only one or two pairs teams at the Japan Junior Championships each year.
I could sense Miura's determination then, and remember thinking, "Riku is smart. She will keep persevering and someday she will be skating in the Olympics."
And that is exactly what happened.
The reality is that on the surface pairs and ice dance lack the glamor and buzz of singles skating. This is why so many juniors stick with singles, even when it is to their detriment.
The young men all want to be Yuzuru Hanyu, Shoma Uno or Takahashi. And the young women all want to be Mao Asada, Miki Ando or Shizuka Arakawa.
Hopefully, with the example of Miura and Kihara to follow, this will change.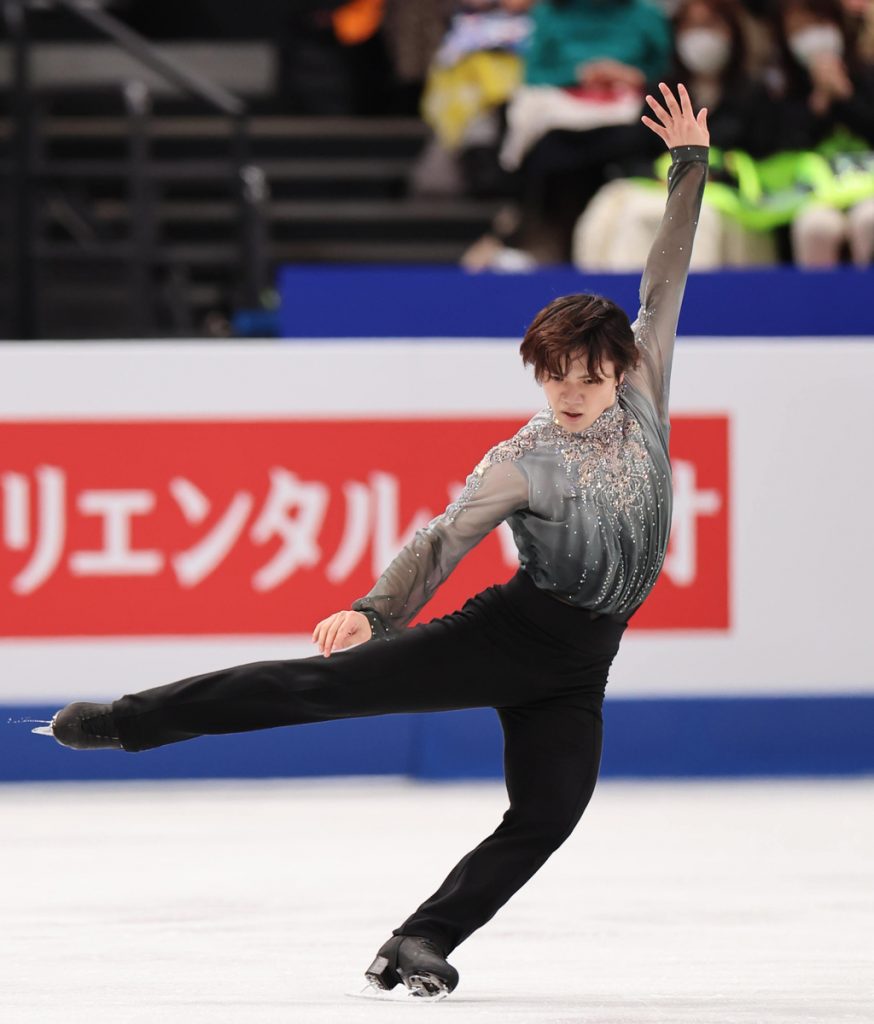 Uno Back in Training with Lambiel
World champion Uno was back on the ice and in training at a camp in Kyoto during the week of May 15-21 with coach Stephane Lambiel and several other skaters. The 25-year-old Uno, who won his second straight world title in March despite dealing with an ankle injury, has been skating in shows the past couple of months.
One of the other skaters at the camp was world junior silver medalist Naoki Rossi, who Ice Time profiled earlier this month. Rossi's mother, Rieko, was also a recent guest on the Ice Time Podcast.
Return to Competition of Russian Skaters Draws Closer
Though Russian skaters remain banned from international competition due to the ongoing war in Ukraine, it sounds as if the ice may be thawing. In recent comments, Alexander Kogan, the general director of the Russian Figure Skating Federation, revealed that the International Skating Union has given the body quotas regarding possible entries for the Junior Grand Prix, which begins in August.
"As for the ISU, of course, there are still connections, and work is ongoing," Kogan was quoted as saying by Rsport. "One of the pieces of evidence is that we have received quotes from the ISU for participation in the junior stages of the Grand Prix. But they can be used on the condition that Russians are allowed to participate in international competitions."
Added Kogan, "The ISU will consider this issue at the upcoming council meeting in June. But we have been informed that it may be considered both in June and in September."
This last statement is a bit confusing, as by September the JGP will be well underway. It sounds like the ISU is going to have to make a definitive call on the participation of Russian skaters in the JGP next month.
With Russians participating in tennis tournaments around the world and playing in the NHL, it seems increasingly likely that Russian skaters will be returning to the ice sooner rather than later.
The next world championships slated for March 2024 in Montreal, Canada, could prove interesting, however. Based on their non-entry in this year's event, Russia would be allotted only a single skater in the men's and women's competitions, and one pairs and one ice dance team, based on the current qualification system.
European Championships Looking for New Site
Hungary has bowed out of hosting the 2024 European Championships due to its proximity to the war in Ukraine and issues with its economy and energy prices, the Hungarian federation announced. The event was scheduled to be held in Budapest from January 22-28.
A new host city is being sought by the ISU for the Euros. Interested parties are requested to apply to the ISU by May 26.
Hughes Set to Run for Seat in US Congress
Sarah Hughes, the 2002 women's Olympic gold medalist, is running for the US House of Representatives. CNN reported that the 38-year-old Hughes, a Democrat, filed papers on Monday, May 15 to vie for the seat currently held by Republican Anthony D'Esposito in the fourth district of New York on Long Island.
Hughes' accomplishments on the ice may be surpassed by those off it. She is a graduate of Yale University, has a law degree from the University of Pennsylvania, and is currently studying for an MBA at Stanford.
Hughes has spent the past three years working as a corporate associate for a law firm in Manhattan.

Author: Jack Gallagher
The author is a veteran sports journalist and one of the world's foremost figure skating experts. Find articles and podcasts by Jack on his author page, and find him on Twitter @sportsjapan.