[ICE TIME] Japan Continues Domination with Medal Bonanza at Challenge Cup
Kaori Sakamoto, Mai Mihara and Mana Kawabe sweep the Challenge Cup women's event, while Shun Sato and Sota Yamamoto finish 1-2 in the men's.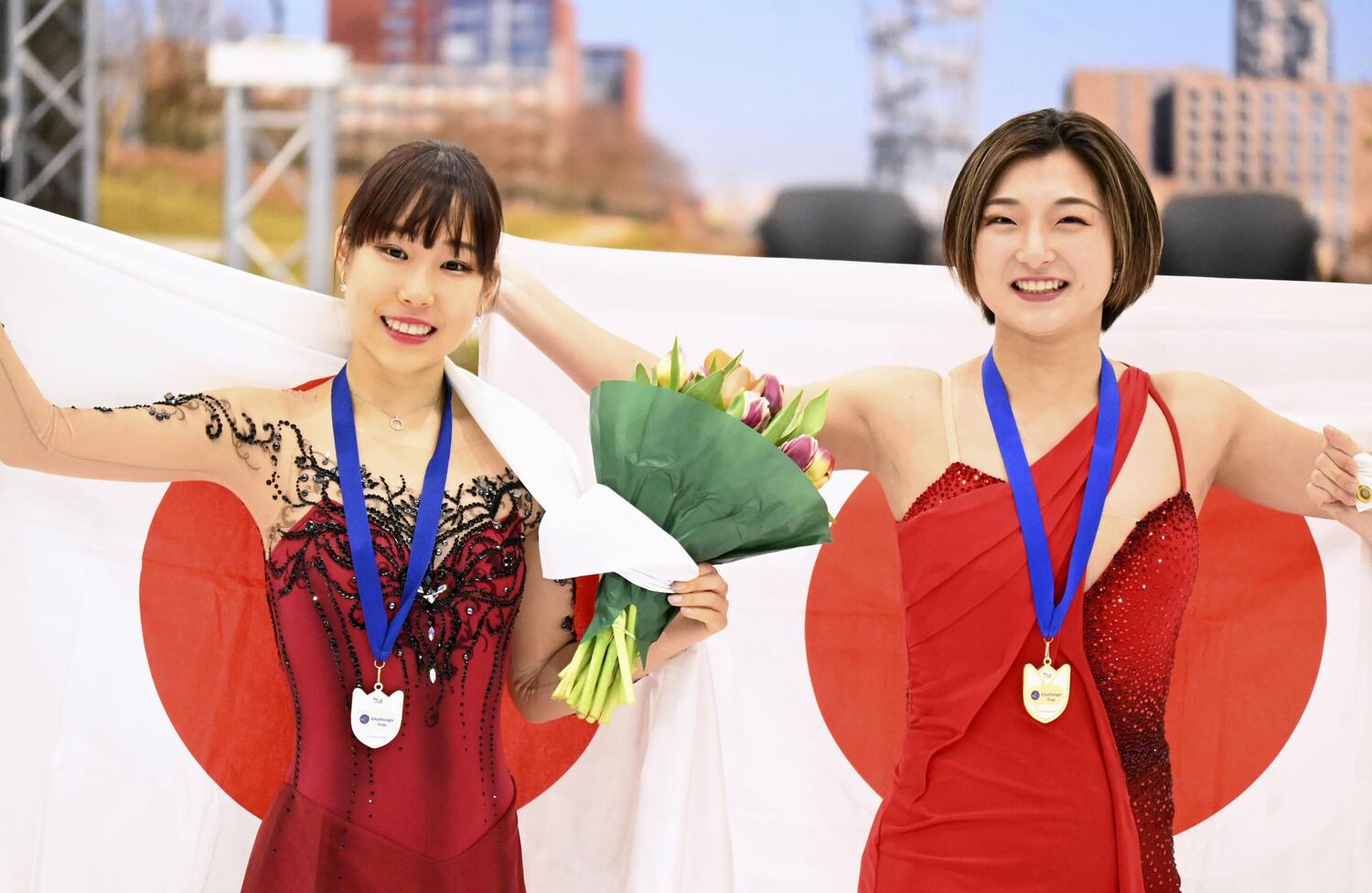 CALGARY, Canada — Japan's grip on the skating world continued over the weekend of February 24-26, as the Hinomaru came away from the Challenge Cup in Tilburg, Netherlands, with a whopping 10 medals (including four golds).
The mark is believed to be a Japan record for total medals at an international competition.
World champion Kaori Sakamoto and Grand Prix Final winner Mai Mihara led the way as they combined for a podium sweep with Beijing Olympian Mana Kawabe on Sunday afternoon in the senior women's event.
Earlier in the day, Ayumi Shibayama, Ikura Kushida and Yurina Okuno fashioned a 1-2-3 finish in the junior women's category.
On Friday evening, Shun Sato and Sota Yamamoto took gold and silver, respectively, in the senior men's classification. That occurred after Haruya Sasaki and Haru Kakiuchi had done the same in the junior men's competition that afternoon.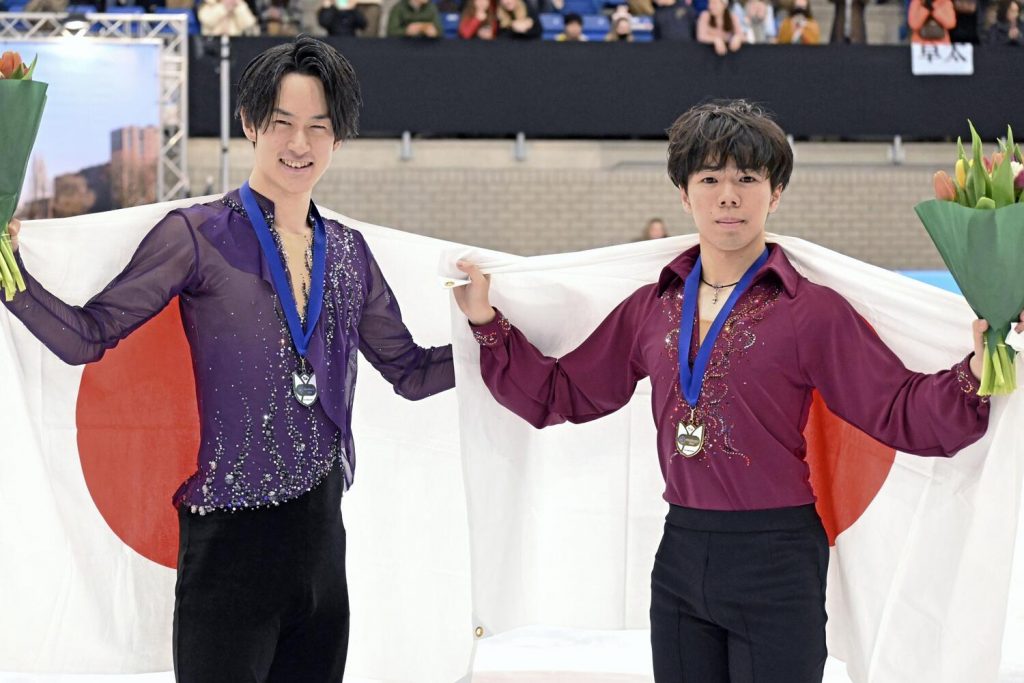 Sakamoto's winning total was 228.35 points, giving her a wide margin of victory over Mihara (203.23) and Kawabe (192.46).
It was a bit tighter for Shibayama, who prevailed with 184.89 over Kushida (180.83). Okuno's score in third was 162.39.
Sato, coming off his third-place finish at the Four Continents earlier this month, was just .01 off equaling his season best with 262.20. Yamamoto notched 245.61 to pocket the silver medal.
Sasaki emerged with the gold in a tight battle, scoring 177.67, to best Kakiuchi at 174.15.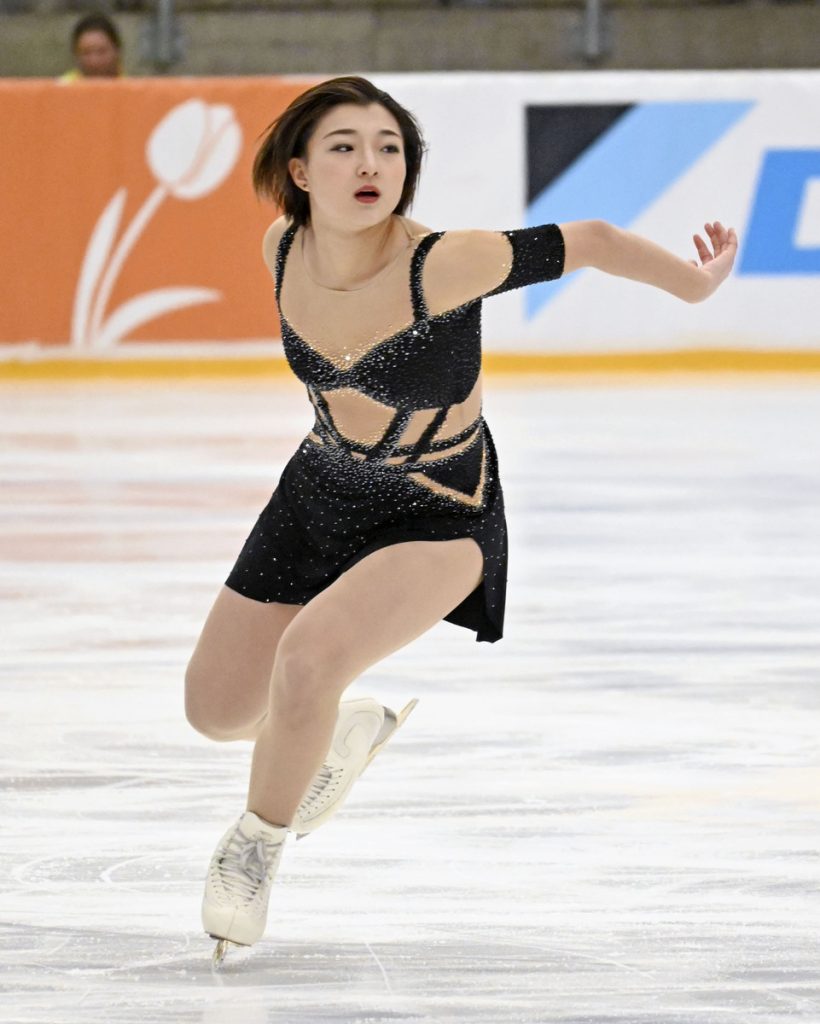 Sakamoto's Stellar Performance at the Challenge Cup
Sakamoto appears in fine form as she prepares to defend her world title at March's World Figure Skating Championships in Saitama. The 22-year-old landed seven clean triple jumps and earned level fours on all of her spins in her free skate to "Elastic Heart."
"I managed to pull things together overall," Sakamoto was quoted as saying after her victory by Kyodo News. "The score was good too."
She added, "I can add a bit more points [through the grade of execution]. Quality will be decisive at the worlds and I hope to take it on, showing the best jumps, spins and steps I currently can."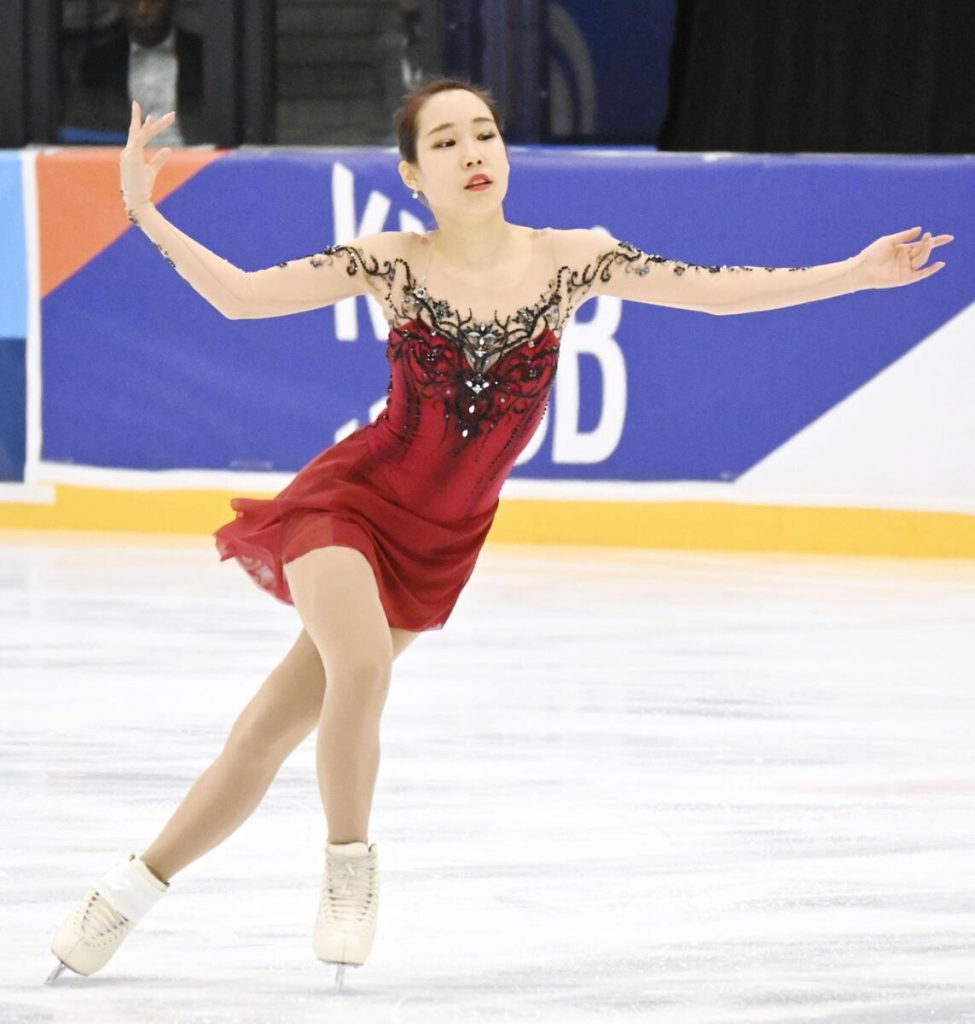 Mihara's performance, which saw her move up from third after the short program, was solid considering she has missed training time recently while dealing with the flu.
RELATED:
Kawabe Rallies to Earn a Medal
Kawabe's effort was especially noteworthy. She rallied from ninth place after the short program to make the podium by finishing second in the free skate with five clean triples and level fours on her spins.
Meanwhile, Shibayama, who turned 15 on Saturday, hit six clean triples. She registered level fours on all of her spins in her free skate to "Opera Turandot."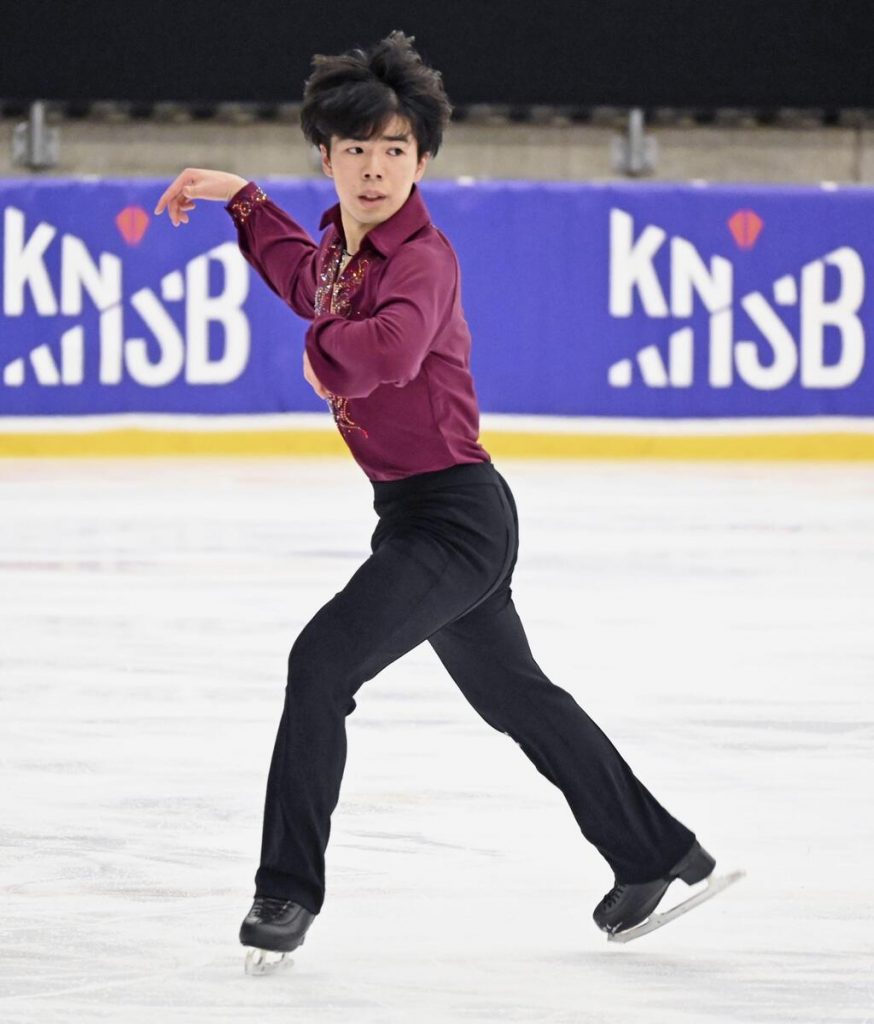 Additional Challenge Cup Highlights for Japan
Sato had his opening quad lutz downgraded. But he recovered to land two quads and five clean triples in his free skate to "Red Violin." The 19-year-old still has room for improvement, however, as he could only muster on level four on his three spins.
Sasaki under-rotated his opening triple axel. And he was judged a quarter rotation short on three other jumps in his free skate to Piano Concerto No. 2. But he managed to hang on for the victory by virtue of his nearly six-point advantage over Kakiuchi in the short program.
Misato Komatsubara and Tim Koleto (166.70) came in fourth in the ice dance competition. France's Evgeniia Lopareva and Geoffrey Brissaud won the event (196.46).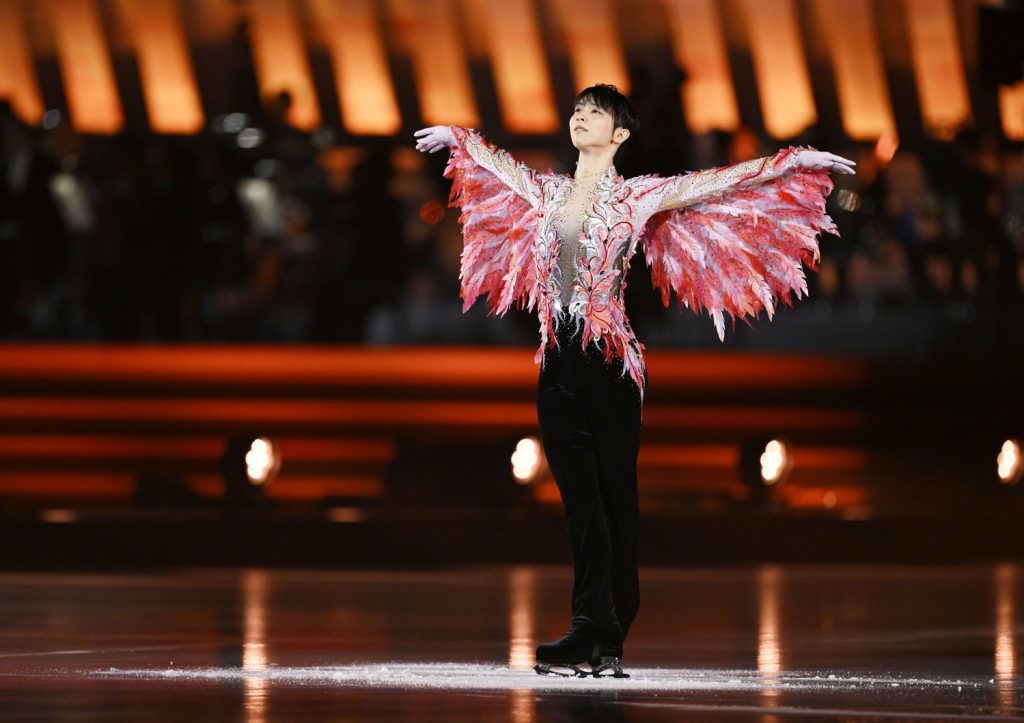 Extravaganza at Tokyo Dome Another Landmark for Hanyu
Yuzuru Hanyu's one-man show "Gift" at Tokyo Dome on Sunday saw a crowd of 35,000 turn out to see the superstar, according to organizers. The living legend performed 14 different numbers in a performance that lasted nearly three hours.
It was the first time a skater had taken the ice solo at the historic venue.
Ever the perfectionist, the two-time Olympic champion said afterward he could have done even more.
"Of course, I do feel like I could have done some things better or differently," Hanyu was quoted as saying by Olympics.com. "But I'm proud of this performance known as Gift."
The Sendai native acknowledged that the event was a rare occurrence.
"It's a once-in-a-lifetime opportunity and I like to think I made the most of it," Hanyu commented. "I hope people will remember this, even if it's by bits and pieces."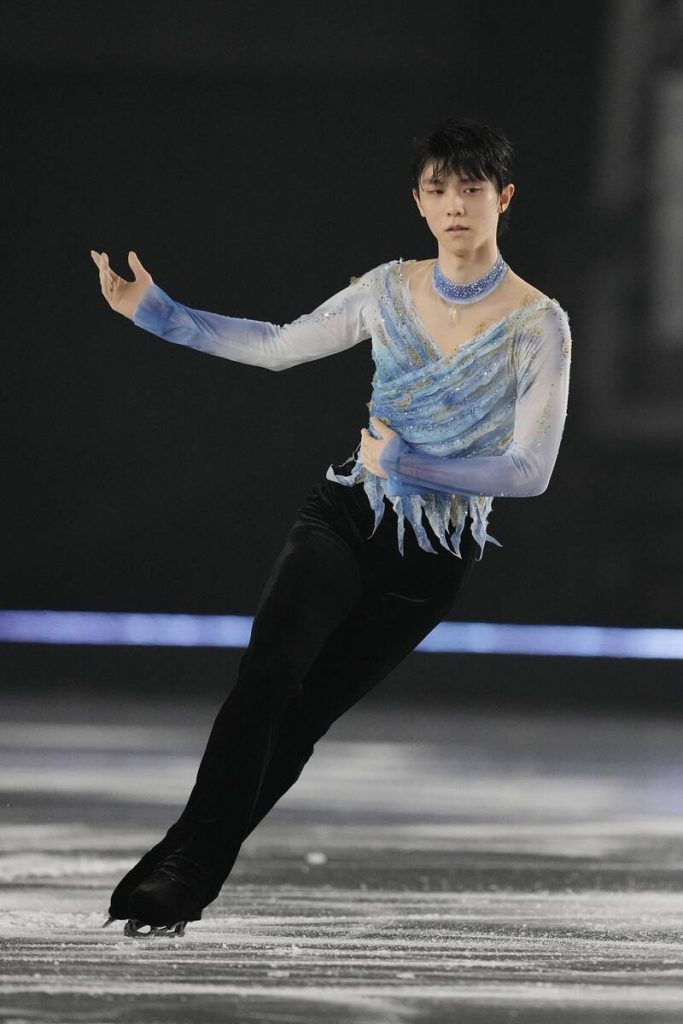 In addition to the live audience at Tokyo Dome, the show was streamed to fans around the world online via pay-per-view and at theaters in Japan and elsewhere in Asia.
Hanyu will return to the ice March 10-12 with his "Notte Stellata" shows in Miyagi Prefecture. Legendary choreographer David Wilson will be doing the choreography for the shows, which Ice Time reported exclusively last week.
RELATED:
Trusova Out of Russian Grand Prix Final Due to Injury
Beijing Olympic silver medalist Alexandra Trusova will miss the upcoming Russian Grand Prix Final set for March 4 and 5 in St. Petersburg.
Legendary Russian coach Tatiana Tarasova told Match TV that Trusova, who missed the Russian nationals in December due to illness, will be sidelined from the upcoming competition.
"I phoned Svetlana Sokolovskaya (Trusova's coach) and she said that Trusova had back problems, she could not carry heavy loads, she would not participate in the Grand Prix Final, and she would take care of her back," Tarasova said, according to comments translated into English and posted Feb. 23 on athletistic.com.
The news of Trusova's withdrawal prompted Russian skating writer Elena Vaitsekhovskaya to predict that the end of the star's competitive career may be near.
"... Even if Sasha continues training and prepares new programs by the fall, the break between competitions will be almost a year for her," Vaitsekhovskaya noted in comments to rt.com that were translated into English and posted on fs-gossips.com. "This term is too long to return without losing the former qualities, which Trusova has largely lost if we compare the current state of the skater with what she was a year ago.
"Sasha is still in great shape for shows, but sports are a completely different story," Vaitsekhovskaya added. "Does this mean that a great sports career will be over? In my opinion, yes."

Author: Jack Gallagher
The author is a veteran sports journalist and one of the world's foremost figure skating experts. Find articles and podcasts by Jack on his author page, and find him on Twitter @sportsjapan.