[ICE TIME] Japan Continues Medal Run with Two More at Junior Grand Prix in Latvia
Men's runner-up Rio Nakata and women's bronze medalist Ami Nakai were emotional when their free skate scores were shown during their JGP debuts.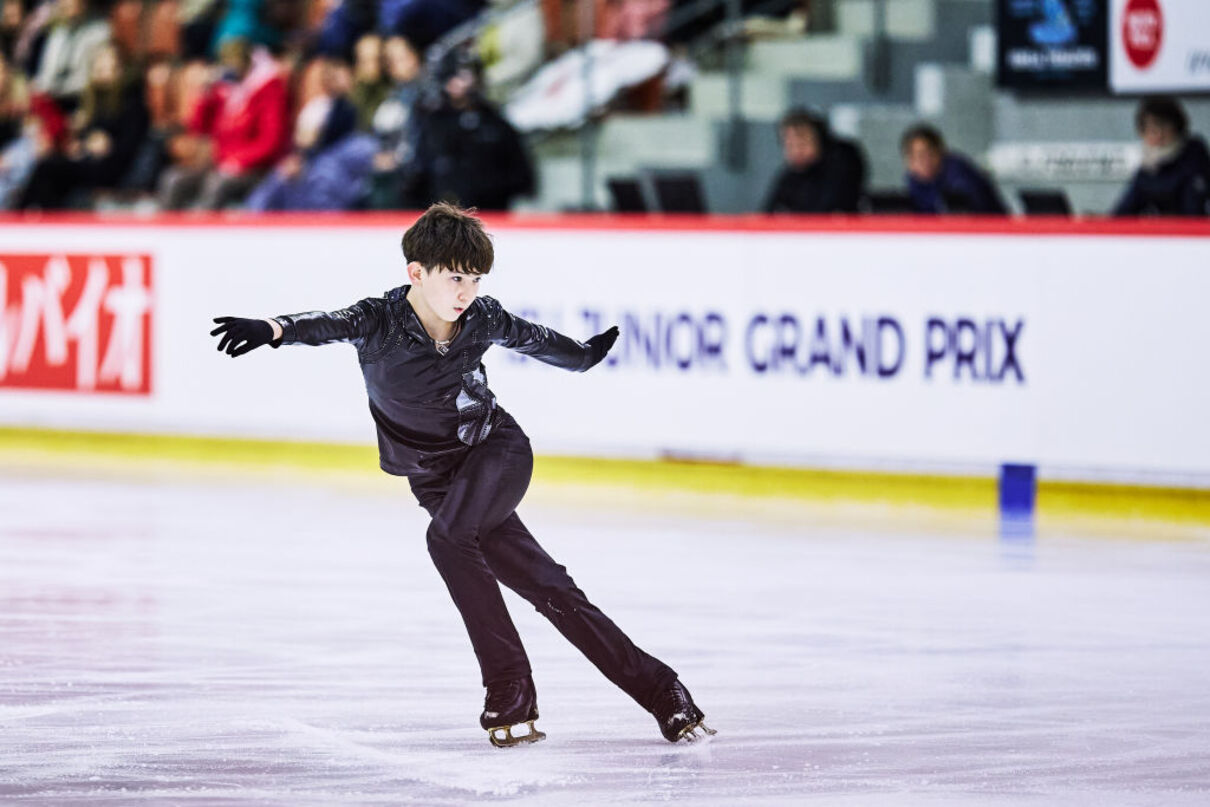 Japan's strong start to the Junior Grand Prix season continued over the weekend as Rio Nakata and Ami Nakai both made the podium in Riga, Latvia. Nakata placed second in the men's event on Saturday, September 10, while Nakai came in third in the women's competition on the previous day.
The results were impressive as both Nakata and Nakai were making their JGP debuts.
Nakata, who turned 14 on the day of the short program on September 8, finished with a total score of 200.17 points. Italy's Nikolaj Memola took the title with 225.76, while Kazakhstan's Rakhat Bralin was third on 199.38.
It is worth noting that Memola is much more experienced than Nakata. The Italian will turn 19 in November.
Nakai, a 14-year-old from Niigata, posted a score of 185.62 and narrowly missed out on second place. South Korea's Jia Shin was the winner at 194.68, while Soho Lee of the United States took second with 185.92.
Both Nakata and Nakai celebrated when their free skate scores were shown, before quickly becoming overcome by emotion at their achievements.
"It was my first Junior Grand Prix, so I was very nervous, but I am very happy that I succeeded in the axel for the first time and competition and took 2nd place," Nakata wrote on Twitter. "I made a spin mistake in the short program, so I will do my best not to make a spin mistake in the sixth round in Poland! Thank you for your encouragement!"
A Strong International Debut for Nakata
Nakata, who was born in Wales, opened with a triple axel, landed six clean triple jumps, and earned level fours on two of his spins in his free skate to a James Bond medley.
ISU announcer Ted Barton liked what he saw from Nakata in his first international experience.
"He's a very talented young man," Barton stated. "He has great energy and great speed across the ice. I didn't find that the choreography really connected with the music. [He is] still quite junior-ish in that area. That is not to be critical, it is to be analytical.
"He has lots of athletic ability, speed and aggressiveness throughout the program."
ISU analyst Mark Hanretty said the way Nakata skated reminded him of a couple of other great Japanese skaters.
"The landing on the [triple] axel reminded me of Shoma Uno," Hanretty commented. "On the triple toe/triple toe, I could see Midori Ito, the great world champion in the late 1980s."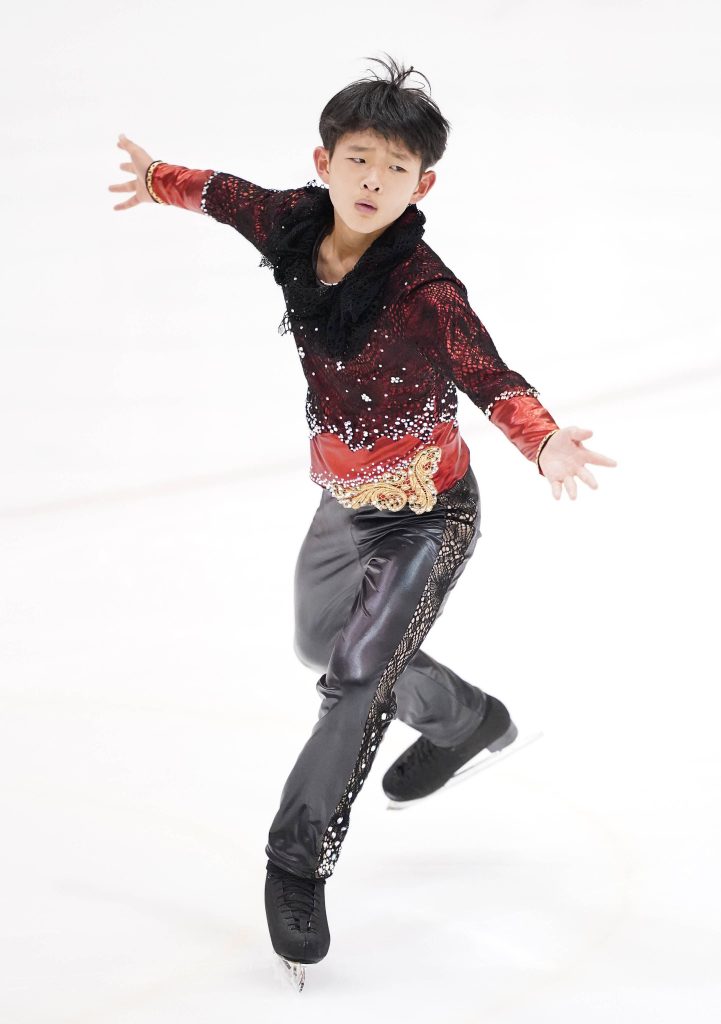 Suto Struggles in Free Skate
Tsudoi Suto, who was second after the short program, came undone in his free skate to a Cinema Paradiso medley and ended up sixth on 183.30. Suto, a 15-year-old from Chiba, was poised for the podium before melting down with three falls in the free skate where he finished 11th.
Barton believed that Suto became over-anxious while going through his elements.
"He rushed the timing of things, so once one mistake happened, it became two mistakes, three mistakes," Barton observed. "He just lost control of the program. That's just an awful feeling, when you're such a good skater, to lose control, which you rarely do in practice sessions."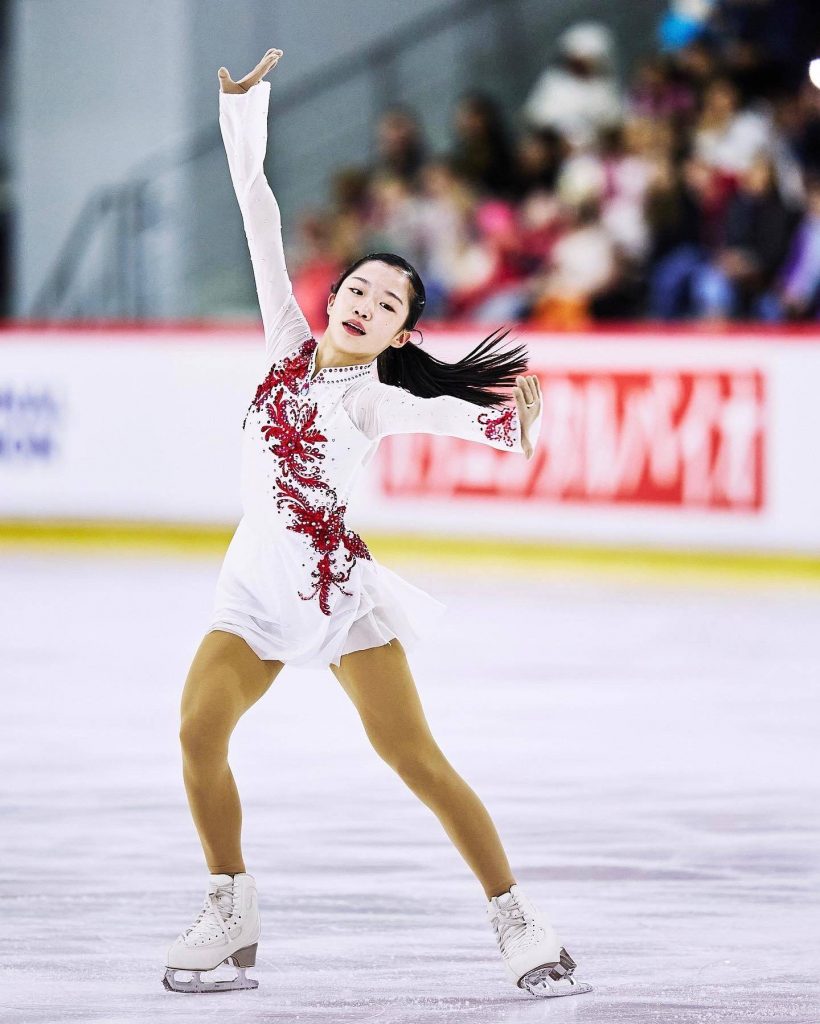 Nakai Shines in Free Skate
Nakai under-rotated her opening triple axel in her free skate to "Miss Saigon Rhapsody" but recovered to land a nice triple lutz/triple toe loop combination and went on to hit six triples in all. She notched level fours on all of her spins.
Nakai did single a planned triple loop early in her program, and singled a planned double axel later in her skate.
"She is an aggressive skater and [showed] wonderful skating skills throughout the program," Barton noted. "She just rushed the takeoffs because she is quick on the takeoffs and just got out of control on two of them.
"Great energy, great explosion into the air off the ice," Barton remarked as he analyzed her jumps after the free skate. "A wonderful smile throughout the choreo sequence. Just a real charm to the presentation."
Junior Grand Prix Taking a Week Off
There will be no JGP event this week as the circuit will take a one-week break before reconvening in Yerevan, Armenia (September 21-24). Shunsuke Nakamura and Hana Yoshida, who won the men's and women's titles in Courchevel, France, in late August, will be looking to clinch spots in the JGP Final in Yerevan.
Challenger Series Begins
The 10-event Challenger Series commences the same week with the US International Classic in Lake Placid, New York (September 12-16). Mana Kawabe, who was the third woman in singles for Japan at the Beijing Olympics, will start her season in the city that hosted both the 1932 and 1980 Winter Games.
Kawabe will be competing in a field that includes South Korea's Young You and Yelim Kim, and Audrey Shin of the US.
Joining Kawabe in New York will be ice dancers Misato Komatsubara and Tim Koleto, who were part of Japan's medal-winning team in Beijing. The two train in nearby Montreal.
A second Challenger event will take place the same week when skaters hit the ice for the Lombardia Trophy in Italy (September 15-18). World champion Kaori Sakamoto leads a strong women's trio from Japan that includes Wakaba Higuchi and Rinka Watanabe.
Koshiro Shimada will be the Hinomaru's lone entrant in the men's competition. Shimada, who trains in Switzerland under Stephane Lambiel, will battle for honors with Italy's Matteo Rizzo and Tomoki Hiwatashi of the US.
Eteri Talks About Coaching Style and Herself
Russian coach Eteri Tutberidze, whose stable includes Beijing Olympic champion Anna Shcherbakova, silver medalist Alexandra Trusova and Kamila Valieva, made some very interesting comments in a recent interview with a Russian YouTube channel that were translated and posted on fs-gossips.com.
Asked to rate her toughness as a coach (on a scale of 1-10), Tutberidze said she does not see herself as a tough taskmaster.
"I do not consider our team or our methods to be harsh or even more so cruel," Tutberidze was quoted as saying. "Therefore, I will probably give it a rating of 3 out of 10. Because our system still has a kind of advisory character.
"Our accumulated experience allows us to see what tasks to give and what plans to build," Tutberidze continued. "Any athlete has the right both once and systematically to refuse to complete the task."
Tutberidze was questioned on if she had friendly relations with her skaters.
"No. I keep my distance," Tutberidze replied. "If a child wants to talk to make, share secrets ― I will do it with pleasure, but still at some distance."
Perhaps Tutberidze's most interesting comment came when she was asked how she would describe herself.
"I think that I am an antisocial person, absolutely," Tutberidze admitted. "I don't like society. I don't like to be in a crowd. I don't like it ― it consumes a lot of energy and I get very tired."
Mao Kicks off 'Beyond' Tour in Shiga
Three-time world champion Mao Asada launched the second nationwide tour of her post competitive career on Saturday, September 10 in Otsu, Shiga Prefecture. Her "Beyond" Tour will stop in 16 different cities from Hokkaido to Kyushu in the 38-show series that will culminate next March (2023) at Mao's new rink in Tachikawa on the outskirts of Tokyo.
Mao, who will turn 32 on September 25, previously skated throughout Japan in her epic "Thanks Tour," which began in April 2018, spanned four years, and traveled to all 47 prefectures in a whopping 202 performances.


Author: Jack Gallagher
The author is a veteran sports journalist and one of the world's foremost figure skating experts. Find articles and podcasts by Jack on his author page, here, and find him on Twitter @sportsjapan.