[JAPAN SPORTS NOTEBOOK] Icho, Yoshida and Obara Enshrined in United World Wrestling Hall of Fame
With sustained excellence on the global stage and Olympic glory, the women played a prominent role in elevating the sport's profile in Japan.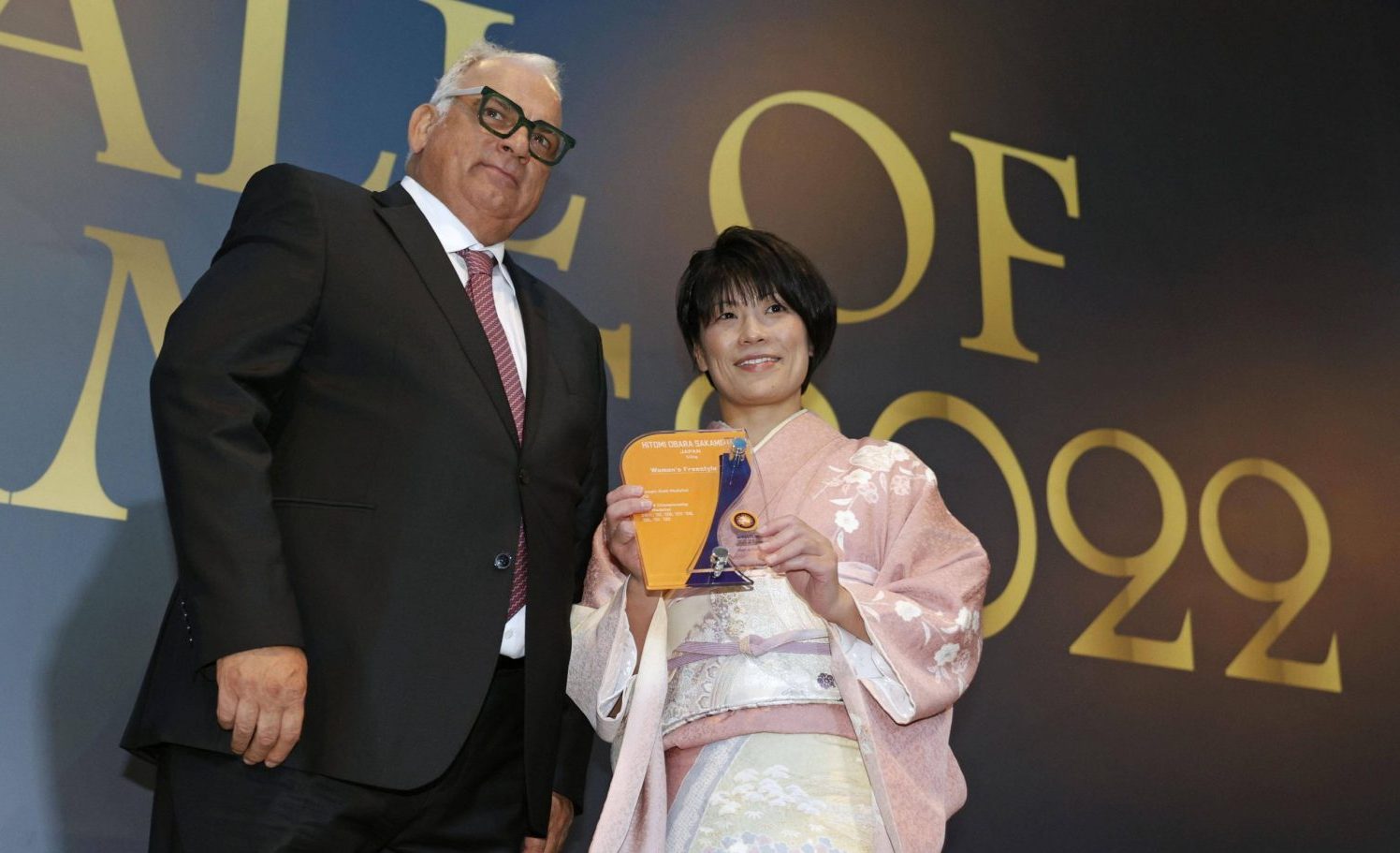 Kaori Icho, Saori Yoshida and Hitomi Obara (neé Sakamoto) raised the bar for Japanese women's wrestling, winning a massive number of national, continental and global titles.
Fittingly, the three retired grapplers have now received the highest honor from the sport's global governing body. On Friday, September 9, they were inducted into the United World Wrestling Hall of Fame in Belgrade.
A total of nine individuals comprised the 2022 Hall of Fame class. (The UWW was previously known by its French acronym, FILA, or International Federation of Associated Wrestling Styles.)

For Obara, it was a special honor to be inducted along with Yoshida and Icho.
"We pushed each other through friendly competition and I'm really honored to receive the award with them," Obara, who traveled to Serbia for the ceremony, was quoted as saying by Kyodo News. "I got to experience lots of things after starting wrestling. I'll do my best to develop wrestlers who can compete on the world stage."
Yoshida and Icho were officially recognized in the legends category, while Obara was honored as a women's wrestling inductee.
Obara, who got married in 2010, claimed gold in the 48-kg division at the 2012 London Olympics. She also won eight world titles, the first six in the 51-kg weight class, then two more at 48 kg in 2010 and 2011 in Moscow and Istanbul, respectively.
At the 2016 Rio de Janeiro Games, Icho, the 63-kg division queen, became the first female athlete in any sport to win a gold medal in four straight Olympics. Her remarkable victory streak in the Olympics kicked off at the 2004 Athens Games. In addition, Icho collected eight straight world titles at 63 kg before switching to the 58-kg weight class. She then won world championship titles in Tashkent in 2014 and Las Vegas the next year.
Yoshida, who also grabbed her first Olympic gold in 2004, when women's wrestling was included on the menu for the first time, owns the all-time record of 13 world titles in the sport. She collected a jaw-dropping 11 straight at 55 kg between 2002 and 2013, and another two at 53 kg in 2014 and '15.
The Mie Prefecture native defended her Olympic title in 2008 in Beijing, and did it again in London four years later. Yoshida was the runner-up at 53 kg at the Rio Olympics.
Shigeo Nakata, a 1968 Olympic men's gold medalist at 52 kg and a world champion the year before that, and Ayako Shoda, a four-time women's world titlist between 1999 and 2008, were inducted in the UWW Hall of Fame in 2018.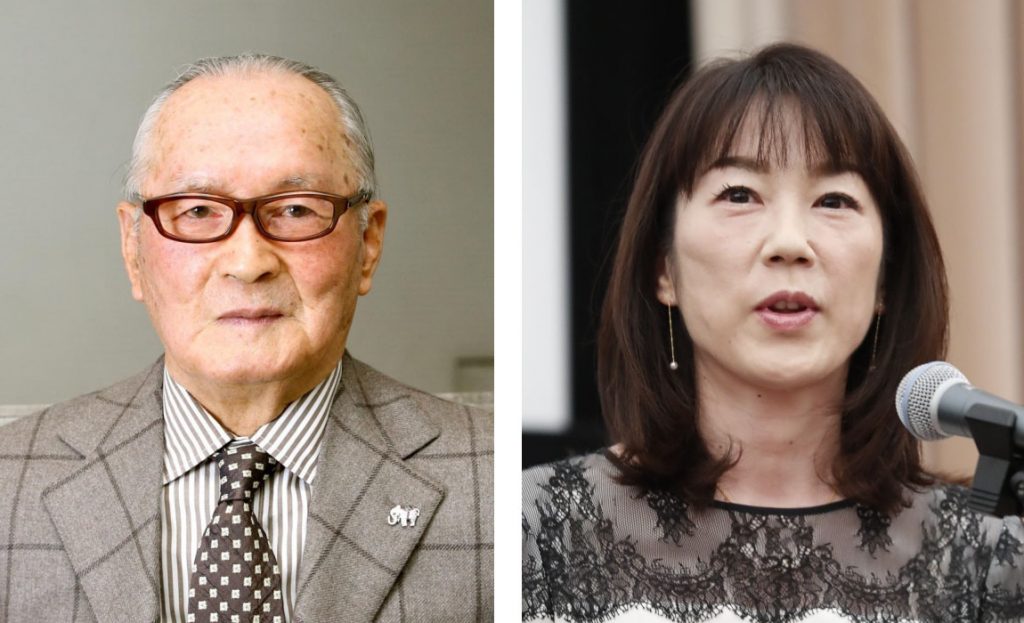 Baseball
Nagashima Begins Rehab After Being Hospitalized for Brain Hemorrhage
Shigeo Nagashima, one of the greatest players in NPB history who was synonymous with winning during his career with the Yomiuri Giants, is recovering from a brain hemorrhage that resulted in his being hospitalized on Tuesday, September 6.
The 86-year-old's health scare is not considered life-threatening, a Giants official said the next day.

Meanwhile, Nagashima, who said he felt dizzy at home on the day of his hospitalization, is working to regain his strength.

"Since yesterday, my father has started rehabilitating his limbs in a general hospital room," Mina Nagashima, the former Giants superstar and manager's daughter, was quoted as saying by Nikkan Sports on Friday, September 9. "He is conscious and his voice is strong and healthy."
Cubs' Suzuki Turns Things Around on Offense
Seiya Suzuki has raised his batting average 23 percentage points over the past few weeks.
The Chicago Cubs outfielder was batting .241 after the Cubs' August 8 game against the Cincinnati Reds.
Suzuki went 2-for-4 on Thursday, September 8, slugging his 22nd double of the season and belting his 12th home run, a solo shot in the eighth inning off Cincy's Alexis Diaz. That performance raised his averaged to .264.
The Cub lost 4-3, but Suzuki said the game provided a positive experience for him personally.
"It boosts my confidence hitting one off a good pitcher and I hope to give my best in the remaining games, too," Suzuki said, according to Kyodo News.

🇯🇵MIZUNO Yuzuki is new World Junior Champion in the 200m Backstroke! She was 0.01 faster than 🇭🇺Dora Molnar 🥈#FINALima2022

Full Results https://t.co/plupxBPh17 pic.twitter.com/6dBGdkFoKA

— World Aquatics (@WorldAquatics) September 2, 2022
Swimming
Japanese Delegation Excels at World Juniors
Yuzuki Mizuno earned the gold medal in the women's 200-meter backstroke at the 8th FINA World Junior Swimming Championships in Lima, Peru, on September 2. Mizuno finished the race in 2 minutes, 9.79 seconds, edging Hungary's Dora Molnar by 0.01 seconds.
"Before the race I was a bit nervous. Earlier today, my body condition was not perfect, but I had my best time," Mizuno, 17, told reporters after the race. "I enjoyed the race and I am very happy with the result. I started swimming at age 5 and by age 8 I chose backstroke as my preferred stroke."
At the meet, which concluded on Sunday, September 4, Japan finished first atop the medal table (seven gold, eight silver, four bronze) with 19. Hungary and Poland tied for second with 14, including seven gold apiece.
At the Tokyo Olympics last year, Japan hauled in three medals in swimming, with Yui Ohashi winning both of the host nation's golds (women's 200 and 400 individual medley races). It was Japan's worst Olympic medal performance in the sport in the 21st century.
In the 2000 Sydney Games, Japan took home four medals (two silver, two bronze). Four years later, the Hinomaru claimed eight medals (three gold, one silver, four bronze) at the Athens Games.
Japan settled for a five-medal haul (2-0-3) at the 2008 Beijing Olympics, then hauled in 11 (0-3-8) at the 2012 London Games. At the 2016 Rio Olympics, the Hinomaru collected seven (2-2-3).
Japan's strong showing in Lima could be a glimpse of things to come in the pool at the 2024 Paris Olympics.
In addition to Mizuno's pulsating victory in the Peruvian capital, Mio Narita won the women's 200 and 400 IM, while Asahi Kawashima (men's 200 breaststroke), Riku Yamaguchi (men's 400 IM), Mizuki Hirai (women's 100 butterfly) and Japan women's 4x100 medley relay squad (Mizuno, Yumeno Kameda, Hirai and Narita) also earned gold medals.
Track and Field
Kitaguchi Earns Bronze in Diamond League Final
Haruka Kitaguchi received the bronze medal in the women's javelin competition at the Diamond League final on Thursday, September 8 in Zurich.
On her top throw of the day, Kitaguchi's javelin traveled 63.56 meters.
American Kara Winger won the title (64.98) and Australia's Kelsey-Lee Barber was the runner-up (63.72).
This season was a breakthrough year for Kitaguchi, who earned the bronze at the 2022 World Athletics Championships in Eugene, Oregon in late July. She had a seven-meet victory streak in Japan (four events), with a trio of wins in France, Austria and the Czech Republic before the year's biggest competition.
RELATED:
Soccer
Hasegawa Finalizes Deal with Manchester City
Midfielder Yui Hasegawa has switched teams in the 12-team Women's Super League in England.

After a one-year stint with West Ham United, Hasegawa has joined Manchester City, which announced the move on Thursday, September 8.
The 25-year-old signed a three-year contract with Man City.
Before playing for West Ham United, Hasegawa made nine appearances for AC Milan in 2021 in the Italian Serie A Femminile, scoring three goals.

Before moving overseas, the Saitama Prefecture native starred for Nippon TV Tokyo Verdy Beleza, formerly of the Nadeshiko League and now a WE League squad, from 2013-21. She helped the team capture five consecutive Nadeshiko titles (2015-19).
Hasegawa, who has earned 59 caps for the Japan national team, addressed her move to Man City in comments posted on the team website.

"It has been a big dream of mine to come to Manchester City to play football, so I am very happy to be here," Hasegawa said. "When I played against City last season, I really liked the team's playing style, so when I got this opportunity, I immediately wanted to join the club.
"People see me as an attacking player, but I also want to be known for my defending and unpredictability. I may be small, but I am strong, and I want to show that."
She added, "I'd like to create as many goals and assists as possible for the team this season to hopefully enjoy a lot of success."
Man City head coach Gareth Taylor has positive expectations for Hasegawa.

"We're really pleased to have been able to bring Yui on board ― she's a very gifted player and one we have admired for a while now," he said, according to the team's news release. "She has a lot of experience under her belt including a year already in the Barclays WSL, and we believe she will fit very nicely in with our style of play and the talented squad we already have here at City."
Briefly…
Tokyo Yakult Swallows slugger Munetaka Murakami bashed his NPB-leading 53rd home run, a solo shot in the second inning, on Friday, September 9. Murakami's clout helped lead the Swallows to a 7-6 home win over the Hiroshima Carp. And with 17 games remaining for the Swallows in the regular season (including September 11), Murakami remains on pace to break NPB's single-season mark of 60 homers set by the Swallows' Wladimir Balentien in 2013. …
The Japanese Federation for the Deaf submitted its bid to host the 2025 Summer Deaflympics in Tokyo on Thursday, September 8. Two days later, the International Committee of Sports for the Deaf awarded the event to the Japanese capital during its general assembly in Vienna. The 2025 Summer Deaflympics are scheduled to be held from November 15-26 at Komazawa Olympic Park and other locations in Tokyo, Fukushima and Shizuoka Prefectures. Originally known as the International Games for the Deaf, the quadrennial extravaganza was first held in 1924 in Paris. The Winter Deaflympics was staged for the first time in 1949 in Seefeld, Austria. …
The Japan men's national soccer team, aka Samurai Blue, will wrap up its official preparations for the 2022 World Cup less than a week before the tournament begins in Qatar. Japan and Canada will square off on November 17 in Dubai, it was announced on Wednesday, September 7. Japan faces Group E foe Germany on November 23 in its tourney opener. Canada takes on Group F opponent Belgium on the same day. ...
Kanoa Igarashi, the Olympic silver medalist in Tokyo, lost the first heat of the World Surf League Championship Tour finals to Brazil's Italo Ferreira 13.37-11.83 on Thursday, September 8 in San Clemente, California. (Video highlights are posted here.) Later in the day, Filipe Toledo defeated fellow Brazilian Ferreira, the Tokyo Olympic champ, in the men's best-of-three finals.

Author: Ed Odeven

Follow Ed on JAPAN Forward's [Japan Sports Notebook] here on Sundays, in [Odds and Evens] here during the week, and Twitter @ed_odeven.