[ICE TIME] Mai Mihara Captures Her First Grand Prix Title with A Sublime Showing
"Receiving a gold medal today might be the biggest result, the biggest achievement of my life," Mai Mihara said, basking in the afterglow of her victory.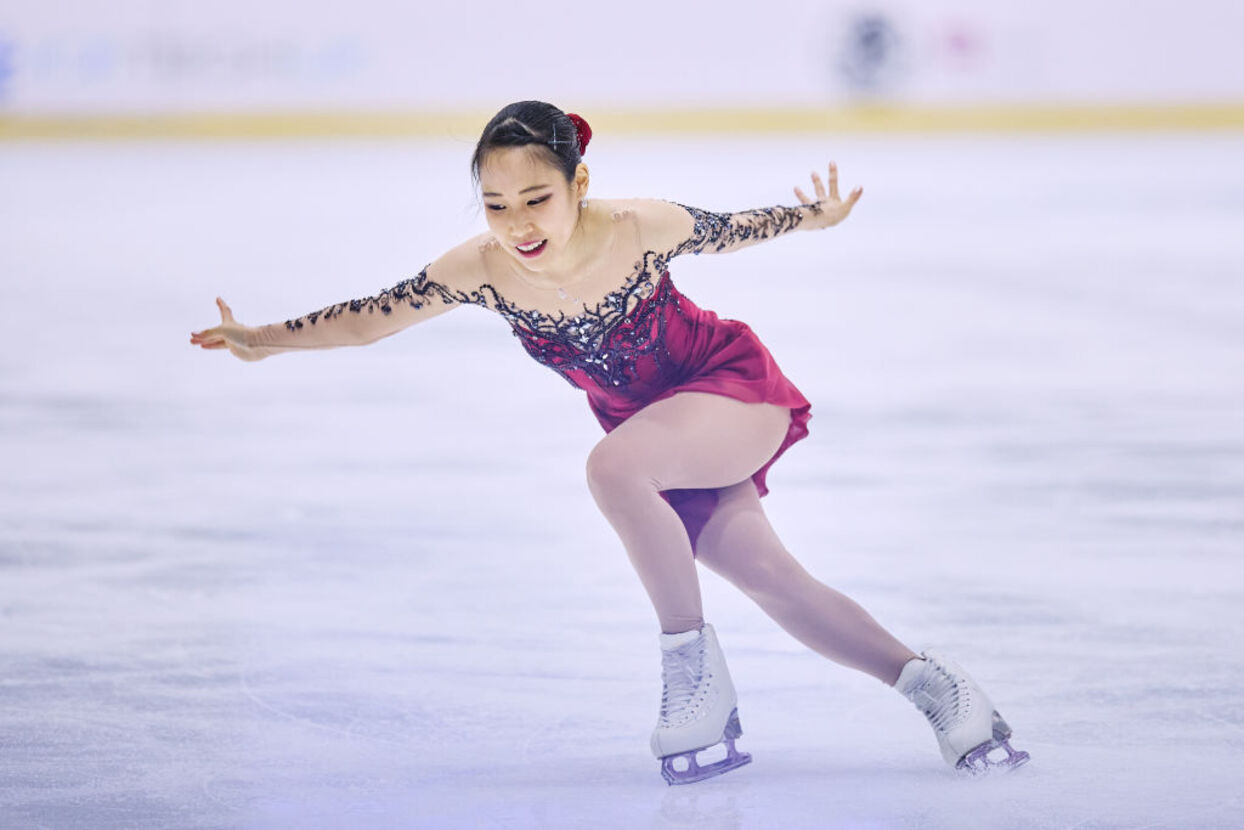 The mark of a great athlete is one that can deliver a flawless performance under intense pressure when a single mistake would result in defeat. And that is what Mai Mihara accomplished on Sunday, November 13. She won the Grand Prix event in Sheffield, England, in what may have been her finest hour.
The 23-year-old Mihara took the ice in her free skate following an outstanding effort by defending world junior champion Isabeau Levito of the United States. Levito's big score meant that Mihara would have to post almost a personal-best mark to retain the narrow lead she held after the short program.
Mihara never blinked in her skate to "El Amor Brujo" and notched the first GP victory of her long career with a total score of 217.43 points. The 15-year-old Levito finished second with 215.74, while Georgia's Anastasiia Gubanova took third on 193.11.
"Receiving a gold medal today might be the biggest result, the biggest achievement of my life," Mihara stated after her stirring triumph. "I still can't believe it!"
In eight previous career senior GPs, Mihara had finished fourth six times.
"I am really happy now, because I finished fourth many times," Mihara commented, adding: "I thought I can't make it to the podium. But my coach (Sonoko Nakano) told me you can get a medal ― and you can even be on the top. I couldn't believe it. And I am so happy to be here and achieve this gold medal."
Sato Earns Bronze in Men's Event
Shun Sato added to another successful weekend for Japan by coming in third in the men's event. The 17-year-old, who dealt with a shoulder injury last season, moved up from fourth after the short program to make the podium on Saturday.
Italy's Daniel Grassl won with a tally of 264.35, ahead of Latvia's Deniss Vasiljevs who was second at 254.56. Sato's total was 249.03, just ahead of compatriot Koshiro Shimada, who took fourth (247.17).
Tatsuya Tsuboi, in his senior GP debut, placed fifth with 226.13.
Mihara Rises to the Occasion
There were many fine performances over the weekend as England hosted its first-ever GP. But it was Mihara's free skate that will remain seared in the memory of those who attended.
She showed beautiful line and edge as she moved through her program. The Kobe native landed five clean triple jumps and earned level fours on her spins and step sequence in an effort that just a few years ago would have seemed improbable.
Mihara missed the 2019-20 season due to illness but returned the following campaign and has persevered the past few years. Now a graduate student at Konan University, she has the poise of a veteran skater and the skills to defeat competitors who are much younger.
Sato Overcomes Mistakes
Sato fell on his opening quadruple lutz in his free skate to "Red Violin" but recovered to land two quad toe loops and hit four clean triples and notch level fours on his spins.
"I didn't skate my short and free program without mistakes. But even the mistakes I made didn't affect my performance and I went through until the end," Sato remarked. "So I'm quite happy about it."
Sato is looking ahead to his next competition where a victory could give him a chance at making the GP Final in Italy in December.
"My next event is the Grand Prix in Finland. There will be good skaters like [American] Ilia Malinin. And I will try to do my best to compete with those skaters."

Shun Sato
Sato admitted that his result in England was encouraging.
"Maybe this match gave me a chance to regain my confidence," Sato said. "I want to do my best so that I can perform even better than now.
He added, "I made some mistakes, but it's been a long time since I competed overseas. I have to do it."

Looking ahead, he said: "I want to focus on practicing so that I can get a good start in the short program."
Shimada Appreciates Fan Support
The 21-year-old Shimada landed a quad toe loop and eight triples in his free skate to "City Lights" and posted level fours on two of his spins while coming in fourth.
Shimada, who has trained in Switzerland under Stephane Lambiel for many years, welcomed the chance to compete in a GP that was close in proximity to his home base.
"I received warm support," Shimada stated. "It's like a GP series, or local tournament in the region. Not flashy; it's a nice atmosphere."
Tsuboi Admits Mental Pressure
Tsuboi went down on his opening quad salchow, but bounced back to land seven clean triples in his free skate to "High Strung."
Japan junior champion in 2018, Tsuboi talked about stepping up to the senior ranks while recovering from injury.
"Since it was my first GP series, there was a unique sense of tension," Tsuboi commented. "It doesn't matter if you're a junior or senior because of an injury. I wasn't able to continue practicing the program with quadruples, so I'm going to start from now."
Miura Clinches Spot in GP Final
Following the results at the Grand Prix in England, it was determined that Kao Miura had qualified for the GP Final.
Miura placed second at both Skate America and Skate Canada, giving him a total of 26 points and a berth in the prestigious event featuring the top six skaters in each discipline during the GP season.
NHK Trophy up Next in Sapporo
The GP circuit travels to Hokkaido this week (November 18-19) for the fifth stop of the season. World champions Shoma Uno and Kaori Sakamoto will be the featured skaters. Also skating for the Hinomaru in Sapporo will be Sota Yamamoto, Kazuki Tomono, Rinka Watanabe and Rion Sumiyoshi.
Uno, Sakamoto and Watanabe, who won their opening GP assignments, will all be looking to clinch spots in the GP Final at Makomanai Arena.
The men's event promises to be a competitive one, as France's Adam Siao Him Fa, South Korea's Junhwan Cha, Italy's Matteo Rizzo and American Tomoki Hiwatashi are all entered.
South Korea's Yelim Kim and Americans Starr Andrews and Audrey Shin are part of the roster for the women's battle.
Japan Skaters Dominate Top-10 Scores
The website skatingscores.com reported on Sunday, November 13 that seven of the top-10 women's scores this season have been achieved by Japanese skaters, led by junior Mao Shimada's 217.68 points at the Junior Grand Prix in Poland in October.
Also in the top 10 are: 2. Sakamoto (217.61), 3. Mihara (217.43), 7. Watanabe 213.14, 8. Hana Yoshida (208.31), 9. Ami Nakai (205.90), 10. Mone Chiba (205.82).
Winter World University Games Squad Revealed
The Japan Skating Federation announced the team for the Winter World University Games in Lake Placid, New York, in January on Friday, November 11. Japan will be sending a powerful squad to the site of the 1932 and 1980 Olympics, headed by Olympic bronze medalist Sakamoto (Kobe Gakuin University) and Olympic silver medalist Yuma Kagiyama (Chukyo University).
Sakamoto will be joined by her training partner Mihara and Sumiyoshi (Meiji University), while Kagiyama will be backed by Sato (Meiji University) and Tsuboi (Kobe University).
In addition to announcing the six skaters for the competition, the JSF also nominated six alternates in the event of injury or illness. Watanabe (Hosei University), Maria Egawa (Meiji University) and Mako Yamashita (Chukyo University) will be on call for the women, while Yamamoto (Chukyo University), Kosho Oshima (Meiji University) and Kazuki Hasegawa (Tokyo University of Science) will be available for the men.
Oda Victorious in Return to Competition
Nobunari Oda started his bid to qualify for the Japan Championships with a victory at a preliminary event for the National Sports Festival on Saturday, November 12 in Osaka. Oda retired after the Japan Championships back in 2013, but announced on November 1 that he would skate competitively again.
The 35-year-old Oda, who has been coaching and commentating since retiring, won with a score of 146.05. He indicated that he was returning to competition in an effort to stay in shape.
"After knee surgery and having the coronavirus, I lost a lot of strength and muscle mass," Oda stated on his YouTube channel when he announced his return.
"At Fantasy on Ice in June, I could barely jump the triple axel." Oda noted, "I felt like I could be better at 35.
"I needed technique, stamina and strength," Oda continued, adding, "I needed a goal, something to motivate me for the training."
Oda finished seventh at the 2010 Olympics in Vancouver.
Tuktamysheva Wins Russian GP
Elizaveta Tuktamysheva won the fourth round of the Russian GP in Moscow on Sunday, November 13 in her debut in the series. Tuktamysheva prevailed with a mark of 234.63.
Sofia Muravieva came in second at 230.56, while Sofia Akateva was third on 225.37.
Tuktamysheva landed two triple axels in her free skate, but fell on a triple flip.
"I'm very happy. This victory is largely unexpected for me," Tuktamysheva confessed in comments translated from the Russian federation website. "I was a little tired today, so it's good that I managed to finish the free skate."
Added Tuktamysheva, "I approached the start in good shape, which allowed me to skate like that, even despite the mistake."

Author: Jack Gallagher
The author is a veteran sports journalist and one of the world's foremost figure skating experts. Find articles and podcasts by Jack on his author page, here, and find him on Twitter @sportsjapan.