[ODDS and EVENS] Kevin Braswell Brings Wealth of Basketball Experience to Akita Northern Happinets
Serving as the acting head coach of the B.League's Northern Happinets, Braswell draws upon his decades of involvement in pro hoops.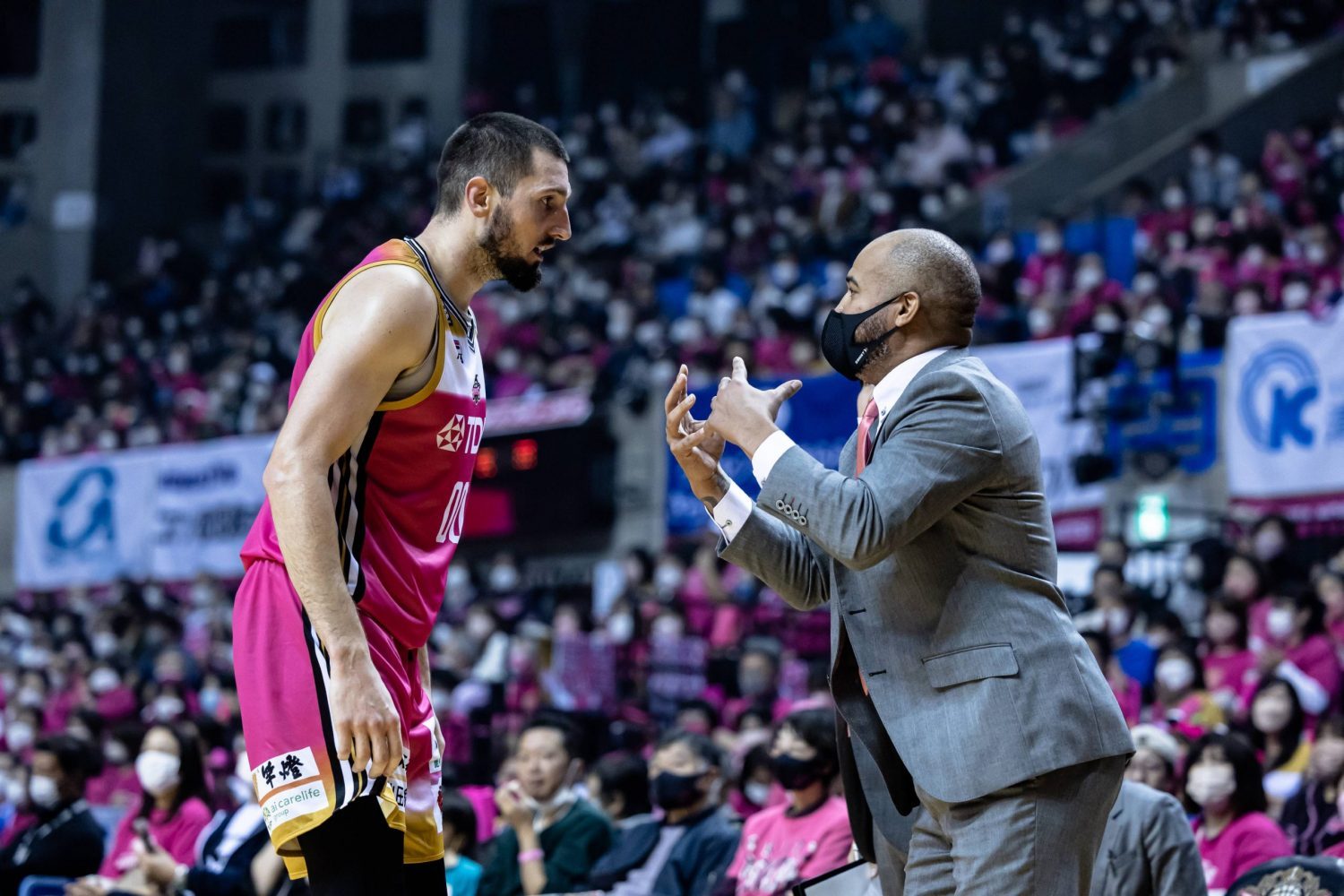 A nearly 40-minute phone conversation with Kevin Braswell, acting head coach of the B.League's Akita Northern Happinets the other day was an inspiring, generation-spanning, kaleidoscopic collage of basketball memories, tactics, influences and more.
In short, it was lots of fun.
Braswell exudes passion for the sport. He's been around the game throughout his adult life. You can tell he's enjoyed the thrill of competition as stories connect the dots from the 1990s to the present.
He was a four-year starting guard at Georgetown University (1998-2002). He played professional ball in the NBA's minor league, Europe, New Zealand and Australia, as well as for the NBA's Miami Heat in the preseason in 2005. He suited up for teams in 11 countries, according to published reports, during his 14-year playing career.
Braswell had his longest one-team stint as a player with the Southland Sharks of New Zealand's National Basketball League (2011-15), and he scored 24 points in his final home game with the club in June 2015. The Sharks retired his No. 12 jersey during a post-game ceremony.

"I had no idea they were thinking about retiring my jersey, no one had mentioned anything to me. It was amazing for them to do what they did," Braswell said, according to New Zealand's Stuff news website.
Braswell, 43, revisited various aspects of his career as a player and a coach during our chat on Tuesday afternoon, November 15. And some of these memories are also included below.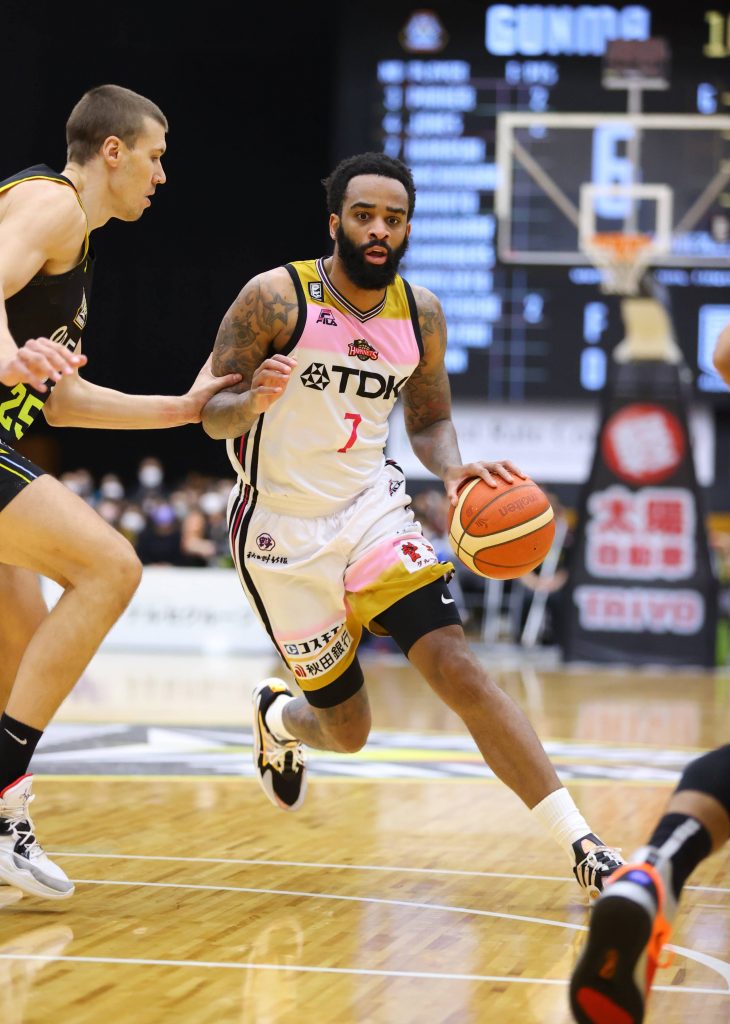 Akita's Season to Date
The Northern Happinets (4-5) have played nine of 60 regular-season games. The early portion of their schedule featured a majority of their games outside of Akita, and they have won four of seven road contests to date.

They've already played a pair of Final Four teams from last season (Shimane Susanoo Magic, Ryukyu Golden Kings), dropping all four games. Braswell admitted that Akita has had a difficult schedule to open the season, noting other matches against the Levanga Hokkaido, Sunrockers Shibuya and Gunma Crane Thunders were tough, too.
"We could probably be 2-7 at the end of these nine games," Braswell said, recalling his thoughts after first glancing at the season schedule. "So to be 4-5 and to be playing the way we are playing and with new imports and with a new coach, a lot of things against us, having a 4-5 record it's definitely, I think, probably above where we should be right now."

The Northern Happinets play host to the San-en NeoPhoenix (6-3) on Saturday and Sunday, November 19 and 20, returning to B.League competition after the long international break (the Japan men's national team played 2023 FIBA Basketball World Cup Asian qualifiers on November 11 and 14 in Bahrain and Kazakhstan, respectively).

In the Northern Happinets' most recent game, they beat the Crane Thunders 94-88 on October 26.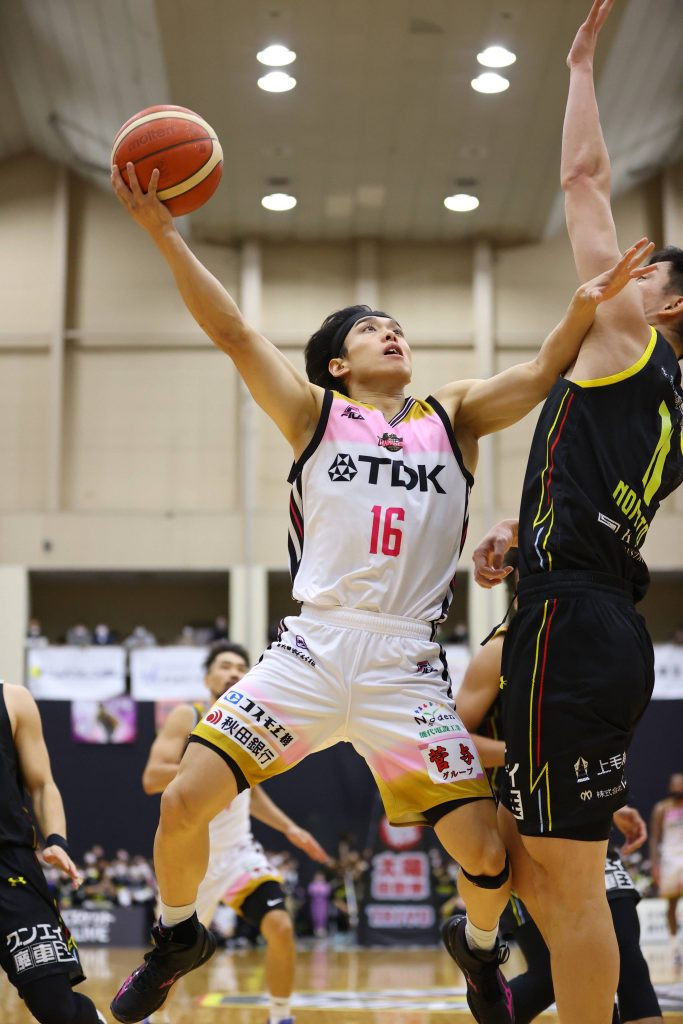 During Time Off
"I think that the time off for us has been good," Brawell said. "It came at the right time after losing an import with an injury."

Turkish big man Kerem Kanter (hip joint) has been sidelined with an injury. He hasn't played since October 22, but is expected to be back in action soon. Kanter is averaging 11.7 points and 10.4 rebounds per game.

How else did the club utilize the long layoff in the early portion of the season?

Braswell described it as "time to work on some things that we needed to get better at."
Leadership Opportunity for Braswell
Braswell, who joined Akita as an assistant coach before the 2021-22 season, has served as the acting head coach since preseason training began in the summer. Kenzo Maeda, the head coach since 2019, is on a leave of absence.
Maeda's wife, Natsumi, who was battling an illness, passed away in September. She was 39.

In June, Braswell received notification from Maeda that he "may have to step in from time to time with the games."

Eventually, he was asked to fill in for Maeda before the season started, "so there was no blueprint," Braswell told me. "He said you do it the way you want to do it."
Despite being on leave, Braswell said he thinks Maeda's involvement with the team has provided a beacon of light for the team, a shining example for all of them, as he copes with his family tragedy in his own way.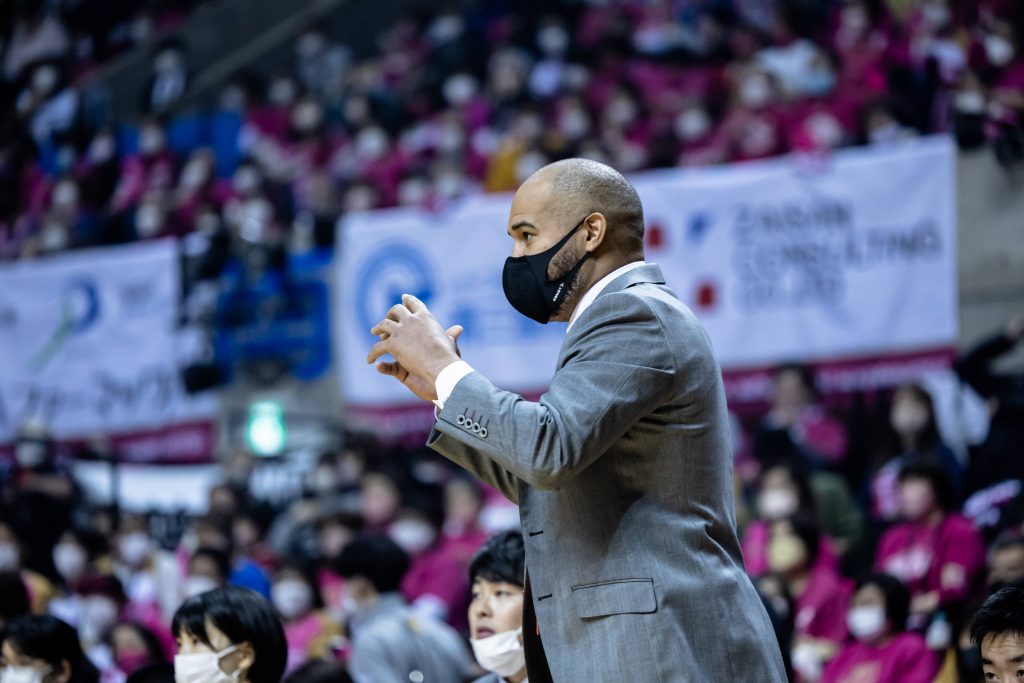 "Throughout everything that he has been through, this man has had the ultimate toughness," Braswell said. "And mental toughness that I hope that everyone on our team walks into a practice, into a locker room, to a game and I hope that they think about this constantly, because I sure do."

Maeda's dedication to the team has been on display in other ways during his leave of absence. For example, he's texted Braswell during halftime of games with observations about Akita's performance.

Maeda has also attended a few practices in recent days, and "I can see that every day he's getting better and being more comfortable being here," Braswell observed.
Last season, Maeda guided the Northern Happinets to a 31-23 regular-season record as they reached the B1 playoffs for the first time.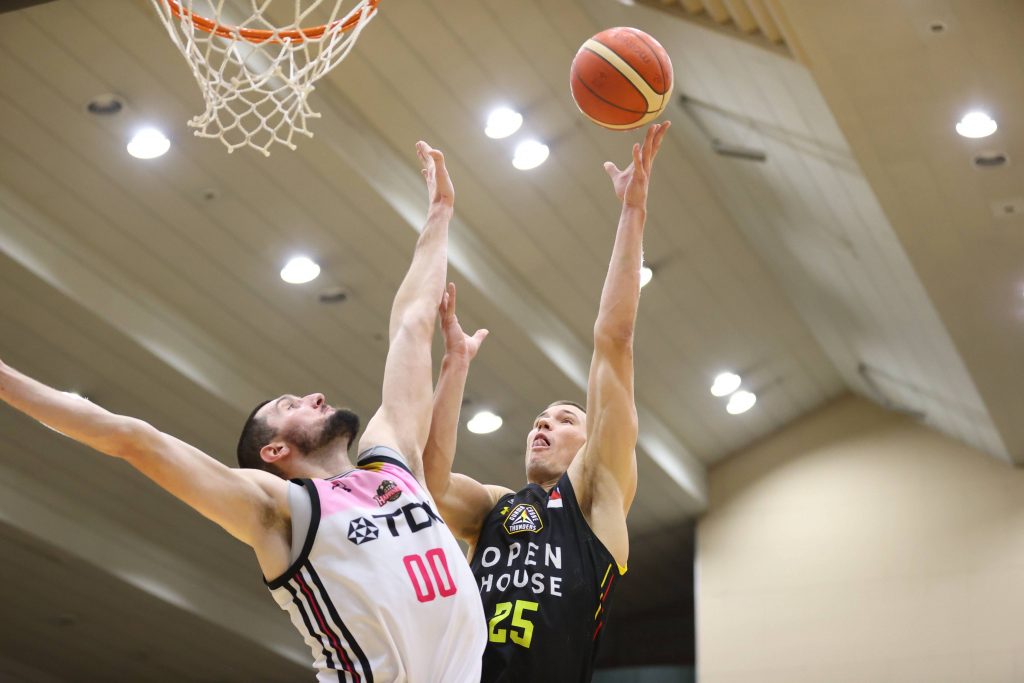 Strengths of the Northern Happinets
Three statistical categories help illuminate the team's overall strengths to date: assists (21.6 per game; fourth in the league), rebounding (40.8; No. 3) and 3-point shooting percentage (37.4%; No. 3).
As an assistant coach last season, Braswell installed a new offense, instructing the players to focus more on read-and-react plays. The adjustment has taken time. He said the team committed too many turnovers in 2021-22. A big highlight, though, was the team's 3-point shooting (37.8%), the best in the league.
And with a full year of acclimation, the team's returning Japanese players have grasped the nuances of the system.
What's more, the Northern Happinets are committed to keep improving as perimeter shooters.
"We are always searching for a good quality shot. An open shot, not a good one, we want a great one every time down the court."

Kevin Braswell
Newcomers Stanton Kidd (6.9 rebounds per game) and Steve Zack (6.9) have added inside muscle to bolster the club's rebounding along with Kanter.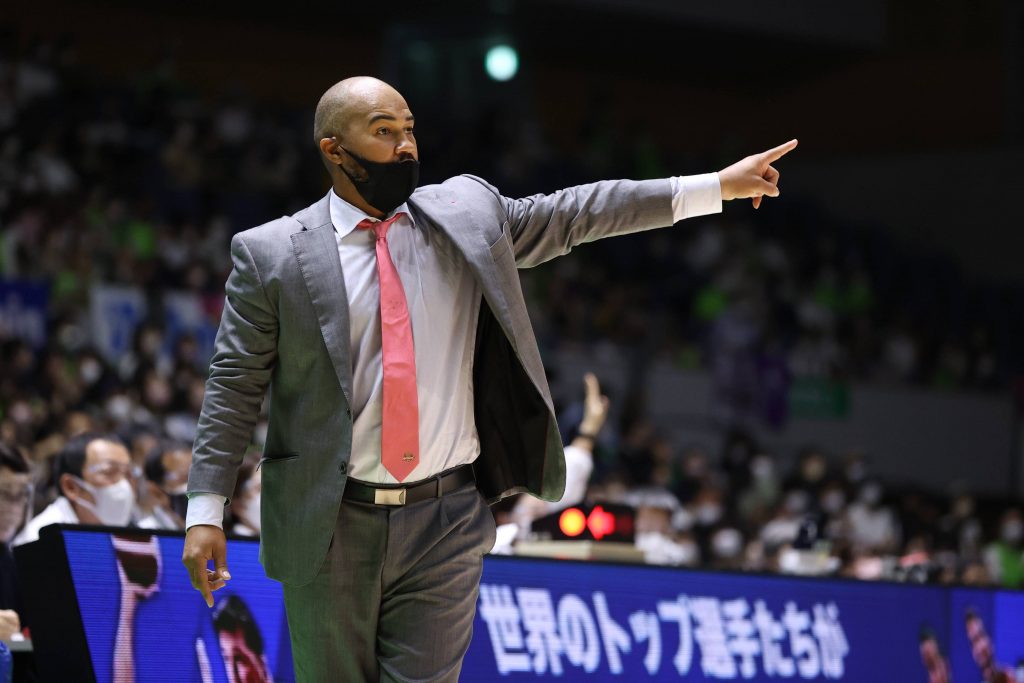 Offensive rebounding has been another key component of the team's practices. Braswell is pleased to see improvement in this area, too.
Also helping to spark the team's rebounding effort is high-energy guard Takuya Nakayama, who's contributing 4.3 rebounds per game.

"He's a phenomenal rebounder," Braswell said of Nakayama. "And he kind of has his own role. When he wants to crash the offensive boards, we do a good job of teaching him where we want to crash the offensive boards."
Insights on Northern Happinets Players
I asked Braswell for his general impressions of several Akita players, including how they impact the team on the court.
Here are a few highlights: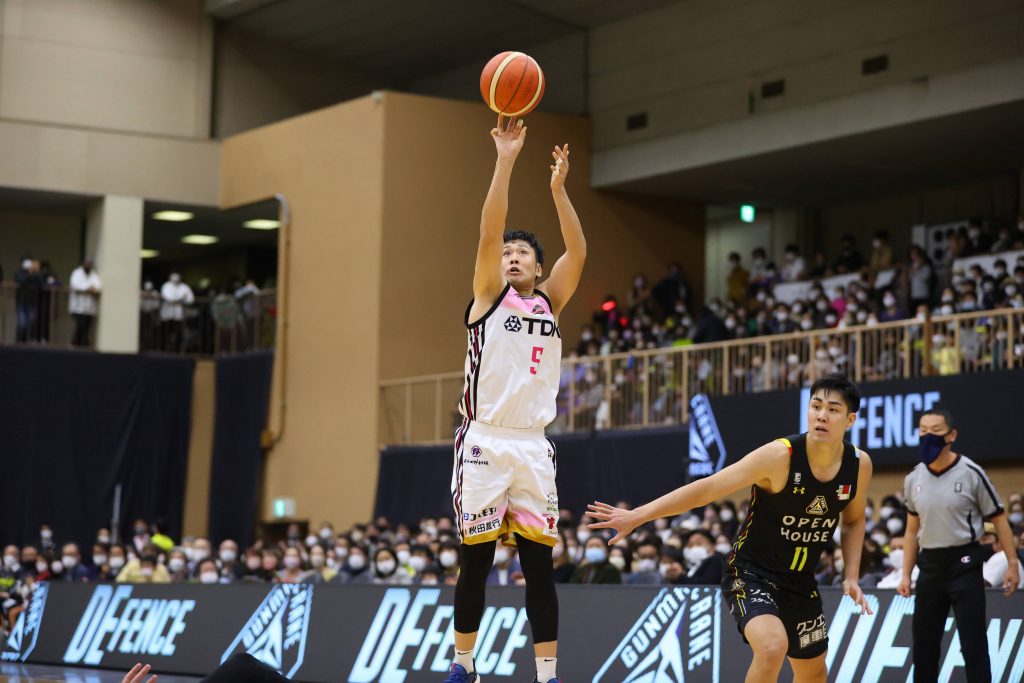 Shigehiro Taguchi
On Shigehiro Taguchi (who's averaging 12.3 points per game and is No. 8 in B1 in 3-point shooting accuracy at 46.8%): "One of the things that made me better as a player is knowing that a coach has ultimate confidence in any shot that you take, and so one of the things I'm big on him with is just, 'You don't have a bad shot. I don't care if the person's hand is up your nose, you shoot it.' … I force him to be aggressive at all times, and he's embraced the role."
Stanton Kidd
On Kidd (who's averaging a 20.1 ppg, fifth-best scoring average in the league): "He's been a helluva asset for us. He's a guy that has normally played roles on teams, but when we watched him, we saw that he had the ability to do so many different things on the floor [on offense and defense]. … Offensively, he does not have a flaw."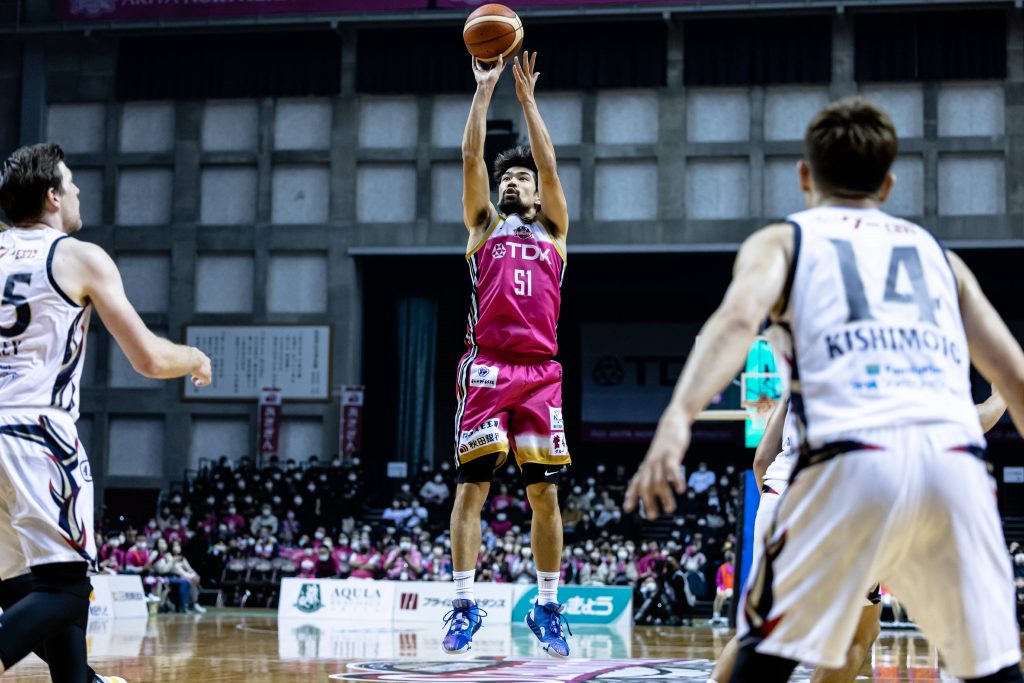 Takatoshi Furukawa
On captain Takatoshi Furukawa (who's averaging 12.0 ppg): "One of the things that he does well is he does the right thing. He takes care of his body. He has a crazy daily routine. … I think his leadership in the way he carries himself with that stuff is something that people see. … [And] he's been way more vocal as a captain than he was last year."
Takuya Nakayama
On Nakayama (who leads the club with 4.7 assists per game): "You know how you have a glue guy on a team? I think that's him. If you need somebody hustling, diving on the floor, making a play, he's not a natural point guard. But he'll play the point guard position, he'll guard the best offensive player on the other end. … He embraces that role, he makes us better when he's on the floor."
Braswell's Decision to Join Georgetown
In the 1980s and '90s, future NBA standouts Patrick Ewing, Dikembe Mutombo and Allen Iverson were among the big-name players to compete on longtime Georgetown coach John Thompson's squad. The Hoyas won 20 or more games in 14 seasons spanning the two decades, including a national championship in 1984.
Braswell was a highly recruited guard from Baltimore. He spent his final high school season at Maine Central Institute, and decided to attend Georgetown. He received offers from numerous schools across the United States.

So why did he choose Georgetown?
"The only reason I chose Georgetown was so my family could see me play," he said.

How special was it to be able to play in front of your family? I asked.

"It was unreal," Braswell answered.
He added, "My mom came to every college game no matter where it was. And it was a luxury for me because I never met my dad, so my mom was working two jobs all the way through high school, so she got to see me play one high school game."
Braswell started all 128 games of Georgetown's games during his four-year college career. Without hesitation, he said he's proud of his durability in college.
He averaged 13.6 points, 3.9 rebounds and 5.4 assists. A Big East Conference All-Rookie Team selection in 1998-99 and a two-time All-Big East selection, he was No. 1 on Georgetown's career list for 3-pointers (189), assists (695) and steals 349) when he played his final game for the Hoyas in 2002.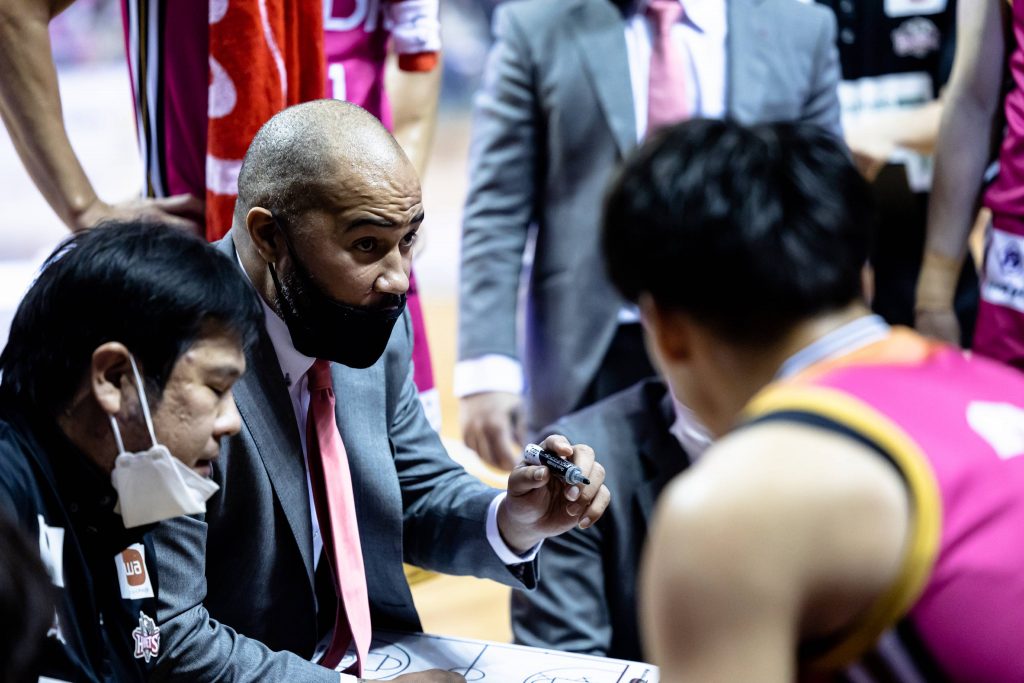 Biggest Thrills of Braswell's Playing Career
To this day, Braswell vividly recalls facing the University of Virginia in the 2000 National Invitation Tournament, a triple-overtime game in which he poured in 40 points against the Cavaliers, scoring 32 points after halftime, in the Hoyas' 115-111 triumph.
"That was one of my best games in college," Braswell said.
The next year, the 10th-seeded Hoyas reached the Sweet 16 of the NCAA Tournament and took on No. 3 seed Maryland, a team that included several of Braswell's friends (Steve Blake, Lonny Baxter, Juan Dixon, Chris Wilcox and Terence Morris, all of whom later played in the NBA).
"That game went down to the wire, but me and Juan Dixon grew up together," Braswell said about Maryland's 76-66 win. "So to play against your best friend in college basketball was unbelievable."
As a pro player, he said he holds special fondness for the chance to compete with future NBA players Rodrigue Beaubois, Nando de Colo and Kevin Seraphin on the French club Cholet Basket in the 2008-09 season.
Playing Overseas
He also mentioned the special bond that formed among the players and coaching staff on the New Zealand Breakers during their 2010-11 Australian NBL championship squad. A pair of current B.League coaches, Shimane's Paul Henare (who was a standout Breakers guard) and Andrej Lemanis (the Breakers bench boss and current B2 Altiri Chiba coach) were also on that squad.
Blessed to play with and against quality competition throughout his career, Braswell also said some of his European coaches, including Sergei Bazarevich, the NBA's first Russian point guard, and Erman Kunter helped expand his knowledge of the game.
"He taught me a lot of things about being a scoring point guard," Braswell said of Bazarevich.

Such as?

"He just taught me ways to read the game."

Kunter's command of the pick-and-roll proved to be an invaluable resource for Braswell.

Knowledge passed on to Braswell has been dispensed to Akita Northern Happinets players, too.

Author: Ed Odeven
Follow Ed on JAPAN Forward's [Japan Sports Notebook] here on Sundays, in [Odds and Evens] here during the week, and Twitter @ed_odeven.