[JAPAN SPORTS NOTEBOOK] Samurai Blue Stumble in Final FIFA World Cup Tuneup
Admitting the loss to Canada was a blow to the players, manager Hajime Moriyasu said preparations needed for the upcoming FIFA World Cup won't change.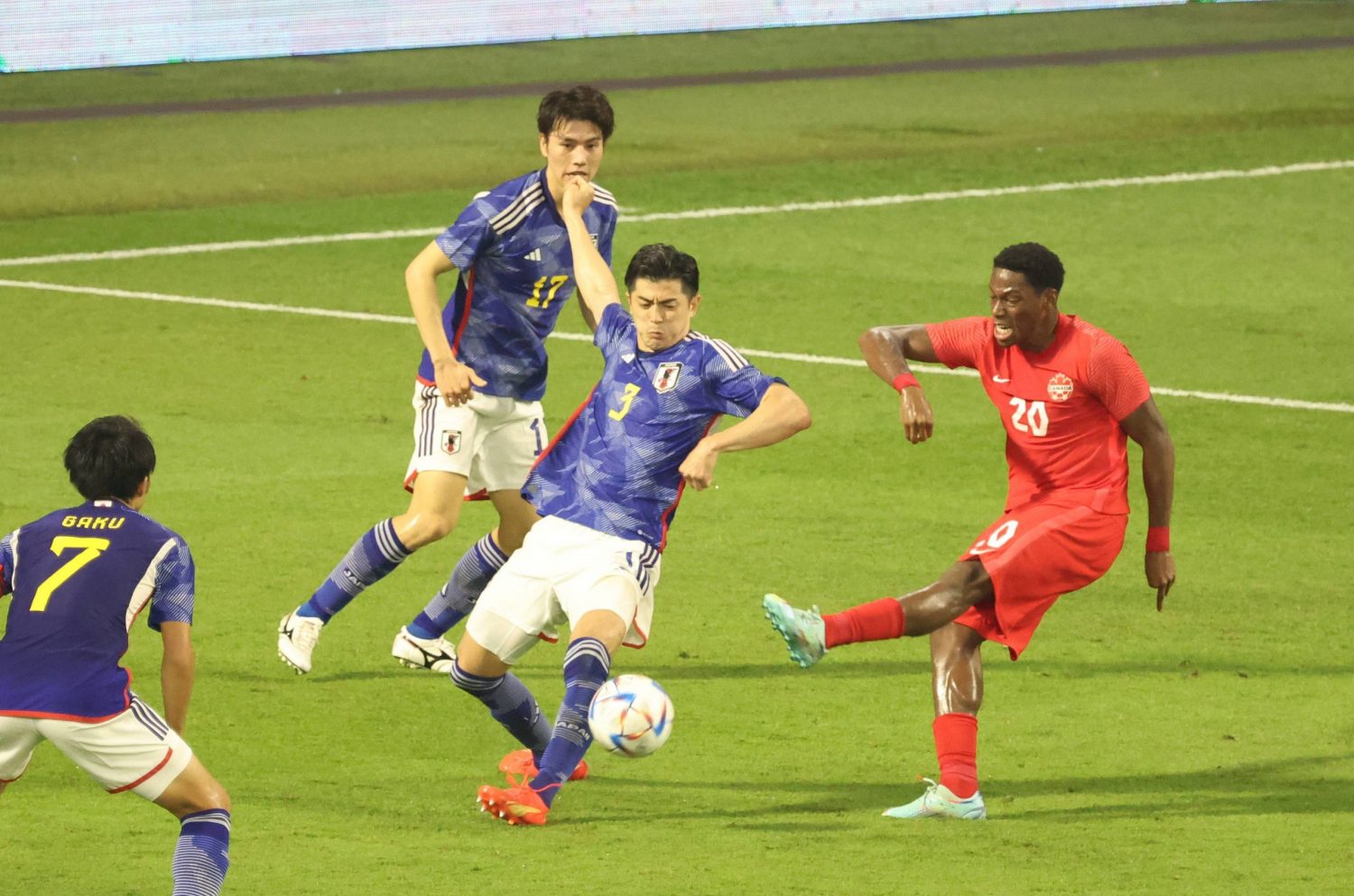 Exhibition matches give a coaching staff opportunities to evaluate a team's preparations for big events, including the biggest of them, the FIFA World Cup.
The Japan men's national team's mediocre performance against Canada on Thursday, November 17 was one such opportunity for Samurai Blue boss Hajime Moriyasu and his assistants.
Canada's 2-1 victory in Dubai at Al-Maktoum Stadium was a reminder that world rankings often mean very little once a match kicks off.
Japan is 24th in the rankings, while Canada is 41st. Canada is on the verge of competing in the World Cup for the first time since 1986, and Japan is getting ready for its seventh consecutive appearance.
Thursday's showdown wasn't a manifestation of either nation's soccer history. Instead, it was a visual display of Canada's resilience and joy to be gearing up for a trip to Qatar and a place in the 32-nation tournament.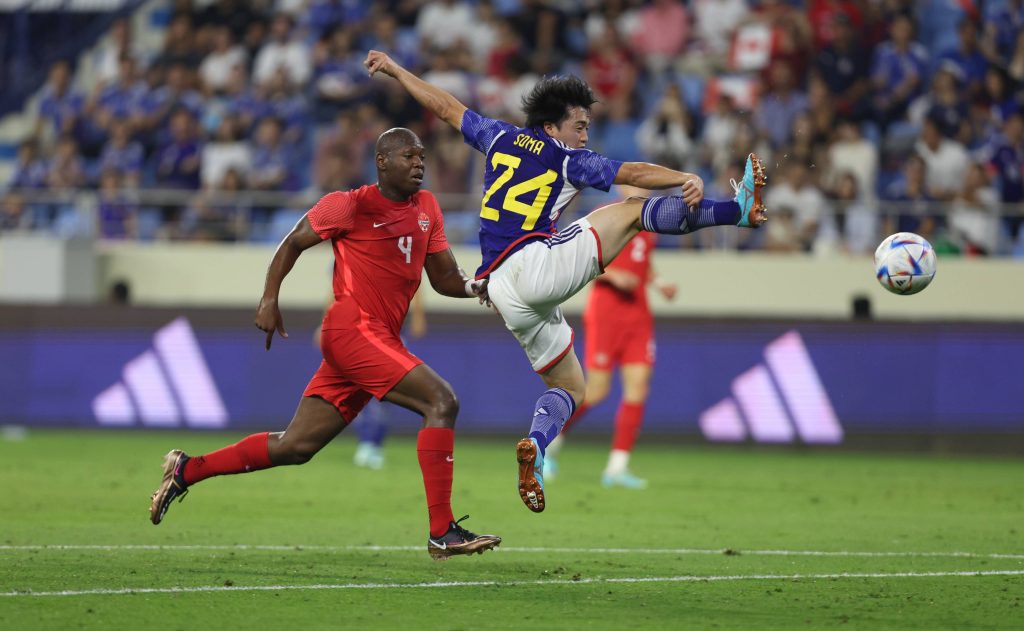 Japan jumped out to a 1-0 lead on a Yuki Soma goal in the eighth minute. That advantage slipped away in the 21st minute on a Steven Vitoria equalizer, a scoring chance created by a well-executed corner kick.
Both teams battled for a go-ahead goal until Canada capitalized on a costly mistake by Japan defender Miki Yamane, who tripped Mark Anthony-Kaye in the box, giving Canada a penalty shot from the location of the infraction. Lucas Cavallini scored on the ensuing kick, and he was mobbed by teammates as they celebrated the match-winning tally.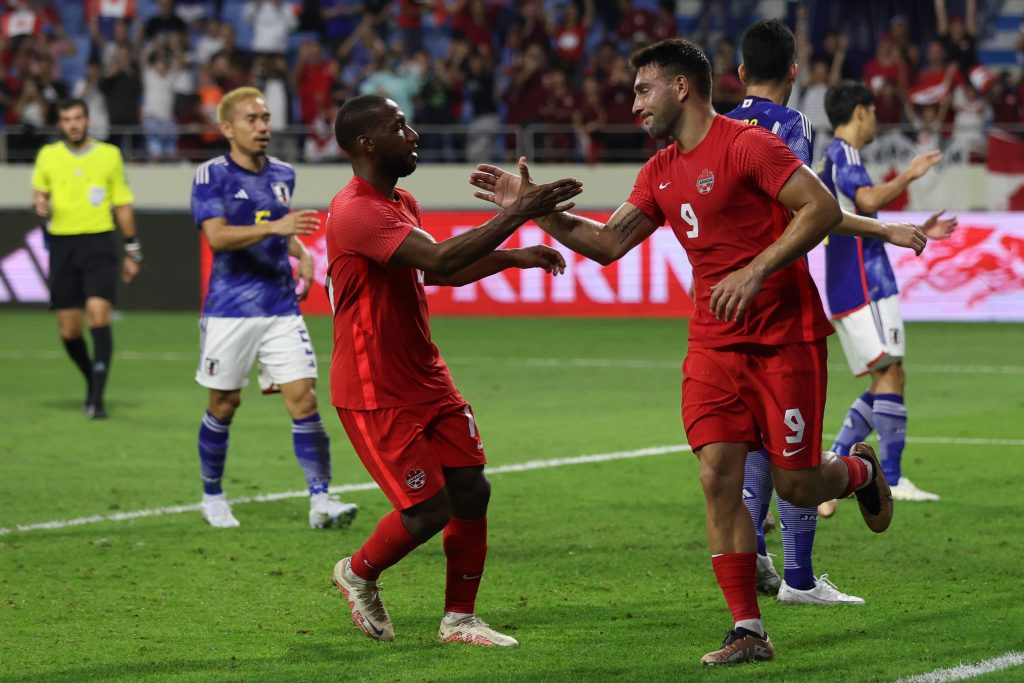 Moments earlier, Yamane ripped a shot off the right post.
"It's disappointing we couldn't win," Moriyasu was quoted as saying in the United Arab Emirates by Kyodo News. "I think it was a blow for the players, but the preparations we need to make for our next game won't change."
In the most recent match between the nations, Japan beat Canada 2-1 in a friendly in Doha in March 2013.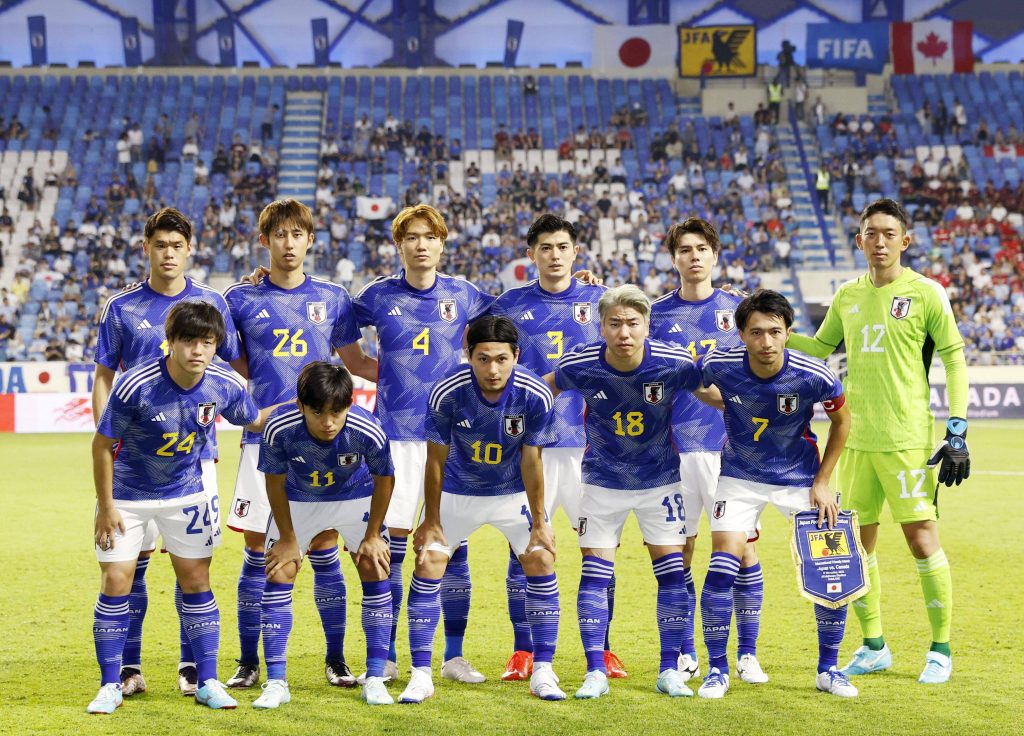 Upcoming Schedules
Canada, led by manager John Herdman, now turns its focus to a tough opening Group F match in Qatar against world No. 2 Belgium on Wednesday, November 23.

The Samurai Blue are also back in action on Wednesday in a Group E opener against 11th-ranked Germany. Kickoff is 10 PM JST.
After facing Germany, which won the 2014 World Cup, Japan takes on No. 31 Costa Rica on November 27 (7 PM JST) and world No. 7 Spain, the 2010 World Cup champion, on December 2 (4 AM JST).
To advance to the round of 16, Japan likely needs at least one win and one draw.
When the Samurai Blue reached the final 16 in 2018 in Russia, they had a win, a draw and a loss in the group stage, opening the tourney with a 2-1 victory over Colombia.
Japan's World Cup History
Since qualifying for the World Cup for the first time in 1998, Japan has alternated exiting the tournament after the group stage (1998, 2004, 2006) or the round of 16 (2002, 2010, 2018).
Will that pattern continue in 2022?
It may determine whether Moriyasu remains manager beyond the November-December tournament.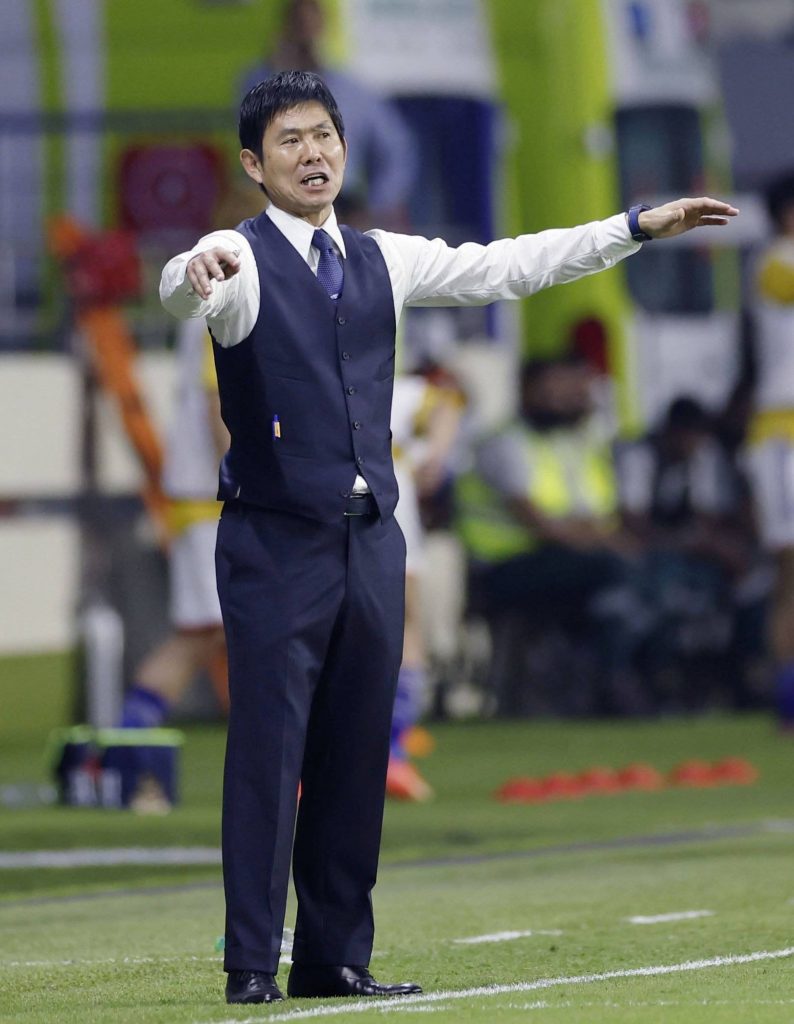 Managerial moves are often made after a four-year World Cup cycle ends, and a group stage exit would likely be viewed in negative light by the Japan Football Association's top officials, including technical director Yasuharu Sorimachi.

In related news, Shonan Bellmare forward Shuto Machino, 23, was named an injury replacement for defender Yuta Nakayama for Japan's World Cup squad on Tuesday, November 15.
Nakayama, 25, is sidelined after sustaining an Achilles tendon injury in English second-tier team Huddersfield Town's match against Sunderland on November 2.
RELATED:
Basketball
Japan Improves to 5-5 in FIBA World Cup Qualifiers
The Japan men's national team outplayed Kazakhstan in a 2023 FIBA Basketball World Cup Asian second-round qualifier on Monday, November 15, winning 81-61 in the Kazakh capital Astana.

Akatsuki Japan (5-5 in qualifying) led 45-27 at halftime.

Hirotaka Yoshii paced the visitors with 15 points. Yuki Kawamura added 13 points, four assists and four steals. Luke Evans had 11 points, seven rebounds and two blocks, while Tenketsu Harimoto matched Evans' scoring total. Yuki Togashi contributed nine points and seven assists and fellow point guard Kai Toews chipped in with eight points and three steals.
"I'm just really happy we got a win," Japan coach Tom Hovasse told reporters in a postgame news conference. "It's been a long trip for us, from Japan to Bahrain and from Bahrain to here. I really liked our energy for three quarters.

"We knew that Kazakhstan is a strong team and they have a lot of pride and we knew they weren't going to be an easy game for sure, so we really keyed on our energy and not losing to their physicality and their aggressive defense."
Rustam Murzagaliyev led Kazakhstan (5-5) with 14 points.
Japan shot 50.9% from the floor and held the hosts to 39.3% shooting.
Japan defeated Bahrain 87-74 in Manama on November 11 in the opening game of its road trip.
The next phase of FIBA Basketball World Cup qualifying will be held in late February.
Watanabe Scores Season-High 20 Against Blazers
Brooklyn Nets forward Yuta Watanabe had a strong all-around performance, including a season-high 20 points, in a 109-107 road win over the Portland Trail Blazers on Thursday, November 17.
Watanabe sank 5 of 7 3-point attempts and was 5-for-6 at the foul line. He also grabbed seven rebounds and dished out two assists while playing a season high 28 minutes, 36 seconds.
The George Washington University alum was second on the Nets in scoring behind Kevin Durant's 35 points.
Watanabe leads the NBA in 3-point shooting accuracy (55.6%, or 20-for-36) through games of November 18.
Auto Racing
Neuville, Nydaeghe Victorious in Rally Japan
Hyundai's Thierry Neuville and Martijn Nydaeghe won Rally Japan, the final race of the FIA World Rally Championship season, on Sunday, November 13 in Ena, Gifu Prefecture.
The Hyundai duo finished 1 minute, 11.1 seconds ahead of Hyundai teammates Ott Tanak and co-driver Martin Jarveoja in the 19-stage, four-day competition, which began in Toyota, Aichi Prefecture. Drivers covered 283.2 km (176 miles) in Rally Japan. It was the World Rally Championship's first Japan tour stop since 2010.
Toyota Gazoo Racing's Takamoto Katsuta and Aaron Johnston placed third overall.
"It wasn't an easy weekend or an easy year, but to end with a victory after showing good speed all weekend is a great way to end the season," Neuville told reporters.
After the race, Katsuta, who began competing in the World Rally Championship in 2016, said: "It is a very special feeling. My target was to get on the podium at my home rally."
The Nagoya native added, "There were tricky conditions today and on Friday many things happened. At some point I was struggling a bit but I managed to get here and that is a huge thanks to the team and all my supporters."
Track and Field
Coe Discusses Plans for 2025 World Championships
World Athletics chief Sebastian Coe confirmed on Friday, November 18 that Tokyo is set to host all medal events at the 2025 World Athletics in the summer at TBA dates.
Coe met with Tokyo Governor Yuriko Koike on Friday and then delivered remarks about what they discussed.
During the 2020 Tokyo Olympics, the marathon and race walks were held in Sapporo, as organizers overhauled the original event blueprint citing extreme heat concerns. That won't be the case in 2025, according to Coe.
"We will be in Tokyo," Coe was quoted as saying by Kyodo News. "Tokyo is the city that bid. We will make this work in Tokyo."
Horse Racing
Alpinista Retires, Ending Plans to Compete in Japan Cup
Alpinista, winner of six consecutive Group One wins, including October's Prix de l'Arc de Triomphe in Paris, has retired due to a recent leg injury.
The 5-year-old mare was scheduled to compete in the Japan Cup on November 27 at Tokyo Racecourse, but trainer Mark Prescott's star horse will instead be retired to Rausing's Lanwades Stud in Newmarket, England.
Alpinista won 10 of 15 career starts, and the Japan Cup was planned as her farewell race.
"We can't run Alpinista in Japan," Prescott said, according to Britain's PA Media, a news agency.
Surfing
Tsuzuki Captures WSL Women's Qualifying Series Event Title in Taiwan
Nanaho Tsuzuki won the World Surf League's Qualifying Series women's competition at the Taiwan Open of Surfing on Saturday, November 19.
Tsuzuki, 19, outdueled Minami Nonaka 12.23-10.77 in the final at Jinzun Harbor in Taitung County, Taiwan.
"I'm so happy right now," Tsuzuki said after securing her first WSL title of the season. She finished in the top five in three other tournaments.
"I've been wanting to win an event for a while now," added Tsuzuki, "and to finally get it feels amazing. It was so good to match up with my good friend Minami [Nonaka] and share a heat with her. This is my first trip to Taiwan and I love it here.
"The waves have been so much fun and I can't wait to come back here again. It's such a beautiful and fun place."
Reacting to the results, Nonaka said: "I am happy to see my friend win and to make it all the way to the final is great ― but it has motivated me to go further next time."
Briefly…
Yoshiaki Unetani, the 1969 Boston Marathon champion, died of pneumonia at a hospital in Kure, Hiroshima Prefecture, on November 5, according to published reports. He was 78. Unetani competed at the 1972 Munich Olympics, placing 36th in the men's marathon, and compatriots Kenji Kimihara and Akio Usami finished fifth and 12th, respectively.

In the J.League's promotion-relation playoff, Kyoto Sanga and Roasso Kumamoto played to a 1-1 draw on November 13. As a J1 team, Kyoto only needed a draw to retain its spot in the first division for next season. Kumamoto, on the other hand, needed a win to secure promotion from J2 to the top flight.
One event remains on the JLPGA Tour's 2022 season calendar: The JLPGA Tour Championship Ricoh Cup (November 24-27) at Miyazaki Country Club. Kana Mikashima is the defending tournament champion. Through November 13, Miyuu Yamashita is No. 1 in prize money on the women's golf tour this year, earning ¥203,270 million JPY ($1.45 million USD).
Former NBA star and Kyoto Hannaryz player Mahmoud Abdul-Rauf appeared on a recent episode of "The Rex Chapman Show" to discuss his new autobiography, "In The Blink of An Eye."

Author: Ed Odeven
Follow Ed on JAPAN Forward's [Japan Sports Notebook] here on Sundays, in [Odds and Evens] here during the week, and Twitter @ed_odeven.