[JAPAN SPORTS NOTEBOOK] Skateboarding Stars Funa Nakayama and Momiji Nishiya Nab Medals in Street League Season Finale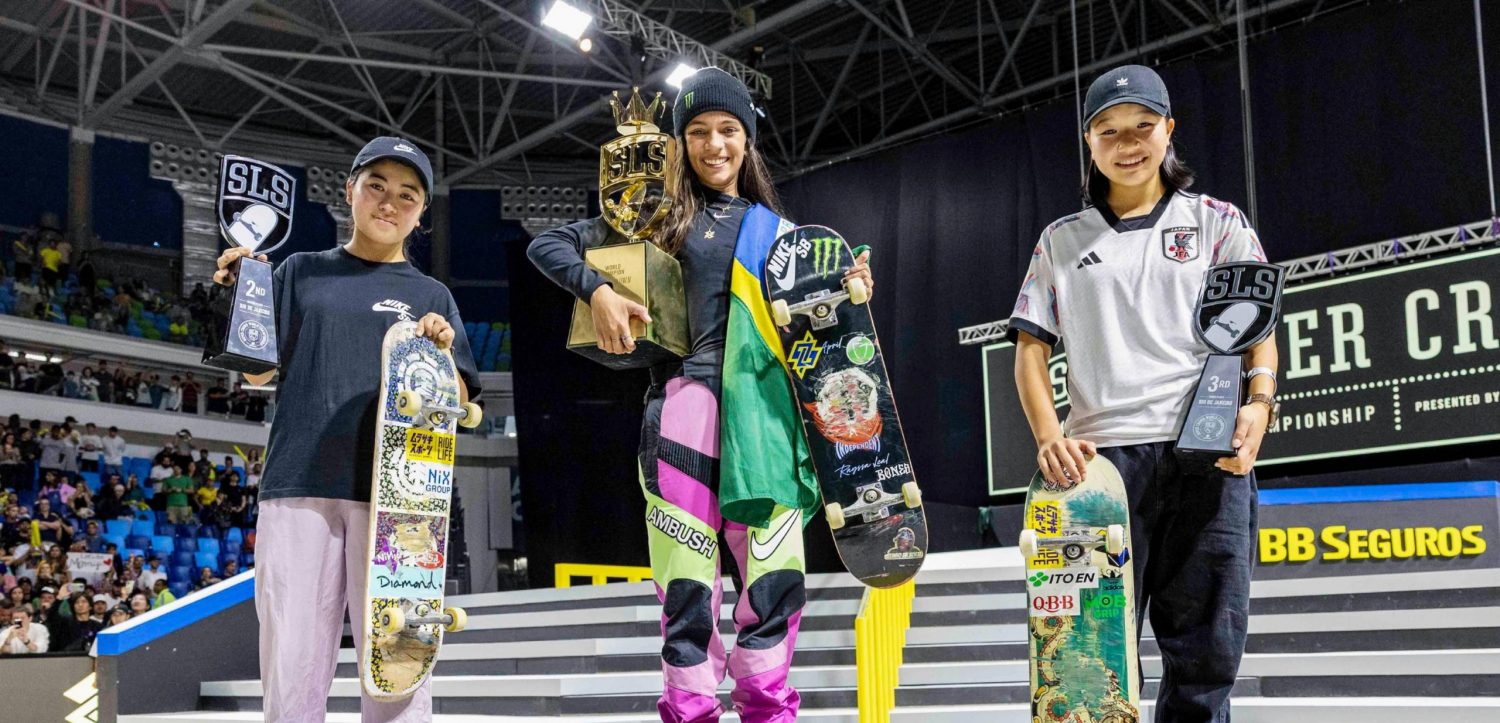 Japan's female competitors had a successful showing in the final tour stop of the 2022 Street League Skateboarding season.

Tokyo 2020 Olympians Funa Nakayama and Momiji Nishiya placed second and third, respectively, with 20.8 and 19.2 points in the women's final in Rio de Janeiro on Sunday, November 6. Brazilian Rayssa Leal, who won each of the previous three tour stops (Jacksonville, Seattle and Las Vegas), placed first with 21.1 points to complete an undefeated season.
The 14-year-old Leal was thrilled with the outcome.
"Since I was a little girl, I always watched Street League and the girls who skated always inspired me a lot," Leal was quoted as saying in a forbes.com article after her victory. "Today I'm here, being the world champion for the SLS and I'm very happy to be able to be part of all that they are providing me."
In July 2021, Nakayama earned the bronze medal in the women's street competition at the Tokyo Games. Nishiya, then 13, grabbed the gold, becoming Japan's youngest Olympic gold medalist. Leal was the runner-up.
This time, Leal had the best routine of the three rivals during the competition, which had a pair of 45-second line attempts (skateboard runs) and four gravity-defying tricks attempts.
Nakayama's Regret
On her first trick attempt, Nakayama, who hails from Toyama, received 7.8 points, the top score on the day for a single attempt. Her combined score for the tricks portion of her overall routine was 14.7. But Leal had a slightly more polished routine and sealed the win with a 6.7-point run on her last line attempt.
"It was frustrating I couldn't surpass [Leal's] score," Nakayama said, according to Kyodo News. "[But] although I couldn't complete a trick that I thought would have won me the title, it was nice to get a good score with my first trick."
Nishiya Finds Pleasure in Skateboarding
Nishiya, meanwhile, is inspired to keep pushing the envelope, trying to elevate the art form of street skateboarding.

"If I'm there, I think I'll enjoy it," the Osaka native recently told Olympics.com, responding to a question about the 2024 Paris Olympics. "And if enjoying it leads to a gold medal, I'll be really happy.
"Right now I want to get in on skating on the streets, not the contest but just doing it around town. Because you're not judged against others in genuine street skateboarding. You film it, get it out there for the world to enjoy."
Rugby
England Cruises Past Japan
England whipped Japan 52-13 in a rugby test match at Twickenham Stadium in London on Saturday, November 12.
An Owen Farrell conversion put the hosts ahead 17-0 after 25 minutes.
The Brave Blossoms trailed 24-6 at halftime en route to the lopsided loss. Guy Porter and Marcus Snith had two tries apiece for England, while Freddie Steward and Ellis Genge each had one.
Naoto Saito scored Japan's lone try in the 58th minute.

"We were outplayed today and put under a lot of pressure," Japan coach Jamie Joseph said, according to the BBC. "We conceded a lot of penalties, it's hard to get momentum against a very good defense.
"You have to take your hat off to England. It was a really good game for us in terms of experience. Our goal is the World Cup."
England was coming off a 30-29 loss to Argentina on November 6 at Twickenham Stadium.
Analyzing his team's performance in comparison to the previous week's, England coach Eddie Jones had this to say, according to the British broadcaster: "We played more like ourselves. Last week we were too long term in our view, which was my fault and today we were focused. We left 20 points out there and played some really good rugby."
Up next: The Brave Blossoms travel to face France on Sunday, November 20 in Toulouse.
RELATED:
Soccer
Marinos, Frontale Dominate J.League's Best XI Team
J.League champion Yokohama F. Marinos had five players named to the league's Best XI, a reminder of the team's outstanding overall season. So, too, did Kawasaki Frontale, whose reign as two-time champions ended on the final day of the 2022 season.
The Best XI, including defender Tomoki Iwata, who was named the league's 2022 Player of the Year, and other accolades were presented at the J.League Awards, an annual banquet at the end of the season, on Monday, November 7.
"All I've been thinking about is improving as a player and winning the championship," the 25-year-old Iwata said, reflecting on his season, Kyodo News reported. "The hard work has paid off."
Before Iwata, the last defender to win the annual award was Marcus Tulio Tanaka of the Urawa Reds in 2006.
Marinos' other Best XI players are goalkeeper Yohei Takaoka, defender Ryuta Koike, midfielder Kota Mizunuma and Brazilian forward Elbert.
In 2021, Yokohama's lone Best XI player was forward Daizen Maeda, who joined the Scottish Premiership's Celtic FC in January.
Frontale's five Best XI selections are defenders Shogo Taniguchi and Miki Yamane, midfielders Akihiro Ienaga and Yasuto Wakizaka and forward Marcinho. Shimizu S-Pulse striker Thiago Santana, who led J1 with 14 goals, was also named to the team.
Baseball
Angels GM Says Team Won't Trade Ohtani in Offseason
Shohei Ohtani remains in the Los Angeles Angels' plans for the 2023 season, general manager Perry Minasian told reporters at the MLB's GM Meetings in Las Vegas on Monday, November 7.
Minasian insisted the team will not agree to other teams' trade offers for the Japanese superstar.
"Ohtani is not getting moved," Minasian said, according to The Orange County Register. "He's going to be here. He'll be with us to start the season. I know there's been rumors and all types of things, but he will be here. He'll be part of the club. I said this before and I'll say it again: We love the player. I think our goal is for him to be here for a long time."
Ohtani is signed through the 2023 season.

Longtime Angels owner Arte Moreno is seeking to sell the American League ballclub.
Although the team's future ownership remains uncertain, Minasian has let Moreno know that he wants Ohtani to be with the club when spring training gets underway next year.
"I make recommendations," Minasian was quoted as saying by The Orange County Register. "At the end of the day, it's an ownership call, right? But I make the recommendations and I think everybody's on the same page."
Track and Field
Osako Places Fifth at NYC Marathon
Two-time Olympian Suguru Osako was the top Japanese finisher at the New York City Marathon on November 6.
Osako placed fifth with a time of 2 hours, 11 minutes, 31 seconds. Compatriot Tetsuya Yoroizaka completed the race in 2:12:12.
Kenya's Evans Chebet was the winner in 2:08:41.
Osako competed in the 5,000- and 10,000-meter events at the 2016 Rio de Janeiro Games. He finished sixth in the men's marathon at the Tokyo Olympics, then retired. Osako launched a comeback this year.
More than 47,000 runners participated in the New York City Marathon.
Basketball
Hachimura Helps Lead Wizards Past Mavericks
Washington Wizards forward Rui Hachimura dropped a season-high 23 points on the visiting Dallas Mavericks on Thursday, November 10.
Hachimura made 9 of 14 shots from the floor, including 2 of 4 3-point attempts, and pulled down eight rebounds in 26 minutes off the bench in the Wizards' 113-105 win.
Washington improved to 6-6.
The Wizards held Mavericks star Luka Doncic, the NBA scoring leader (33.6 points per game), to a season-low 22 points.
"I think defensively we had a good [performance] down the stretch," Hachimura told reporters in a postgame news conference.
Hachimura, who is averaging 12.0 ppg, has now scored in double figures in 10 of 12 games this season.
Asked about his mindset on offense, Hachimura said: "Just stay aggressive, and I'm trying to find a spot right now on the second unit. We are struggling a little bit offensively, and I'm trying to be aggressive making plays and stuff."
Briefly….
Idemitsu Honda Team Asia rider Ai Ogura placed second in Moto2's 2022 riders standings with 242 points. Augusto Fernandez Guerra, who rides for Red Bull KTM Ajo, won the title with 271 points. Ogura, 21, had three race victories this season, while the Spaniard earned four. The season concluded on November 6.
University of Nebraska guard Keisei Tominaga scored 19 points in the Cornhuskers' 79-66, season-opening victory over the University of Maine on Monday, November 7. Follow Tominaga's game-to-game statistics throughout the college basketball season here.
In the speedskating World Cup season-opening meet, Olympian Miho Takagi collected the bronze in the women's 500 meters in 38.17 seconds in Stavanger, Norway, on Friday, November 11. South Korea's Min Sun Kim won the event in 37.55 seconds.
Baseball legend Sadaharu Oh left a Miyazaki hospital on Saturday, November 12. The 82-year-old Fukuoka SoftBank Hawks chairman had been hospitalized since November 3 after contracting COVID-19.


Author: Ed Odeven
Follow Ed on JAPAN Forward's [Japan Sports Notebook] here on Sundays, in [Odds and Evens] here during the week, and Twitter @ed_odeven.