[NOTES on a SCORECARD] Formula One Needs to Move Japanese Grand Prix to Spring for Safety Reasons
Pierre Gasly nearly collided with a recovery crane in wet conditions on October 9, a reminder of the 2014 Formula One crash that led to Jules Bianchi's death.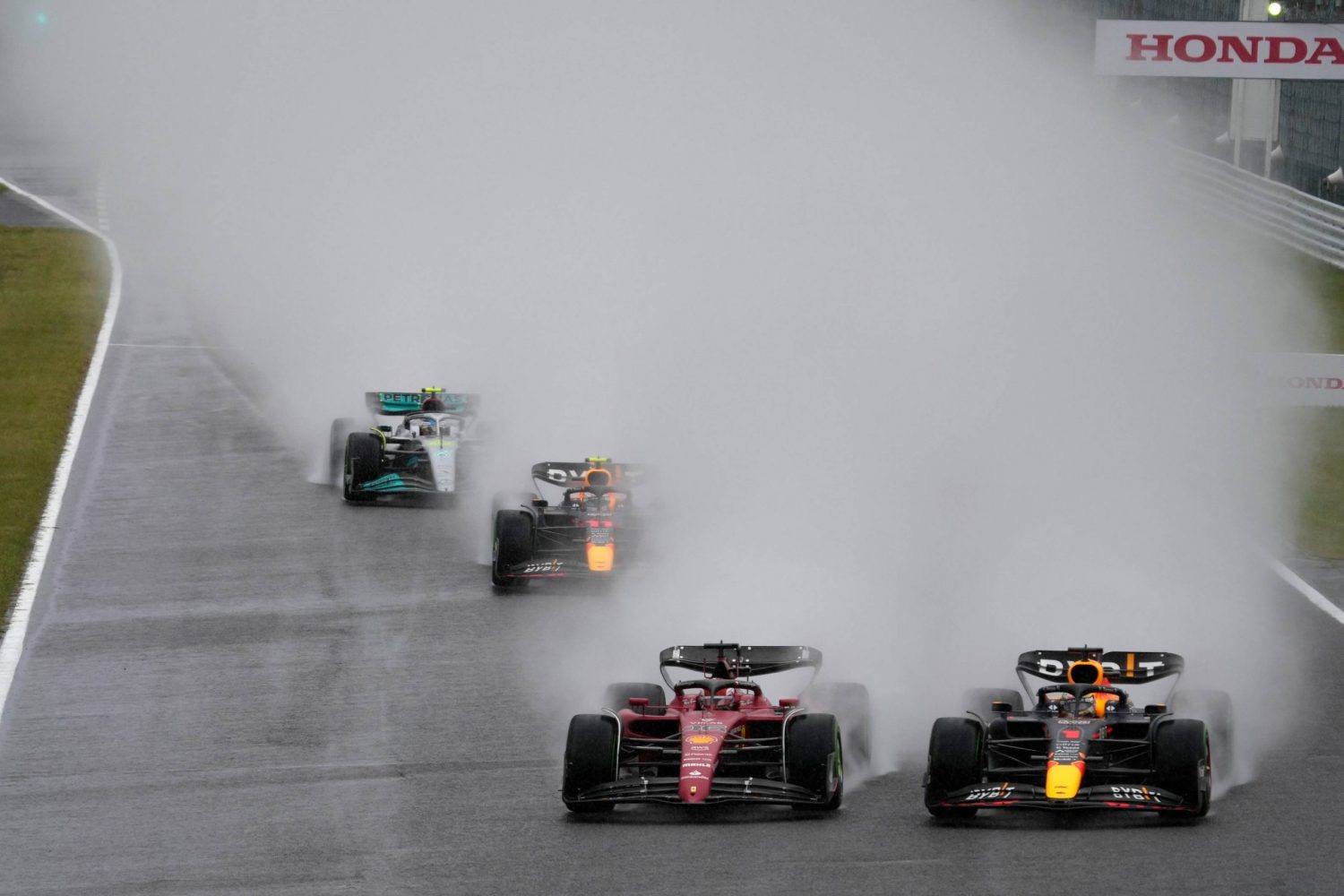 Do Formula One leaders recall, I wonder?:
"Those who do not remember the past are condemned to repeat it."
―Spanish philosopher George Santayana, 1905
It has been a few weeks now, but the Formula One Japanese Grand Prix in October in Suzuka, Mie Prefecture, had an incident that needs addressing. A tragedy was narrowly avoided when Alpha Tauri driver Pierre Gasly of France nearly collided with a recovery crane trying to remove the Ferrari of driver Carlos Sainz in wet conditions during the race on October 9.
Gasly said he feared for his life in the wake of the close call. And understandably so. In 2014, French driver Jules Bianchi suffered severe head injuries after colliding with a similar recovery vehicle at Suzuka Circuit. The 25-year-old tragically died from his injuries nine months later in July 2015.
Gasly was in the pits when Sainz crashed and was trying to catch up to the pack when he passed the crane at high speed.
Gasly, who was a childhood friend of Bianchi, recognized his close call afterward in an interview with Sky Sports.
"I'm just extremely grateful that I am here," Gasly stated. "How can there be a crane, not even in the gravel, on the race track, while we are still on track? I don't understand.
"We lost Jules already," Gasly continued. "We all lost an amazing guy, eight years ago, at the same track, in the same conditions with the crane.
"It was disrespectful to Jules, it's disrespectful to his family and to all of us. We are risking all lives out there.
"We are doing the best job in the world, but what we are asking is to at least keep us safe."
FIA's Review of October's Incident
In the wake of the latest incident, the governing body of motor sports (FIA) conducted a review to try and avoid a repeat of the near disaster and instituted a number of measures.
In a statement about the review issued on October 22, the FIA wrote in part:
The review panel acknowledged that having recovery cranes on track at Suzuka during the weather conditions is a sensitive matter in view of tragic incidents of the past. The panel determined that in hindsight, as the weather conditions changed, it would have been prudent to have delayed the deployment of the recovery vehicles on track.
It was acknowledged that every effort should be made to perform an efficient and safe recovery of cars. A longer recovery period, in conditions such as those which prevailed in Suzuka, may result in a race suspension.
Autumn Rain is a Continual Danger
The FIA's statement is all well and good. But the real issue here is the timing of the annual F1 event at Suzuka. It is always held in October, near the end of the F1 season. And it almost always rains. It is a continual danger to the drivers and fans in attendance.
After all these years, why is the race still held in October when typhoon season and rainy weather are still ongoing?
This remains a great mystery. My guess is that the organizers have been afraid to buck the F1 honchos and ask for a different date. But this is what I am proposing.
Forget about the convenience of the FIA and the teams. How about holding the race in the spring when there is less likely to be rain?
I understand it is more dramatic for fans to have the race near the end of the season when the championship is close to being decided, but that is not worth sacrificing safety.
There is no legitimate excuse for continuing to have the race in October and the practice needs to end now.
RELATED:
Running Icon Takahashi's Positive Impact
Autumn is keeping 2000 Olympic marathon gold medalist Naoko Takahashi busy. Her Twitter account @TakahashiNaoko reflects how she has been crisscrossing the country in recent weeks acting as an honorary starter at marathons and other races and also conducting clinics for students.
It is great to see such an iconic figure like Takahashi, now 50, still so engaged with running and encouraging young people to take part in the sport. The world needs more people like her to keep the youth active and healthy.
New Tokyo Rink Will Increase Opportunities for Skaters
Good news for figure skating fans. The Tokyo Tatsumi International Swimming Center in Koto Ward is being converted into a year-round skating rink. The move was announced back in 2019. But with all that has gone on since, many people might not have known this or have forgotten about it.
The Tokyo Metropolitan Government estimates that 260,000 people will visit the facility annually, The Asahi Shimbun reported. Construction will begin in 2023 with the rink scheduled to open in 2025.
This move is long overdue. With Japan's strength in the sport, there should be new rinks being constructed around the country.
Hashimoto is the Successor to King Kohei
Congratulations to Olympic champion Daiki Hashimoto on winning the men's all-around title at the World Gymnastics Championships in Liverpool, England, on November 4. The 21-year-old is now clearly the greatest gymnast in the world and has an excellent chance at defending his all-around title at the 2024 Paris Olympics.
Hashimoto is the latest in a long line of incredible Japanese gymnasts. He is succeeding the incomparable Kohei Uchimura, a two-time Olympic and six-time world titlist, as Japan's biggest star in the sport.
Watanabe Playing Well for Nets
Japan's Yuta Watanabe is now a member of the Brooklyn Nets, his third NBA team, after stops with the Memphis Grizzlies and Toronto Raptors. His teammates and owner Joseph Tsai have really taken to the 28-year-old forward from Kagawa Prefecture.
New York Daily News reporter Kristian Winfield wrote in a November 5 article entitled "Yuta Watanabe should play all the minutes," that "Watanabe is a legitimate rotation player on a team with championship hopes."
Winfield was effusive in his praise of the 208-cm Watanabe, who is averaging 5.6 points and 2.4 rebounds and 16 minutes per game in 10 contests this season.
"Watanabe is the unlikely impact player this Nets team needed to sustain the drama they've found themselves in between [Kyrie] Irving's five-game suspension and [Ben] Simmons' injury issues," Winfield wrote. "He is an embodiment of the next-man-up mentality that has been associated with the Nets through general manager Sean Marks' tenure in Brooklyn.
"And he's a player who is quite clearly the darling for Nets governor Joe Tsai. Watanabe is one of just two Japanese NBA players, the other being Washington's Rui Hachimura. Tsai is the NBA's only Chinese team owner.
"Watanabe is clearly making Tsai proud. The Nets governor tweeted "Where's my Yuta highlights?" at the Nets after the team routed the Wizards on November 4.
Winfield concluded, "Watanabe is maximizing his time on both ends of the floor, which is why the Nets need him on it more often than not."
Succeeding in the NBA is tough enough. But doing what Watanabe is in the middle of the current circus that is the Nets is especially noteworthy.
Miura's Prime Was Decades Ago
Kazu Miura scored a goal for a fourth-tier Japan Football League club (Suzuka Point Getters) on October 30 to set a JFL record for the oldest goal scorer at 55 years and 246 days, Kyodo News reported.
To show you how farcical this "achievement" was, Miura broke the mark set by Hideki Nagai of FC Ryukyu in 2013 at the age of 42 years and 50 days. That's right, Miura was more than 13 years older than the previous record holder.
I have never understood the fascination with Miura playing 20 years past his prime. He should have left the stage years ago. The fact he has not been told to retire must boil down to culture and nobody wanting to have to tell him the time for him to go has long passed.
RELATED:
Author: Jack Gallagher
The author is a veteran sports journalist and one of the world's foremost figure skating experts. Find articles and podcasts by Jack on his author page, here, and find him on Twitter @sportsjapan.