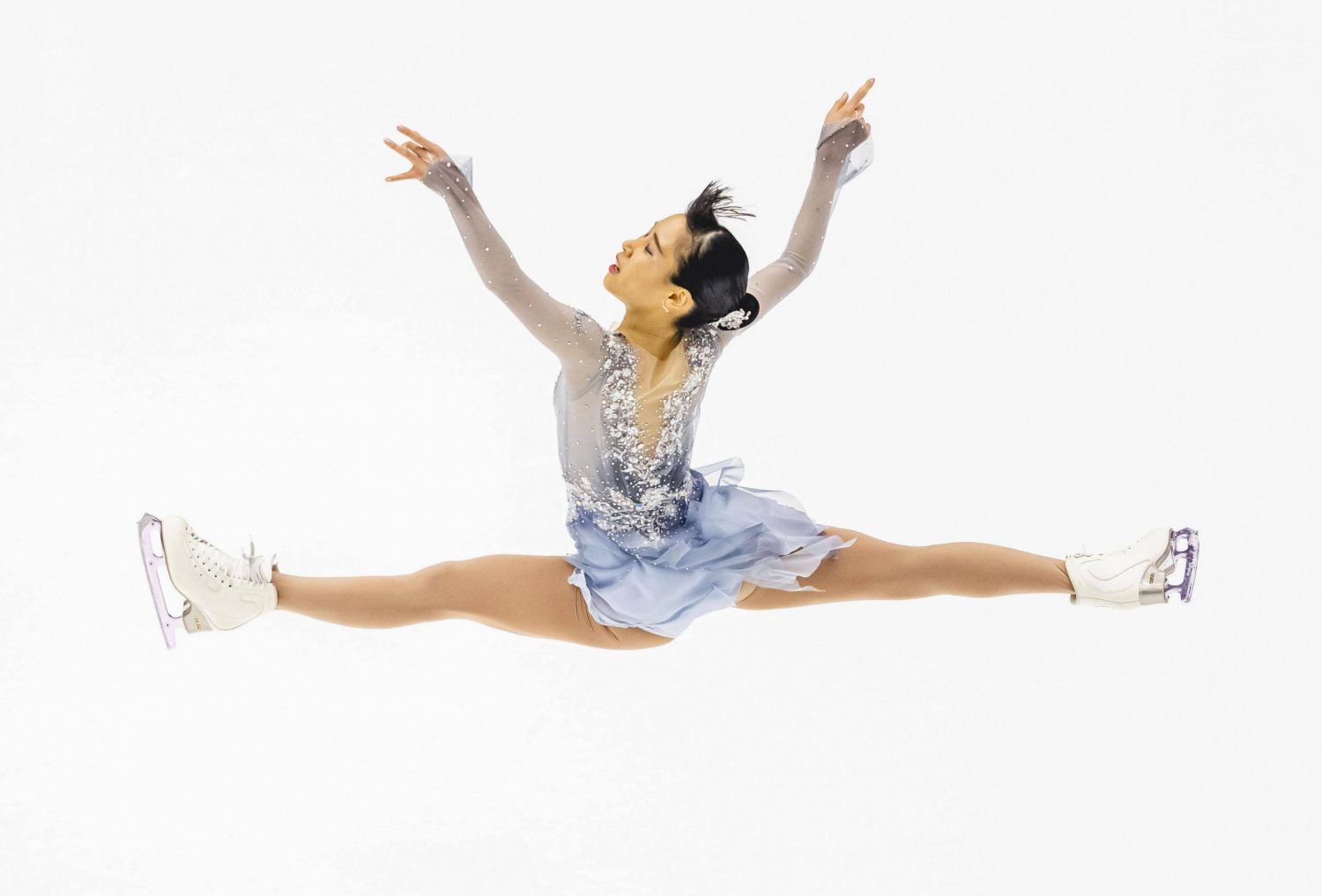 The locomotive that is Japanese figure skating keeps picking up speed as it steams down the proverbial tracks. In the last Grand Prix of the regular season in Espoo, Finland, the Hinomaru earned three more medals, with Mai Mihara leading the way by winning her second event of the campaign in dramatic fashion on Saturday, November 26.
Mana Kawabe shared the podium with Mihara, finishing in third place, while Shun Sato came in second behind Ilia Malinin of the United States in the men's competition.
The three medals from Espoo bring Japan's total for the GP season to a whopping 19. Far and away the most of any nation this season. The US was second with 13.
Mihara narrowly defeated Belgium's Loena Hendrickx for the title in Finland. Mihara's winning total score was 204.14 points, while Hendrickx finished second with 203.91. Kawabe's tally in third was 197.41.
Malinin (278.39) won his second GP of the season by a comfortable margin over Sato (262.21). France's Kevin Aymoz, the leader after the short program, came in third at 255.69. Tatsuya Tsuboi took fourth place on 244.90.
In addition to boosting Japan's medal count, the weekend's results also qualified Mihara and Sato for next month's Grand Prix Final in Turin, Italy. Rinka Watanabe also clinched a berth via the placements in Espoo, though she did not compete there.
As promising as all of the aforementioned is, the most encouraging news to come out of Finland was the performance of two-time Japan champion Rika Kihira, who continues to recover from a serious ankle injury that caused her to miss last season.
Kihira finished fourth with 192.43 despite still not being able to use a lutz in her routines as a precautionary measure.
Mihara Maintains Composure
The 23-year-old Mihara, who was second after the short program on Friday, November 25, displayed her veteran poise in her free skate to "El Amor Brujo." She popped a planned triple flip into a double, and was judged a quarter short on two other jumps. But Mihara made up for it with level fours on all of her spins and step sequence and the overall quality of her performance.
"Today with my free skating I have a lot of regrets. But I am happy to go to the Grand Prix Final," Mihara stated. "I hope by then I will overcome the obstacles and will get my level up and will become a stronger person."
Added Mihara, "I was not in my best condition. But from now on I would really want to show my best, especially at the Grand Prix Final."
Kawabe Seals Podium Finish with Spins, Step Sequence
Kawabe had issues with her combination jumps in her free skate to "Drowning." But she held on to third place with level fours on two of her spins and step sequence and a solid program component score.
"I was quite nervous, but I was able to be myself and show my program today," Kawabe commented. "In my free skating I found a lot of things to improve. There were some under-rotations and I hope to make no mistakes next time. I want to practice my triple axel."
Kihira's Inspiring Performance
Kihira moved up from sixth after the short program to place fourth after her free skate to "Titanic." The 20-year-old hit six clean triples and earned level fours on all of her spins in an inspiring effort.
"I was happy that I was able to concentrate on each jump and land the jumps I wanted," Kihira remarked.
She added, "I want to be able to raise the composition so that I can aim for a higher score."
Kihira said she has a numerical target in mind for her score in the free skate at the Japan Championships in Osaka (December 21-25).
"I want to be able to get 140 in the free skate," Kihira stated.
Continuing her assessment, she added: "I want to include lutz, flips and combinations. [And] I want to be able to make no mistakes."
Sato Thrives Under Pressure
Sato landed four clean quads and five triples in his free skate to "Red Violin." After struggling with a shoulder injury for much of last season and working hard to rehabilitate it, the 18-year-old showed that he was back in form in Finland.
When asked about qualifying for the GP Final by Asahi TV after his free skate, the normally stoic Sato broke down with emotion. He needed a few moments to compose himself before speaking.
Sato clinched the sixth and last spot in the GP Final by taking second place. If he had finished third, he would not have made it.
"Yesterday I was not happy with my short program, but I was able to recover and make up for it," Sato said at a news conference after the free skate. "My coach told me tomorrow is another day and I was able to skate clean.
"Of course, I'm really happy I am in the Grand Prix Final," Sato continued. "I didn't think I could make it to the Final. It is an event full of top skaters."
Zoueva Raises Eyebrows with Comments on Takahashi, Hanyu
Marina Zoueva, the veteran coach of ice dancers Kana Muramoto and Daisuke Takahashi, made some interesting statements in a recent interview with Russia Today that were translated into English and posted on fs-gossips.com.
Zoueva was asked about the popularity of Takahashi as compared to two-time Olympic champion Yuzuru Hanyu in Japan.
"Daisuke has more fans than Hanyu, as strange as that may sound," Zoueva claimed. "Here, you just need to understand Takahashi belongs to the past generation of stars. Agree, they were, to a certain extent, brighter than the current ones, at least because they skated and performed longer."
When the interviewer pointed out that Hanyu went to three Olympics, Zoueva interjected and tried to elaborate on her viewpoint.
"Yes. So does Takahashi," Zoueva commented. "It's just that Daisuke was the first to win an Olympic medal for Japan. The first to win the world championships, who brought great glory to the country and huge popularity to Japanese figure skating.
"In this context, Yuzuru is a successor," Zoueva continued. "He may be stronger, more titled, and more beautiful in every way. But still, in the minds of a huge number of people, he is second after Takahashi. And the first is always first."
Hanyu's Fame Tops the List
Everybody is entitled to their own opinion, and Zoueva is a very respected skating coach, but Ice Time must disagree with her position on this issue.
Daisuke Takahashi is indeed a pioneer in the history of Japanese skating and remains a popular figure. But Yuzuru Hanyu's fame is in an entirely different stratosphere.
Hanyu's genius and achievements stand alone in the annals of Japanese skating. Think of the greatest artists of all time, people like Mozart and Picasso. That's the category that Hanyu is in. With all due respect, Takahashi is not in the same class as Hanyu.
The Sendai native may be the most popular Japanese athlete of all time, even greater than baseball legend Shigeo Nagashima. Some 125 million people live in Japan. I would say that 99.99% of them know who Hanyu is and a great many of them are fans of his.
Tuktamysheva Triumphs at Russian GP in Perm
Elizaveta Tuktamysheva won the sixth stage of the Russian Grand Prix on Sunday in Perm with a total score of 239.94. Sofia Muravieva came in second with 239.15, with Alina Gorbacheva taking third at 210.86.
The victory was Tuktamysheva's second of the season on the six-stop Russian circuit. Tuktamysheva, who will turn 26 on December 17, landed two triple axels in her free skate and a total of seven clean triples in all, as she continues to defy age and gravity while defeating younger competitors.
"Today I skated much better than at the previous stage," Tuktamysheva noted. "I tried to do everything after yesterday. In the path of the steps ― everything that was set seemed to be done, I tried to do better rotations, jumps."
'Flutzes and Waxels Podcast' Ends
Ice Time is sad to report that the entertaining and insightful "Flutzes and Waxels Podcast" by Canadian sisters Mary-Margaret and Alicia Mirtsos, who are based in Toronto, has come to an end. The pair had run the successful podcast for five years before ending it back in April, saying it was time for a break.
In a Twitter post on October 31 they wrote, "Thanks for following along, we're not counting out coming back one day, but this is goodbye to the podcast for now."
Their dedication and contribution to highlighting skating was admirable and they will be missed.

Author: Jack Gallagher
The author is a veteran sports journalist and one of the world's foremost figure skating experts. Find articles and podcasts by Jack on his author page, here, and find him on Twitter @sportsjapan.