[ICE TIME] Rinka Watanabe and Shoma Uno Lead Banner Showing for Japan at Skate Canada
Japanese figure skaters capture three gold medals in Ontario, including Riku Miura and Ryuichi Kihara's historic title in the pairs competition.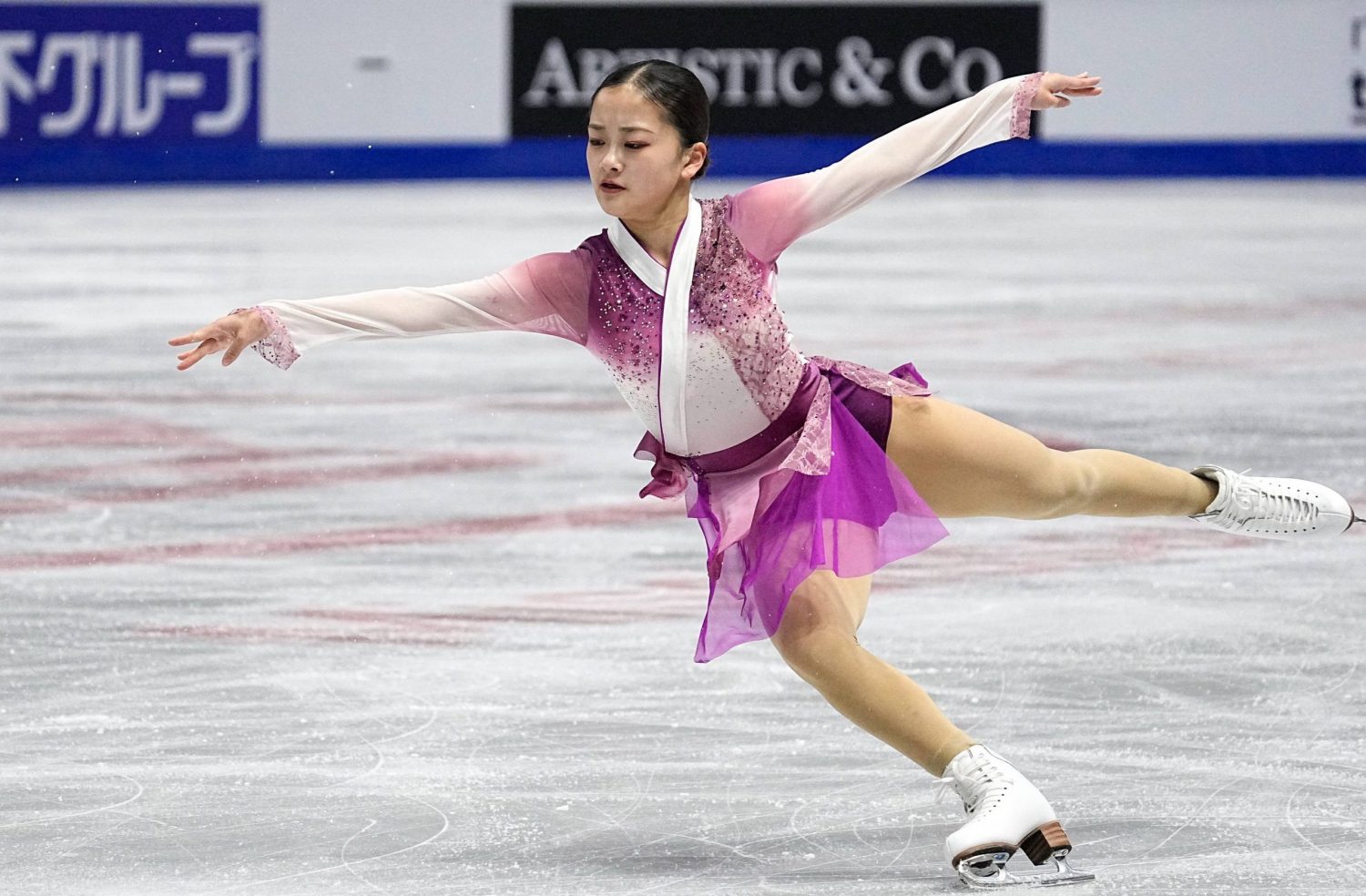 It was a record-setting weekend (October 28-29) at Skate Canada as Japan came away with three gold medals and its first victory ever in pairs at a Grand Prix event. Stellar performances by Rinka Watanabe, world champion Shoma Uno and Riku Miura and Ryuichi Kihara made it an event to remember as the Hinomaru's dominance in skating this season continued.
Rika Kihira's inspirational return to GP competition after more than a year on the sidelines with an ankle injury was also a promising development.
Watanabe, who after several years in the second tier of Japan's top female skaters, continued her vault into prominence with a stunning showing in her free skate to jump from sixth place after the short program to victory on Saturday in Mississauga, Ontario.
The 20-year-old began her season with a win at the Lombardia Trophy, a Challenger Series event. But her triumph in Ontario in her senior GP debut was on an entirely different level.
Watanabe, a Chiba native, topped the podium with a total score of 197.59 points, ahead of Starr Andrews of the United States, who was second with 191.26, and South Korea's Young You, who took third on 190.15.
Kihira, the two-time national champion, was a very respectable fifth with 184.33, just over five points out of third place.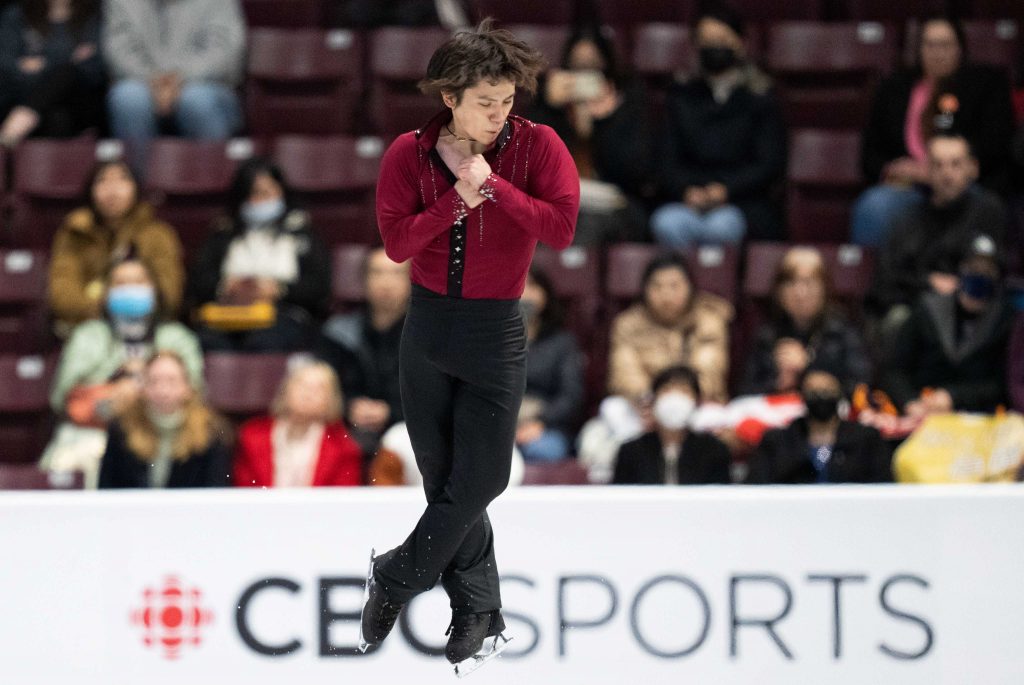 Solid Free Skate Propels Uno to Victory
Uno, who was second after the short program on Friday, overtook compatriot Kao Miura with a solid free skate to prevail with 273.15. The 17-year-old Miura held on to claim second place for the second straight week at 265.29. That put him in good position to make the Grand Prix Final. Italy's Matteo Rizzo came in third at 251.03.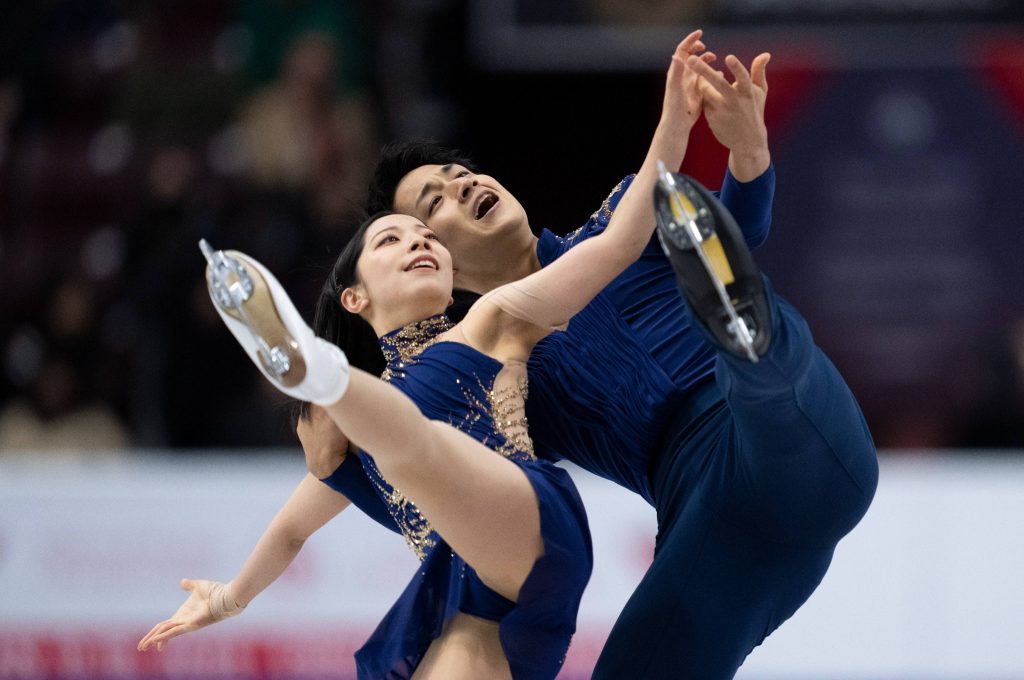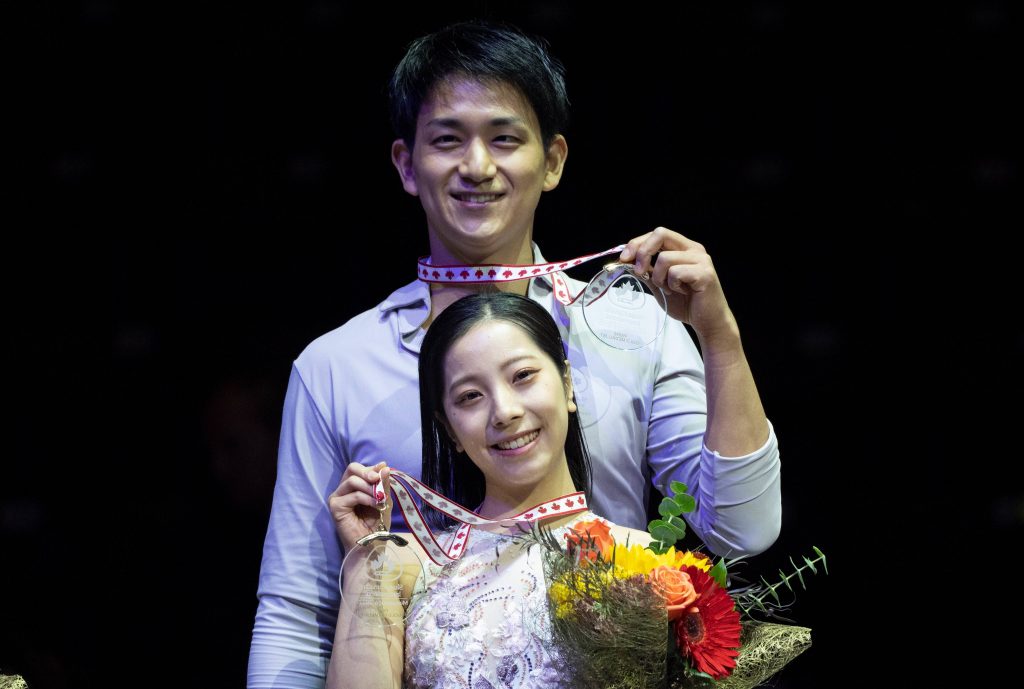 Miura, Kihara Make History
Riku Miura and Kihara, the world silver medalists, gave Japan its first gold in the 28-year history of the Grand Prix competition with a 25-point victory margin and a tally of 212.02.
Emily Chan and Spencer Howe (186.48) of the United States took second. Meanwhile, Italy's Sara Conti and Niccolo Macii (186.18) placed third.
Miura and Kihara led from start to finish to easily claim the pairs crown with their free skate to "Atlas Two." Their showing was highlighted by a triple twist, a side-by-side triple salchow, and a throw triple lutz, along with two level four lifts.
"Us winning the gold medal today was a big step for Japanese pairs," Kihara remarked. "I'm sure there are many skaters in Japan that are much more talented than I am. I think we showed to them that if they are able to challenge themselves, they can achieve what we achieved. I think that many people will follow in our footsteps."
Miura felt that despite the win, their effort could have been better.
"In the short and free program, we had a lot of levels that we didn't achieve, lots of points left on the table," she commented. "That will be a big takeaway for us for the next event."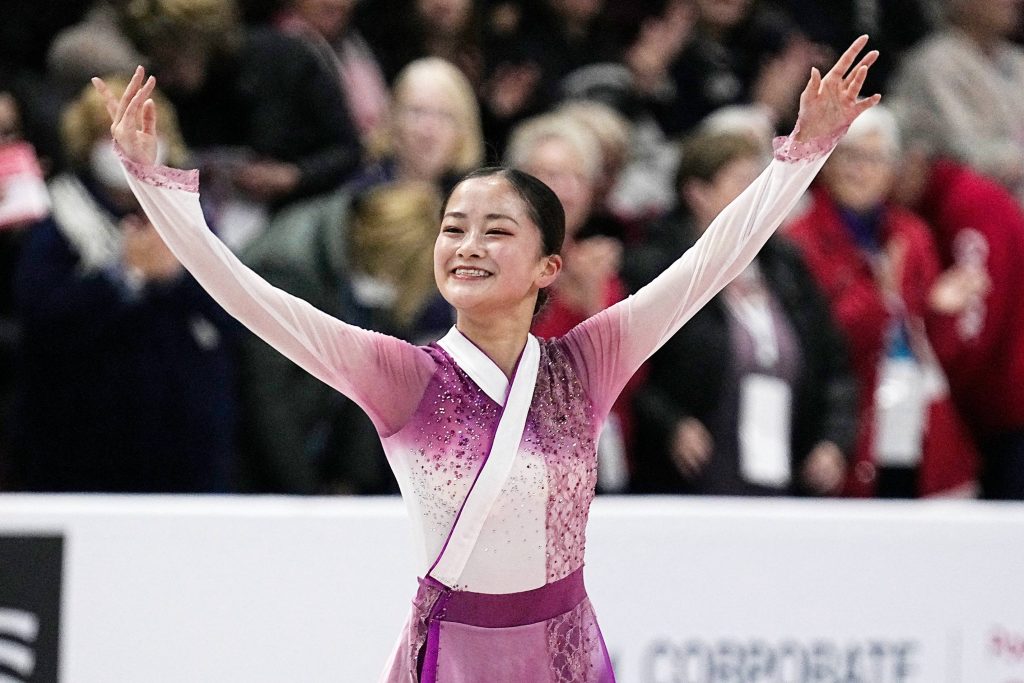 Watanabe Opens Eyes with Banner Performance
There were many fine performances at Skate Canada. But Watanabe was a revelation for many in the skating community. She opened her free skate to "Jin" with a nice triple axel and landed five clean triples in all while earning level fours on her spins.
Watanabe did have two under-rotated triples and a triple lutz late in her free skate which were downgraded. However, she impressed the judges with her skating skills and poise throughout.
"This is my first time at the Grand Prix and I did pretty good," Watanabe said in an understatement. "This is my first time and I was very nervous. I was told only one week ago that I will go here and I had to adjust my training. I had some challenges, but did well."
Watanabe is already looking ahead to her next competition.
"At the NHK Trophy I will try two triple axels in my long program," Watanabe stated, referring to the November 18-20 event in Sapporo.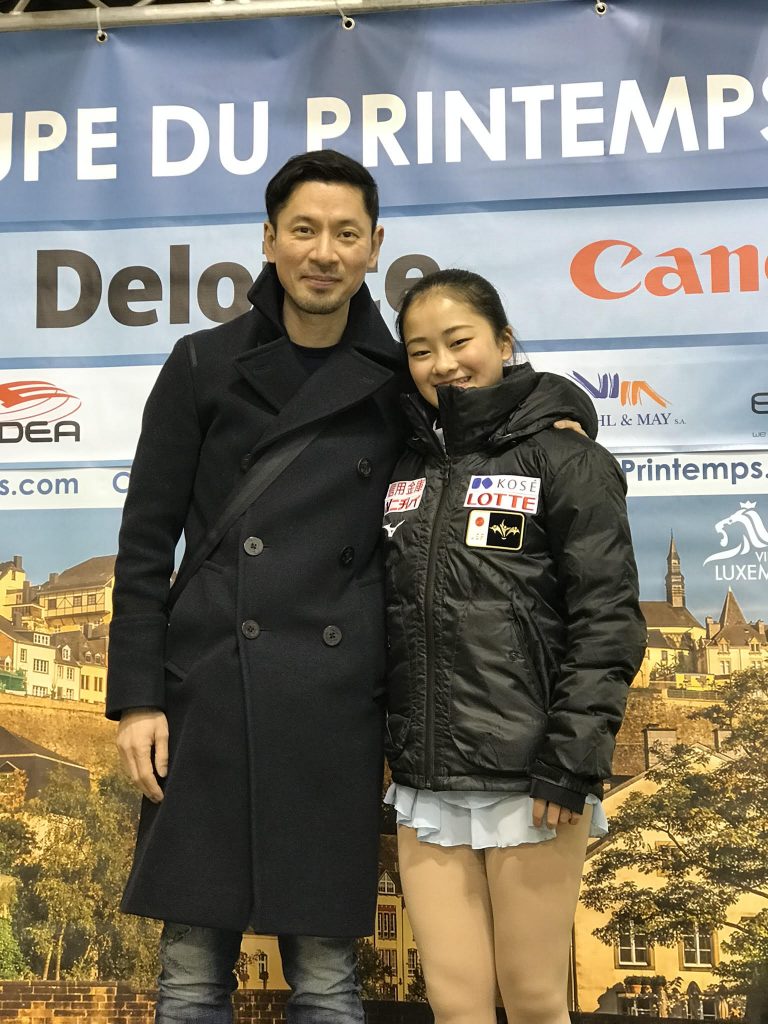 Seki Reflects on Watanabe's Performance
Watanabe trained in Vancouver, British Columbia, for several years under coach Megumu Seki before returning to Japan during the pandemic. In exclusive comments, Seki told Ice Time he was pleased to see Watanabe prevail.
"I was so happy that she won her GP debut," Seki wrote in an email. "I thought she could win this time if she could pull it together. When it's coming for real, that is a more than fantastic feeling."
Seki continued with his analysis of his former student's performance.
"I thought she did a really good short [program], but unfortunately she under-rotated some elements … even after that she was only five points behind first place and I knew that she could flip that score.
"Rinka did very well managing her mental set," Seki continued. "Her performance was nice and calm, with beautiful detail. I could see there is more potential to get higher scores. So hopefully she can keep improving mentally and technically towards the NHK Trophy. I believe in her and think she can make the GP Final. We will see."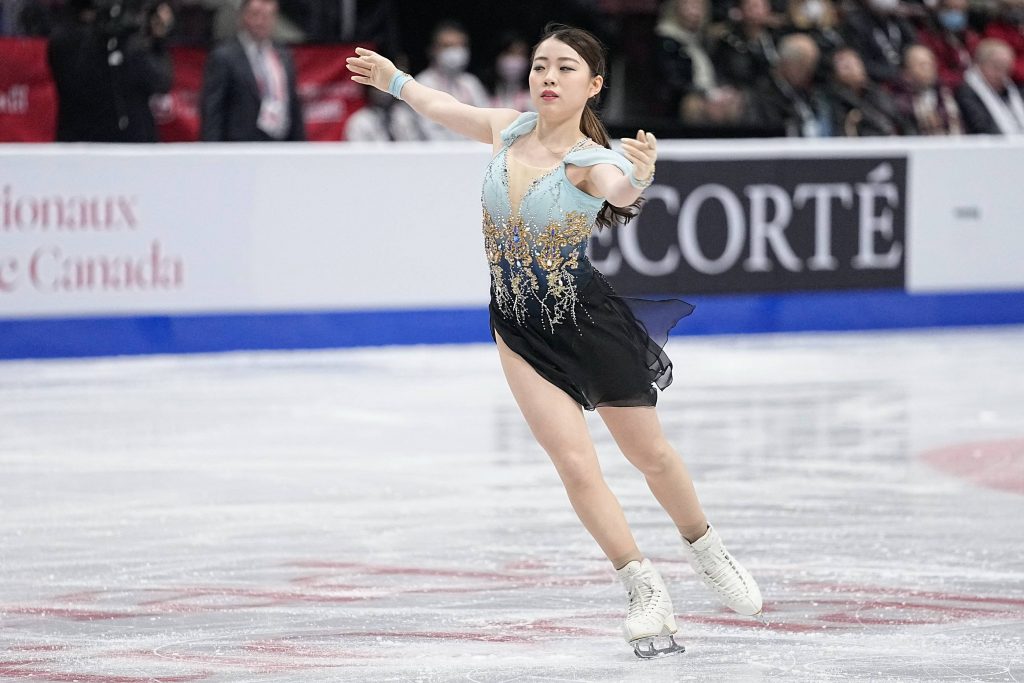 Kihira Aims to Improve Physical Strength
The 20-year-old Kihira, now training in Toronto under Brian Orser and Tracy Wilson, is still unable to execute a lutz or flip jump due to her injury. It is a testament to her talent that without those two jumps she was still able to finish fifth at a GP event.
Kihira came in third in the free skate with five clean triples and level fours on her spins to "Titanic."
"I'm glad that I was able to perform exactly what I envisioned," Kihira commented. "I'm still not at my best in terms of physical strength. I want to jump the last jump in the same way as the first.
She added, "I want to do what I can to improve my physical strength."
RELATED:
Yokoi Takes Fifth in Free Skate
Yuhana Yokoi, who was last after the short program, moved up to eighth in the final standings at 178.73 by finishing fifth in the free skate.
Uno Pleased with Result
Uno struggled with his first few quads in his free skate to "Air on a G-String." But he picked up steam as he progressed and exhibited his fine quality with strong program component scores on the way to victory.
"Today's performance, just like in the short program, I was able to find the main agenda, which was the quad toe," Uno noted on Saturday. "I'm happy with the result. I performed like I do in practice, there were good parts and bad parts."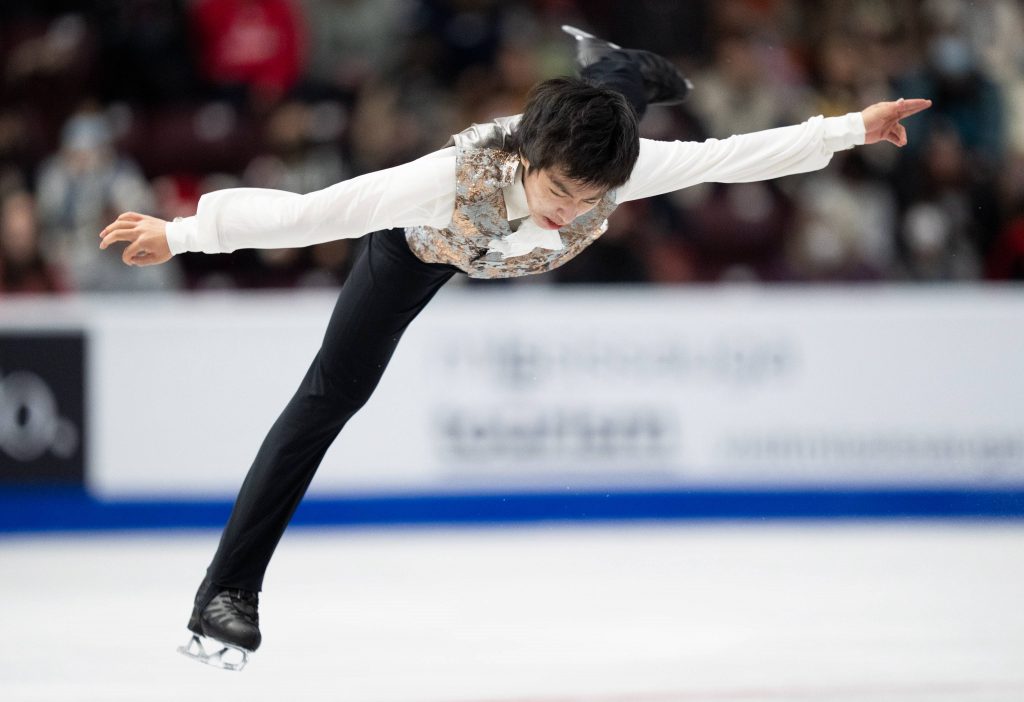 Kao Miura Makes Strides
The 17-year-old Kao Miura continued to show his growth with a gutsy free skate to "Beauty and the Beast." He opened with a nice triple axel/single Euler/triple salchow. Then he landed a quad toe loop/triple toe loop combination, before going down hard on a quad salchow.
Miura recovered quickly and went on to land six clean triples in total while posting level fours on his spins.
"These results are totally unexpected," he confessed. "Before Skate America I thought maybe I can be on the podium when I skate well. And coming here, I thought again maybe I can do it."
Miura said a problem arose during the six-minute warmup preceding Saturday's free skate.
"What happened before my performance was that my skate lace broke," Miura revealed. "I would give myself a 100% [score] for the way I was able to perform my program considering this."
Grand Prix Travels to France Next
The GP series moves to Angers, France, this week (November 4-6) for the third stop on the circuit. Japan will have three skaters in both the men's and women's competitions.
Kazuki Tomono, Sota Yamamoto and Sena Miyake will take the ice in a men's event that should be wide open.
Beijing Olympian Mana Kawabe, Rino Matsuike and Rion Sumiyoshi will pull on the boots in the women's battle against Belgium's Loena Hendrickx, the world silver medalist last season, and South Korea's Yelim Kim and Haein Lee.
Japan will not have a team entered in either pairs or ice dance in France.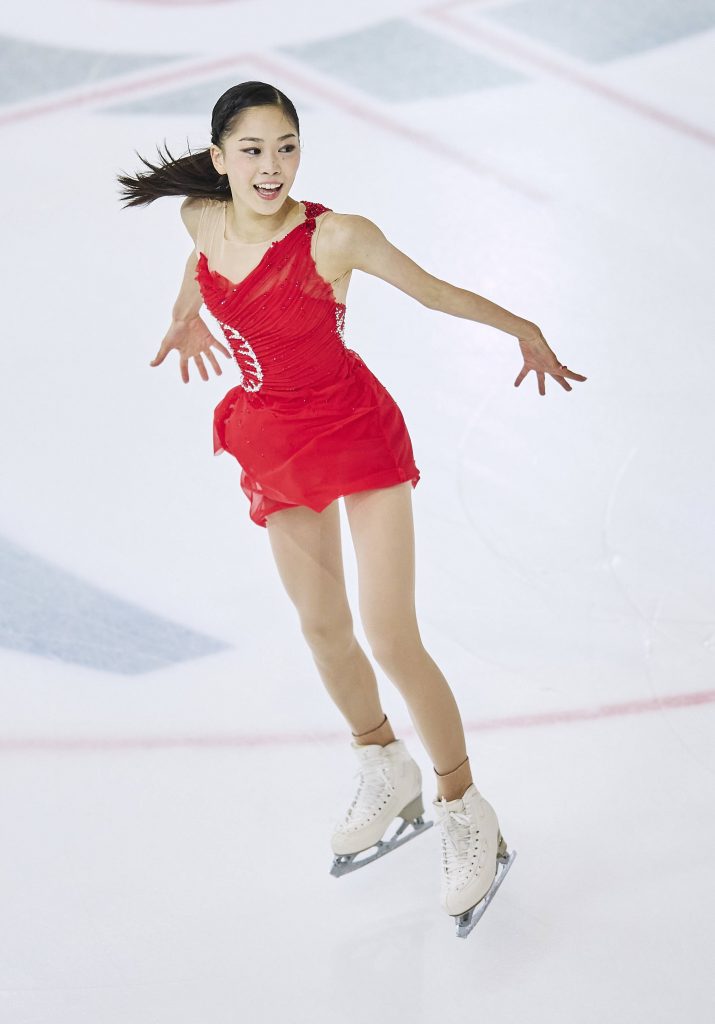 Yoshida, Tsuboi Shine at Western Sectionals
Hana Yoshida won the women's crown at the Western Japan Sectionals in Kyoto on Sunday. Yoshida, who was second after the short program, was victorious with a total of 209.44, ahead of Mai Mihara, who took second at 206.58.
Tatsuya Tsuboi captured the men's title with 219.29, with Yuto Kishina claiming second on 203.53.
Mao Shimada easily claimed the junior women's event with 199.35, in front of teammate Ayumi Shibayama 181.79.
Shuntaro Asaga was the victor in the junior men's competition at 196.14, with Haru Kakiuchi second on 191.04.
Petrosian Tops Podium in Second Russian GP
Adeliia Petrosian won the second installment of Russia's domestic Grand Prix series in Sochi over the weekend (October 28-30) with a score of 239.31. Sofia Samodelkina took second at 218.73, while Beijing Olympic silver medalist Alexandra Trusova was a distant third on 208.55.
Renat Laishev, the director general of Trusova's old club Sambo-70 in Moscow, commented on Petrosian and Trusova after the event.
"Adeliia is a wonderful girl, a young talent," Laishev was quoted as saying by Match TV in comments that were translated and posted on fs-gossips.com. "[Coach] Eteri [Tutberidze] perfectly knows how to find and reveal such talents. I am sure that everything will turn out great for her."
Laishev then put Trusova in the crosshairs for her recent departure for Tutberidze.
"As for Trusova, do not seek good from good," Laishev stated. "Eteri is a brilliant coach. Sasha shouldn't have left her, but to understand herself instead. You don't change horses in midstream. Nothing good will come of this. The results show it."
Author: Jack Gallagher
The author is a veteran sports journalist and one of the world's foremost figure skating experts. Find articles and podcasts by Jack on his author page, here, and find him on Twitter @sportsjapan.