Ichinojo Stuns Terunofuji to Take Sole Lead at Nagoya Basho
The Mongolian improved to a perfect 5-0 with the upset win over the yokozuna.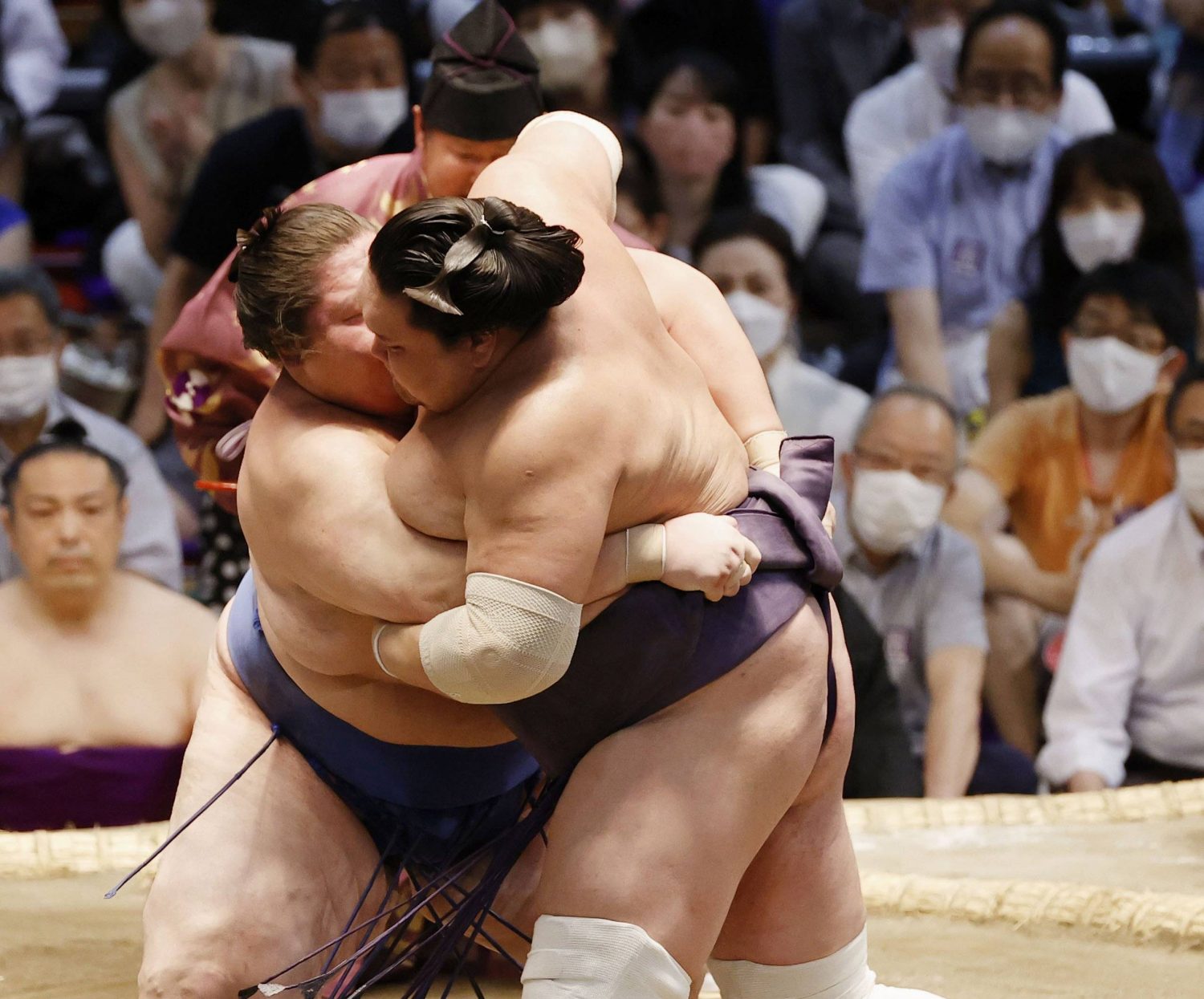 Former sekiwake Ichinojo upset lone grand champion Terunofuji on Thursday, July 14 to stay undefeated and move into the sole lead on Day 5 of the Nagoya Grand Sumo Tournament.
In the day's final bout at Aichi Prefectural Gymnasium, the two Mongolian heavyweights went toe-to-toe at the face-off before No. 2 maegashira Ichinojo got a grip of the yokozuna's belt.
From there he used his weight advantage to put pressure on Terunofuji and force his opponent out to improve to 5-0. Terunofuji dropped to 3-2.
"It was a tough bout," Ichinojo said. "I tried to get ahold of his belt right after the face-off. It's been a great start for me and I'll just try to keep it going."
Ichinojo sat out the previous tournament with a bout of COVID-19 but the 211-kg giant has looked strong so far in the 15-day tournament.
Terunofuji also struggled in the first first week of the May tournament but then turned things around in the second half to claim his seventh Emperor's Cup.
Four lower-ranked wrestlers, including Tobizaru, are one win back at 4-1.

Takakeisho Manhandles Tamawashi
In other major bouts, Takakeisho butted heads with Tamawashi and used his bread-and-butter thrusting technique to send the veteran No. 3 maegashira toppling off the raised ring.
Takakeisho, the only ozeki showing any consistency of late, improved to 3-2. Tamawashi, also at 3-2, will face Terunofuji on Day 6.
Fourth-ranked Wakamotoharu got a right-hand grip on the belt of Shodai and muscled the struggling ozeki out over the straw ridge to move to 2-3.
"It was my first win against an ozeki so I'm thrilled," Wakamotoharu said. "I just tried to go for it and not think too much about facing an ozeki. This win will give me a huge boost."
Shodai picked up his first win of the tournament on the previous day but the joy was short-lived as he dropped to 1-4, a further setback in his bid to secure the winning record he needs to maintain his status for the next tournament.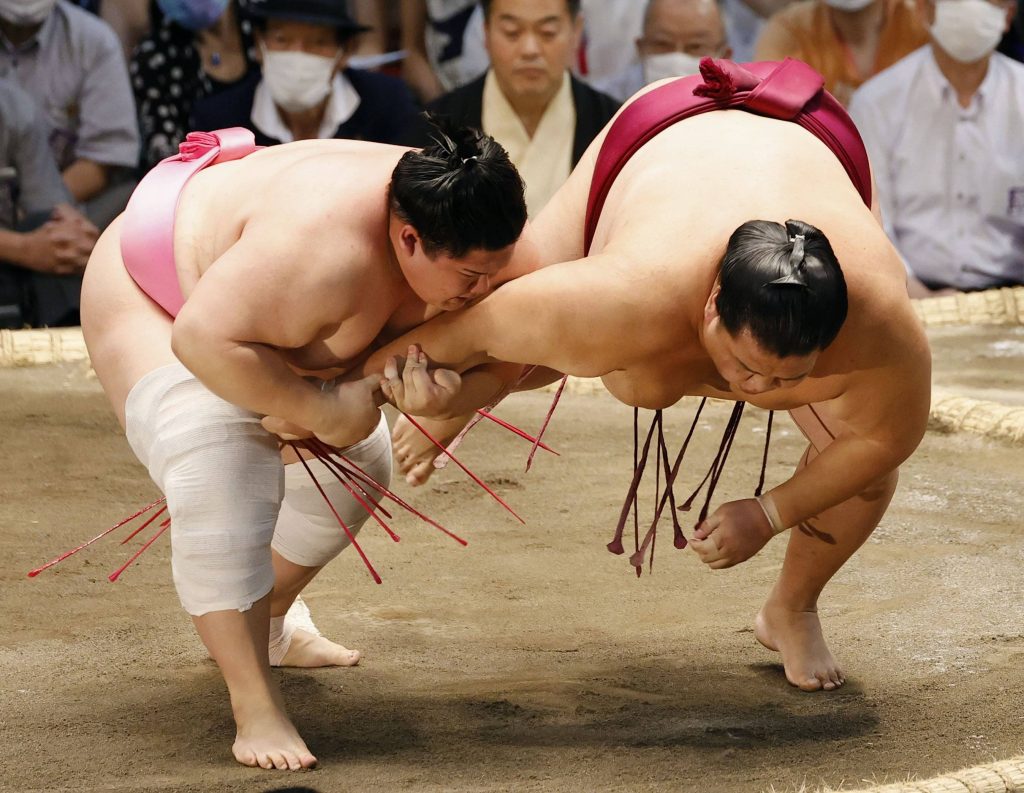 No. 3 maegashira Ura beat Mitakeumi for the first time with an arm-bar throw to improve to 3-2. Mitakeumi, another ozeki in need of a winning record, dropped to 2-3.
No. 13 maegashira Ichiyamamoto (4-1) suffered his first loss when he was swatted down by Chiyoshoma. Chiyoshoma, also ranked at No. 13, picked up his third win against two losses.
Nishikigi (4-1) was handed his first loss when Tochinoshin got a double-handed grip on the belt of his fellow No. 8 maegashira and forced him out to improve to 3-2.
In a showdown of No. 6 maegashira, sumo's Flying Monkey Tobizaru deployed a textbook beltless arm throw to send bulky Bulgarian Aoiyama sprawling to the dirt surface while joining the pack of wrestlers a 4-1. Aoiyama dropped to 3-2.
No. 11 maegashira Midorifuji is also at 4-1 after he shoved out 10th-ranked Chiyotairyu, who dropped to 2-3.
Kiribayama Improves to 3-2
In a battle of top maegashira, Kiribayama used an arm throw to defeat Takanosho to pick up his third win against a pair of losses.
Takanosho, who went 11-4 in the previous tournament to earn promotion to the top maegashira rank, has struggled so far and fell to 1-4.
Sekiwake Daieisho fought off a barrage of arm thrusts to the neck and then used several of his own to send komusubi Abi backpedaling out of the ring and give both grapplers a 3-2 record.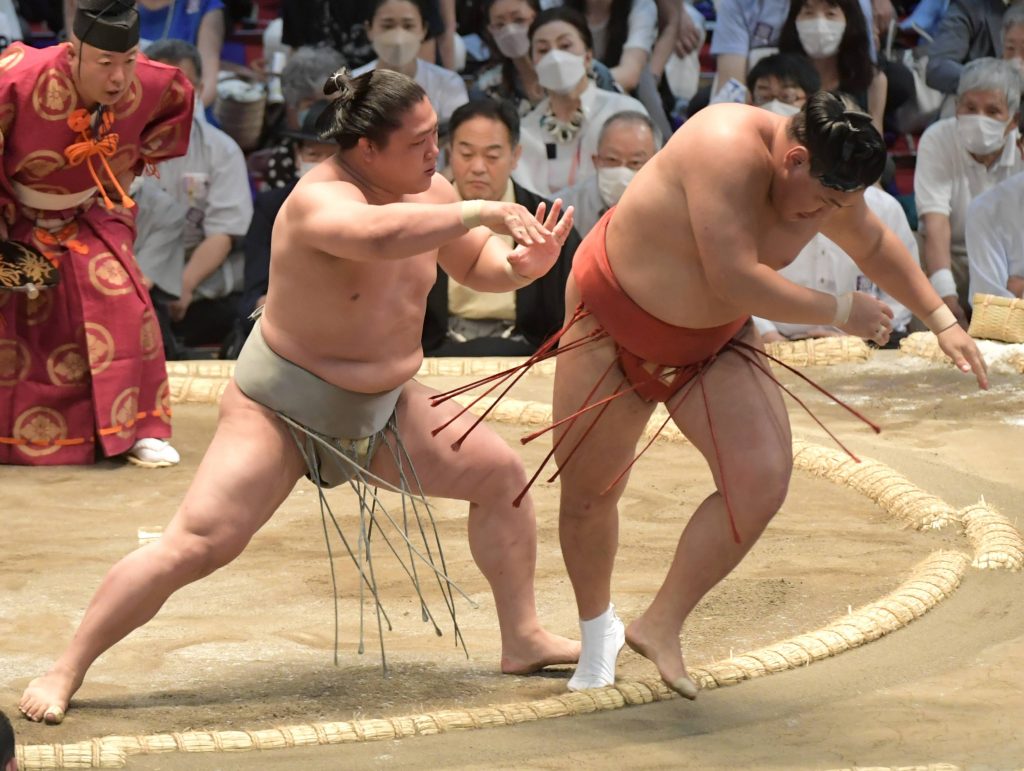 Sekiwake Wakatakakage spun Hoshoryu around with a left-hand thrust and then shoved the komusubi out to earn his second win against three losses. Hoshoryu dropped to an unflattering 1-4.
In a highly entertaining bout between two rank-and-filers, diminutive Terutsuyoshi used a perfect under-arm throw to toppled the much larger Yutakayama (3-2) for his first win.
Yutakayama enjoys a 67-kg advantage over Terutsuyoshi but couldn't capitalize.

Author: Jim Armstrong
The author is a longtime journalist who has covered sports in Japan for more than 25 years. You can find his articles here.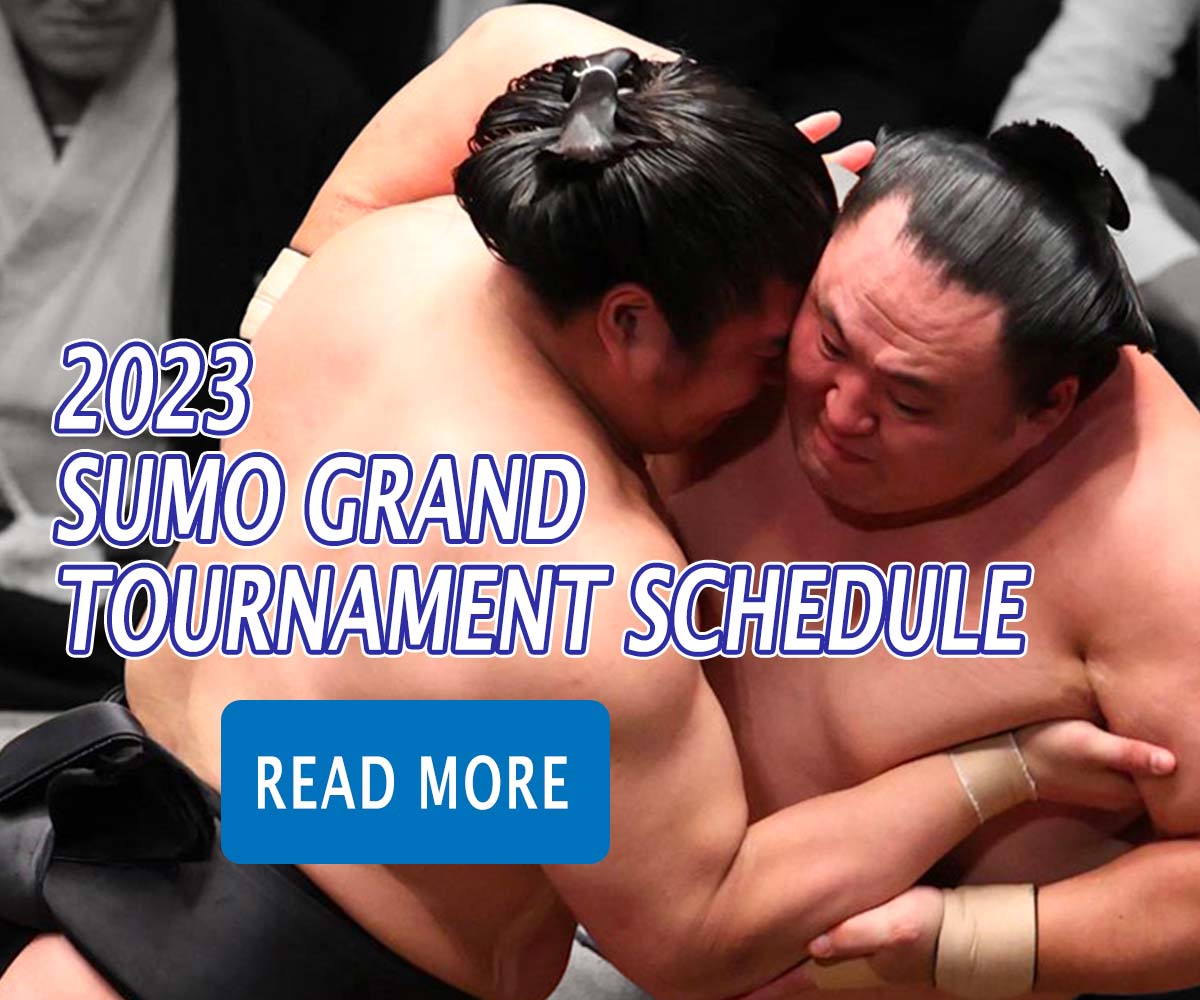 Subscribe to Our Newsletter